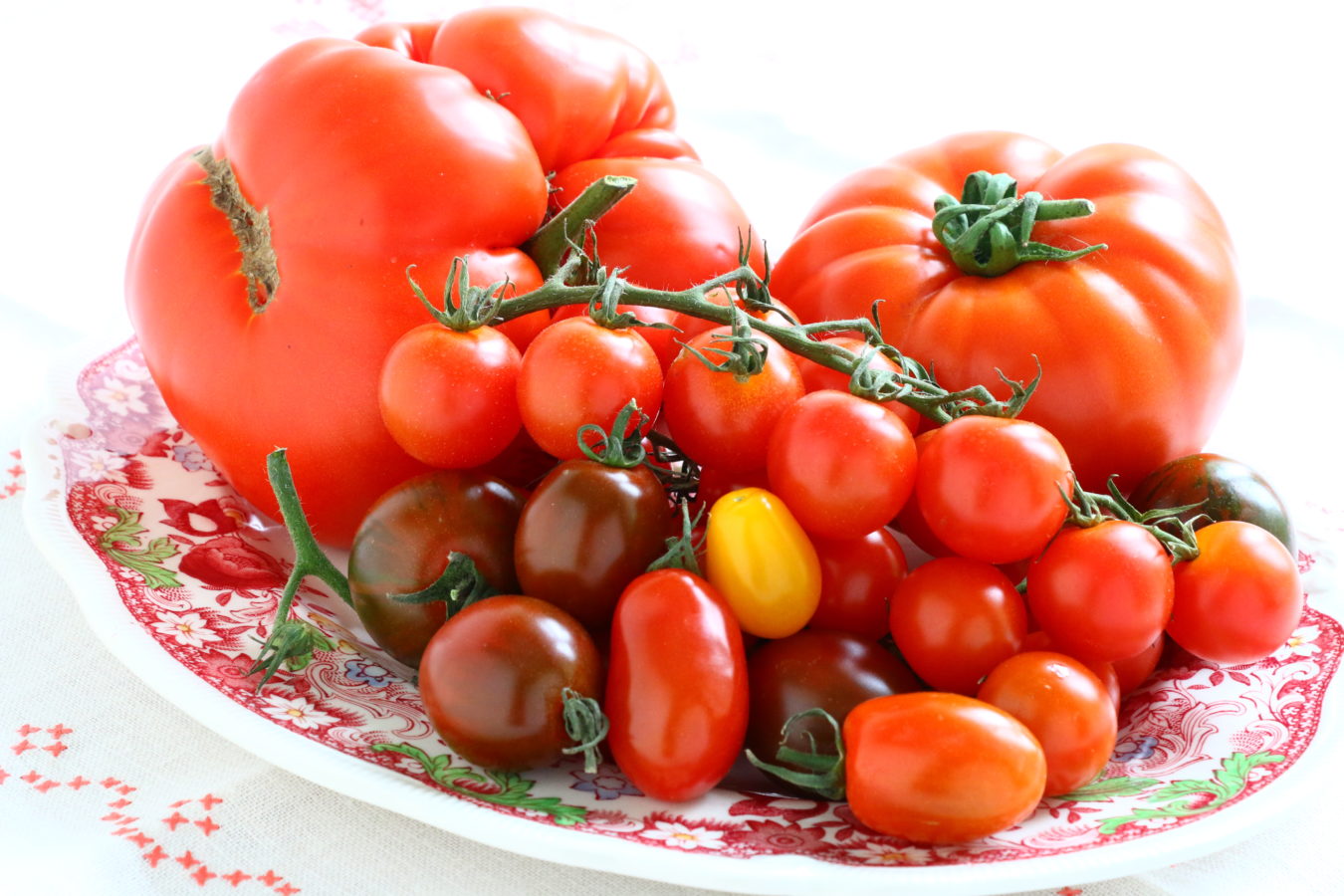 Listen to Laura's podcast of this food essay by clicking the arrow below:
Summer has certainly been elusive this year, but it's still summer.  Its exuberant harvest is glutting our fields and markets despite the weather's ups and downs.  This is the time when fresh food is fast food: when a few choice tomatoes and some good olive oil can make your eyes open wide; and simpler meals (eaten outdoors on those few lucky days when we can complain of the heat) tune us in to life's radiant beauty, and compensate for those when rain flattens the petunias and blights our garden toms.
Every summer about this time, I feel twinges of tomato anxiety, hopeful, but never taking for granted, that I'll find some really good tomatoes that taste like they should.  I grew up in rural Southern New Jersey literally surrounded by open fields of sun-ripened tomatoes in the days when they tasted as glorious as they looked.  Our family ate them every day through the eight-week season, and we kids trespassed freely in the fields, hurling tomatoes at each other in remorseless horseplay and score-settling that left us covered in juice and pulp.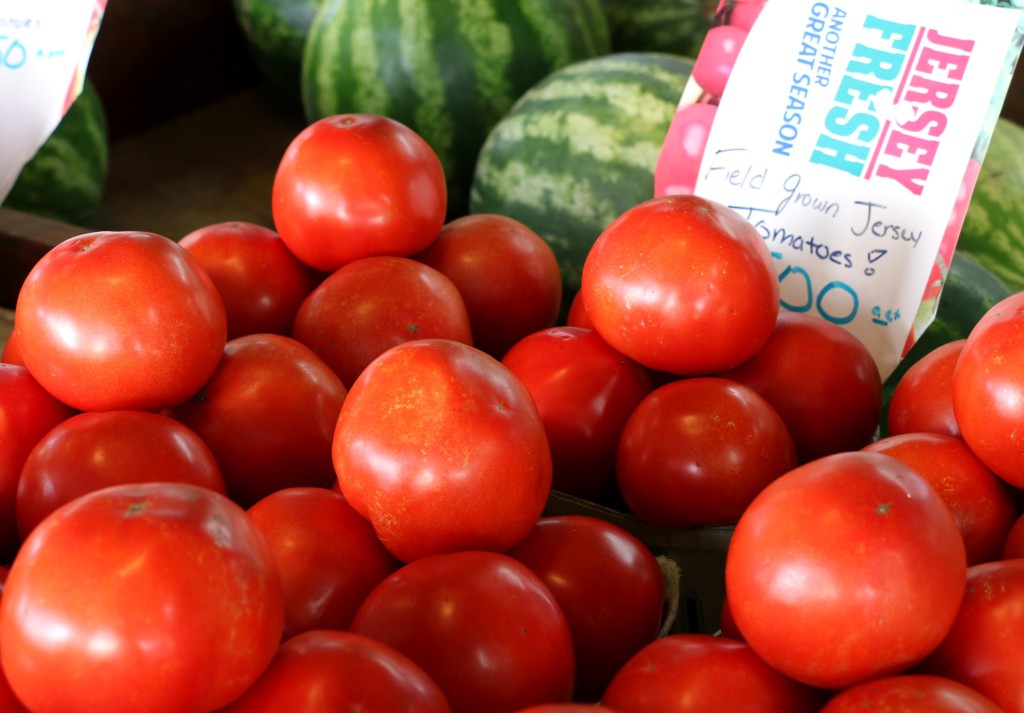 The farmer who grew them, a gentle Quaker, hardworking at the plough and in the local pork house his family had run since the Civil War, either didn't know, or let it go.  He rented the fields from the same landlord who owned the old farmhouse we lived in, and he knew us to be just one of many pests.  We plundered his tomatoes freely to fry green or slice ripe, or fill with ham salad.  We cooked them into sauces to go with eggplant rolls, and stuffed peppers, and squash fritters.  I remember how good  they were, how glad we were to have them.  I remember the plenty.  When I can't get a tomato as good as those were, it feels like something's missing, that summer's passed me by.
But alas, the poor abused and maligned tomato is also symbolic of what's gone wrong in post-war industrialised agriculture and our modern food system – and while things have gotten much better in the past few years and the tomato is recovering in some measure at least from its decades of flavourlessness, a really good tomato, even in season, still has to be sought out.
Flavour is governed by the plant's variety, firstly, but also by how it's grown, the health of the soil, how ripe the crop is when harvested, and freshness: how long it takes to get to our tables.
The tomatoes of my childhood were the last of the flavoursome commercial varieties that flourished between the 1930s and 70s, before mechanised harvesting and centralised processing demanded high-yielding, hard skinned varieties with long shelf-life, suitable for transport.  Jersey tomatoes were famous for flavour, and a 1934 variety called Rutgers, developed by the state university of that name, was the most widely grown commercial variety between 1950 and 1970, accounting for 60 to 70% of all crops worldwide.
"Our tomatoes", as we thought of them, were destined for the processing plants of Campbell's and its famous tomato soup.  The same variety was also superior for eating fresh, and made its way to markets in nearby Philadelphia and New York, and the roadside stands you could find outside every farm in the days before such sights were considered quaint, long before farm shops became trendy or were even thought of.  This was the era of Silent Spring, Vietnam, the burgeoning civil rights and women's movements.  So much was amiss, but there was no need yet for a renaissance in tomatoes with flavour, for those imperfectly round, meaty red beefsteaks were so good we looked forward to them all year, and they were the norm.
We didn't know we were taking for granted the golden age of the tomato, nor that the end of our own golden age in the country would coincide with the demise of the tomato's flavour.  By the early seventies, the small-scale family farming that had been common for generations in south Jersey could no longer hold its own against large agribusiness, and farm land was worth far more for development.  The acres that afforded our rural idyll were sold to become a housing estate, and we moved to town, bereft of our country playground and its expansive freedoms.
By the time I'd graduated from college and my sisters were doing their degrees, the entire industry had changed and the good-tasting tomato went out of production and was virtually lost.  Our family's personal story was part of a bigger economic and technological story.  Our upheaval was part of a global upheaval, had we but known it.
Many factors led to its loss – from the labour disputes and boycotts that dogged companies like Campbell's; to the entrenched resistance to investing in better lives for exploited migrant workers; and the economies of scale afforded by cheap fuel and proliferating interstate highways, which made transporting produce to centralised mass processing plants in other states cheaper than staying local.  Flavour did not feature in a single breeding trial during this period.  It was the industrialisation of the entire food supply chain that changed the flavour of the tomato worldwide, and not just in South Jersey.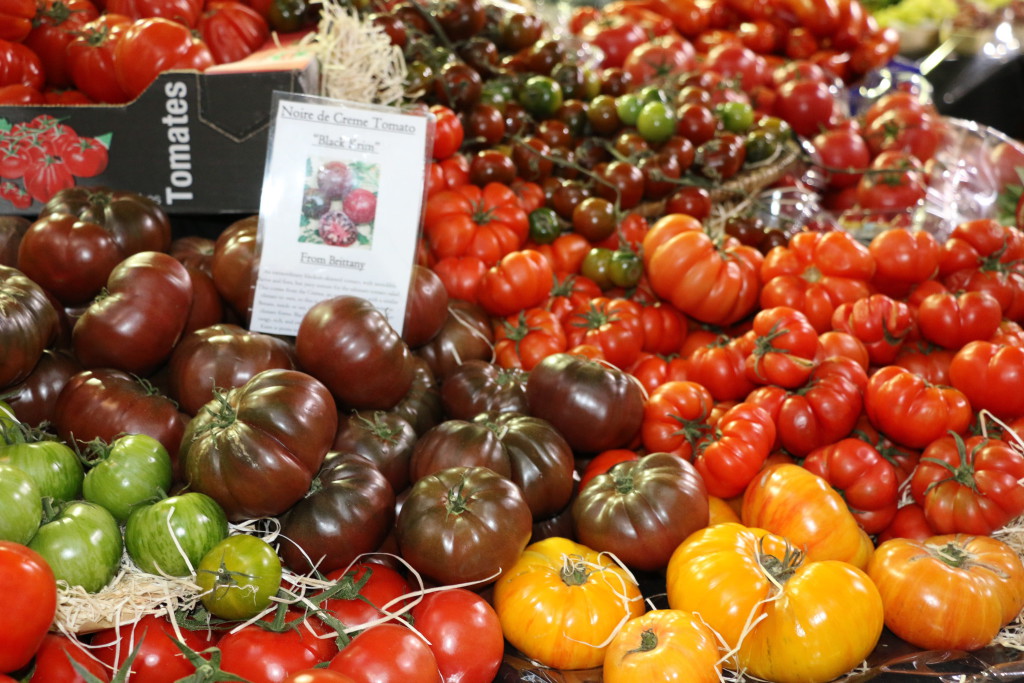 'Consumer power' in North America and Europe did eventually, to some degree at least, reject the tasteless tomato.  Heirloom tomatoes grown over a century before re-entered the market in the 1990s, welcomed by people who were willing and able to pay a premium for an alternative; but the heirloom's low-yield, fragility, problems with fungal disease, and tendency to split, were problematic.  The industry realised it was missing a trick, and breeders embarked on developing a tomato that would be commercially viable, but still have flavour consumers would approve.
They looked to older varieties and even the wild ancestors of commercial crops to bring new genetic material into what is, in the case of the tomato, one of the most inbred crops we have managed to develop throughout the history of agriculture.  In 2014, a major international study published the genetic sequences of 360 tomato varieties – far more than was previously available – making it possible for breeders to select traits from a much greater diversity of genetic material.
Today, industry still relies on standardised varieties for predictable yields, so while it's invested recently in improving the flavour of some varieties – notably cherry tomatoes like Piccolo and Pomodorino, which are priced accordingly – its priorities are still predominately productivity, uniformity, growing times, and the ability to survive haulage and storage:  all the cost-drivers that, it has to be said, come partly from the pressure to keep food costs for consumers one of the lowest per capita in the world.
In the UK, we only produce 20% of the tomatoes we consume.  The rest come from the EU, especially Holland, Spain and Italy — though this is likely to increase.  Most tomatoes are grown in polytunnels or glasshouses, sometimes on a vast scale, increasingly using hydroponics, where plants are grown in a soil substitute and fed a nutrient solution.  Glasshouses extend the growing season and protect against the elements, and can reduce the use of pesticides, as biological controls can be used in them effectively, and pollinators can also be well supported.  Some glasshouse growers are choosing to let the fruits ripen longer on the vine, as they don't have to second-guess the weather when harvesting.
This is good news, when it happens, as many commercial tomatoes, including so-called vine-ripened, are picked at the stage known in the industry as 'mature green', when they have begun to 'break' (i.e., they're pink over 10% of the surface) or to 'turn' (they're pink over 11-29% of the surface).  These mature green fruits are transported to storage facilities where they're ripened artificially with ethylene – the gas that fruits produce naturally as they ripen – and refrigerated until they can be displayed on cool supermarket shelves.  But as every tomato enthusiast knows, refrigeration kills a tomato's flavour, whether at home, or in a warehouse.
Smaller growers who don't have to produce on a vast scale are often the ones to grow varieties that are best for flavour – and to grow a greater diversity of varieties, with nuanced and interesting flavours.  Small producers are also those who tend to work with the seasons, who don't push plants on with excess water, fertilisers and heat, and are most likely to pick produce when properly ripe, as their distance from field to consumer is much shorter.
We are blessed in Cambridgeshire with local growers who care about flavour and use the varieties and methods to produce it.  Wild Country Organics, based in Great Abington, counts 40 types of tomato amongst its range of organic produce; and Waterland Organics in Lode grows some of the nicest golden pear cherry tomatoes I've tasted.  Small-scale horticulture won't feed the world, but these dedicated growers are to be treasured, bringing us such pleasure in our food, raising our expectations of flavour, and expanding the diversity of the plant gene pool by keeping flavourful varieties in circulation.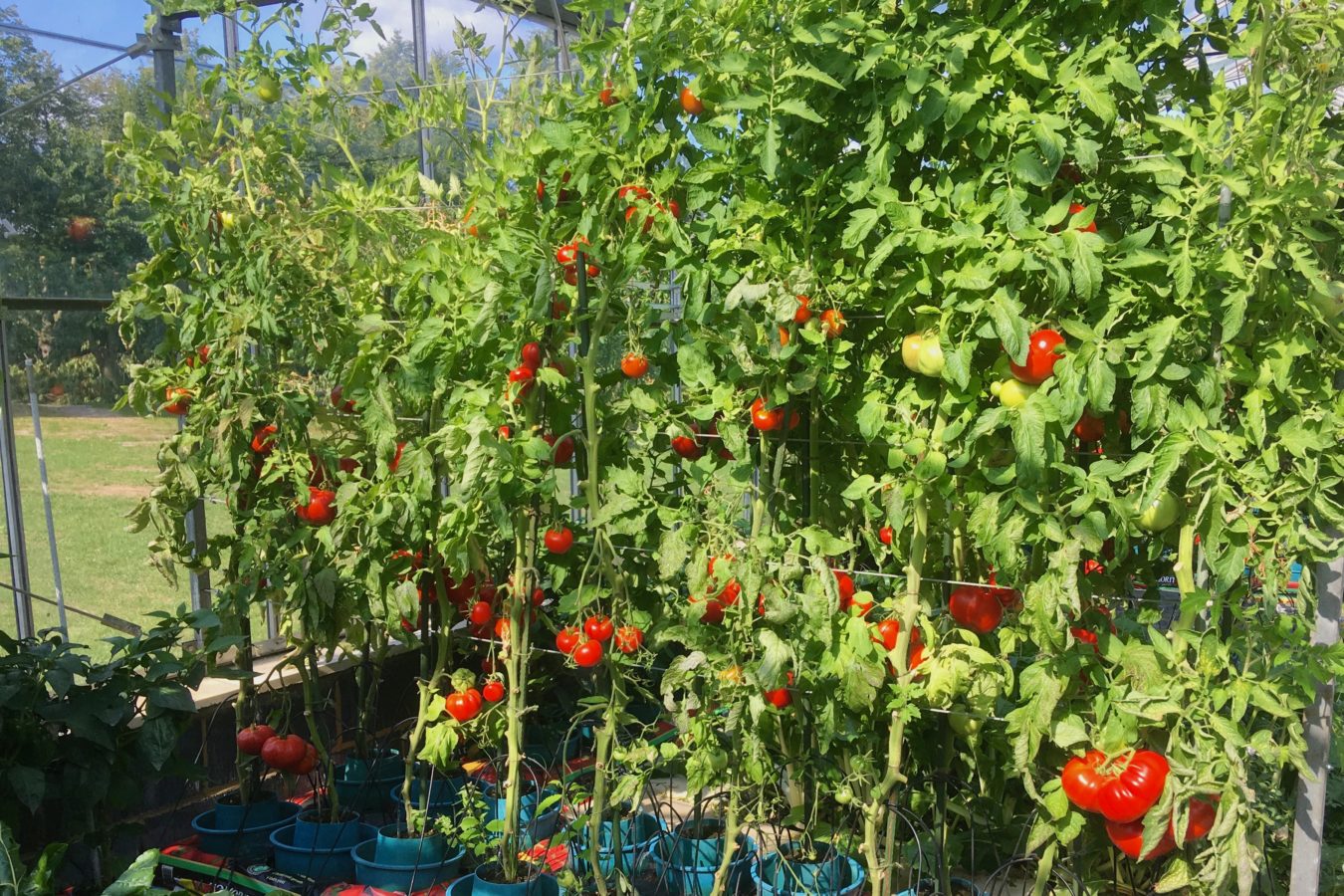 There is a hidden gem in south east Cambridge, where a remarkably green-fingered woman named Kay Andreou grows some of the most ravishingly delicious and bonny tomatoes I have eaten since childhood – some huge, weighing over a kilo, and firm, juicy and intense.  Kay brought the seeds back from her native Cyprus years ago, and practises selective breeding by saving the seeds of the best fruits every year to sow the next.  She grows seven varieties of large and medium tomatoes, all chosen for flavour; and four types of cherry tomatoes in a rainbow of orange, reds and yellow.
Kay owns and operates the Great Abington Cherry Orchard, which she took on with her beloved late husband Steve 17 years ago, after 50 years in Cambridge.  The cherry orchard produces gorgeous fruit through its short season, from June to July, which you can buy in the season right there, where they're harvested every morning.  It's a challenging but rewarding crop, and was Steve's passion, so Kay tends it in his memory, and for the pleasure those cherries bring to her customers.
The large and handsome glasshouse where the tender beefsteak and heritage varieties of tomato grow so impressively has always been Kay's own domain.  It is a gorgeously fruitful, healthy, varied, and well-tended glasshouse.  Its roof drips with cucumbers, and row after row of fine tomato plants reach the ceiling, their heavy fruits holding well under robust foliage.  There are tubs of aubergine: white, violet, glossy black, and striped; and huge pots of basil, flat-leafed parsley, and the most intensely fragrant rose-scented pelargonium, which Kay uses to flavour the syrups for her traditional pastries.  She does all the glasshouse work herself, from sowing, to pricking out and planting up, staking, weeding, watering, feeding and harvesting.  Her tomatoes are grown in soil, topped up with compost.  She never sprays, and deals with any pests by hand with bio-friendly means.  The day I was there, the plants were buzzing with bumblebees and hoverflies.
In the garden just outside the glasshouse, there are outdoor varieties of tomato sharing space with courgettes, artichokes, a mature fig tree, pristine stands of sage and lemon balm, and an enormous grape vine, the leaves of which Kay uses for making dolmades. Everything is a feast for the senses.
When I drove away with my tomatoes, cucumbers, aubergines, and herbs, the car smelled like a garden, and I knew I'd touched on something special.  It couldn't have been more different from buying a pack of tomatoes from the supermarket.  The immediacy of seeing those tomatoes harvested from the plant by the woman who grew them made me feel more rooted to this land I've made my adult home, as far from the home of my birth as Kay is from hers.  This kind of experience is rare now, and its value extends to a sense of connectedness: with people, and place, and the universality of the earth.  It's striking how good it feels when we can experience that.
A tomato is sometimes just a tomato, but the power of something so elemental as the pleasure of flavour is profound, and profoundly worth stewarding – by those who grow, and those who appreciate and support them.   I'm grateful to those who keep at it.
[This story was also broadcast on the radio food programme, Flavour, on Cambridge 105FM Radio.  You can hear the whole programme here.]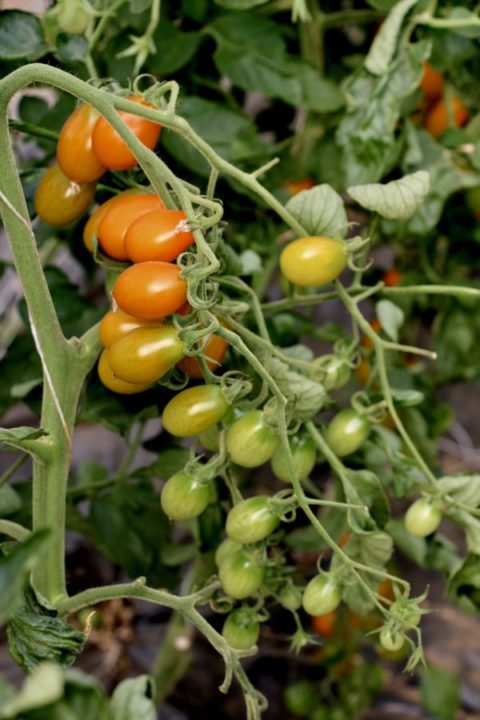 Where to find Cambridge-grown tomatoes: 
You can order tomatoes and other seasonal produce from Kay Andreou at the Great Abington Cherry Orchard, through mid-September.
You can find Wild Country Organics and Waterland Organics in various markets, farm shops, and other outlets across Cambridge, including COFCO, the Cambridge Organic Food Company, which makes deliveries in the area through its box-scheme; and at Arjuna Wholefoods on Mill Road. Waterland Organics also has its own veg-box delivery scheme.
References:
Tomato recipes on Crumbs on the Table:
Laura's other food essay podcasts on Crumbs on the Table: