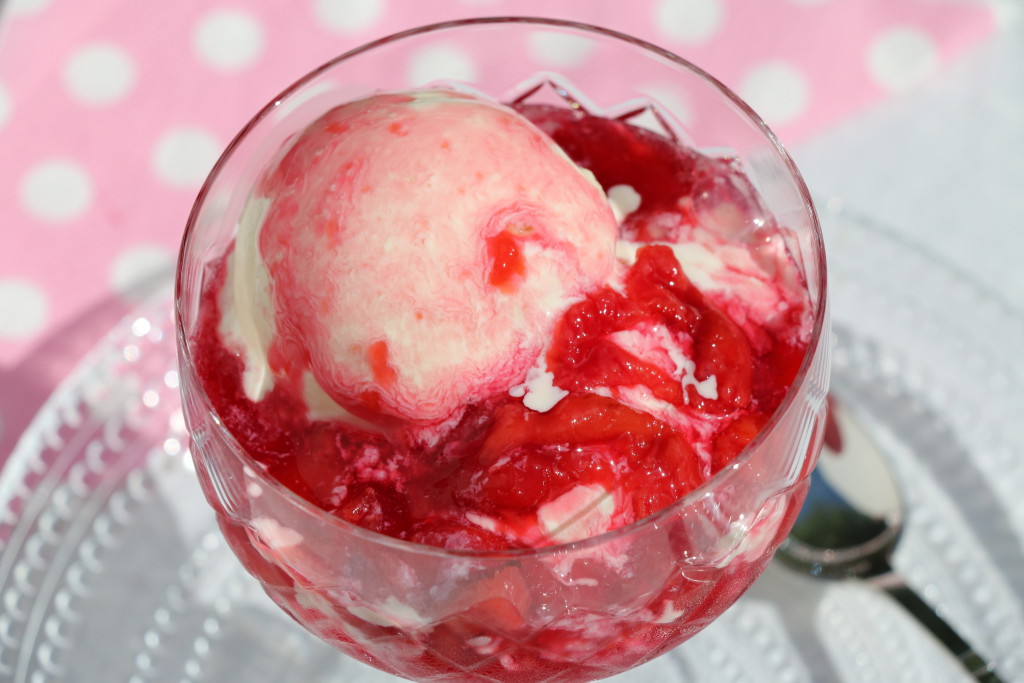 I have a thing for sour cherries.  To my mind, the Morello cherry beats every sweet cherry going when it comes to something cooked.  I spent teen-aged summers picking them from ladders in southern New Jersey orchards where tall trees flourished, and made them into tart-sweet jam and deep-dish pies.  My friend Zehra and I made a pie we still remember from those pick-yourself-fruits: sticky, messy, triumphant.  I have missed that taste for years.
The problem is that "acid" cherries (Morello are the most common in Europe, but there are others, including Montmorency) are no longer grown commercially in England, having fallen out of fashion post-WWII, when the industrialisation of agriculture began the depletion of so much diversity taken for granted when crop yields and mechanised harvests were not the guiding consideration.  1950s and 60s breeders focussed on a select number of the most productive sweet cherry varieties, grafted onto dwarfing rootstock for shorter trees that are easier to protect against birds and pests, and harvest on an industrial scale.
The Romans are credited with populating England with cherries grown from stones spat by legions of soldiers.  The cherry's cultivation, sweet and sour, was encouraged by Henry VIII, and as many as 100 varieties were known to English orchards by the mid-17th century, with a concentration of growers in Kent.  This county remains the heart of British cherry growing today, with a seasonal industry built around its imports throughout the British Isles, a scenic "cherry trail", and plentiful roadside stands (some of which cunningly advertise "local strawberries and fresh cherries" before the local cherries begin).  Someone in that cherry heartland must cultivate the Morello, but if they do, I've never found them.
Germans (think Black Forest cake), Poles and other Eastern Europeans, as well as Iranians and Turks (the cherry is believed to have been cultivated first in Turkey), prize them still, but English palates have forgotten, or been deprived of, the taste of a sour cherry, except quite recently in their dried form (which is no more like the fresh fruit than a raisin is to a grape) and pitted in a jar.  I don't wish to malign either of these alternatives — I know of another ex-pat Yank who made good pies from jarred morellos bought from a Polish shop in Thetford, and they would also work in a clafouti. Dried cherries are excellent in many things, not least a chocolate and hazelnut biscuit.  But these processed cherries are a different beast and what I miss are the trees themselves, full of fruits that have to be transformed by the magic of cookery.  I have some hope, as notable chefs are fans of the Morello.  Perhaps they will inspire a come-back that reaches outside London.
In the 1990s, Norwich friends of ours had a mature tree that they harvested for a cherry sauce that made my August birthday for several years, joyfully bringing back the taste I had reconciled myself to trying to forget.  And then they moved house. When we finally acquired our own garden, an espalier Morello was one of the first things I planted.  Alas, the blackbirds were faster to harvest the few fruits than we were, and it wasn't until this year, having planted a second small tree on our allotment, that we picked enough to recreate the much-missed birthday sauce.  It was worth the wait.
Making a simple sauce of these mouth-puckering fruits affirms yet again my conviction that the most treasured tastes are those least tampered with — unless you count sugar.  Morello cherries are the devil when it comes to needing sweetening: inedible without it, but divine with just enough.  Shockingly intense, meltingly soft yet complexly textured, this sweet-sour taste is what birthdays are for.  Speaking of which, it so happens that sour cherries are high in melatonin and chemicals that help with sleep, especially for over-seventy insomniacs, apparently.  So the older I get, the more of that sauce I intend to eat.
Now for fresh sweet cherries, which are luscious in their own right when you get a really good one.  If I had never tasted their sour cousins, I would be enthralled to the white Queen Anne of Kent (an exquisite cherry and my favourite of the lot), and even the less exciting dark Stellas and Pennies that my local markets have in abundance for four to five weeks through August.  The ones I gather from a pick-you-own orchard a mile away are even more special for those four fleeting weeks.  Like all sweet cherries, I liked them best eaten au naturel and a little cold, or floating in a bowl of ice water.
I am not a fan of cooking sweet cherries in a pie, although I like them in a clafouti, macerated first in sugar, kirsch and Grand Marnier to add a kick — and in a melting compote with plums, black and red currants, and raspberries.  My favourite sweet cherry dessert, though, is a light-as-a-cloud chocolate roulade with creme chantilly and fresh cherries on the stalk, to nibble raw with the soft cake and cream — chocolate and cherry of course making a heavenly match.
I am a wary shopper:  imported cherries still account for the vast majority of the fruits on sale in the UK, and no matter how handsomely plump those from Spain, Turkey and the US may look, they generally will not taste as good as those grown locally. They are typically picked under-ripe to survive their processing to the supermarket (the usual sad story with fruit), never acquiring the sweetness they would have developed ripening those last few days to perfection on the branch.  Those grown locally, especially when you can pick them yourself, tend to ripen longer on the tree and more slowly in the gentler UK heat, developing flavour like a slow-rise bread.  They last remarkably better, too.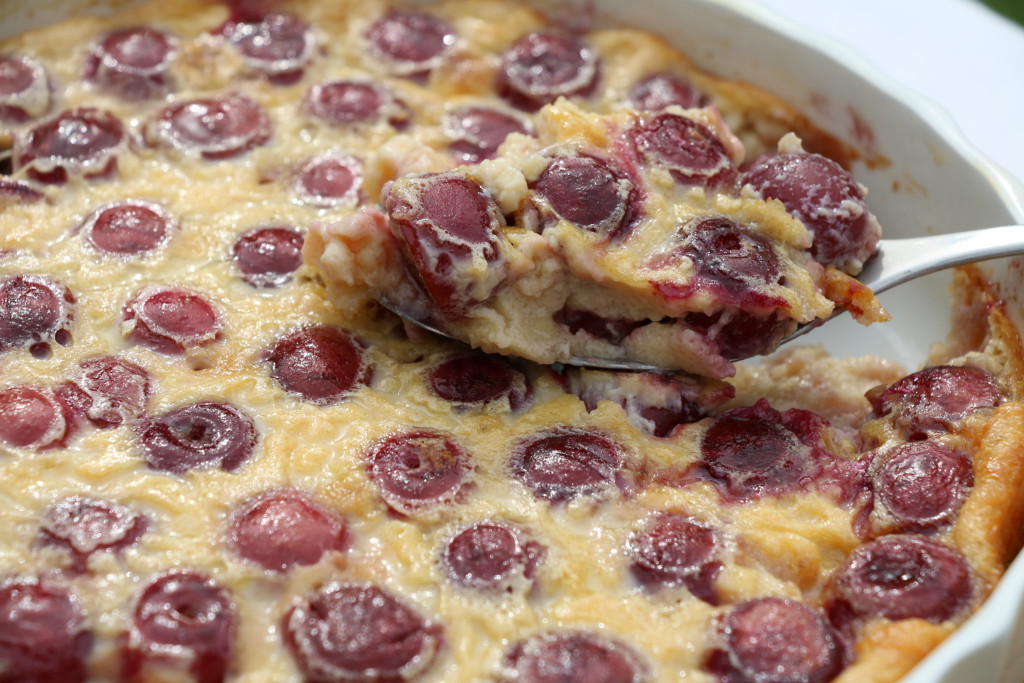 Some years the local fruits don't get enough British sun to sweeten them (or the frosts take the blossom before the fruits even set).  Commercial British growers are not immune from picking under-ripe fruit,  and varieties are still chosen for their ability to withstand travel over considerations of taste, so "locally grown" is no guarantee of quality. But in a good year, with no late frosts and a gentle rise to summer heat, and grown by a committed grower who cares about varieties and will keep fruit on the tree long enough, they are so good they can make me forget, almost, my preference for sour cherries.
Sweet cherries certainly rank high as one of the expensive luxury fruits of the summer, and English growers are catching up. In 2000, 95% of cherries sold in the UK were imported.  Production of UK fruits has trebled in just three years, last year's crop doubling the previous year's through the combination of luck with the weather and dedicated effort.  The overall proportion of British-grown is still relatively small, but poly-tunnel technology is making it possible for British growers to capture more of the cherry market every year.  I hope we of the market will exert some influence on whether these higher yields also produce taste, for what's in a cherry if it's all bulk and appearance?
The flavour of cherries, like every crop, it seems, is at risk from monoculture and industrialised agriculture, but there are growers who are fighting to keep local production going strong, to re-introduce older varieties (Early Rivers, Merton Blacks  Vanns, the list is colourful and long), to breed new varieties with complex flavour, and to maintain the tradition of "pick yourself" so that the next generation can experience the pleasure of eating what they have gathered straight from the tree.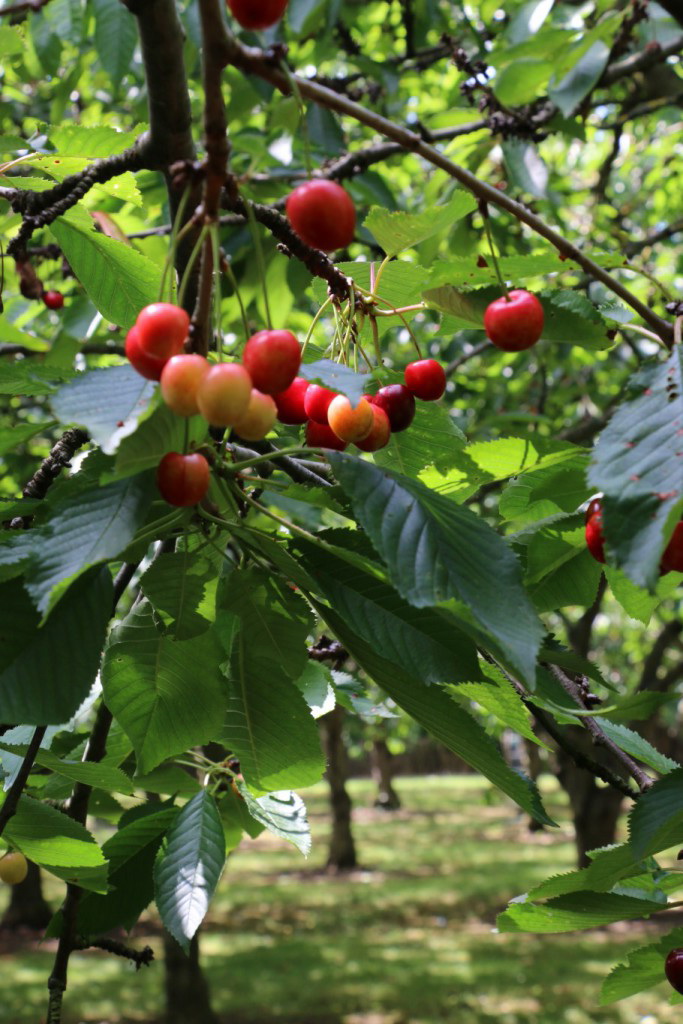 This nostalgic family pastime once so ubiquitous is at risk from all kinds of unromantic concerns, from liability insurance (ladders and the public make an uneasy mix), to overheads and honest wear and tear, to outright hooliganism and greedy theft. It seems some day-pickers leave behind their manners, and it seems some growers have become intolerant of the kinds of liberties once assumed to be part of the fun.  I'm on a mission to help spread the message that "Pick your own" orchards (and fields, for the same plight is facing strawberries and all fruits) are dying out, so treasure them.  To those who do keep offering this experience, thank you.  Maybe we will learn to use it more wisely if we have more opportunities.  It is a real loss that summer fruit picking is dying out for us amateur gatherers, the new commercial breakthroughs of growing under polythene discouraging it further.
I'll leave you with this thought:  Morello cherries and their sweeter relations are not difficult to grow if you are patient enough to wait three or four years, and don't mind sharing with hooligan blackbirds.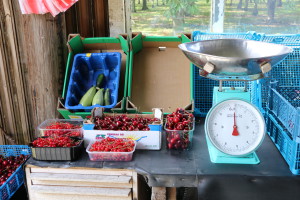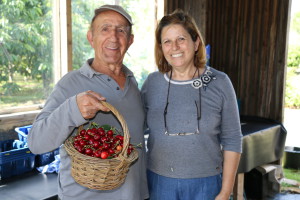 Steve and Kay Andreou, of Abington Cherry Orchard, Cambridgeshire.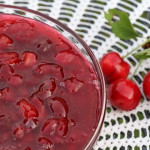 I. Morello cherry sauce for ice cream
(Makes about 2 cups sauce, enough for 4- 6 servings)
Proportion of fresh cherries to sugar:  I use roughly a 60/40 proportion of fruit to sugar, as my fruits are very sour.  If yours are less so, you can cut down somewhat, and add more if you need to. These proportions can be scaled to whatever amount of fruit you have available; just adjust the arrowroot thickener accordingly — you don't want to overdo it —  a little goes a long way.
Ingredients

650 g pitted fresh* sour cherries (Morello or other variety)
400-450 g (2 to 2 1/2 cups) sugar, to taste
juice of half a lemon (with another in reserve)
60 ml (1/4 cup) water
2 level tablespoons arrowroot, dissolved in 2 tablespoons cold water to make a "slurry"
*If you use jarred cherries, taste first and add sugar accordingly.  Most are already in a sweet juice, so they will need less.  Add gradually and taste.  Boil and thicken as below.
Instructions

Put cherries in medium saucepan with the water and sugar. Dissolve sugar slowly over medium-low heat until there are no sugar crystals remaining, painting down any crystals from the side of the pan with a wet pastry brush.
Turn up the heat once the sugar is dissolved and bring to a vigorous boil, stirring to prevent scorching, until the cherries are softened but not mushy, and the juices are red, about 5-8 minutes.  Taste, making sure you taste a cherry as well as the juice, and add a little more sugar, or lemon juice, to taste.
To thicken the sauce: off the heat, stir the arrowroot and water mixture into the fully cooked cherries, holding back a little of the slurry as you may not need it all. The cherry juice will go cloudy from the arrowroot. Return the pan to the heat and keep stirring until the fruit has come back to the boil and the juices are completely clear again.
You want a consistency that's thick enough to spoon, but not gloopy.  Add the remainder of the arrowroot slurry if needs be, and bring the fruit back to the boil again to clarify and thicken.
Serve room temperature, hot or cold.  Lasts for 3 days in the fridge and freezes well.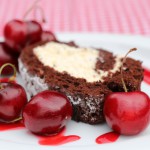 II. Chocolate roulade with fresh cherries
(serves 6)
This recipe is adapted from Michel Roux's Desserts. It is one of my favourite of all cakes, and all chocolate things, and is especially good with fresh red fruits like cherries and raspberries. And it happens to be gluten free (just make sure to flour the buttered parchment with gluten free flour).
Where Michel Roux's classic technique requires two steps to ribbon the egg yolks and separately whisk the whites, I have found that ribboning the whole eggs together with the sugar makes for just as good a cake. Don't overbake it or it may crack; but if it does, you can sprinkle over some icing sugar and it will still look (and taste) great.
 Ingredients
For the chocolate roulade:
4 large eggs
175 g ( 1 1/2 cup sifted) icing sugar for the cake, and more for dusting once baked
50 g (1/2 cup sifted) Dutch processed dark cocoa powder
15 g ( 1 level tablespoon) potato flour (yes, only 15 g)
pinch salt
For the whipped cream filling:
250 ml (1 cup) whipping cream
1 tablespoon icing sugar
1 teaspoon vanilla
To serve:
about 450 g (about 1 pound) fresh cherries on the stalk, or however many you want to serve
Instructions
Heat the oven to 200C/400F.
You will need a shallow rectangular baking pan measuring 26x30cm (a10x12-inch "jelly roll" or "sponge roll" pan is ideal). Butter it and line with parchment paper. Butter the parchment paper, too, and flour it, using gluten-free flour if you want the cake to be wholly gluten-free.
Beat the eggs and icing sugar for the roulade until they are very thick and the mixture folds back on itself when lifted off the beaters (this is a "ribbon"). Dust the cocoa, salt and potato flour evenly over the egg ribbon and fold them in gently with the largest rubber spatula you have, making sure you don't over-mix, or the egg foam will deflate.
Carefully spread the mixture into the prepared pan and bake for 8-10 minutes, until the cake feels set, but still springs back when touched lightly in the centre. Don't overbake.
Cool for 2-5 minutes on a rack, and lay down a new piece of parchment and dust it with icing sugar to prevent the cake sticking. While the cake is still warm, invert it out of its pan onto the fresh sheet of parchment dusted with the icing sugar, and remove the used baking parchment liner from what is now the top. Let cool completely.
Whip the cream with the tablespoon of icing sugar and the vanilla until it holds a shape but is still creamy. Spread it onto the cooled roulade, going almost, but not quite, to the edges. Roll the cake from the longer side, using the parchment to help you roll as you go.
Refrigerate the filled cake for a couple of hours to soften, and serve chilled with the fresh cherries. The cake can also be made the day before and served deep chilled. It will settle a little, but still taste delicious.
(serves 6)
Serve warm, with a little pouring cream if you like. The kirsch and Grand Marnier are optional, but add a delicious touch.
Ingredients
For the fruit:
450 g fresh cherries, stoned (12 ounces, or about 2 cups)
25 g (3 tablespoons) sugar
optional: 30 ml (2 tablespoons) kirsch or other brandy
optional: 15 ml (1 tablespoon) Grand Marnier or other brandy
For the batter:
65 g (1/2 cup plus 1 tablespoon) sugar for batter, plus extra for dusting the pan
50 g all-purpose flour (not self rising)
250 ml (1 cup plus 1 tablespoon) whole milk
2 large eggs (or 3 medium)
20 grams (1 ½ tablespoons) unsalted butter, melted
pinch sea salt
1 teaspoon vanilla extract
3 drops almond extract
 Directions
Wash and dry the cherries and stone* them (or not, as you please). Macerate in the 3 T sugar and the kirsch and Grand Marnier, if using, for about 2 hours.
Preheat oven to 190 /375/ gas mark 5.
Butter a 20-23 cm (8-9 inch)round ovenproof dish, bottom and sides, and coat with the additional sugar, pouring out excess.
Mix the batter: combine remaining sugar, flour, a pinch of salt and whisk together. Add the eggs and whisk until smooth. Add the milk, melted butter, vanilla and almond extract.
Pour cherries and their juices** into the prepared pan and then pour batter on top. Bake for about 30-35 minutes until the centre is set, the edges are brown, and the top is light brown all over. Rotate the clafouti once in the oven if needed for even browning.
Serve warm, with cream if you like and any juices** you may have set aside for an accompanying syrup.
*To stone or not to stone
The French traditionally do not stone the fruits, as the stones give off a subtle almond flavour in baking and keep their shape. If you are serving people who don't mind negotiating stones, leave them in. For children or anyone who would object, I do stone them. This also allows the brandy and sugar to penetrate the fruit. Felicity Cloake gets around this difficulty by leaving them whole, but crushing the fruits slightly. Please yourself.
** If there are a lot of juices, you can hold them some aside and dissolve by heating for one minute in the microwave to serve as a syrup with the finished clafouti, alongside the pouring cream.