Cambridge Magazine
.  It includes three recipes for a homely yet special autumn feast in sympathy with the season:  woodsy mixed mushrooms on garlic toasts, fit for a king or hobbit; duck legs braised to a succulent bronze with beans and herbs; and to end with the fruit of the moment, pears poached in red wine.]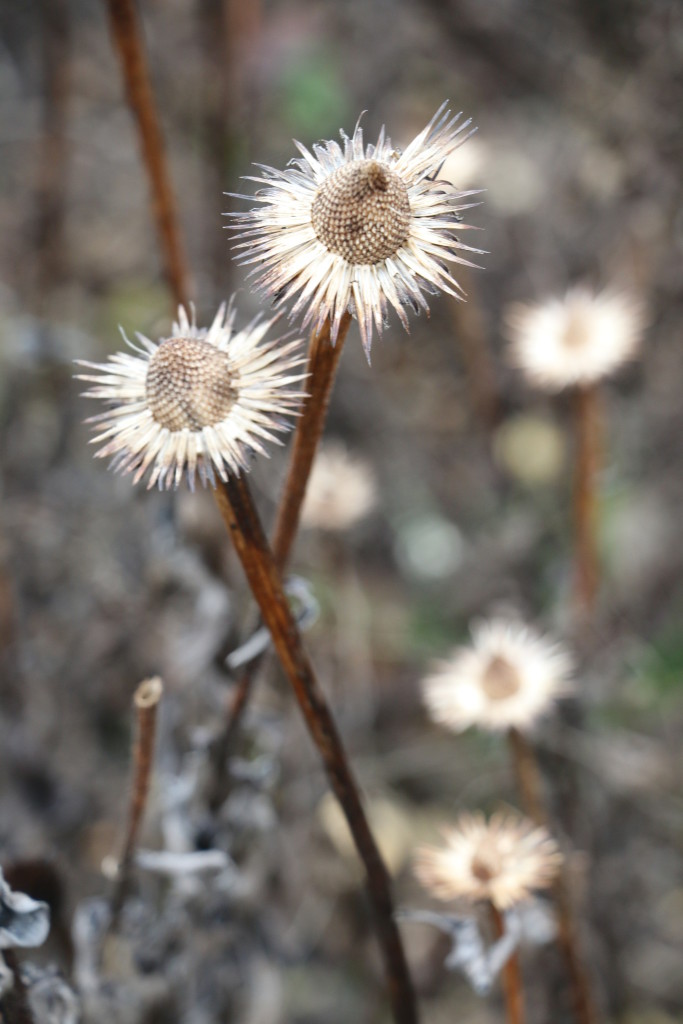 Nature proceeds with its work of setting seed, storing up and gathering in. We are settling in, too.
It's good to be outdoors partly for the pleasure of coming in again. The kitchen becomes newly comforting in its promise of casseroles and stews, soups and braises – the kinds of foods we want to eat right now and only, mostly, get at home. Restaurants can do things we can't, but not many would cook these homely dishes in the just-so way we do to please ourselves.
It's time for roots and sturdy greens: leek, carrot, parsnip; cabbage and kale; for venison and pheasant, partridge and duck; for the carnival of squashes and the diminutive marvels of sweet chestnut, hazel and walnut.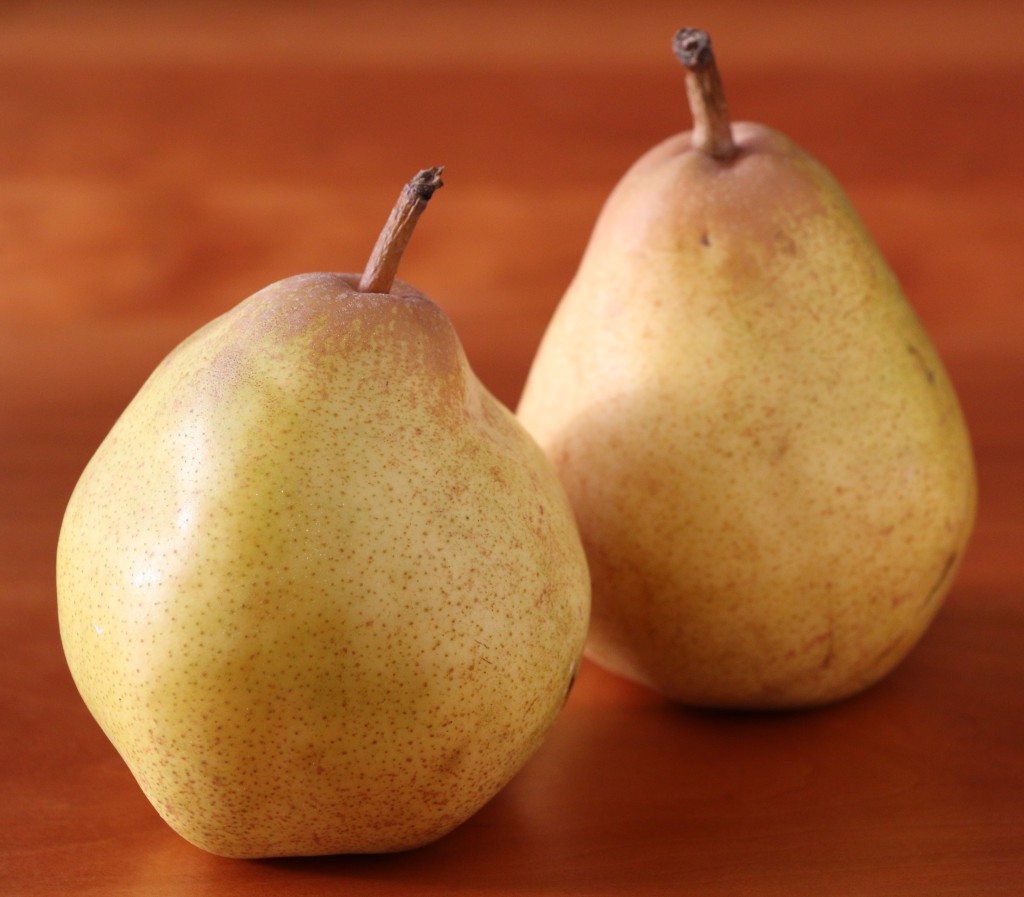 It's time for pears to steal the glory from apples, for this is their moment, the journey from bud to ripeness finally achieved. The enigmatic pear can be overlooked, for its perfection is elusive and we've lost the talent for waiting; but it is always worth trying, for once you've experienced the melting glory of a perfect pear you'll long for it again.
The English-bred Conference won first prize in 1885 at the National British Pear Conference – thus its name – and accounts for the great majority of pears sold today in the UK, but there are other superb varieties to seek out. The voluptuous Doyenne de Comice excels in soft juiciness when perfectly ripe – a pear to take your breath away and your time over, peeling first and "best eaten in the bath", as grower Wendy Jones of Bushel Box Farm Shop in Willingham, says. Comice is also wondrous when cooked a little under-ripe, as it sits so handsomely on its fat bottom.
The 1977 cross, Concorde – the accommodating offspring of Conference and Comice – offers a lovely pear crunch at first and then mellow softness if you leave it to yellow and wrinkle slightly at the stem. Beurre Hardy lives up to its name, the 'butter pear'; it and Glou Morceau, a late-season beauty, can be tasted in years when the English climate cooperates, from the heritage collections of the Cam Valley Orchards in Meldreth.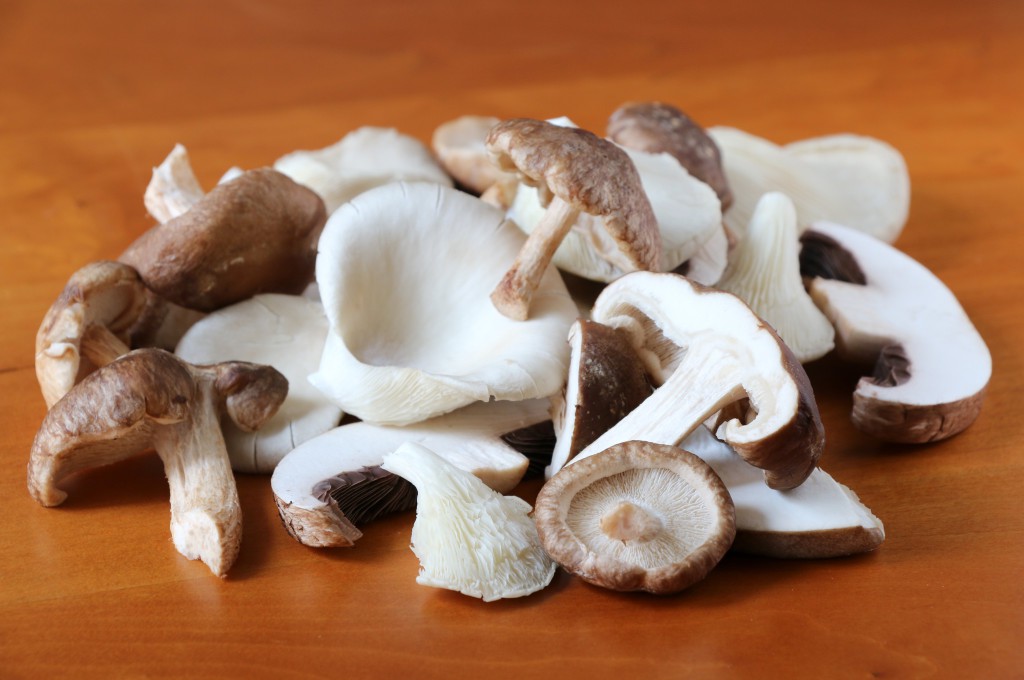 Secretive mushrooms that appear overnight are another prize of autumn. Mushrooms have a romantic appeal for me, the associations arising from a childhood immersed in story and surrounded by woods where the unpredictable appearances of fungi were mysterious and thrilling. On days rooted in realism we wanted to be naturalists who understood their glorious, dangerous, variety; in fanciful mood we imagined fairies and wood sprites making miniature homes of them. And I've always loved that part of Tolkien's Lord of the Rings when the hobbits (who, it is well known, "have a passion for mushrooms surpassing even the greediest likings of Big People") are sheltered by Farmer Maggot as they escape their first Black Rider, and are given the parting gift of a basket of mushrooms to banish fear and encourage them on their way.
Alas, over-picking has depleted many sites in the UK of wild fungi, and there are foraging bans in many areas that used to be rich in mushroom species and the wildlife that feeds on them. Where foraging is permitted, it is only allowed to pick for one's own table – it is illegal in the UK to sell mushrooms foraged from the wild, so this is one case where buying local is definitely not best. Cambridgeshire is not amply provided with fungi, which thrive in woodland; but where there are edible species, foraging is discouraged unless accompanied by qualified mycologists who monitor the wild populations and know with certainty the difference between edible species and dangerous look-alikes.
You can, however, absolutely enjoy these autumn treasures if you buy either cultivated exotic varieties, or wild mushrooms imported by reputable merchants who can guarantee their stocks are safe to eat and sustainably sourced in the countries where they are gathered. If you want to learn more, the British Mycological Society provides information on local foraging groups and highlights the importance of wild fungi in the natural ecosystem.
Cooking can be an offering: to those we love, to the spirit of the woods or whatever else we hold dear. Sometimes – not everyday, perhaps, but once in a while – we can find ourselves cooking with reverence: when lucking into a handful of special mushrooms, or a flawless pear that's ripened into fragrance on a windowsill touched by autumn sun. We can capture the season in such moments, as much as we would on an observant walk where we breathe in the details of change around us. Eating what's of the season helps us to feel we've been there, that it hasn't passed us by. These taste rituals help us to hold onto time.
November is lower-key than its neighbours, more inward-looking and reflective, less highly charged in expectation, but it's not just an in-between time. It has its own moods, landscapes and mysteries – and proves, again, if we need reminding, that the everyday is not incompatible with magic.
An autumn feast
Mixed mushrooms on garlic toasts
Duck legs braised with beans and herbs
Pears poached in red wine
RECIPES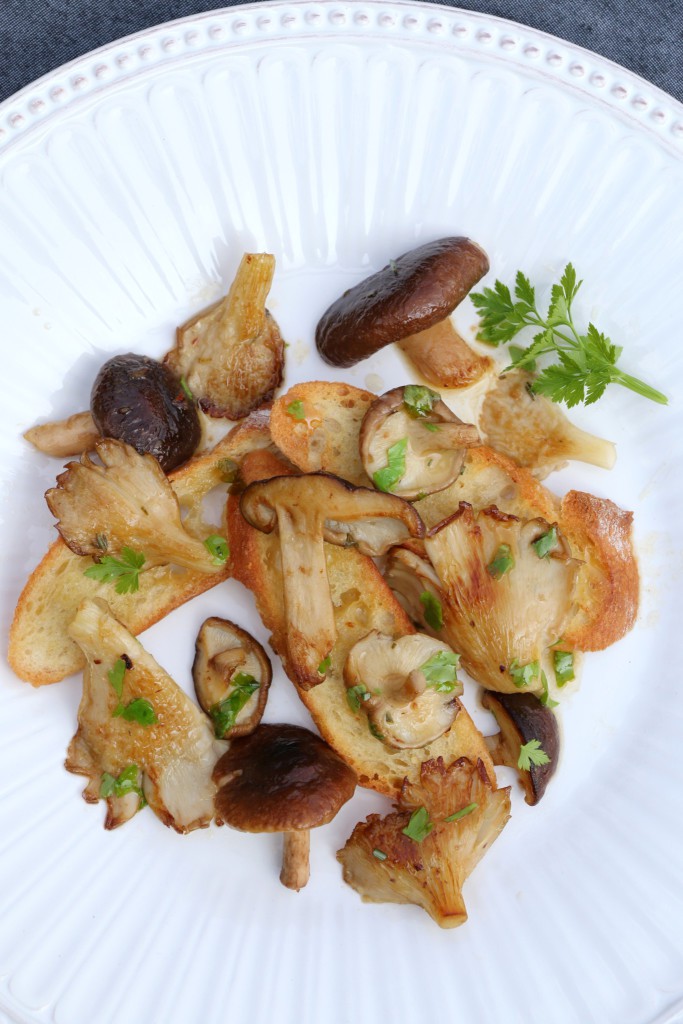 I. Mixed mushrooms on garlic toasts
Serves 6 as a starter
This dish is a real treat in autumn when you can buy interesting cultivated mushrooms, or sustainable, imported wild varieties from a reputable merchant. With ingredients this special no fancy treatment is needed, as any woodsman or hobbit will tell you.
The smell of mushrooms and garlic cooking is intoxicating, so no one will mind if you spend the few minutes needed to cook these so they arrive hot and juicy at the table. Have the mushrooms wiped clean and sliced, and it is a quick procedure. The garlic toasts can be kept warm in the oven while the mushrooms are cooking.
Use a mix of mushrooms if you can, and keep different types separate so you can cook tougher mushrooms longer than small or more tender ones. Shiitake, for example, require longer to become tender and need a bit of liquid. Oyster mushrooms are fragile and take little cooking before they melt into nothingness.
To clean mushrooms, wipe them with a damp kitchen cloth and trim off the tough ends of the stems, and any discolourations. Only wash them if necessary, and then only by immersing them in water for a few seconds and drying them thoroughly.
A day-old baguette makes excellent croutons, or use a fresh sandwich loaf for softer toasts. Allow 2-3 croutons or toast quarters per person, and a small handful of cooked mushroom for a starter portion.
Ingredients:
Half a day-old baguette or small sandwich loaf
400g (just under one pound) mushrooms, cleaned and sliced or quartered
40g (3 tablespoons) unsalted butter, plus an optional small knob more to finish
2 cloves garlic, finely minced
Sea salt and freshly ground pepper
1 lemon, halved for the juice
1 tablespoon chopped parsley
Directions:
For the toasts: Heat the oven to 200C/gas mark 6 /400F. Slice the baguette on the diagonal about 10mm thick (not quite half an inch). If using a loaf, slice it to a similar thickness.
In a large sauté or frying pan, melt the butter with the minced garlic over low heat; infuse for five minutes with the heat turned off; don't let butter or garlic colour.
Brush the baguette or bread slices on one side with some of the melted garlic-butter, and reserve the rest in the pan. Set slices buttered-side-up on a tray and bake for 8-10 minutes or until just golden on the edges. Turn the oven off, and turn the slices over to dry a little on the unbuttered side while you cook the mushrooms.
To cook the mushrooms: Return the pan with the remaining garlic butter to medium heat and let it just start to sizzle. Before the garlic begins to brown, add the largest or toughest of the prepared mushrooms and give them about 1 minute to cook, or until they begin to give up their juices, stirring occasionally. Add a small splash of water if needed to avoid browning the garlic in the meantime.
Add the rest of the mushrooms in the order of size, with any very small or tender specimens going in after the others have also begun to soften and exude their juices.
Add a good pinch of sea salt when they're all in the pan, and turn the heat up to medium-high, stirring gently until the juices have reduced and the mushrooms are tender and golden-brown in places. There should still be some juiciness left in the pan, but if it is swimming, pour off the excess to reduce separately and reintroduce at the end; otherwise the mushrooms could overcook before they colour.
Squeeze on a modest amount of lemon juice, stir through with some pepper, and taste. Add the parsley to finish and a small knob of butter if you feel the mushrooms need it. Taste again and correct with more lemon juice, salt or pepper as needed. Serve hot over the warm toasts.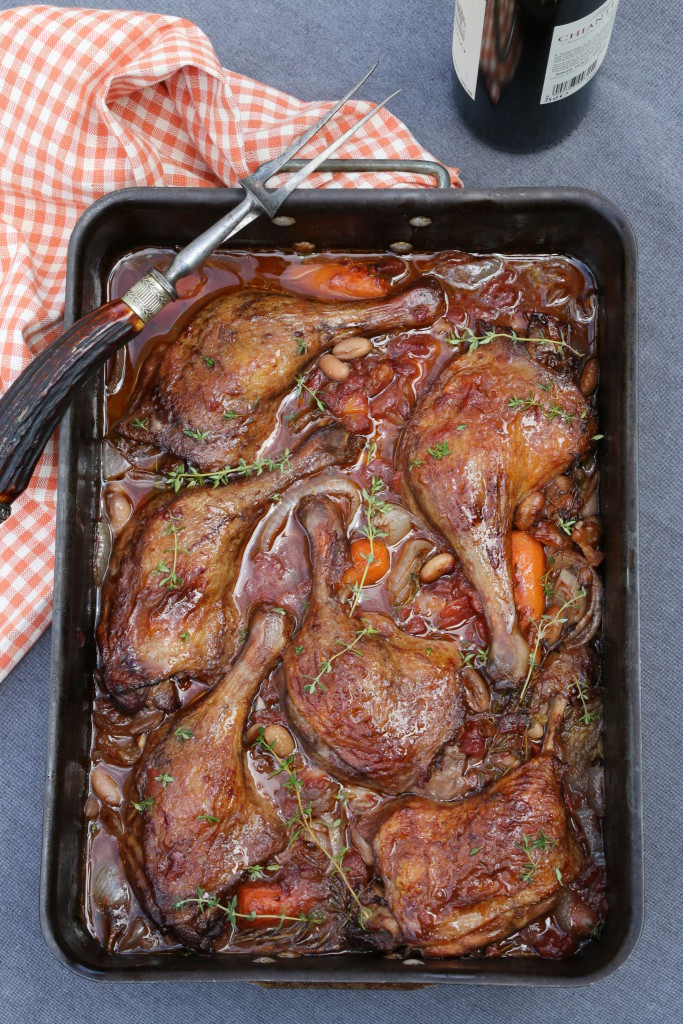 II. Duck legs braised with beans and herbs
This is a very French dish – less hearty (and easier) than a cassoulet, but still richly satisfying with its moist dark meat and mahogany burnished skin. Like coq au vin, it is braised in red wine; you could use chicken legs and cook them a little less.
The treatment of the beans has echoes in Italian cookery as well. Some years ago in the countryside around Siena, we discovered an out-of-the-way restaurant in an old watermill. We were the only guests and our hosts were effusively glad to see us. Their homely food would have made a Michelin judge coo, and their menu's hand-scrawled English translations were memorably idiosyncratic. 'Fillet of grandmother' (for 'beef fillet cooked in grandmother's style') raised a chuckle, but 'bone hole' for osso buco caused such barely suppressed hysterics we couldn't trust ourselves to order it. I tried instead a dish of  'birds with beaks' as much to see what it was, as anything, and was surprised to be given a dish of cannellini beans cooked with herbs in a delicious broth, no birds in sight (beaked or beakless). They were sublime, and we spent the rest of the meal trying to work out the logic of the translation and how such flavour had been coaxed from those humble legumes. Later we discovered there is an Italian way of cooking beans called 'fagioli all'uccelleto', or 'beans seasoned like birds', braised in rich bird stock with lots of herbs – so mystery solved.
Serves 6                      
 Use a wine you would want to drink, and chicken stock instead of a stock cube. The braising liquid is important to the taste of the dish.
If you cook dried beans from scratch, soak them overnight in plenty of water so they stay submerged as they swell. Drain and then boil them in unsalted fresh water for about 2 hours or until completely soft; and let them cool in the cooking liquid to avoid raggedy skins.
If you can salt and pepper the duck legs the day before, the skin will crisp better and they'll absorb flavour from resting with the seasoning overnight in the fridge.
You will need a large roasting pan that will take the duck legs in a single layer and accommodate the braising liquid: about 37x26x5cm (14x10x3 inches).
Ingredients:
6 whole duck legs (don't separate the thighs and legs)
Sea salt and freshly ground black pepper
2 medium carrots, cut into 5cm (2 in) lengths
1 large onion, halved and sliced 8mm (1/3 in ) thick
2 inner stalks celery, with leaves, cut into 5cm (2 in) lengths
1 x 400g (14 ounce) tin chopped tomatoes
4 cloves garlic, finely minced
1 small bunch each fresh parsley and thyme (about 20g each, or less than 1 oz each)
2 x 15cm (6 in) sprigs fresh rosemary
3 bay leaves
450-500g (one pound or a little over) cooked cannellini beans, drained weight (2 tins, or freshly cooked from 225g or 8 oz dried beans)
250ml (1 cup) robust red wine
400ml (a generous 1½ cups) good chicken stock, plus a little extra if needed
Directions:
Trim the duck legs of excess fat, leaving enough skin to allow for shrinkage as it cooks. Salt and pepper well on both sides. Distribute half the thyme sprigs over the meaty sides, and refrigerate the legs overnight if you can – or proceed.
Heat oven to 220C/450F. Bring the stock to a low simmer in a medium saucepan. Put the carrot, onion, celery, garlic and tomato (with juice) into a large roasting pan or baking dish. Evenly distribute the drained beans over the vegetables. Coarsely chop two-thirds of the parsley leaves and add to the pot (keeping the rest for garnishing the finished dish). Distribute the remaining thyme over the vegetables and beans, holding back a few stems for garnish, and tuck in the bay leaves and rosemary sprigs. Add the wine.
Arrange the duck legs, skin side up, in a single layer over the vegetables and wine, making sure they don't overlap, as this would inhibit browning. Pour on the hot stock, which should about half cover the legs. Cover tightly with foil and bake for 20 minutes.
Reduce the heat to 180C/ 375F and cook for 20 minutes longer, still under foil, rotating the dish once for equal heat distribution (this makes 40 minutes under foil).
Remove the dish from the oven and take off the foil. Baste the legs in the juices and return the dish, uncovered, to the oven for a further 30-40 minutes to brown the legs. Check after 15 minutes: baste the legs again and rotate the dish for even browning. Baste once or twice more and rotate the pan as needed so every duck leg is equally browned. Keep an eye on the level of liquid: it should reduce to a good flavour, but still be plentiful enough to keep the beans moist and a little brothy.
The duck legs are done when they can easily be pierced with a skewer, and when their skins are well burnished. Give them longer in the oven if needs be, and top up the liquid if necessary with extra stock or a splash of water.
Taste the sauce and correct the seasoning as required. Garnish with the remaining parsley leaves and thyme sprigs, and serve in rimmed dishes to contain the juices.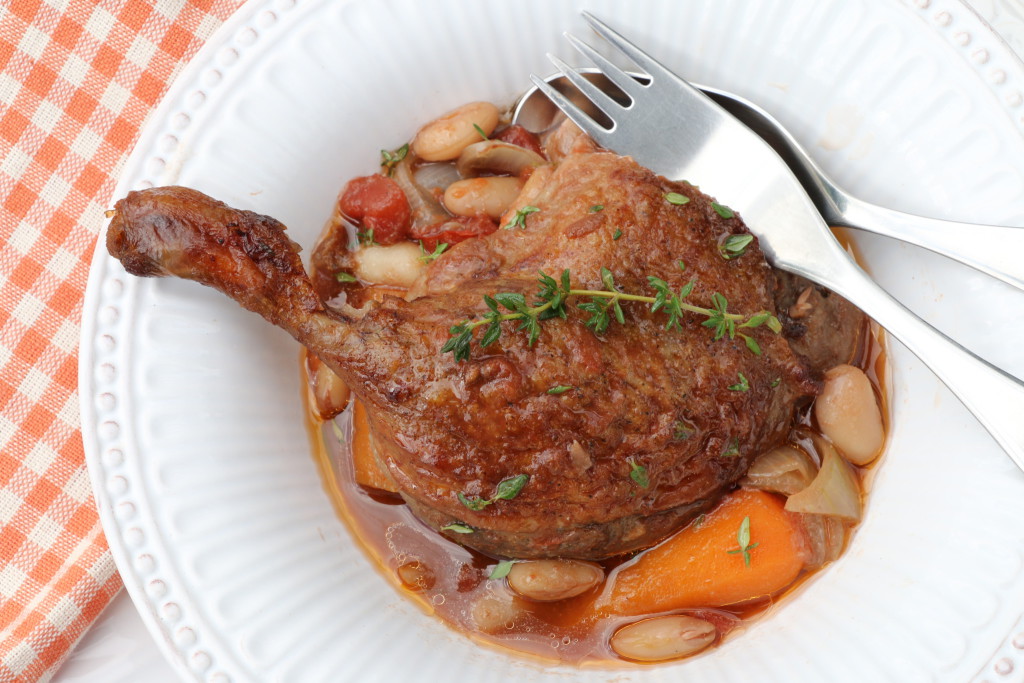 III. Pears poached in red wine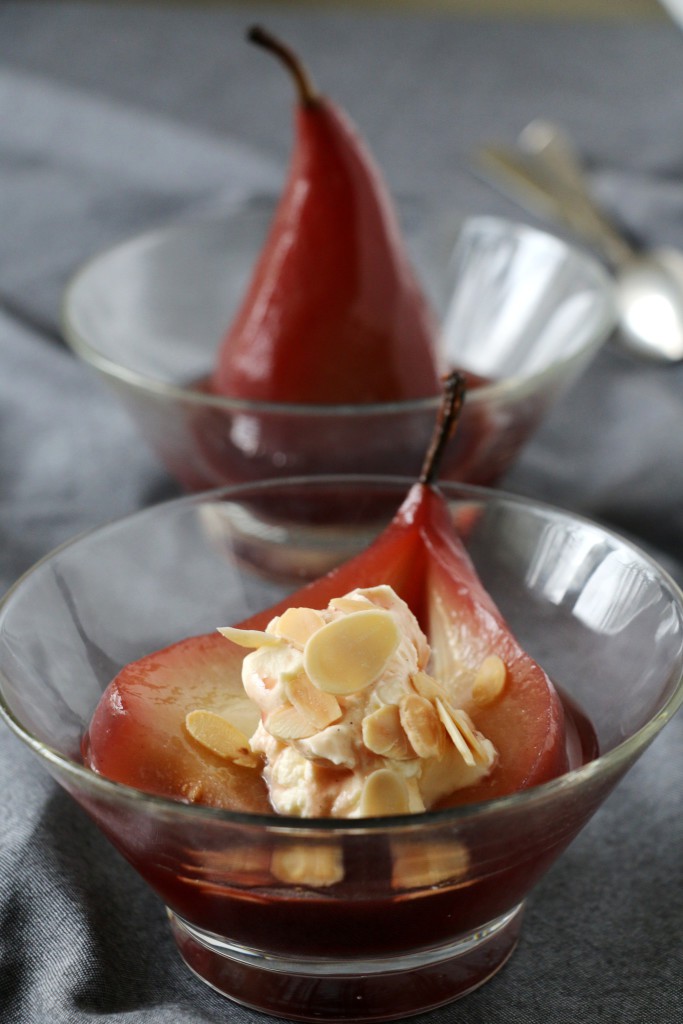 Serves 6
Pears are the star fruit of November, and especially good for ending a meal with duck. Use the same bottle of red wine to poach the pears as you do to braise the duck legs.
Comice, Concorde and Conference pears are all good for poaching. They must be slightly underripe – within a day or two of being good for eating. Williams are also good if still firm. If you are lucky enough to have drippingly ripe pears, eat them as they are, with or without cheese.
I leave the cores in, as it's not much fuss to eat around them, but you can halve and core them with a melon baller if you wish, and poach them for less time.
These are best chilled, so can be made the day before.
Ingredients:
6 slightly under-ripe pears with stems
225g (1 cup plus 2 level tablespoons) golden caster sugar (or white granulated)
225ml (just under 1 cup) robust red wine
225ml  (just under 1 cup) water
1 vanilla bean
2 strips lemon peel, and the rest of the lemon, halved
1 small cinnamon stick
2 level teaspoons arrowroot
1 tablespoon cold water for the arrowroot
250-300ml (1 to 1¼ cups) double (heavy) cream, whipped lightly with 1 teaspoon caster sugar
60g (around 2 ounces) sliced almonds
Directions:
Toast the almonds until crisp in a 180C/gas mark 4/350F oven for about 8 minutes; turn off oven and set almonds aside.
Peel the pears, leaving the stems intact. Trim a small amount off the bottoms as necessary if you want to serve the pears standing upright. Generously rub each pear as you peel it with a squeeze of lemon juice to prevent discolouration.
Into a medium saucepan, pour the red wine and the water; add the sugar, cinnamon stick and lemon peel. Slice the vanilla bean lengthways and extract the seeds by running a spoon inside it: add the bean and seeds to the liquids. Dissolve the sugar over gentle heat, and only then allow the poaching liquid to come to a boil. Simmer for one minute before adding the pears.
Lay the peeled pears on their sides in the hot liquid, and gently simmer for 20-30 minutes, turning them every 5-10 minutes so they evenly take on the colour of the wine. They are done when tender enough for a skewer to penetrate all the way through without resistance.
Carefully transfer the pears from the saucepan into a bowl and set aside. Remove the cinnamon, vanilla pod and lemon peel from the poaching liquid and discard (rinse the vanilla bean and dry it for flavouring a jar of sugar). Taste the liquid, and if it needs further reducing to acquire a really good flavour, let it boil for a minute or two. When you like the taste, it's time to thicken it.
In a small cup, dissolve the arrowroot in the tablespoon of cold water to make a thickening slurry. Bring the poaching liquid back to a simmer and add most of the slurry, stirring constantly until the liquid has thickened and turned clear and glossy, about 1 minute. The finished sauce should have enough viscosity to just coat a spoon, but not be gloopy. If it's still too thin, stir in the rest of the dissolved arrowroot and let the sauce boil briefly again to thicken and clarify.
Return the pears to the thickened sauce and allow to come to room temperature, turning occasionally for evenness of colour. Chill for 3-4 hours or overnight and serve with the lightly whipped cream and almonds passed separately. Or to serve individually, lay each pear in its dish and slice from the stem downwards, going just deep enough to open it out but quite to the core. Spoon over some sauce, and fill the cavity with a dollop of lightly whipped cream garnished with toasted almond slices.
Other autumnal recipes and stories on Crumbs on the Table: