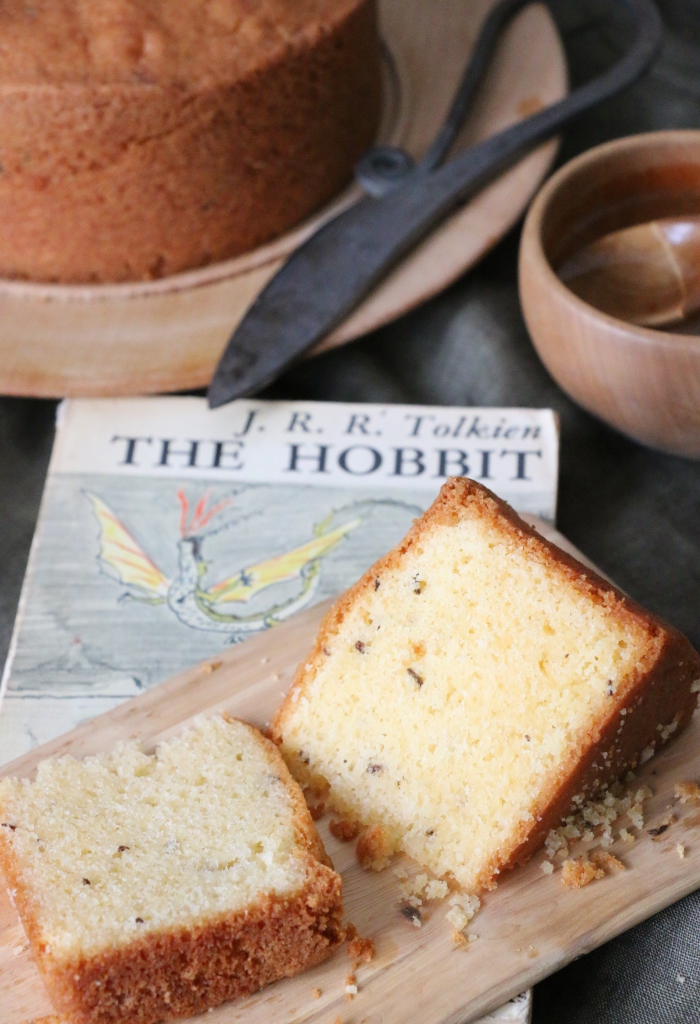 'I don't mind some seed cake, if you have any.'

'Lots!' Bilbo found himself answering to his own surprise; and he found himself scuttling off, too, … to a pantry to fetch two beautiful round seed-cakes which he had baked that afternoon for his after-supper morsel."

The Hobbit, J.R.R. Tolkien (1937)
Seed cake has been around since medieval times and was a favourite of English tea tables until Edwardian fashions began to give way to newer cakes. It enjoys occasional warm revivals by bakers who appreciate the change and go in for good older-fashioned favourites. Imaginative chefs like Jane Grigson, Nigel Slater and Dan Lepard all have excellent recipes (Jane and Nigel's with ground almond, though Mr Slater's is much lighter on the caraway seed content, and Dan gives a marmalade variation). Delia Smith and Mary Berry also have their reliable and tasty, seedier versions.
Seed cake has piqued my imagination for decades, as it appears so often in English literature (The Hobbit, Jane Eyre and David Copperfield  stay in my mind).  Food in fiction always jumps out at me.  It creates atmosphere and tells us so much about the time and place of the fictional world and its characters — their taste for life (hobbits), their refinement of sensibility (the Brontës, Jane Austen), their affectation in wealth or pathos in poverty (Dickens).
According to Tom Jaine's new edition of The Oxford Companion to Food, 'seed cake' historically could also refer to a cake that was given to agricultural workers to reward them for the hard labour of seed-sowing. William Morris writes in 1892 of this seed-time festival (it may have been the St Martin's Day festival just before the start of Lent) when "the farmer made a sort of feast for his men, the principal feature of which was 'seed cake', which was given to each of them. The cake did not get its name from anything that it contained, for it was in fact an ordinary sort of currant or plum cake, but from the occasion. On these minor festivals the men had as much ale to drink as they liked, and right well they enjoyed themselves. This old custom has, I believe, now quite died out." (page 731, Oxford Companion to Food.)
I discovered through experimenting with several 20th and 21st century recipes that the seed cake most appealing to my own taste is based on my grandmother's Elegant Southern Pound Cake, which she would make in a 10-inch tube-pan (I have cut this down to a deep 18cm or 20cm (7- or 8-inch) cake pan I use for Christmas and Simnel cakes).  It smelled so good when baking and lasted for days, getting moister and stickier on top as time progressed.  For the Fourth of July it was accompanied by strawberries and whipped cream; other times we would help ourselves to a plain slice off the impressive ring, delicious with its hint of vanilla foremost. My sister Kitty likes the simplicity of this cake – no sickly icing, no nonsense – more nourishing somehow than sugary bakes.
I've adapted this pound cake into my own kind of seed cake with the addition of a medium-generous amount of seeds and a hit of aged Norwegian akavit to intensify the caraway flavour. This strong Nordic alcohol, with its essence of caraway, adds something I like very much – a background note of spice, a damper to the sweetness, and a hit that becomes non-alcoholic as the intoxicating effects are baked off in the oven. I haven't seen this combination elsewhere, though there are 18th century recipes using sack, a sort of sherry, in cakes with caraway, coriander and aniseeds.
You don't need to use the akavit to have a delicious, distinctly caraway-infused cake, but to me it works very well with the richness of the buttery cake, somewhat like sherry to a sponge trifle or a glass of Madeira to a Madeira cake — closest British cousin to the American pound cake. I have baked my grandmother's pound cake for English friends who have never heard of 'pound cake' before, and they invariably tell me (sometimes bossily) that it is, actually, a Madeira  cake (which, by the way, was made not with Madeira in  it, as I am using the akavit in my seed cake, but to sip with,  at that time of day when ladies and gentlemen needed a little boozy boost as well as something to nibble).
Emma Gardner, author of the wonderful baking blog,  Poires au Chocolat  (the first food blog I fell in love with), uses her  favourite sponge as the basis for a seed cake, adding some caraway to the mixture and sprinkling more on top with some sugar. Though it doesn't last as well as my pound cake version, this lighter-textured version is a delight as well, and fits that niche of "rather splendid-looking sugar-topped cake" that Lucy enjoys with Mr Tumnus for a fireside tea in winter-bound Narnia.
I love to include a plain cake on a tea table when I am doing a more elaborate celebration. It sets off the smaller, sweeter dainties, and anchors the scene in the traditions of the ceremony. It tastes clean, a little restrained and satisfyingly good, especially if you've had enough of cream, jam, and icings, but have a Hobbit corner left to fill.
Though she doesn't include seed cake in her ravenously comprehensive 1956 survey of the English tea table, I like Constance Spry's insight into the standards of taste that prevailed at the time: "The very word tea-time has a nostalgic ring for those of us who remember the past with delight… It was not then considered good taste to have too many small things–one good plum cake, one light cake, perhaps of the sponge or sponge-sandwich variety, or an orange cake, iced, might appear, and a hot dish of crumpets or buttered toast, anchovy toast or hot tea-cakes …". If you need inspiration for a tea fest, this 1950's cookbook, with its celebratory raptures borne of the food-rationing years, will give you plenty, plus enough recipes to keep you baking full time for the rest of your life (I can think of worse ways to spend it).
I am all for bringing back seed cake, and for bringing back the idea of Constance's tea table, full stop. We would certainly have to slow down a little to accommodate that, and what a nice thing that would be…
Until then, I won't be surprised if seed cake does become popular once again, now that we are using more and different seeds in all kinds of cooking, sweet and savoury, and re-educating our tastebuds to prefer less sugar. This is something I like about seed cake: sweet it definitely is, but it also brings a little herbal savouriness to the palate. It's a good 'transition' cake (Starbucks or Costa should think about introducing a 'swavoury' muffin in their search for novel ways to feed us as we rush, rush in our busy lives.)
Most of all, though, I love the idea of hobbits having two beautiful round seed-cakes in their pantry, of the little sisters in David Copperfield  "picking up seeds and pecking at sugar",  and of the seed cake — "that delicate fare so liberally supplied" — that Miss Temple gave to Jane Eyre and her sick friend Helen to satisfy their 'famished appetites …" in that prison of a school. I feel I'm living a little bit of my favourite stories when I cut into one of these plain cakes, so rich in associations — stronger even than the shot of akavit I sometimes take with a slice.
Makes one 18cm or 20cm (7- or 8-inch) round cake, serving about 8
It will last for several days kept airtight, and freezes well. Thaw still wrapped so the condensation stays away from the cake.
Ingredients
225 g ( 8 oz /1 cup / 2 sticks) unsalted butter, room temperature
225 g (1¼ cup) caster (ordinary or superfine) sugar, divided into two parts
225 g all-purpose or cake flour (1¾ cup flour sifted before measuring)
½ teaspoon baking powder (this style of pound cake doesn't need more)
¼ teaspoon salt
1½ teaspoons caraway seeds
4 large or extra large eggs, separated
½ cup minus 2 tablespoons heavy cream if using the akavit; if not using akavit, use a full 1/2 cup heavy cream
Optional:  2 tablespoons Akavit with a caraway taste (Linje is good)
1 teaspoon vanilla extract
Directions
Heat oven to 150C /300F
Butter an 18-20cm (7- or 8-inch) cake tin that measures at least 7.5cm (3 inches) deep. Line the bottom with parchment, or flour the tin.
Cream the butter until soft and light, about 3 minutes.
Gradually add half the sugar and beat for another 5-10 minutes until pale and fluffy.
Beat in the egg yolks one at a time.
Add the flour one-third at a time, alternatively with the cream, ending with flour. Beating on low speed after each addition, just until incorporated.
Add the caraway seeds, the vanilla, and the akavit, if using, and beat the mixture well to incorporate, about 1 minute.
 With clean beaters, whip the egg whites to soft peaks and then add the remaining half of the sugar a bit at a time, beating at medium-high speed until stiff peaks form.
Spoon in the first addition of beaten whites to the batter to loosen, and then carefully fold in the rest in two or three goes.  Fold carefully at this stage. Make sure you have no large pockets of white remaining, but don't overwork or you'll lose volume.
Carefully spoon the batter into the prepared tin, smooth the top and make a shallow indentation in the middle, so it has less tendency to rise too much in the centre.
Bake for about 1 hour and 20-40 minutes until a tester inserted in the centre comes out just clean and the cake is golden on top. A shallower cake will bake faster, so test after about 40 minutes, and rotate the cake as necessary in the oven for an even bake.  If it colours too fast, cover with some foil or buttered parchment.
Cool for 20 minutes in the tin and then turn out onto a rack to cool.
Store airtight when completely cool.
Links:
Constance Spry Cookery Book, Constance Spry and Rosemary Hume [Pan Books: London] 1956 (p. 1051)