These months of lockdown and Covid restrictions have brought home just how much food can transport us to places we miss when we can't actually be there.  Right now, as England turns gloomy and cold with damp, I'm longing for old haunts in Sicily.  The sun is still beating there with fruitful intensity onto groves of almond, citrus and olive.  It's baking the rocks and herbs of the wild scrubby landscape and the quiet beaches where we've swum into October.  It's turning the beautiful baroque towns golden with every sunset.
Cooking this favourite Sicilian dish brings it closer, right onto our table, right into now, so we feel again its sun and all the flavours and fragrances its intensity bestows.  This hearty, comforting dish also reconciles me to appreciating home in these cooler months — even gives me a reason to welcome them — as this hearty 'pasta bake' is best eaten when you want to remember the feel of the sun, but aren't melting under it.
Pasta 'ncasciata (pronounced "in-kah-cháh-tah") is a treasured classic of Sicilian cuisine, one of its most popular baked-pasta dishes. When this dish is on the menu, you know someone has taken time to make something special.
It's made with annelli pasta, or 'little rings', dressed in a meaty tomato ragu made with sausage, pork or beef (or sometimes a mix).  To this is added a generous quantity of sautéed aubergine and cubed cheese (in Sicily it's caciocavallo, a cow or sheep milk cheese which stretches on cooking.)  This assemblage of parts is put into a baking dish and blanketed with a silky béchamel and sprinkling of melting-cheese, to give the finished masterpiece an irresistible golden finish.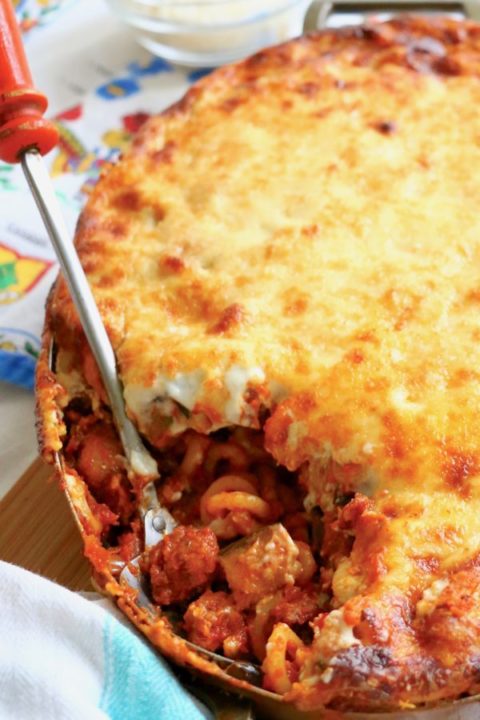 Though it requires several steps to assemble, it also has the casserole's virtue of being something you can make ahead, even the day before, so all that needs to be done is the final baking and serving straight from the oven-dish.  This is handy when you've got other things on the go, as there's no last-minute boiling or dressing of pasta, no fussing with presentation.
In Sicily it's traditionally treated as a celebratory first course (primi piatti) for those occasions where family and friends gather and eat all day.  Sometimes it's made into an extravagant 'timbollo', cooked in an aubergine-lined mould and turned out like a cake.  More and more, it's also served casserole-style as a substantial meal-in-one, with enough for leftovers — and that's how we like it in our house.
You will recognise pasta 'ncasciata if you know Andrea Camillieri's fictional Sicilian Inspector Montalbano, who goes into silent raptures and grateful hand gestures whenever his cook and housekeeper, Adelina, makes it for him.  We understand his devotion.  The complexity of flavours in this dish are really stunning and the textures also make it hard to stop eating.
I learned to make pasta 'ncasciata from two excellent Sicilian home cooks who shared it without formal instructions or exact quantities, as is so often the way with traditional dishes cooked from experience and instinct.  I've worked at making sure the quantities presented here are accurate for those who want precision in their recipes.  I've also tweaked the recipe over time after consulting other Sicilian authorities and trying it with a few ingredients that are easier to source outside Sicily, but which still capture the true taste of the dish.
I'm now eager to share this recipe, confident it is reliable and true to its name, do-able outside Sicily while also being worthy of approval from the cooks who first shared it with me.  Above all, I'm delighted to share something so delicious and that bit different, and hope you will want to add it your collection of pasta favourites,  whether you're missing Sicily at the moment, or have never been there.  And of course I hope you will taste pasta 'ncasciata in its sunny land of origin when the world is safe for travel again.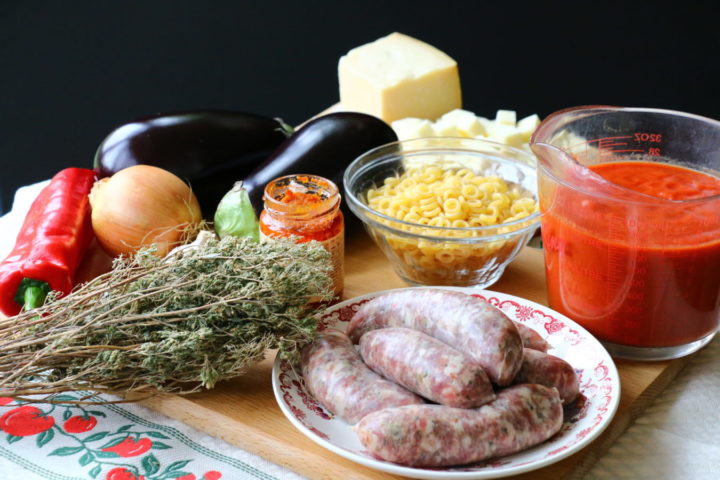 RECIPE
A word on ingredients…. Recreating pasta 'ncasciata outside Sicily isn't difficult as there are really good alternatives for the pasta, sausage and cheese that will taste just as good and behave in the dish just as well.  These are noted in the recipe below.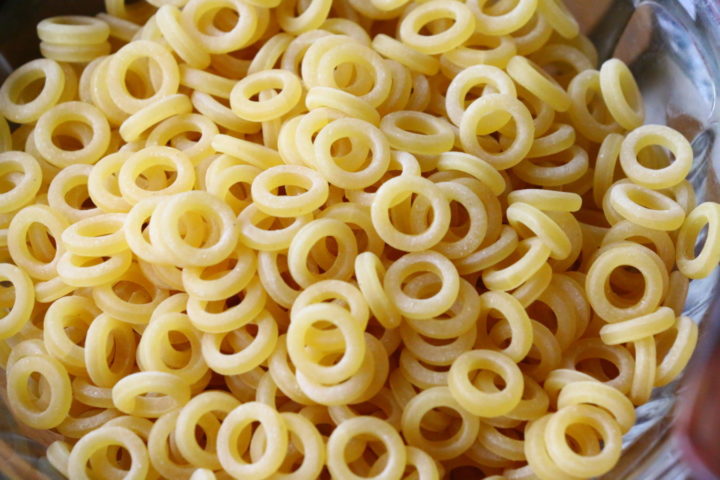 *Pasta:  The traditional pasta for this dish in Sicily are the little rings called anelli ('little rings').  These are available from many online sources.  Any tube pasta such as ziti, penne, or rigatoni make good substitutes (and are sometimes used in Sicily, too, especially ziti).  You could also use a medium sized shell pasta, 'wagon wheels' or orecchiette (little ears).  Any pasta that supports a thick meaty sauce and is robust enough to take being baked in a casserole will work.
**Sausage: This hearty dish works best with a spicy, coarse-textured sausage with Sicilian or at least Italian seasonings.  If you can't get sausage of this kind, then I'd recommend adding a touch of chili pepper, fennel and oregano to a plainer sausage.
***Cheese: Provolone works very well in this recipe — the picante version especially. It has just the right body and flavour to mix perfectly into this dish, so nothing is lost if you can't find caciocavallo.
Pasta 'ncasciata
Serves 4-6 as a main course, or 8 as a first course
Ingredients
The pasta:
250g (8-9 ounces) dried anelli pasta — or use ziti, penne, or others suggested above*
For the ragu sauce:
450-500g (1 pound to 1 pound 2 ounces) Sicilian or other Italian sausage meat, or a combination of ground beef or veal and pork (see notes above **)
2 tablespoons olive oil for browning the meat and vegetables
Optional:1 teaspoon fennel seed if not using Italian/Sicilian sausage
115g (1 cup) onion, finely chopped – about 1 medium onion
115g (1 cup) sweet red pepper, finely chopped – about 1 medium pepper
20g (1 rounded tablespoons) minced garlic: about 6 garlic cloves
125ml gutsy red wine (½ cup) (Sicilian Nero D'Avola is ideal, or something like a Shiraz, Zinfandel, Merlot, or Argentinian Malbec
700ml tomato passata (about 27 ounces, or 2¾ cups)
130g (1/2 cup) sundried tomato paste OR 2 tablespoons rich Sicilian tomato concentrate (OR 1 tablespoon regular tomato paste)
1 teaspoon dried oregano (ideally wild mountain oregano from Italy)
1 teaspoon flaky sea salt if using seasoned sausage meat, or 2 teaspoons flaky sea salt if using minced beef, veal or pork. (If using regular pouring salt, use half as much.)
For the aubergine:
500g (1 pound 2 ounces) aubergine, cut into 3cm (1-inch) cubes (buy about 50-75g more to allow for topping and tailing)
1 teaspoon flaky Maldon sea salt (or half that amount of regular pouring salt)
4 tablespoons olive oil for frying the aubergine
 ***The cheeses you'll need:
200g (7 ounces) caciocavallo or provolone picante cheese, cut into 2cm cubes (a little over ½-inch)
60g (2 ounces) Parmesan: 30g (1 ounce) each for the béchamel, and to grate over the casserole before baking

plus extra Parmesan for serving at table
For the béchamel:
30g unsalted butter (2 tablespoons)
30g plain flour (3 tablespoons unsifted all-purpose flour)
500ml (2 cups) whole milk
2 bay leaves
4-6 gratings of nutmeg (or a pinch of ready-ground)
¾ teaspoon flaky sea-salt, or ¼ teaspoon cooking salt
30g (1 ounce) grated Parmesan (as listed under cheeses, above)
Directions
Toss the aubergine pieces with 1 teaspoon flaky sea salt, or half that amount of regular salt, and place them in a colander to drain while you tend to the ragu.  The salt will draw out some of their liquid, which will allow the pieces to brown without absorbing an excess of oil.
Turn your attention to the ragu: Heat a large, deep saucepan or Dutch oven over medium heat, and add 2 tablespoons olive oil.  Break up the meat and add it to the pan (if you are using sausages, squeeze the meat out of their casings and discard the skins).  Allow the meat to cook through and take on some brown colour, stirring occasionally to break up the meat into pieces a little smaller than bite-sized (about 10-15 minutes).  If you're not using Italian/Sicilian sausage, add the fennel seeds towards the end of the browning process so the seeds have about 1 minute over the heat with the meat.  When the meat is done, remove it to another dish for now;  DON'T wash the pan.
Add the chopped onion and pepper to the same pan you used to brown the meat, and add another tablespoon of olive oil if the pan is dry. Cover the pan for about 2 minutes to sweat the vegetables and help the caramelisation on the bottom of the pan to dissolve into them.  Remove the lid and continue to cook the vegetables for another 3 minutes, or until the onion is translucent.  Add the garlic, and give it another minute until fragrant, stirring frequently.
Put the cooked meat and its juices back into the pan with the onion, pepper and garlic, and immediately add the wine, and allow most of the liquid to cook off.
Add the sundried tomato paste (or regular tomato paste) and the oregano, stir well, and add the passata and one teaspoon of flaky sea salt (or half that amount of regular pouring salt. Stir the sauce well, and bring to a bare simmer.  Turn down the heat to low and cover the pan.  Simmer for about 1 hour, stirring frequently to ensure the sauce isn't sticking.  Remove the lid from the pan and continue to cook for another 30 minutes to an hour, or just until the meat is tender —  again, stirring regularly.   Taste the sauce once the meat is cooked, and add a little more salt, if needed.   (You can cool the sauce at this point and refrigerate it or freeze it, if you're doing this stage ahead.)
While the sauce is simmering, cook the aubergine:

Heat a large frying pan or saute pan over medium heat.  Add 2-3 tablespoons of the olive oil once the pan is hot (heating the pan first helps the aubergine cook without sticking.). You want the cubes to brown and keep their shapes, not steam and collapse, so you'll need to cook them in a single layer, and may need to do this in two batches.  Dry the aubergine cubes well before cooking to remove the moisture the salt has drawn out of them as they've been sitting.  Do this with a clean kitchen towel, working with about a handful of aubergine cubes at a time, and give them a gentle squeeze in the towel while you're at it.
Add the aubergine cubes to the hot, oiled pan, and give the pan a shake to help coat the pieces with oil.  Cook for about 10 minutes, or until lightly browned on all sides, turning them as needed with a spatula or a pair of tongs.  The pieces should be done through, but still hold their shape.  Set the cooked cubes aside on a paper-towel-lined platter or bowl, and add another tablespoon of olive oil to the pan if you need to for a second batch.   Set the cooked pieces asides for now.

Make the béchamel sauce for the top of the dish:

In a medium saucepan over moderate heat, bring the milk and the bay leaf to just under the boiling point (or use a large measuring jug in the microwave).  Set aside.
In another medium saucepan, make a roux by melting the butter with the flour over moderate heat.Stir it occasionally and cook until the roux has a sandy texture and is slightly golden in colour, about 8 minutes.
Whisk the hot milk and bay leaf into the cooked roux, slowly at first, and then more quickly, and whisk vigorously until smooth. Turn the heat to low and simmer for about 10 minutes, scraping the sides and bottom of the pan with a silicon spatula occasionally.  Add the grated Parmesan, nutmeg, pepper, and just a pinch of sea salt at this stage, and continue to cook for about 5 minutes more.  Taste and correct the seasonings as needed with a bit more nutmeg, salt or pepper (nutmeg can accumulate in strength, so add it judiciously).   Remove the béchamel from the heat and set aside.

When the ragu is almost done, and you are ready to assemble the dish, boil the pasta in plenty of well-salted water, just to the al dente stage (the pasta will cook further in the oven). Keep aside a cup of the pasta-water before you drain the pasta.
Add the drained pasta immediately to the pan with the ragu, and stir it in. Add a little of the reserved pasta water if the sauce seems too thick, and keep stirring:  the starchy water makes the sauce silkier.  Then add the cooked aubergine and the cubed cheese, to the pot, and stir thoroughly but gently to mix everything together.  If the mixture looks like it needs help binding together, add another spoonful or two of the pasta water.  The consistency should be thick but not claggy, and the different elements should be bound together by the sauce rather than falling into separate chunks.  Decant the mixture into your prepared oven-dish.
Spread the béchamel evenly over the pasta mixture in the oven-dish, and sprinkle the top with the remaining 30g (1 ounce) of grated Parmesan. (You can cool the dish now and cover and refrigerate it to cook the next day; or you can freeze it at this stage; defrost in the fridge overnight.)
Bake at 190C/375F for 30-40 minutes, or until the pasta is nicely browned on top and bubbling through to the middle of the dish.  

If the dish has been refrigerated, it will need 1 hour, to 1 hour 15 minutes in the oven.

  If the top browns too quickly, cover it loosely with foil.
Let the dish rest 5-10 minutes before serving. (If you want to cut neat portions, either to freeze, or to serve later, leave it to cool completely, and re-heat individual portions in the microwave.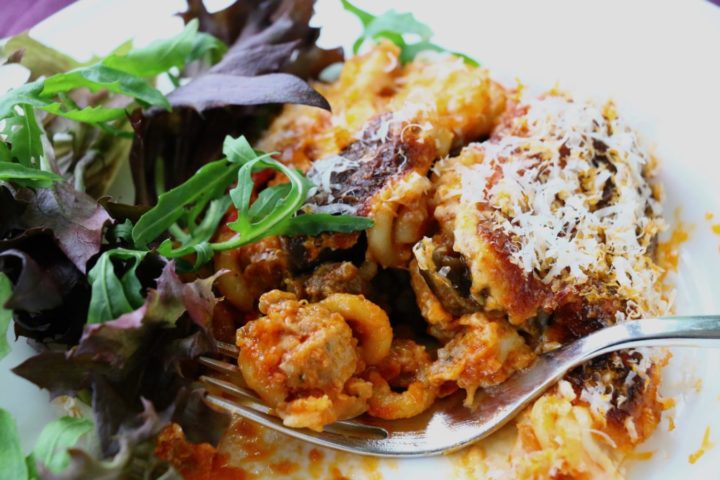 More pasta bakes on Crumbs on the Table: