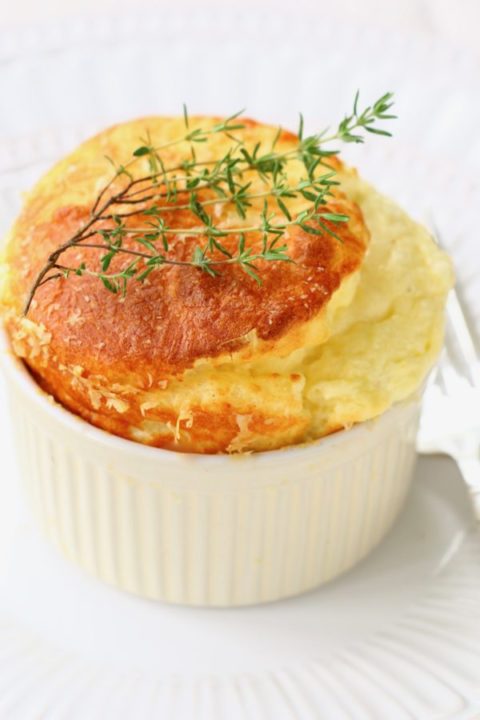 If there's one thing that typifies California cooking to me more even than artichokes, it has to be garlic.  It grows famously in Gilroy, south of San Francisco, where the town smells of garlic in the best kind of way, and you can procure anything and everything made with it at the annual garlic festival, from delicious things to the downright kooky.
I adore garlic, but I like it to be balanced in a dish: not faint (disappointing), and not overpowering (worse).  This beautifully balanced soufflé can make you appreciate garlic as a fine instrument.  It is garlic tamed by gentle cooking to taste of all the best things about garlic without any of the raw, lasting effects that taint your breath and the flavours of what's to follow.  It is certainly a celebration of the pungent bulb, but is carried with subtle elegance by the creaminess of the soufflé vehicle.
One of my first jobs at Chez Panisse in the 1980s was peeling and mincing garlic entirely by hand.  I would have to get through ten pounds of it in a day, and the tips of my fingers stung from the juice.  But it didn't put me off.  The smell of it cooking was reward enough.  I also used to have the job of making the bruschetta-like croutons to go with the garden lettuce and goat cheese salad;  rubbing a freshly peeled clove of raw garlic over each slice of toasted bread as it came out of the oven was one of my favourite jobs.  The taste was also incredible, of course, all from something as easy as bread, olive oil, garlic and salt (we joke in our house that these are the four main food groups).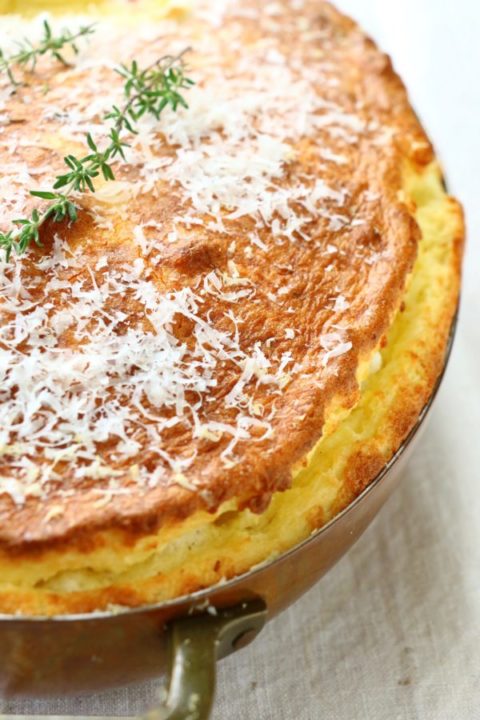 This garlic soufflé was a sensation when Alice Waters published the recipe in her Chez Panisse Menu Cookbook  in 1982, and it is an enduringly stunning savoury soufflé to this day, the best I know.  It follows the classic technique of a cheese soufflé, but with the transformative addition of a heaped tablespoon of caramelised garlic purée made from oven-braising two heads of garlic down to softness.
This step takes an extra 1½ hours of oven time, but it's a very easy step with a big reward.  Making a soufflé of any kind is basically a matter of making a béchamel, whipping up egg whites, and grating cheese.  It requires a series of steps, but none of the steps are any more demanding that making a white sauce or a meringue.  This garlic soufflé departs only in adding the pureéd garlic to the base.
You have to serve any soufflé just as it comes out of the oven, but you can do some of the prep ahead.  And for this recipe, you don't need to fuss with lining soufflé dishes with paper collars tied with string.  You can make this in a shallower casserole dish, where it will puff beautifully like a giant Yorkshire pudding, cook much faster, and give a lot more  lovely crust as contrast to the soft interior.   You can also make individual servings using ramekins (they don't need to wear collars, either).  These smaller ones make a lovely starter for a meal that features sympathetic flavours in either the French, 'California French',  or Italian vein.
Despite the airiness of a soufflé, one made with cheese and cream is richer than it looks, so I've often followed this with a simple grilled meat, poultry or fish course, seasoned judiciously with more garlic and other Mediterranean flavours, and something lively and fresh in the vegetable department: roast peppers, courgettes, rocket…  It is also superb as a vegetarian main course with nothing more complicated than some steamed asparagus or a tender green salad (and invariably those Chez Panisse garlic croutons); or followed with a steamed artichoke as a separate, second, course so you can give all your attention to both in turn.
Whenever I've made this, and whatever I've served it with, it gets raves, not least because the kitchen smells so enticing.  It is said, after all, that if you want to excite peoples' tastebuds, all you have to do is cook a little garlic and they're bound to race into the kitchen saying, "Something smells amazing!   What's for dinner?"
RECIPE
Chez Panisse garlic soufflé
Serves 6  
Adapted from Alice Waters, The Chez Panisse Menu Cookbook  (Random House, 1982)
You can use either a shallow casserole dish with a 2-quart capacity (1900 ml), or six 170-ml (6-ounce) ramekins.  If your casserole dish is shallow enough, the larger soufflé should cook in about the same time as the ramekins, as more surface area is exposed to the heat.
Tips:
Serve as soon as the soufflé comes out of the oven, and don't open the oven more than you need to.
The egg whites should be beaten stiff enough to maintain their structure, but not overbeaten, as that too can cause them to lose strength and collapse.  My favourite tip for knowing whether egg whites are beaten stiff enough for folding is one I learned from Madeleine Kamman many years ago: sit a clean, dry egg, still in its shell, on top of the beaten whites.  If it just sinks about a quarter-of-an-inch into the whites they're perfect; if it sits proud, they're over-beaten; if it sinks deeper than quarter-of-an-inch, the whites aren't beaten enough.
Ingredients 
2 whole large heads of garlic
125ml (½ cup) water
125ml (½ cup) olive oil
2 teaspoons dried thyme, or twice as much fresh
2 dried bay leaves or 3 fresh
a pinch of sea salt
a few grinds of black pepper
—
85g (6 tablespoons) unsalted butter
50g (5 tablespoons) plain (all-purpose) flour
360ml (1½ cups) single cream (half-and-half)
240ml (1 cup) whipping cream
a good pinch of flaky sea salt
a bouquet garni made by bundling the following herbs and seasonings into a piece of muslin tied with butcher's string:

3 cloves unpeeled garlic
1 small onion, peeled and quartered
½ teaspoon dried thyme
2 dried bay leaves, or 3 fresh
4 good sprigs parsley
10 black peppercorns

5 large egg yolks
85g (3oz) freshly grated gruyère cheese
150g (5oz) freshly grated parmesan, divided into three lots:  45 grams (1½ ounces) to prepare the soufflé dishes; 60g (2 ounces) to go into the soufflé mix; and another 45g (1½ ounces) to sprinkle on top before baking.
½ teaspoon flaky sea salt, crumbled fine
A few grinds of freshly ground black pepper
a pinch of cayenne pepper
240ml (1 cup) egg whites, from 8-10 large eggs
Directions:
Butter the six ramekins, or one shallow casserole dish, and sprinkle with about 45g (1½ ounces) of parmesan to lightly coat.  This provides flavour and helps the soufflé/s to rise.

Prepare the garlic purée

that will flavour the soufflé base:

Heat the oven to a very low 120C/250F.
Break up the two heads of garlic into a small oven dish, keeping the skins on.  Add the thyme and bay, season everything with salt and pepper, and cover with the water and olive oil so the garlic cloves are immersed.
Cover the dish with foil, and bake for 1½ hours or until the garlic cloves are golden and very soft; baste several times to keep the garlic moist.
Remove the garlic cloves from the liquid using a slotted spoon, and set aside to drain and cool on clean kitchen paper for a minute or two.
Squeeze the softened garlic cloves out of their skins into a medium sieve set over a bowl.  Push the garlic through the sieve and scrape off as much as you can. 
Measure out a good heaped tablespoon of the smooth purée and set aside.

 Make the soufflé base:

Cook the butter and flour together in a large saucepan over medium heat to make the roux.  Stir frequently for about 10 minutes, or until it begins to look a little sandy and cooked;  but don't let it take on much colour.  Remove from the heat while you tend to the creams.
Combine the two creams in a medium saucepan and heat gently to just under a boil.  Gradually whisk the liquids into to the still-warm roux and stir and scrape constantly to make a smooth mixture. A silicone spatula and a whisk are good tools for this.  If it's at all lumpy, just keep whisking and scraping and it will soon get smooth.
Add the bouquet garni to the thickening béchamel, and turn the heat to low so it barely simmers, still stirring and scraping the sides and bottom frequently.  The flavour will be finest if you can simmer the béchamel for an hour, but give it at least 20 minutes.  It will continue to thicken as it cooks.  Take the pan off the heat to cool slightly.
Add all the gruyère, and 60g (2 ounces) of the parmesan to the béchamel and stir until smooth.  (Keep aside the remaining parmesan for the top/s.)
Add the garlic purée and stir well.  Season the béchamel with the salt, black pepper and cayenne.  Taste for seasoning.
Add the egg yolks and stir well to fully incorporate them into the mixture.  

At this stage you can leave the base for a couple of hours in a cool place (but don't refrigerate)

.  Alternatively, you can cover and refrigerate the mixture overnight and bring it to room temperature the next day before proceeding.

 

To finish and bake the souffle/s:

Heat the oven to 225C/450F when you're ready to proceed with the final steps. Position the oven racks so the soufflé/s can bake in the upper third of the oven.
Up to one hour before you intend to serve, whisk the egg whites to stiff peaks in a squeaky clean mixing bowl with squeaky clean beaters (SEE TIP above for help in judging when the whites are beaten perfectly.)
Using a large spatula or serving spoon, immediately fold one-quarter of the whites into the soufflé base and mix thoroughly to lighten it.  Fold in another quarter, this time using as light a hand as you can, and follow this with half of what's left of the beaten whites.  Hold back a quarter of them for now, and have a look at the consistency of the mixture.  You want it fairly loose, but not runny.  If it looks too loose, add more of the beaten whites; this will lend more stability to the mix.
Carefully pour or spoon the soufflé mixture into the prepared casserole dish, or ramekins, and run your thumb alongside the inside edge/s to leave a clean gully.  This helps the soufflé/s to rise without spilling over the edge.  If using ramekins, fill them completely and use a metal spatula to level the mixture first so it's flat and even with the top.  Lightly sprinkle the top/s with the remaining parmesan just before baking.  

You can leave the filled dish/es in a cool place for 30 minutes before baking,

or even a little longer, but if they start to deflate, get them into the hot oven and let your guests know the soufflé/s will be on the table in about 10 minutes.
Bake in the upper part of the oven for 10-20 minutes, or until the soufflé has puffed high, looks golden brown on top, and feels firm but not hard when you gently press the centre.  Don't open the oven door until the colour indicates it's likely to be ready, and be quick to check the centre is cooked, but still a little wobbly and creamy.  A thin skewer inserted into one of the cracks should come out with a few moist bits on it:  not absolutely clean, but not foamy wet.
Serve without delay, to oohs and ahhs, and allow yourself to take in those marvellous aromas and feel jolly proud!
[One last word… Your handiwork will be gorgeously beautiful, but linger for a photo at your peril!  I was quick as I could be to get these pics, but still sacrificed a bit of lift for the record!]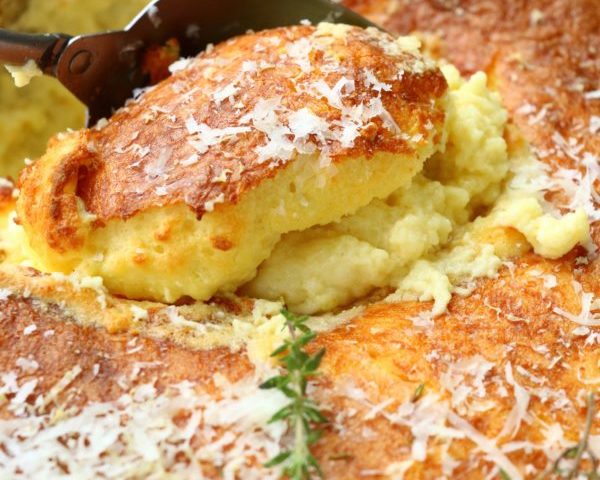 More Chez Panisse recipes on Crumbs on the Table: