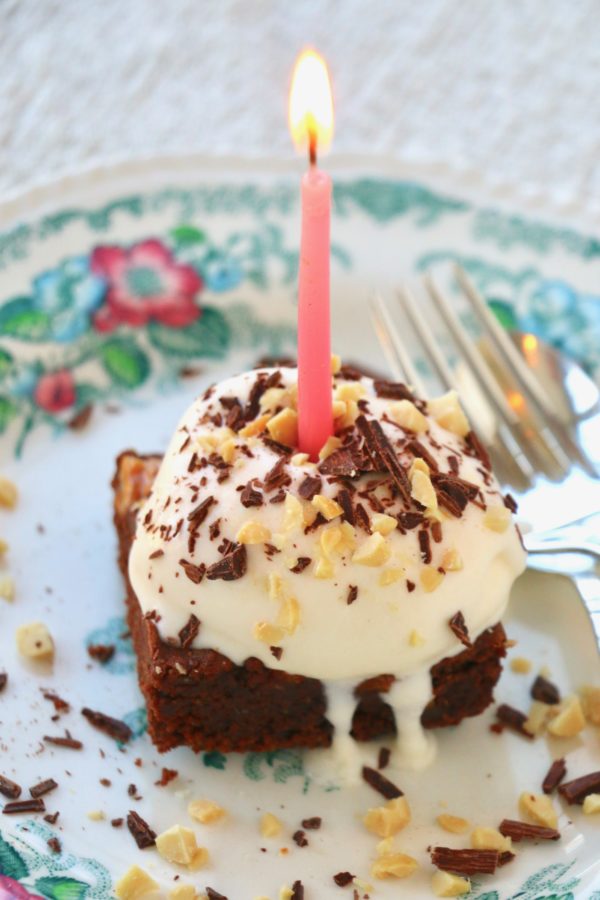 Today is my sister Amy's birthday, and in two days' time it will be niece Caitlin's.  A few days after that it's our Mom's special day.  We were meant to be celebrating all these important dates together this year.  Well, we still are — just across an ocean and a continent.  And we really are celebrating.  That still means something with a candle, and something that looks like birthday cake.
Baking anything right now is a challenge for most of us.  Flour is a scarce commodity, and even if you have lucked into some flour, then you might not have eggs, or butter, or sugar, much less vanilla, chocolate, or any of those other nice things we can mostly take for granted for creating something for a special occasion.
I've been safe-guarding the baking ingredients I have left, and really trying to make them count.  I've already shared some ideas here for baked treats that use oats instead of wheat flour.  But for the birthday girls, I wanted something chocolate, and none of us have enough of anything for a whole, decadent, three-layer birthday cake.  So I halved my favourite brownie recipe, and used rye flour instead of the usual wheat flour.  Rye flour and chocolate are a really good combination, especially in something that's already fairly dense like a brownie.  The texture is a little less smooth, and the effect is slightly less sweet, perhaps, but also a little more toasted or caramel-like.