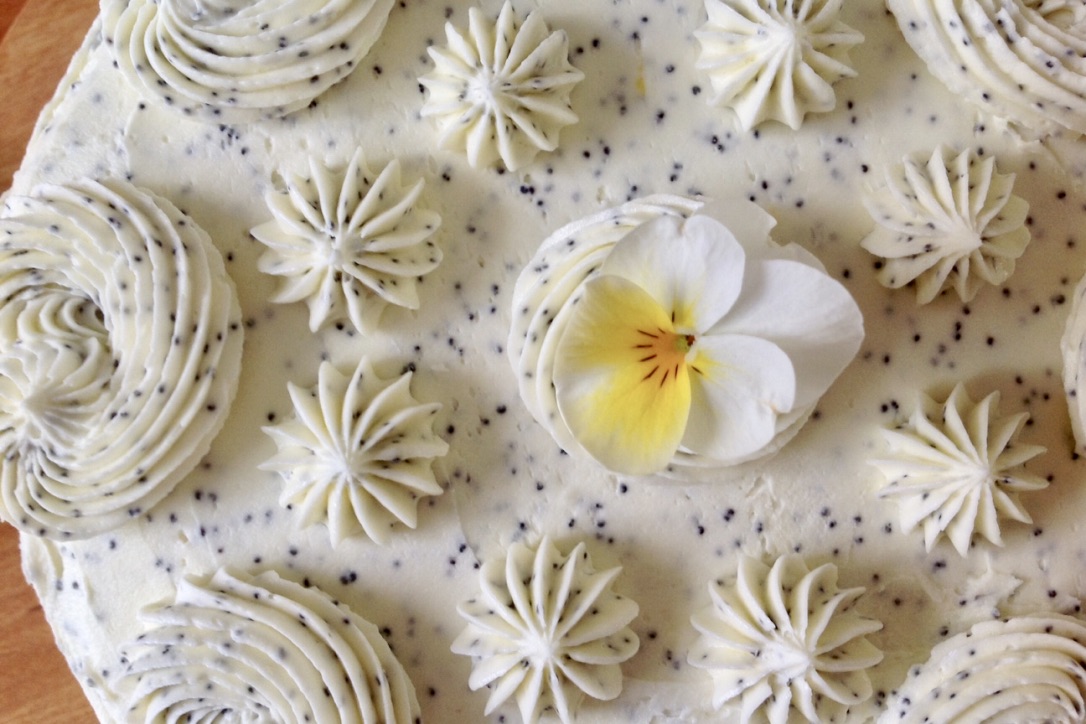 This is such a beautiful cake for a celebration, or for afternoon tea in the garden (and oh  joy!  It's warm enough for that here in Cambridgeshire this Easter weekend).  It's also great in winter, come to that, when lemons are at their best.
A tender, fine-crumbed, all-butter yellow cake is layered with homemade lemon curd that is properly thick and lemony.  It's then frosted with an easy buttercream icing generously speckled with poppyseeds.  The seeds cut the sweetness to make it just right, not icky-sweet, as buttercream icing can be — and the black and white in contrast also look gorgeous.
Decorating with fresh edible flowers is such a pretty and easy way to achieve something delightfully natural and festive (see a list of edible flowers here).  If you feel so inclined, you can add some piped swirls and stars: no advanced piping skills needed, just a fairly steady hand, a piping bag, and a large star-tip.
This 1-2-3-4 cake is the best yellow cake I know, with superb flavour and texture.  It's similar to a classic British sponge, but with a better flavour, in my humble, and a finer crumb — and it stays fresh longer.  Yes, it's not quite as easy to whip up as the eggs are beaten separately, but this, along with using soft "00" flour (or cake flour), is what makes it so wonderfully light.    [Read More…]