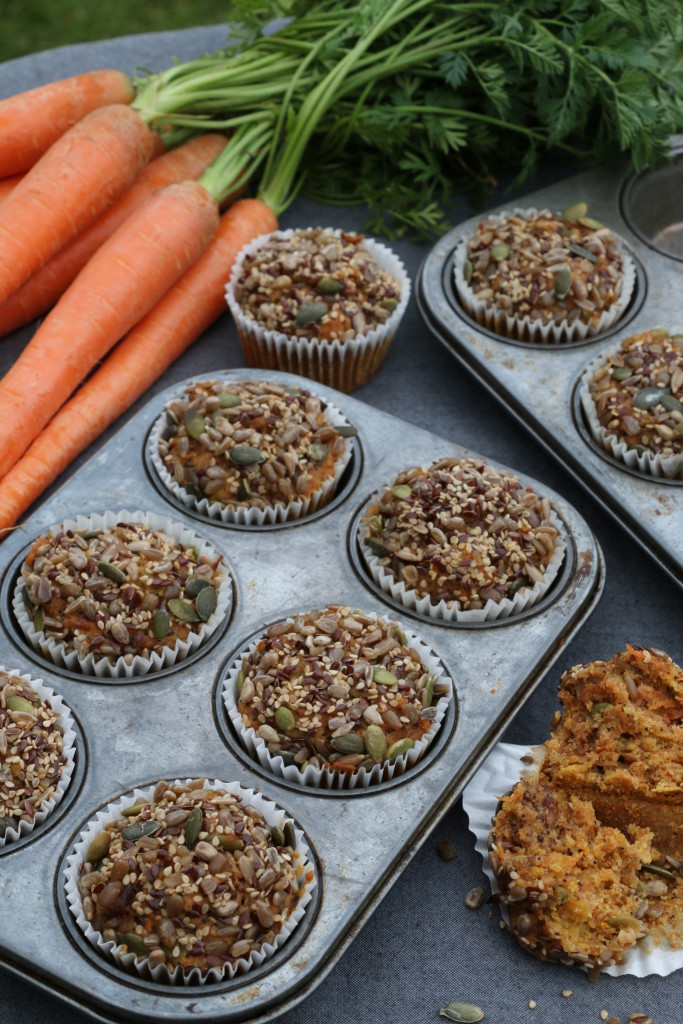 It's easy to get into a bit of a rut with breakfast, and some people need encouragement to eat this first meal of the day at all.  If you find yourself in that situation, some tempting yet wholesome breakfast muffins might help.  These muffins are really delicious, moist, and full of good things that can get you through the morning:  carrot, apple, raisins, nuts, and seeds.  They are sweet enough to make them a treat, but not cake-y sweet, and they can be made without egg if you want a vegan version.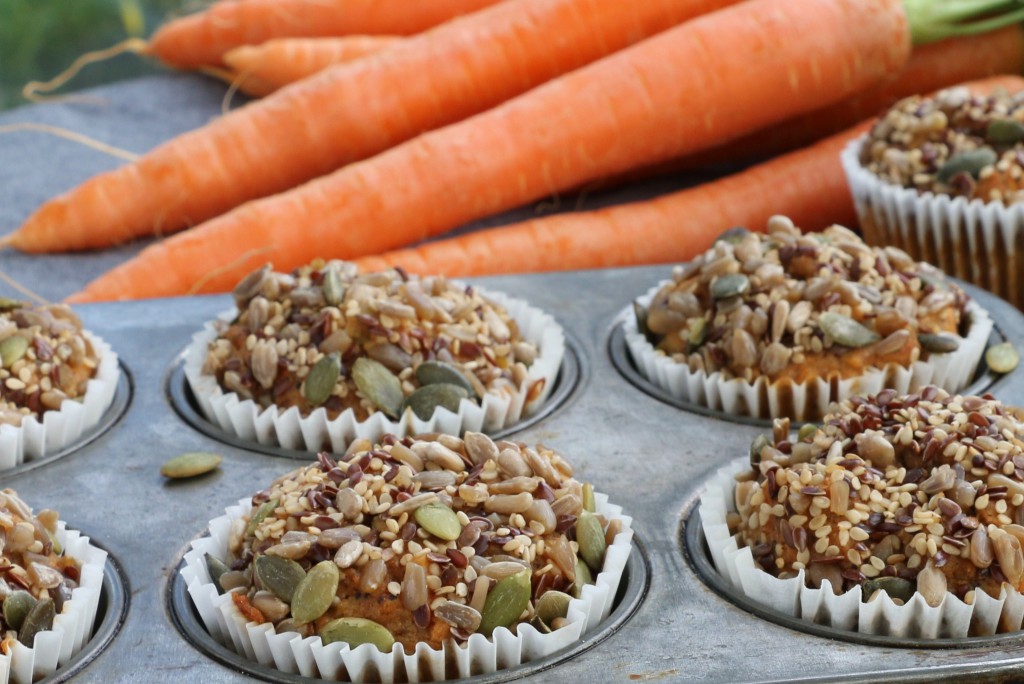 The carrots, apple and dried fruit provide natural sweetness, so less added sugar is needed.  I like to make them with  an equal proportion of wholemeal and plain flour for extra nutritional value.  Use whatever nuts and seeds you like; a mix is good because each has its own nutritional benefits.

I made these for years to sell at markets, and I've shared them with many friends and colleagues who tell me how popular they are with kids who struggle with breakfast foods, and for busy adults who find them so handy to grab and go, or nibble at their desks.  They aren't messy, they keep well, and freeze well, too — so I always feel a bit more secure when I know I have a batch to hand.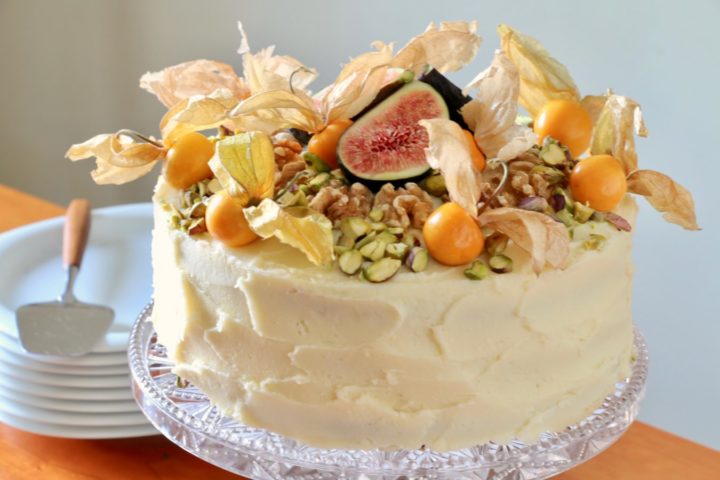 If your tastebuds are craving something sweeter in the carrot mode — something for an afternoon treat with a cup of tea, or a birthday celebration, say — I stand by this version of carrot cake as being the best I know.  It's one I've been cooking since I was a teenager and was smitten by the recipe in Gourmet  magazine, so it's stood the test of time.
I recently shared the recipe with a cook in the States who made a batch as cupcakes for my family there, and the responses I got from all concerned were heartwarming to say the least.  I'd love to be cooking for them right now, but as I'm here in England and can't, it made me feel much closer, and a little more helpful, to vicariously share something I know they love through a kind soul who understands how much these things can matter in good times and not-so-good.
No one needs an excuse for carrot cake — the most popular cake in Britain, I believe, barring the lemon drizzle; and the trendiest cake in the US since it was introduced by the Silver Palate cookbook in the 1970s.  I certainly sold more carrot cake than any other in my time as a professional baker (couldn't make enough, in fact, and there was a time when I never wanted to see another one — but I'm well over that now).  There's something comforting and cheering about a cake like this, so maybe it's not surprising that lots of us are finding a new-found appreciation for this old favourite.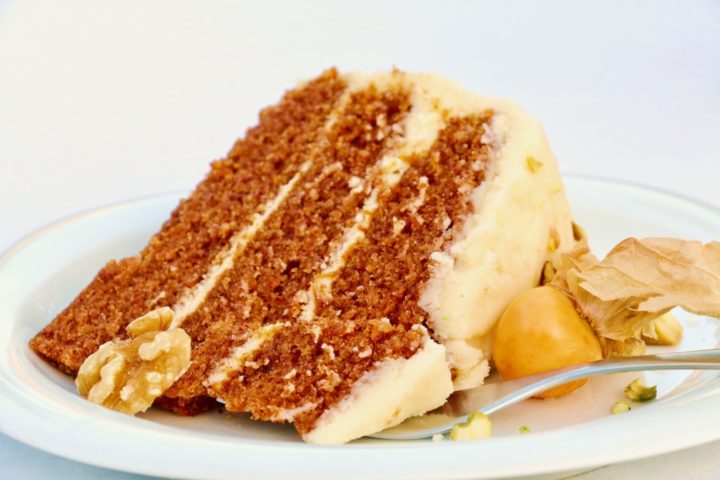 This version is not a chunky cake with lots of other things in it (unlike the breakfast muffins, which do have lots of goodies added to the carrot base).   It has a fine texture and cuts smoothly, with the flavour of sweet carrot and spices foremost, contrasting with the cream cheese icing with its touch of vanilla.  I sometimes decorate it with fresh fruit (physalis and figs are good) and a variety of nuts.  This way the smooth texture of the cake contrasts with the extras you can visit on your plate as you like.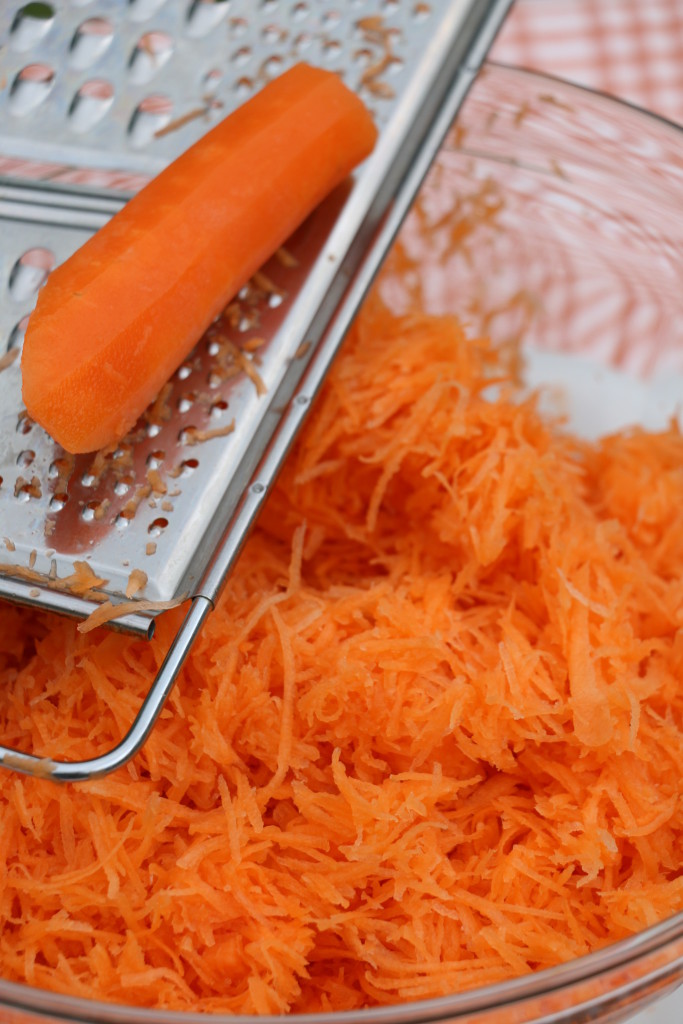 You need to grate the carrots finely to get the lightest texture, and the better the carrots are, the more flavour the cake will have.  I make this all year round with great results, but I try to use the best organic carrots I can find, and make the cake when the carrots are still crisp.  Really juicy carrots are best grated by hand, as the food processor will bash more liquid out of them.  But if that's your preference, it will still make a great cake.
This cake recipe makes a three-layer stunner, or two dozen cupcakes.  The amount of icing given in the recipe will do both, and if you want to get whimsical, you can make some little sugar cookies to decorate the tops.  The recipe for the cookies, and tips for decorating, can be found here.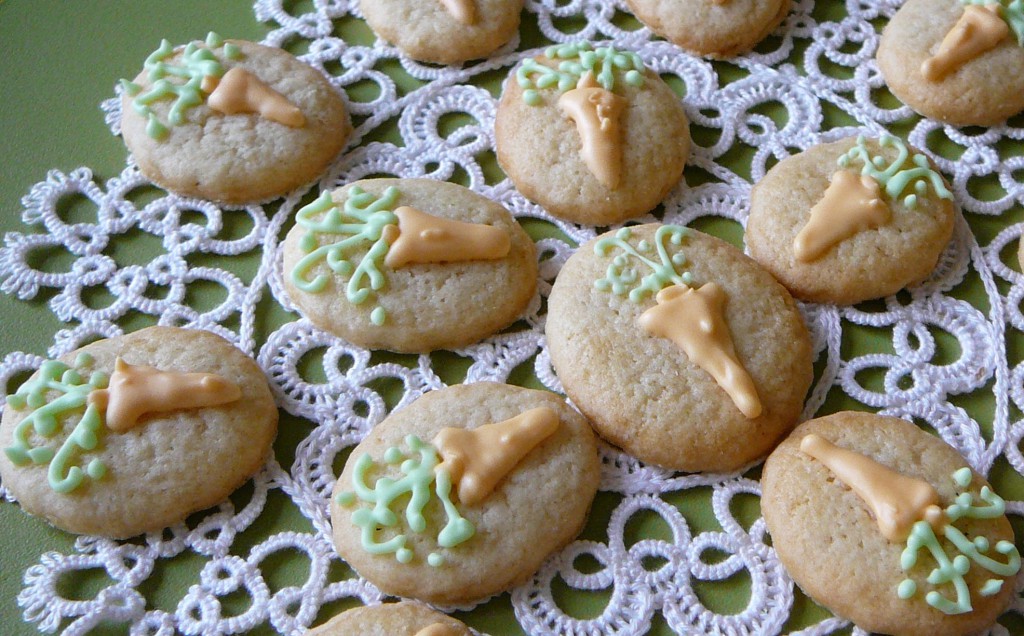 RECIPES
I.  Carrot breakfast muffins
Makes 12 muffins
The total amount of flour should be 225g (1¾ cups).   Use all plain flour, all wholemeal/wholewheat, or a mix of wholemeal and plain.  If you can find the softer wholemeal pastry flour, that's ideal, but regular wholemeal is good too.  Just don't use strong wholemeal flour intended for bread-making.
Substitute 120g (½ cup) unsweetened applesauce or mashed banana for the eggs if you want these muffins to be vegan-friendly, and add an additional ¼ teaspoon baking soda, for a total of 2 teaspoons.
Ingredients:
140g (1¼ cups) grated carrot
100g (1 cup) eating apple, peeled or not as you like, and coarsely grated (about 1 large apple)
60ml (¼ cup) carrot, apple or orange juice
140g (2/3 cup plus 1 tablespoon, well-packed) light unrefined muscovado (or light brown sugar)
2 large eggs (or substitute 110g / scant ½ cup unsweetened applesauce or mashed banana)
80ml (1/3 cup) vegetable oil
115g plain flour (1 cup sifted, minus 2 level tablespoons all-purpose)
110g wholemeal flour (1 cup sifted, minus 2 level tablespoons whole wheat)
1¾ teaspoon baking powder
½ teaspoon salt
1 teaspoon mixed spice or ground cinnamon
90g (½ cup) sultanas, raisins or other dried fruit
70g (½ cup) coarsely chopped walnuts, pecans or other nuts
50g (1/3 cup) pumpkin seeds, or a mix of seeds
30g (3 tablespoons) mixed seeds to sprinkle on top before baking (e.g., linseed, sesame, poppyseed, pumpkin and sunflower hearts)
Directions:
Heat the oven to 175C/350F and line a muffin tin with paper liners.  This recipe makes 12 muffins.
Into a large mixing bowl, mix the sugar, oil and eggs (or the applesauce or mashed banana) with a large spoon until well mixed.
Add the grated carrot, grated apple, and the juice, and stir everything well.
In another medium-sized bowl, mix together with a fork the flours, baking powder and salt.  Add them to the wet ingredients, leaving about 1 tablespoon of dry ingredients behind.  Stir only until no obvious flour remains; don't overstir, as that can toughen the muffins.
Add the dried fruits, nuts and pumpkin seeds to the reserved flour, and stir them until they are well dusted (this little bit of flour helps to keep them from sinking in the batter).  Add the floured dried fruits, nuts, and pumpkin seeds to the muffin mixture and stir the batter until the ingredients are well incorporated; and again, don't overmix.
Spoon the mixture evenly into the lined muffin tins so each is about two-thirds full.  Sprinkle the mixed seed mixture over the tops of each muffin, and bake for about 20-25 minutes, or just until the muffins have risen and set, and are firm but not hard to the touch.  Check after about 18 minutes, and rotate the pans halfway through if needed for even baking.  A skewer inserted into their centres should come out clean.
Cool for about 5 minutes and then remove the muffins in their papers onto a rack to cool completely.
Store airtight for up to three days.  These muffins also freeze very well;  wrap, and thaw still wrapped so the condensation stays outside.
    *   *   *    *    *
II.  Finely textured carrot cake with cream cheese icing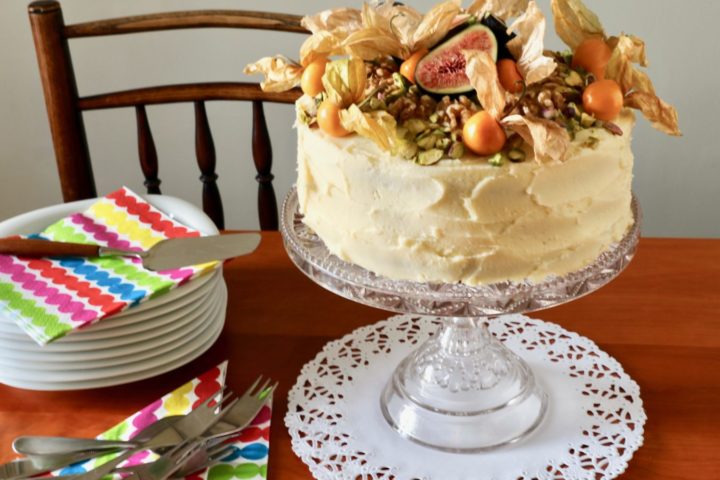 Makes one 3-layer cake, or 24 cupcakes
The finer you grate the carrot, the finer the texture of the cake.  For the icing, make sure the butter and cream cheese are at room temperature before mixing.  See the recipe and tips here for making cookie decorations.
Ingredients:
For the cake:
400g finely grated carrots (buy 500-550g without tops) — for US cooks, this is 3½ cups finely grated carrot, or 4 cups coarsely grated carrot, for which you'll need to start with 1 pound of unpeeled carrots, plus one extra average-sized carrot
400g (2 cups) caster sugar
4 large eggs
250ml (1 cup) vegetable oil
280g (2 cups

un

sifted) plain (all-purpose)  flour
1 level teaspoon cooking salt
2 level teaspoons bicarbonate of soda
1 level tablespoon ground cinnamon
¼ level teaspoon ground allspice
For the icing:
250g (8-9 ounces) full-fat cream cheese, softened, drained well and patted dry with kitchen towels
100g unsalted butter, softened (3.5 ounces, or just short of 1 stick)
500g sifted icing sugar (about 4 cups sifted confectioners' sugar, or about 1 pound)
1 teaspoon vanilla extract
Directions:
For the cake: Heat the oven to 180C/350F.  Butter and flour three 20cm (8-inch) cake tins; or if making cupcakes, line your muffin tins with paper cases; you'll need 24, but can bake the cupcakes in two or more batches.
Mix the sugar, eggs and vegetable oil in a large bowl until well combined.  Add the grated carrot and mix well by hand, ensuring no clumps remain.
Sift together the dry ingredients for the cake and add to the carrot mixture in three goes, stirring just until combined.
Divide the batter equally between the three cake tins (or fill the lined muffin tins about two-thirds full or a little less ).  Bake for 20-25 minutes, rotating the tins once for even baking.  They are done when the tops gently spring back when touched, and a skewer inserted in the centre comes out clean.  Cool in the tins for about 10 minutes, and then invert each one onto a rack, flat side uppermost, to cool completely before icing.  You can wrap the cake layers at this stage to ice the next day, or to freeze for later.
For the cream-cheese icing:  Beat the softened butter well in a large bowl until very fluffy, and then begin to mix in the softened and drained cream cheese by hand, alternately with some of the sifted icing sugar; avoid adding any excess liquid from the cream cheese.  Add all the icing (confectioners') sugar, mixing as you go, until the icing is smooth, and then mix in the vanilla.  Chill until using.  [More tips on cream cheese icing here.]
To ice a three-layer cake: 

Put four narrow protective strips of parchment paper or foil along each side of a cake plate to protect the plate from messiness while you work; the strips should be narrow enough that you can pull them out easily once the cake is iced.
Place the bottom cake layer on the plate.  Using a long, flat metal spatula or knife, spread a thin layer of frosting over this base layer, and place the middle cake layer on top. Spread another thin layer of icing over that layer, and add the third and final layer.
Ice the top of the cake, and then start on the sides.  I find it easiest to work from the bottom up, a section at a time, and to then rotate the cake to smooth the sides.  Store in a cool place for up to three days.  If the environment is very warm, it's best to refrigerate the cake in an airtight container.

To ice cupcakes:  Pipe using a large star-tip, or spoon the icing onto the cooled cupcakes.   (If decorating with the homemade cookies, put them on the cupcakes close to serving so they don't soften.)  Store airtight in a cool place.  The iced cupcakes can also be frozen.
*   *   *    *    *
More muffin and breakfast/brunch recipes on Crumbs on the Table:
More showstopper layer-cake recipes on Crumbs on the Table: