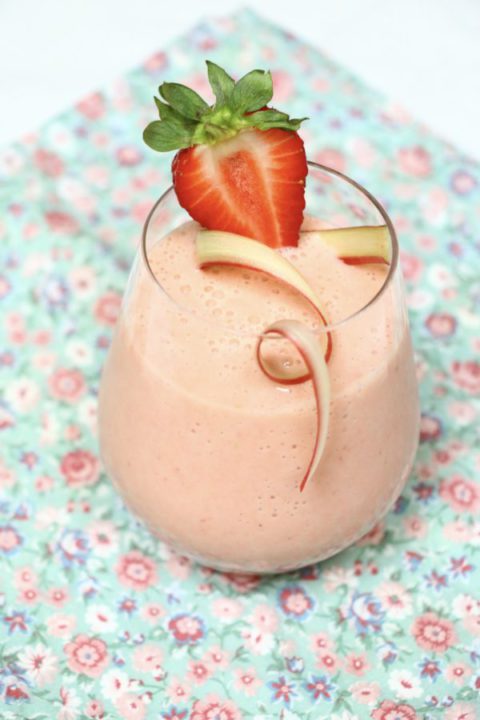 Rhubarb is not just for crumble. It makes a great morning treat, too.  At this time of year, when the field-grown rhubarb is reaching its peak, rhubarb's infinite baking potential is nicely exploited with these crumble muffins; and the smoothie makes a wholesome and refreshing breakfast that's do-able in a hurry, quickest if you already have some rhubarb compote chilling in the fridge — but if you don't, you can also use raw rhubarb with a little honey.  Raw rhubarb is more acidic, so less is needed than when it's cooked, and it can be harsher on more delicate stomachs.  Whether using raw or cooked, trim off every bit of leaf, as the leaves are poisonous.
The rhubarb compote is so easy to put together it's worth making to have on hand for a couple of days' worth of desserts and breakfasts. Just cut the rhubarb into 3cm (1 inch) pieces and put into an oven-proof dish with a couple of tablespoons of orange juice and about one-quarter of its weight in sugar, or to taste; add some fresh or candied ginger if you like, and bake uncovered at 175C / 350F for about 25 minutes or until it's tender, but not falling apart.
Rhubarb smoothie
This smoothie uses plain yogurt as there's some sugar in the rhubarb compote itself and in the orange juice, which, along with a few strawberries, balance the sourness of the yogurt; but use a flavoured one if you prefer it sweeter (vanilla, ginger or honey would all be good).  If you want a thicker, creamier smoothie, use all yogurt without the orange juice.  A smoothie is best when cold, so this one also calls for a little ice, but if you use frozen strawberries, you could leave it out.  Try adding a small handful of rolled oats, muesli or granola for a more substantial smoothie. And if you are feeling decadent, this method makes for a super shake, too, made with frozen yogurt or vanilla ice cream.  The blended smoothie will hold in the fridge overnight without separating, so you can make it in advance, or decant into a thermos for breakfast on-the-go.
Makes approximately 250ml (2 cups)
Ingredients:
100ml orange juice
200g (approx 1 1/4 cups) cooked, lightly sweetened rhubarb, with some of the juices;

OR 1 stalk raw rhubarb in 1-cm slices, and 1 tablespoon honey, or to taste

4-5 medium strawberries, fresh or frozen and unthawed
100ml unflavoured and unsweetened yogurt
Optional: 3 ice cubes (leave out if using frozen strawberries)
Optional: a small knob of fresh ginger, peeled and roughly chopped
Optional: 1 tablespoon rolled oats, or 2 tablespoons muesli or granola
Directions:
 Combine all ingredients in a blender and mix on high until completely smooth.  Serve cold.
*    *    *    *    *
Rhubarb crumble muffins
Makes 12 standard-sized muffins
Adapted from David Leibovitz's plum almond streusel cake
You will need muffin tins and paper liners.
Ingredients
Streusel topping:
45g (scant 1/2 cup) sliced almonds
1 tablespoon flour
30g (3 tablespoons) unrefined Muscovado sugar (or light brown sugar)
1 tablespoons melted butter
¼ teaspoon sea salt
Cake:
200g (7 ounces) prepared raw rhubarb, cut into 1.25-cm (1/2 inch) pieces, sprinkled with 2 teaspoons of sugar
115g (8 tablespoons, or 4 ounces) unsalted butter, room temperature
150g (¾ cup) golden caster sugar (or white sugar)
2 large eggs, room temperature
1 teaspoon vanilla
175g (1⅓ cup) plain flour, ideally soft "00" or cake flour
Optional:  ½ teaspoon ground cardamom (ideally freshly ground)
½ teaspoon baking powder
½ teaspoon baking soda
½ teaspoon salt
125ml (½ cup) buttermilk — or substitute 110ml whole milk with 2 teaspoons of lemon juice added
Directions
Line a muffin tin with 12 paper liners, and heat the oven to 180C/350F.
Mix the streusel topping:  Combine all ingredients in a medium bowl and mix lightly with a spoon or your fingertips until you have a uniform mixture.  Be gentle with the almonds to avoid breakage. Set aside.
Mix the cake batter:  Cream the butter and sugar until very light and fluffy, about 5-8 minutes with a mixer.
Add the eggs one at a time, beating just until well combined.  Add the freshly ground cardamom, if using, and the vanilla, and beat to combine (if using dried ground cardamom, add it to the dry ingredients).
Sift together the flour, salt, baking powder, baking soda, and ground cardamom if using.  Add half the dry ingredients to the butter and egg mixture, beating at low speed only to combine.  Scrape down the sides of the mixer to ensure all ingredients are incorporated.
Add the buttermilk (or milk and lemon juice mixture), and again, beat at low speed only to combine.  Scrape down the sides of the mixer again.
Add the remaining dry ingredients and give everything a final mix to ensure it's well-combined, but don't over-mix or the muffins will toughen.
Fill each muffin about half-way with the batter mixture.
Evenly distribute the chopped rhubarb on top of the batter for each muffin.
 Sprinkle a good pinch of the almond streusel mixture over each muffin, on top of the rhubarb.
Bake for 20 to 25 minutes or just until a tester inserted in the middle of the muffins comes out clean and the tops looks golden and set. There will be some juices from the fruit, which is how it should be, but there should be no wet batter clinging to the tester.  The top of the muffins will also feel firm when you press it lightly.
Cool the muffins in the tin on a cooling rack for five minutes, or until cool enough to handle; and then remove the muffins to the rack to cool further.  These are lovely still slightly warm, or at room temperature.  They also freeze well: cool completely and then wrap airtight.  Thaw while still wrapped so condensation will stay away from the muffins.  You can also reheat these gently in the microwave from room temperature:  just 10 seconds per muffin.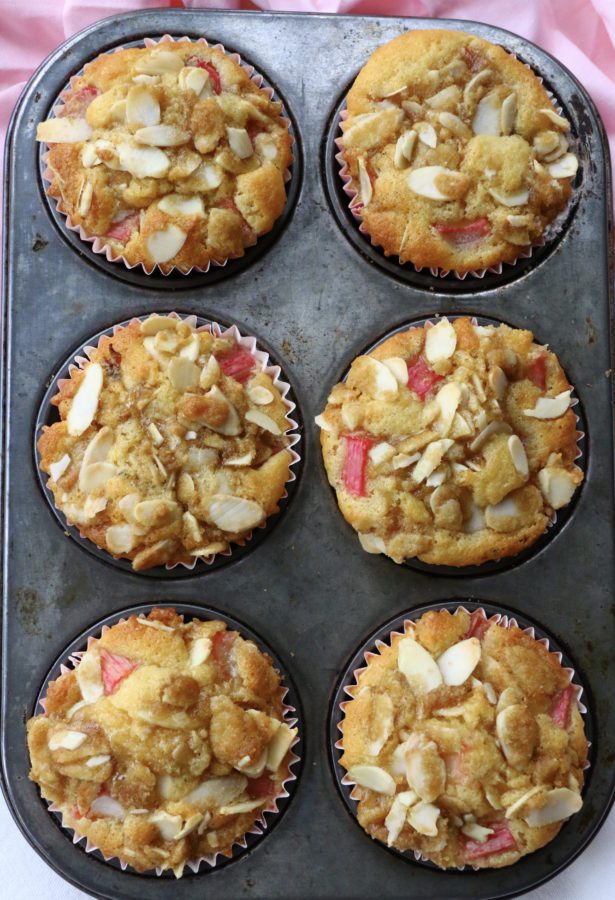 Other rhubarb recipes on Crumbs on the Table: