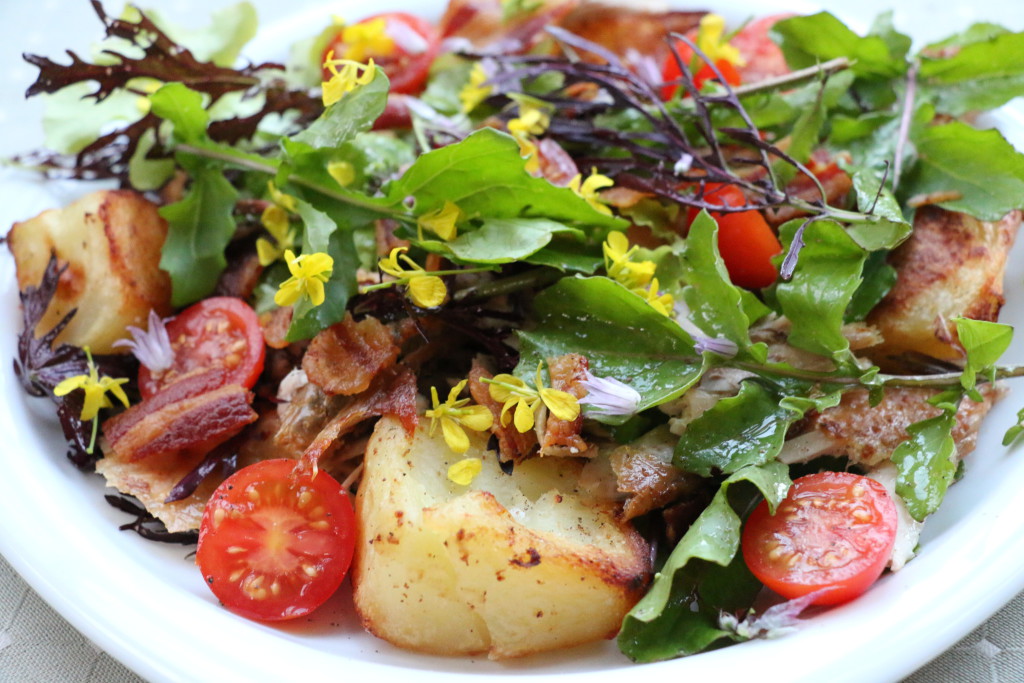 This satisfying main course salad is a celebration of the first cut-and-come-again lettuces from the garden and the noble remains of a good roast chicken.  It is given extra appeal with some crisp bacon and good tomatoes.
It is also a homage to Paris, where I had something similar on a trip with ma soeur at a charming café on Place Dauphine. We were in search of something light after two days of French classics and many éclairs, and thought "le salad maison" would be something dainty.  Mais non!  There was lettuce, but there was also roast duck, and potatoes cooked in duck fat, and fried onions for good measure.  It wasn't light, but my, it was delicious.  We left feeling guilty, but very, very happy.
I've given the same idea a lighter treatment for a main-course salad that is filling enough to live up to its name, and as delicious as the more unctuous Parisian version, but also cleaner and fresher.  It is much lighter on the fat — all from an olive in this case.  And it is a great way to get another excellent meal from one roast chicken.  I have to say that this version, with the freshest lettuces and nice tomatoes, is even better than the guilty salad from Paris.  It also, for me, beats the original roast dinner when the lettuces are really crisp and fresh.
Roast potato, chicken and bacon salad for two
The salad is served with room-temperature chicken and bacon, but the potatoes are served crispy and hot from the oven.

Season each component of the salad as you go, and dress the lettuces at the last minute. A few peppery leaves of rocket and/or mustard leaves is a good touch, along with some tender leaves.  You can also use rocket and chive flowers, and the edible flowers of other brassicas.

Ingredients:
2 large handfuls of young mixed lettuces (1 per person), washed and dried
2 medium-large floury potatoes (e.g. Maris Pipers or baking potatoes)
4 cloves garlic, crushed and still in the peel (or a few shakes of a good garlic powder)
about 225 g (8 ounces) leftover roast chicken, including skin
4 slices of bacon (I used streaky)
about 12 cherry tomatoes
5 tablespoons extra virgin olive oil – 2 for roasting the potatoes and 3 for a vinaigrette
a little less than 1 tablespoon red wine or sherry vinegar
salt and pepper to taste
Directions:
1.  Heat the oven to 200 C / 400 F.  Oil a baking tray with 2 tablespoons olive oil and set aside.
2.  Peel and cut the potatoes into large-ish bite-sized pieces.  Par-boil or steam them for about 7 minutes until the exterior begins to get slightly soft.  Drain well and shake them in the pan with the lid on to rough up the surfaces a bit; this will make them crispier when roasted. Turn them out onto the oiled tray and cover to coat on all sides with oil.  Salt and pepper them well, and add the crushed garlic cloves (or sprinkle lightly with garlic powder, if using instead).
3.  Add the bacon to the tray with the potatoes.  If you have leftover dark meat with intact skin, add that to the baking tray as well (don't add white meat, as it will over-cook).  Roast the potatoes, bacon and dark-meat chicken together for 15-20 minutes.  Check the bacon at this point, and remove to drain on kitchen towels once crispy.  Also remove the dark chicken meat once it has heated thoroughly all the way through, and the skin is crispy. Set aside.
4. Turn each potato over to roast on the other side and give them another 20 minutes until golden brown and crispy. Once cooked through (check with a skewer), remove the roast potatoes and garlic cloves to drain on some kitchen towels, but don't discard the oils and caramelised bits from the roasting pan. Remove the garlic cloves from their skins and set aside with the potatoes.

5. Tear the white meat chicken into bite-sized pieces and rub them into the oil and seasonings on the baking tray to absorb the flavours.  Combine the seasoned white-meat chicken with the dark-meat chicken torn into bite-sized pieces, including the crispy skin. Taste for salt and pepper.
5.  Slice the cherry tomatoes in half and season with salt and pepper to taste. Prepare a vinaigrette in a bowl large enough to hold the lettuces, using roughly 1 part vinegar to 3 parts olive oil, and season that well too.
6.  To assemble:  Add the lettuces to the vinaigrette and toss lightly so the leaves are lightly coated but not dripping.  Arrange a layer of lettuces and three or four cherry tomato halves on each plate, leaving some gaps for the hot roasted potatoes.  Distribute the potatoes evenly between the two plates, and then scatter the chicken pieces over the potatoes and first layer of dressed lettuces.  Follow with another layer of dressed lettuces, mounding them a bit in the middle for some height.  Crumble two slices of crispy bacon over each salad, and distribute the rest of the cherry tomatoes, tucking some in and leaving some on top.  Scatter with the flowers of rocket, chive, or other brassicas if you wish.
7.  Serve immediately while the potatoes are hot and the lettuces are very crisp.