"All this colour and crunch.  It's better than living in an Impressionist painting."
October is the golden month, its honey sunlight on a blue-sky-day giving even ordinary scenes a radiant glow. Grasses, leaves, nuts and berries: everywhere there are new oranges, reds, yellows, browns and greens. There is a joy in eating particular to this time of year when autumn's palette shows off in the produce of the season.
Apples are in their prime, begging us to appreciate their unique characters, as colourful as a Shakespearean cast. Local orchards and markets are full of varieties so numerous it's impossible not to be seduced by their fragrances, shapes and names, their histories and hues: the jolly reds of Falstaff, and buttercup yellow King of the Pippins; the lipstick-pink Fuji with its brushstrokes of white; Honeycrisp's wild peppermint stripes; the matt reds and browns of Ashmead's Kernal and Adam's Pearmain; the multigreens of majestic Bramley and Howgate Wonder; the sunset shades of an Egremont Russet. It's a beauty contest, each variety having some merit distinctly its own, each individual fruit with its personal arrangement of freckles, stripes and imperfections. They are works of art you can get your teeth into. All this colour and crunch. It's better than living in an Impressionist painting.
Apple Days are happening all over the region to celebrate this most reliable and British of fruits, its blossom late enough to miss the frosts, its heritage deeper perhaps than any fruit on these shores, its uses myriad, from cider, to cooking, to eating off the tree. No other country has specialised so much in an apple for every use.
Seek out as many kinds as you can for your apple-a-day, and as part of your cooking. Throw in a few with your sausages, pork or chicken, and add them to salads and soups. For pudding there is nothing lovelier, nor easier, than apples baked with honey, butter and apple juice; or jam and a splash of water to make a syrup.
Supermarkets sell more apple varieties now than they have in 20 years and you may see unusual varieties at farmer's markets. Family orchards such as Cam Valley Orchards in Meldreth sell up to 100 varieties throughout the season from their farm shops — not just the enduring Cox, a favourite since 1830 and incomparably crisp off the tree, but also rarer heritage apples such as Charles Ross (1890s), Blenheim Orange (1740) and Pitmaston Pineapple (1785).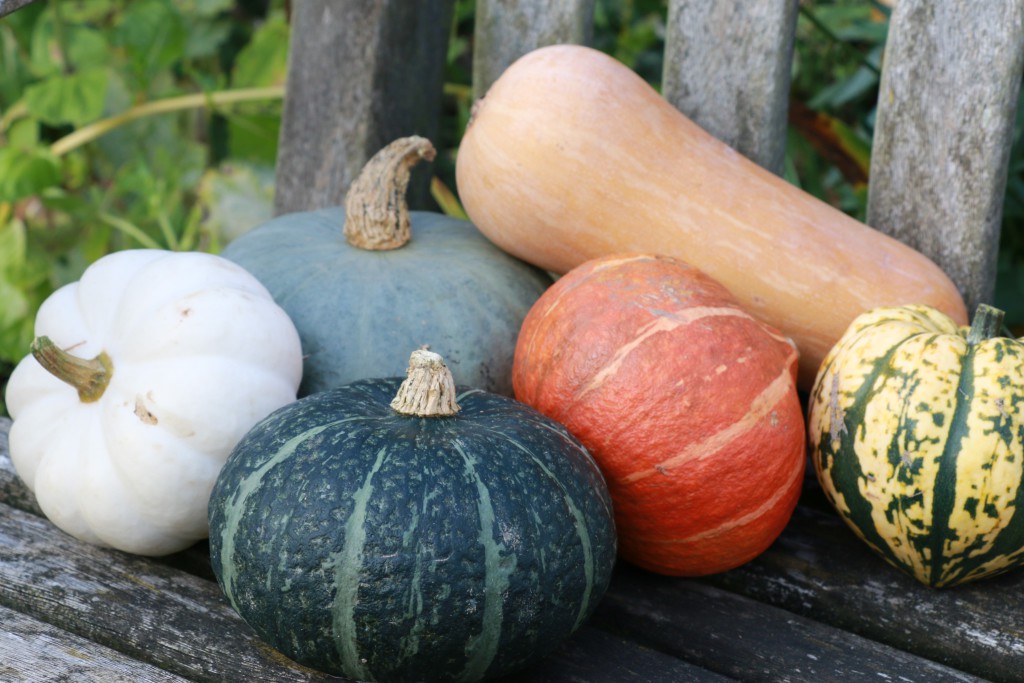 Another delight of the season is the winter squash, of which pumpkin is one type. The British-grown squashes we can procure now (including pumpkins) are wonderful and very health-giving, if a little bewildering. "Are those edible?", I've heard people ask when contemplating a display that looks more like a still life than something to eat. Many of these peacocks of the vegetable kingdom excel in flavour as in looks (alas, the field pumpkin favoured for Halloween makes better jack-o'lanterns than eating).
Consider trying not just one of the flavoursome squashes, but three or five to enjoy as decorations that will make good eating for weeks (they last and last). Everyone loves Butternut, but try the creamy Crown Prince, roasted or in soup; or the chesnutty Kabocha or the Red Kuri. Small acorn squashes (Sweet Dumpling, Carnival, White Acorn) will steal the show sliced in half lengthways, scraped clean of their seeds and fibres, and roasted for 40-50 minutes with butter, salt and pepper in their wells (and a sprinkle of nutmeg, thyme or sage if you please). Or slice off their lids and stuff them with wild rice, creamed spinach, sausage stuffing, or nothing at all. Cooking a squash can be easier than peeling potatoes and it fills the carbohydrate niche with slower-release sugars and with fibres we can't get from many other foods; they are also rich in beta-carotene and have valuable anti-inflammatory properties. All this and pretty, too. You may start giving them as gifts instead of flowers.
October's tastes are vibrant and its beauty always seems a bonus not to be taken for granted — the year's generous encore before it settles in for a rest. It is a time that stretches us to try something new, to play a bit with all that flavour and colour, and lock them into our sensory memory banks while we can. The days are drawing in, but we can take it. We've had October.
Note:
http://www.applesandorchards.org.uk/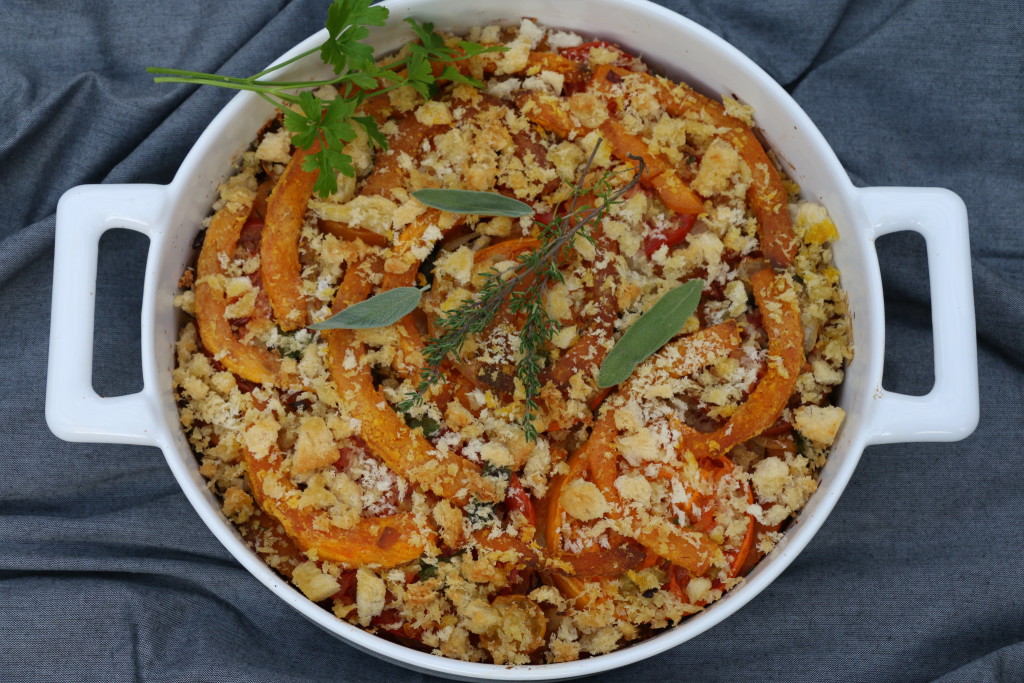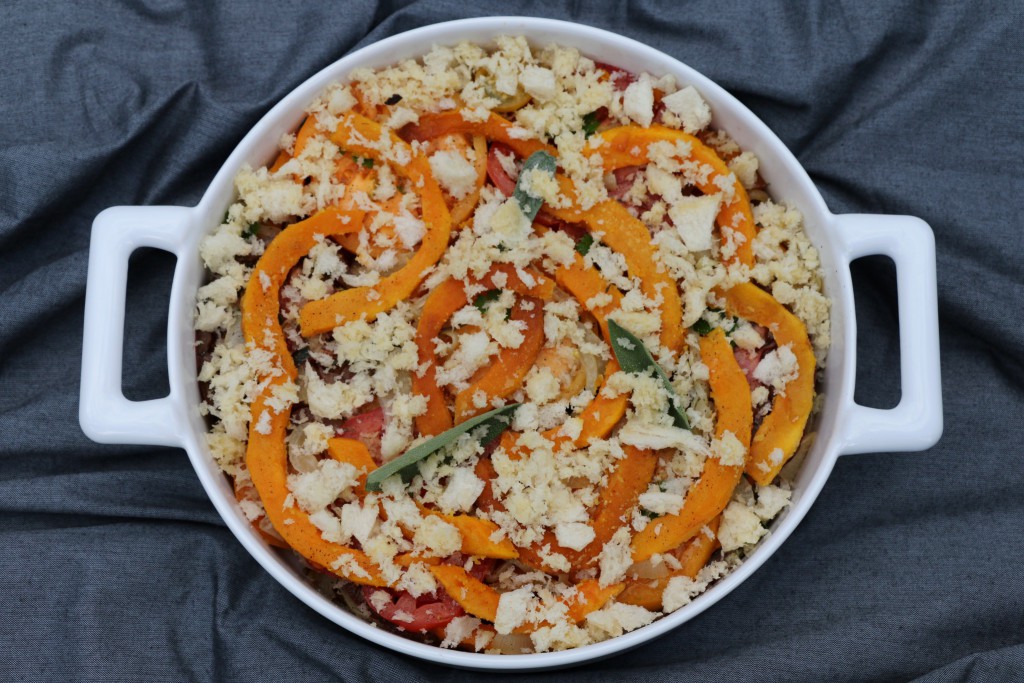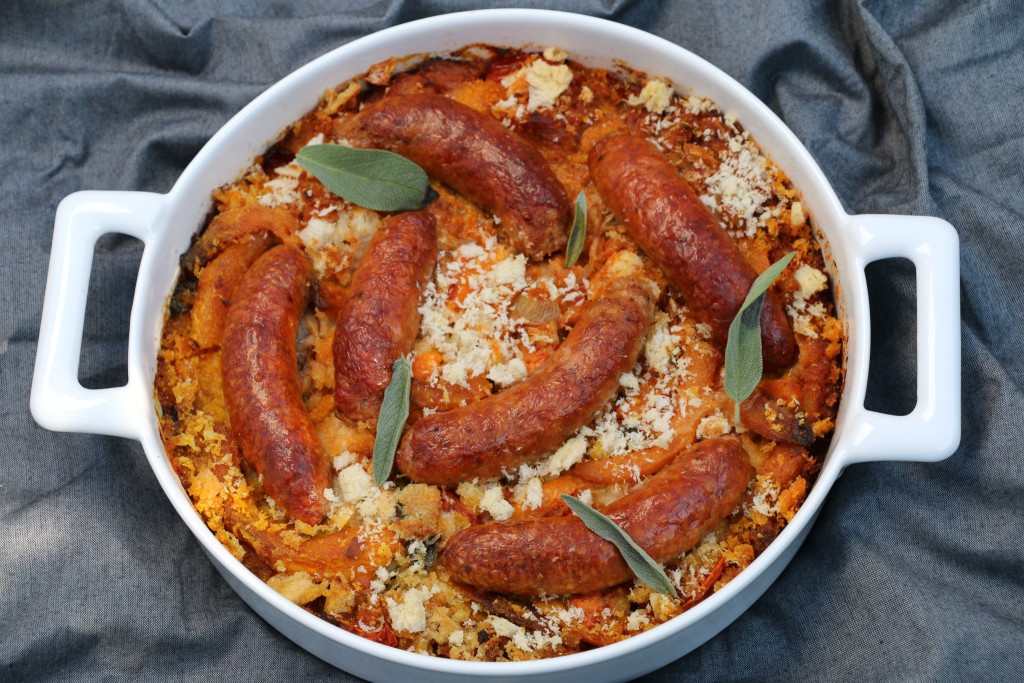 Toulouse-Lautrec's pumpkin gratin (squash, onion and tomato)
Serves 4 as a main, 6-8 as a side                        
Adapted from The Art of Cuisine, Maurice Joyant and Henri Toulouse-Lautrec (Michael Joseph, 1966) and Jane Grigson's Vegetable Book (Penguin, 1978)
 Henri Toulouse-Lautrec, the post-impressionist artist of bohemian Paris who immortalised the dancers of the Moulin Rouge, was an artist in the kitchen, as well as studio, at a time when French cuisine was in its heyday. His gratin, with its layers of squash, onion and tomato topped with breadcrumbs, makes a colourful, meatless main-course or side-dish for ham, pork or chicken. It can also take sausages or chorizo.
Use any variety of winter squash for this dish or a combination. The orange-red Hokkaido or Red Kuri, recognisable by its tear-drop shape, has excellent flavour and thin, edible skins. Toulouse-Lautrec's method calls for flouring and sautéing the squash before assembly. If you want to avoid the flour you can soften the squash slices in the microwave, or roast them in the oven. The gratin can be assembled ahead.
Approx 1 kg winter squash
100g plain flour seasoned with salt and pepper
2 large onions (450-500g)
4-5 tomatoes (400-450g) or one 400g tin chopped tomatoes with juice
3 rounded tablespoons (about 100g) sundried tomato paste
250 ml water
2 teaspoons fresh thyme leaves
9-12 fresh sage leaves
1 large garlic clove
Oil and butter for sautéing
Sea salt and freshly ground pepper
100g fresh breadcrumbs tossed in 2 tablespoons melted butter
2 tablespoons melted butter
Optional: half-kilo sausages or about 300g sliced chorizo
Prepare the squash: Slice the squash in half with a heavy knife, being careful that it's stable (it may help to slice off a small piece of the skin to create a flatter surface). Scoop out the seeds and scrape away loose fibres with a large spoon. If peeling the squash, do so now with a potato peeler or sharp knife. Place the squash halves cut side down and slice each one crossways into slices about 1½ cm thick. Shake the slices in a bag with the seasoned flour, and sauté them in batches one layer at a time in a little butter and oil over medium heat until golden.
Prepare the onion and tomato: slice the onions 1 cm thick. Cook gently in butter (or oil) over medium heat with the thyme until translucent, adding garlic towards the end. Roughly chop the fresh tomatoes, if using. Mix them, or the tinned tomatoes, into the cooked onions along with the sundried tomato paste and water. Simmer for a couple of minutes until the consistency is juicy, but not watery.
Assemble: Heat oven to 190C/gas mark 5. Butter a large casserole dish, and into it alternate three layers of squash and sage leaves, and two of onion and tomato, starting and ending with squash. Season each layer. Evenly scatter the breadcrumbs over the casserole. (If making ahead, stop here and refrigerate for up to 24 hours). If adding sausages or chorizo slices, arrange them on top just before cooking, pressing them in just a little so their tops will brown.
Bake for 40-50 minutes until bubbling and golden (check meats are cooked through). Rotate halfway through baking to ensure even browning, and check the level of liquid with a spoon. There should be a bit of moisture about half-way up the casserole. Add a splash more water if needed. Serve hot.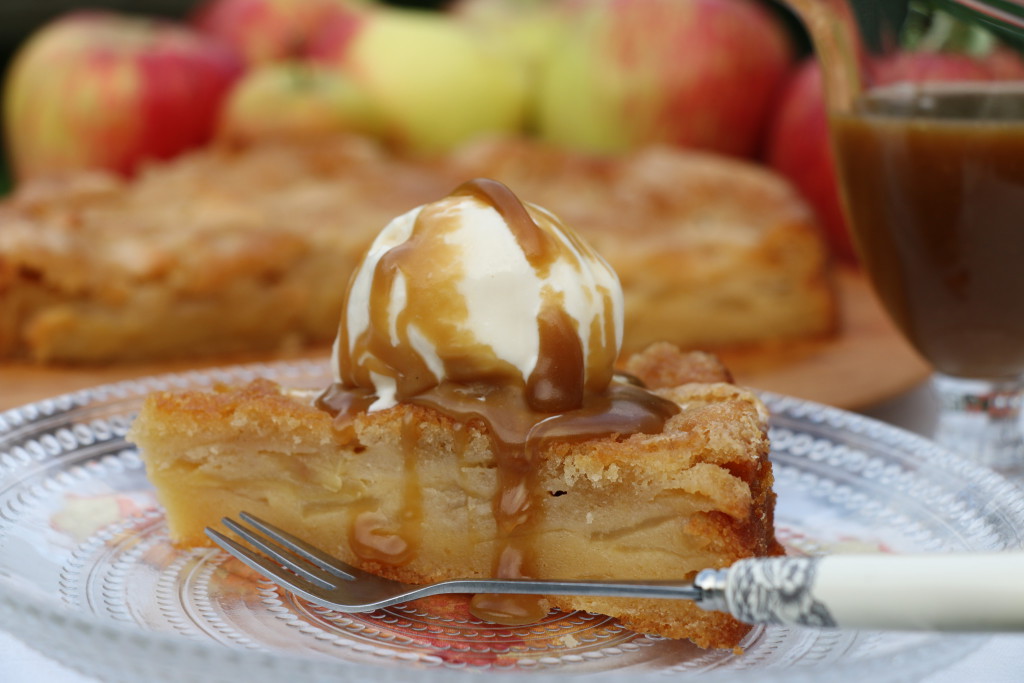 Custardy apple cake with toffee sauce
Serves 8
Adapted from Cooks Illustrated, Sep/Oct 2012
This is the kind of apple cake you would find in a French patisserie. It has two contrasting textures: a custardy, fruity base and a lighter, cakier top. Serve as is, or with ice cream and toffee sauce.
 For the cake:
650-700g eating apples (3-4 apples)
1 tablespoon lemon juice
Optional: 1 tablespoon Calvados or other brandy
140g plain flour plus 2 additional tablespoons (17g)
200g golden caster sugar, plus 1 tablespoon (13g) to sprinkle on top
2 teaspoons baking powder
½ teaspoon cooking salt
1 large egg plus 2 additional yolks
250 ml tasteless vegetable oil, e.g., sunflower
250 ml whole milk
1 teaspoon vanilla extract
For the toffee sauce:
25g caster sugar
140g light Muscovado sugar
200 ml double cream
Pinch of sea salt
85g unsalted butter
1 teaspoon vanilla extract
Lightly oil a 23-cm springform tin. Adjust oven racks so the cake can go on the next rack up from the bottom; heat oven to 160C/gas mark 3.
Prepare the apple slices: Peel, quarter and core the apples and slice them thinly, about ⅓ cm. Sprinkle with lemon juice and place the slices on a plate. Cover with another plate and microwave for about 3 minutes until soft and pliable but still intact. Drain off excess juices and sprinkle on the Calvados, if using; set aside to cool.
Prepare the batters: Mix together the milk, whole egg, oil and vanilla in a large bowl (call it "bowl one"). In a second bowl, whisk together the 200g sugar and 140g flour, along with the salt and baking powder, until well combined. Add them to the wet ingredients in bowl one to make the "foundation batter". Measure 250g of this foundation batter into the now-empty second bowl you used to mix the flour and sugar, and add the remaining two tablespoons flour to this second bowl, stirring just to mix; this will be the top batter for your cake. To the foundation batter still in bowl one, add the two extra egg yolks and cooled apple slices, and fold gently to combine; this will be the batter that makes the fruity, custardy bottom of your cake.
Assemble and bake: Spread the batter with the apples and extra yolks into the bottom of the prepared pan. Spoon the second batter as evenly as you can over the first. Sprinkle the top of the cake with the tablespoon of sugar. Bake in the bottom third of the oven for about 1¼ hours, rotating the cake once or twice to ensure even baking. It is done when the centre of the cake is set, the top has a golden glaze, and a tester comes out clean. Cool and run a sharp knife around the sides of the springform tin to release.
Make the toffee sauce: Cook all ingredients except vanilla over gentle heat in a medium saucepan until the sugar has dissolved completely and the mixture is silky, about 10 minutes. Use a pastry brush dipped in water to wash down any sugar crystals that form on the sides of the pan. Raise the heat to medium and bring to the boil, scraping the sides and bottom frequently with a silicone spatula to keep the mixture from scorching. Boil hard for one minute, continuing to scrape as needed, until the bubbles begin to get bigger and the toffee thickens slightly. Remove from heat and add the vanilla. The sauce will thicken as it cools.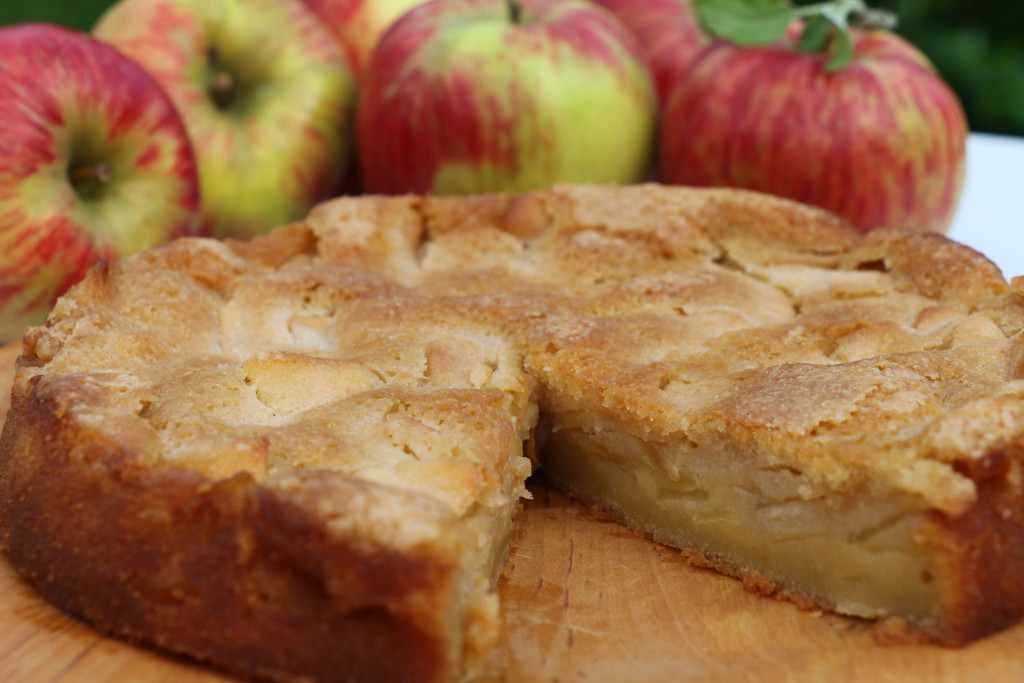 [This article celebrating October's colourful and vibrant tastes was one in a series of monthly food columns in Weekend, the Saturday supplement of the Cambridge News.]