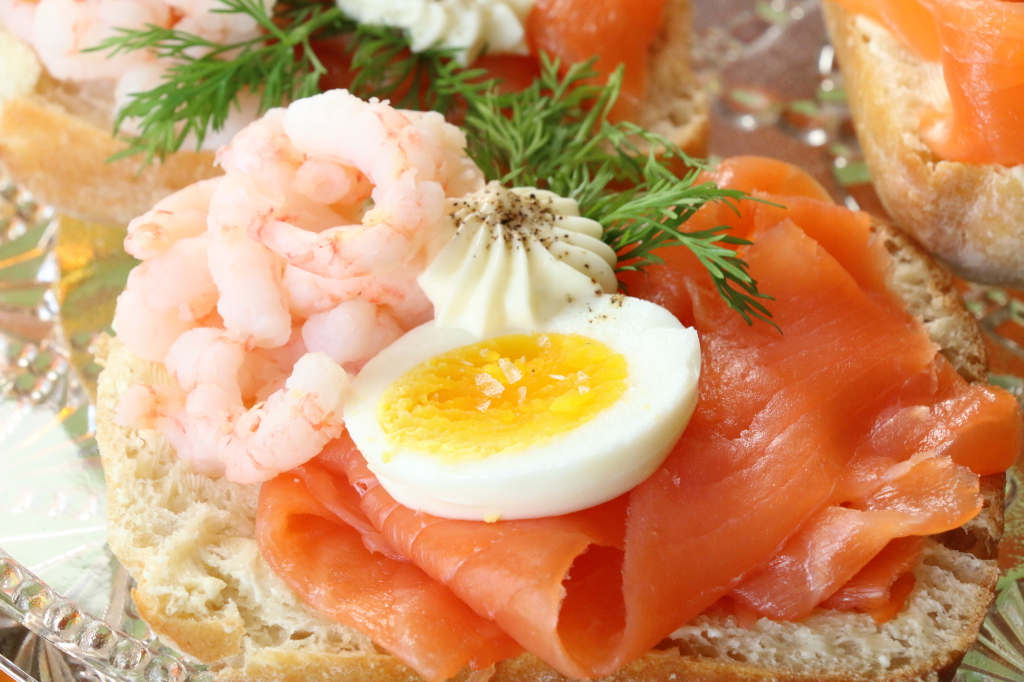 I can't describe the excitement I felt when I encountered my first true smørrebrød.
I was a student in Denmark, at the University of Copenhagen  on a semester abroad scholarship.  It was the first time I'd travelled out of my own country as a conscious adult, and the independence and scale of the wider world was intoxicating.
Everything about Denmark enchanted me — the language, the architecture, the style — and food was right up there amongst the discoveries that made my new world magical.  I was almost flabbergasted by the elegance of the open-faced smørrebrød —  the artistry of presentation, the elevation of the sandwich to an art form.  This was Danish design in edible form. I was young, naive as they come, and in love — with travel, with freedom, with new tastes and aesthetics, with everything different from the way of life I had known. "Even" the sandwiches.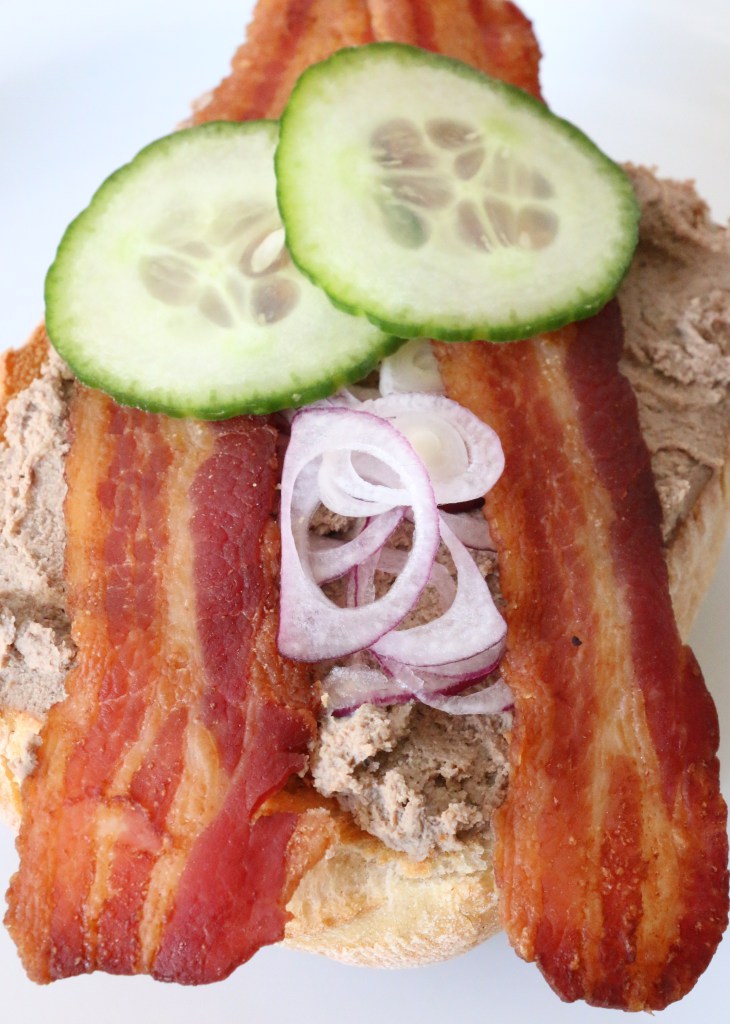 Ah, there is no "even" about it.  Today, I still regard the smørrebrød as something special, evocative, and superior to a "normal" sandwich.  (I speak from my dual American-British perspective here.) They can be little still lifes, edible art, even at their simplest.  And the smørrebrød is also an honest thing.  In Denmark, and also in Norway and Sweden, you will encounter a repertoire of open-faced sandwiches that are clean, pretty to look at, freshly prepared with good, simple ingredients, and satisfying to eat.  They also represent a moderate portion size, nothing like the over-stuffed American sandwich which I confess to finding abhorent (though I make an exception for an excellent Philadelphia hoagie), and far more interesting and well-made than the average High Street English sandwich (although homemade tea sandwiches are something else altogether). They are not cheap in Scandinavia (is anything?), but they are probably one of the cheapest meals you can get there, made with wholesome, fresh ingredients  (one reason they were such a part of my life when I was a student).
Smørrebrød are Danish in origin, and some sources date them to the 16th century when agricultural workers would pack bread and cheese, or sausage, or whatever they had, and assemble open-faced sandwiches in the fields (smørrebrød means "buttered bread"). In the industrialised 19th century, they were assembled at home and packed in lunchboxes as a convenient cold meal, using animal fats saved from cooking as well as butter to smear the bread. As today, they were an ideal way to recycle leftovers in appealing combinations, with a little bit of something going far, in combination with a little bit of something else, for a contrast of taste and texture and visual appeal.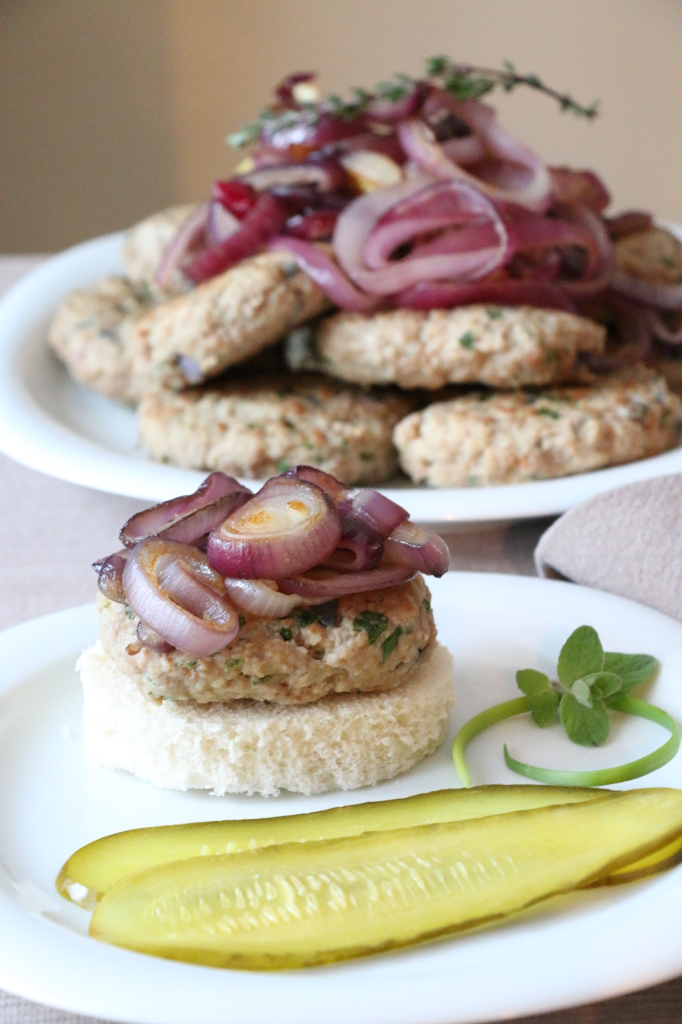 Smørrebrød were also taken up in cafés and restaurants as a signature of Danish cuisine, part of the kolde bord (cold table) tradition, using both everyday and expensive ingredients. I recall getting up the courage once to walk into an expensive hotel restaurant once just to gawp at the elegant display of dozens of smørrebrød, as beautiful in its refinement and variety as any fine patisserie window in Paris. There are places in Copenhagen still, where one can find creations as beautiful as an art gallery; and they are still staples of everyday eateries, holding their own against the more recent import of inferior baguettes and pre-made sandwiches that have, alas, appeared since my heyday there.
In Norway the repertoire is more limited (in my experience), but it is still important fare, beautifully done, and many of my own favourites for recreating at home are ones I've enjoyed in Norway as well as Denmark.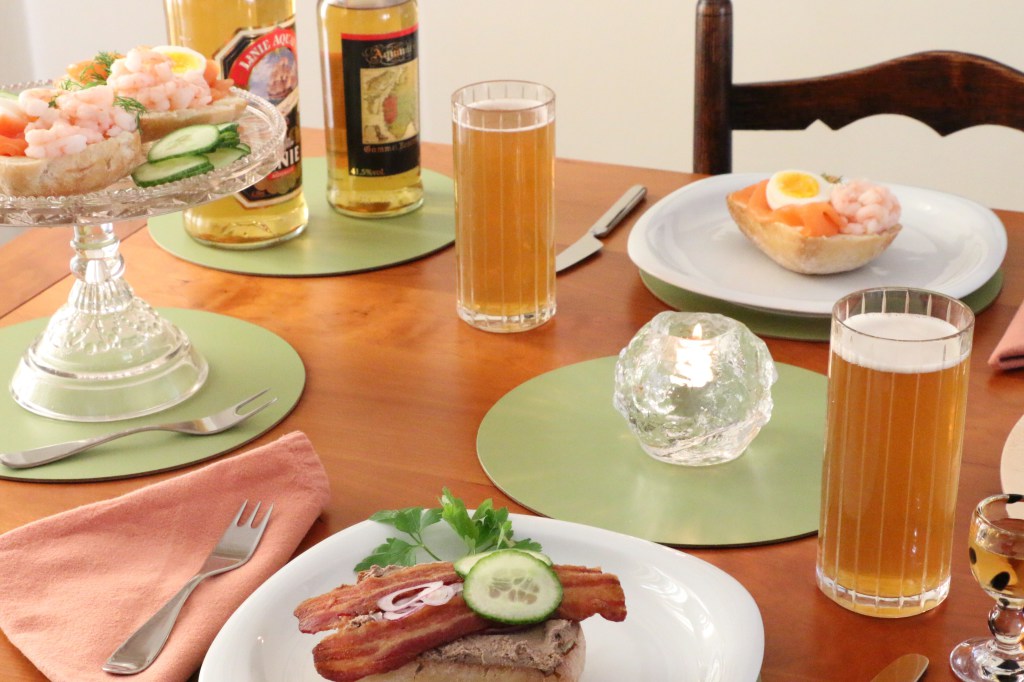 "Scandinavian" smørrebrød (if I can be forgiven for grouping them so artificially) often feature seafood in interesting combinations — smoked salmon, little Greenlandic shrimps, pickled herring — with or without simple boiled eggs or even cold scrambled egg.  Others are meaty, with liver paste or sliced meats, often with a pickle garnish, or a little bit of boiled potato — or the more substantial frikadeller with fried onions (a frikadeller being like a flattened meatball concoction of beef or veal and pork that is served hot for dinner or at room temperature on the sandwich).  Cheeses, too, are a constant.  In Denmark it was tilsit and havarti (I once was packed a lunch of smørrebrød by my lovely host Mother, made with cheese so smelly I attracted looks on the train and had to put my lunchbag on the window ledge until it was time to indulge — but my, it was delicious!).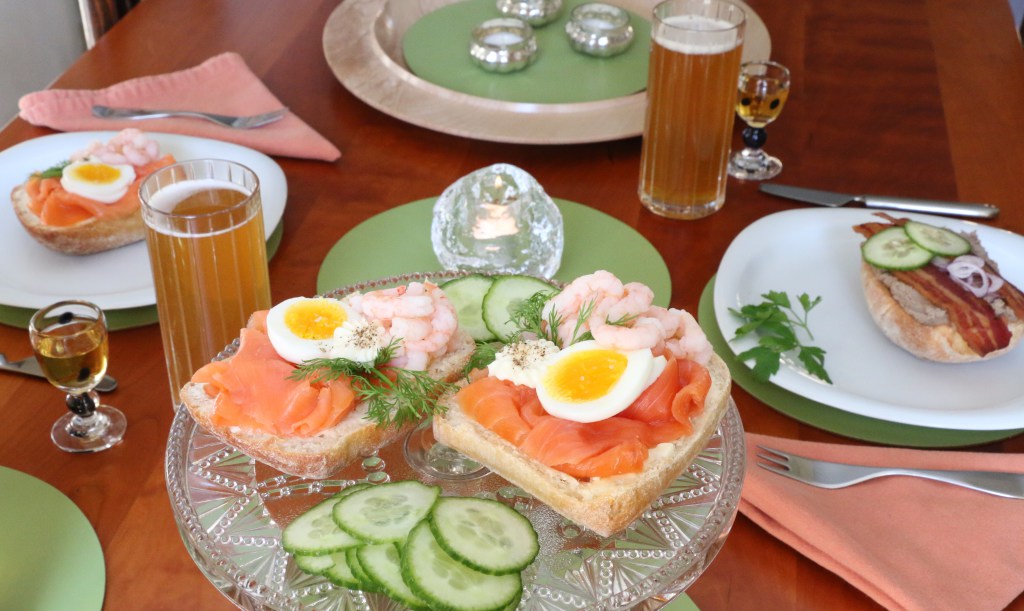 So try them, with whatever you have to hand. The bread is important – you want a good one, it goes without saying, and the right proportion of bread to toppings, neither too dense nor too light, too much nor too little.  Often in Denmark smørrebrød are made with a very dense, very thin ryebread ("rugbrød"), sometimes sold in England as a German import in long-life packages. Sometimes it is a good roll, cut in half, or a medium-thick slice off an honest loaf, either white or brown.  Whatever you choose, this is not the place for pappy bread.   A good baguette can work too, sliced into small rounds for "minibrøds". And think a little on the small side. Too large a piece of bread may make for a bigger smørrebrød than you want. You can cut rolls into threes, and cut a slice into smaller shapes, to keep the proportion.
And the garnishes…. these are more than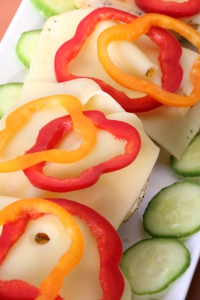 a decoration and are integral to the balance of taste, texture, aesthetics and nutritional value. You can make a very pretty open-faced sandwich with a little cucumber or radish, pickle or spring onion, a sprig of parsley or dill, nothing fancy, and the healthier the better.  It's a good habit to get into, having something raw from the five-a-day in such an appealing, low-key way.
Smørrebrød can be eaten with fingers or forks, and be as simple or elaborate as you choose.  One of my favourites is a staple in Norway:  one slice of Jarlsberg draped over a decent half roll, lightly buttered, with a slice or two of sweet pepper. That's all it takes to make a little meal.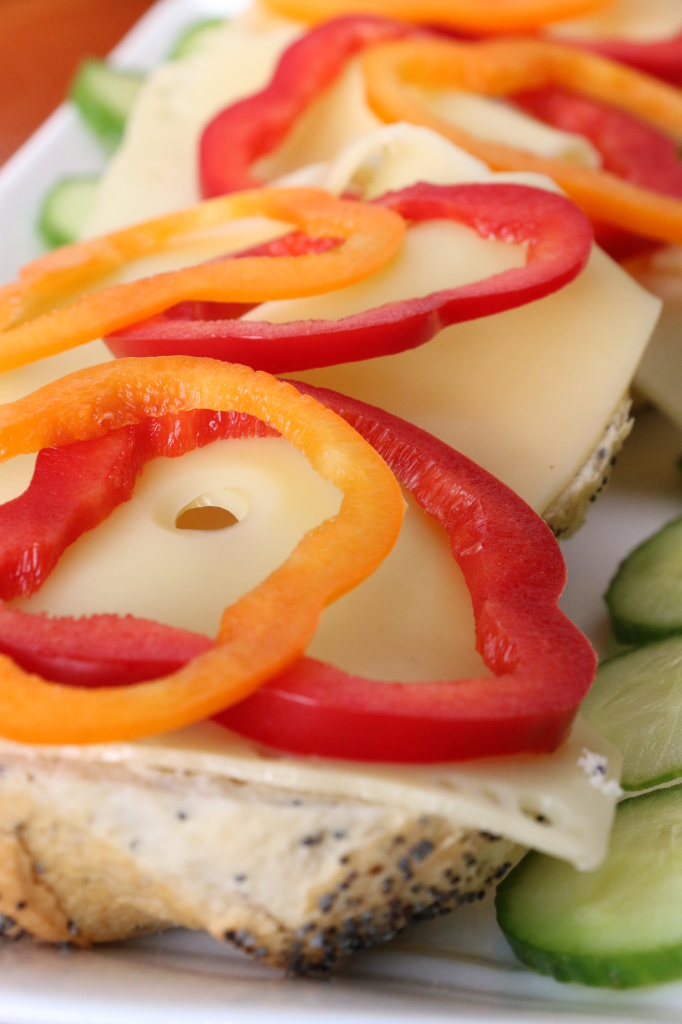 I sometimes make a more elaborate kolde bord of three different smørrebrød — one cheese, one seafood and/or egg, and one meat —  to serve with with beer and akavit.  Be warned, though: this can be dangerous. When I returned from Denmark all those years ago as a student, I brought with me a bottle of snaps, and managed to get my entire family drunk — grandparents, parents, little sisters, the whole clan — at a welcome-home celebration of smørrebrød lubricated with some imported Danish beer and my duty free bottle.
I had instructed my family in the protocols of looking your neighbour in the eye and saying "skol" when you raise your  glass of snaps. This was taken up with gusto, and somehow translated to the idea that whenever one person raised their glass and said "skol", everyone had to drink. The result was an intergenerational riot of falling over, slurred speech and repeated shouts of "SKOL!, LIKE A VIKING!!"