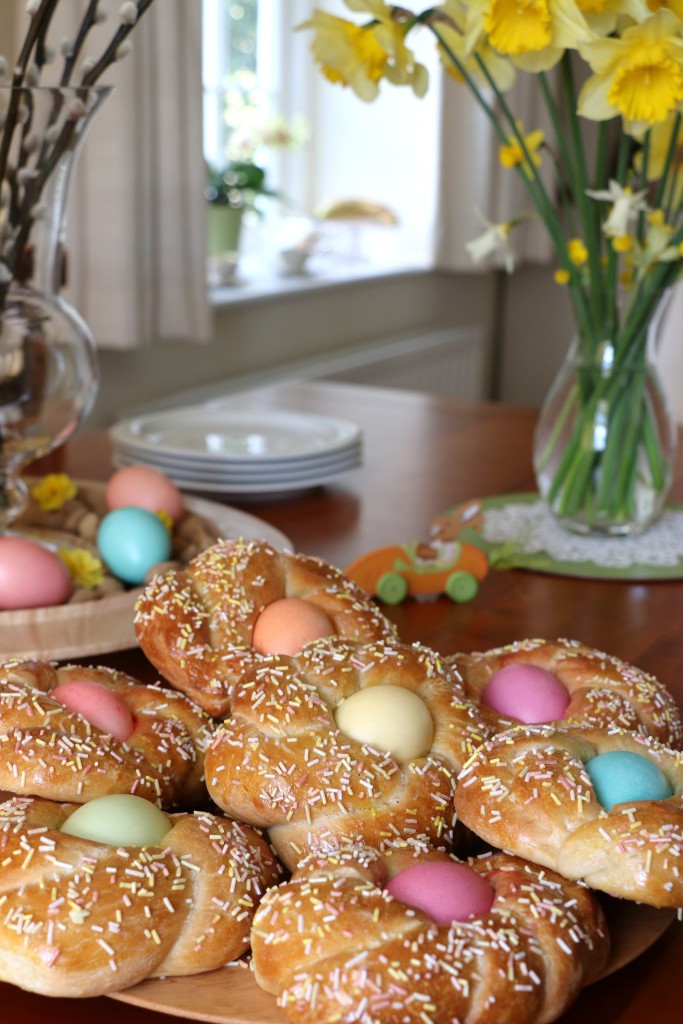 There ought to be a re-play holiday for lost holidays, or a saint:  Saint Second Chance for lost opportunities.
Holidays have sometimes passed me by in a blur.  Work, all the cooking and whatever, and they can go before I catch up to being there – or because what they signify can be so much bigger than the few hours or days allotted to them.
I'm holding onto Easter this year.  I've kept the pussy willow branches in their vase, decorated with wooden eggs bought in Scandinavia over the years.  The little wooden rabbit driving a carrot-car normally comes out for one week a year and is then packed away in the paper napkin decorated with Easter eggs.  He's still on display, looking reproachful now instead of jolly.
I should let go, but there's unfinished business.
I've been visiting my memories of Easter in Denmark back when I was a 17-year-old college student.  Those six months in Denmark changed my life, and among the moments that stand out most is a meal I was fed on Easter Sunday.  It meant much then and has become emblematic since of being lost and found – of salvation.
I was backpacking across the continent over the two-week Easter break (unfamiliar to an American).  I had gone to Switzerland, France, maybe Germany (I don't remember the chronology and the letters are lost).  I managed not to realise that European banks would be closed for several days and found myself without food or money.
I was a well-cared-for young person with an allowance generously supplied by my parents who had the courage to let me take off for a foreign continent in the days when there were no mobile phones, no ATMs, no email – just snail mail, Western Union and leaps of faith.  I was a middle-class kid on a scholarship, not a child living in poverty; nevertheless I experienced hunger on that trip.
I ran out of food on Thursday, expecting to replenish supplies on Friday – Long Friday, I learned it was called in Denmark. When I realised there would be no remedy until the following Tuesday, I headed back to Denmark like a lost dog.  I had a rail pass, so nothing needed to be spent to cover those miles, and I chose a sleeper train so I wouldn't have to face a night without accommodation.
It was cold waiting in those draughty stations and I got ill with something feverish and shivery. I spent a miserable time collapsed on the floor of the train's toilet in desperate straits, other desperate passengers pounding on the door.
I couldn't head straight back to Copenhagen, as we were meant to vacate our rooms over the holiday to give our host families a break.  So I headed to a farmhouse youth hostel on Jutland, which I'd read about in my backpackers' guide with a fancy to its rural location when I was still well enough to pick a destination.
Getting there also involved a bus and a walk down a long country lane.  When I finally got there the hostel was closed – off-season until 1 May – more bad planning on my part; but the landlady was home – this was a family farm operation – and she must have seen something in the situation that couldn't be refused.  She let me into a freezing dormitory in a complex some way from the house, where I had my pick of four metal bunk beds with thin blue blankets.  There was a sink in the room and I ran the water as hot as I could, plugged the sink, and used my tea ball – a quixotic bit of kit I carried with loose tea – to brew a lukewarm English breakfast, which I gratefully sipped from cupped hands.
I stole the covers from all the other bunks and stayed in bed for two days sipping my brew when I could, but feeling worse as time passed instead of better.  I began to be obsessed by hunger, too weak to do anything about it.  I woke on Sunday to the sound of children playing in the farm yard and realised it was Easter.  I couldn't bring myself to interrupt the family holiday, but by that evening realised things were getting desperate and that I needed help.  I screwed up my nerve to knock at the farmhouse door and asked if it would be possible for me to buy some food, if I came back later with the money.  The woman seemed concerned, and her kindness encouraged me to admit I was ill and hadn't had anything to eat since Thursday.  By this point I was ready to beg.
She brought me into the kitchen, a warm, steamy place where food smells almost made me faint.  I sat at her working table with a mug of properly hot tea and smiled at the children whose questions I couldn't summon my nascent language skills to understand or answer.  Some minutes later she set before me a clean white plate, and placed on the table a large platter of pink Danish ham, thickly sliced and plentiful; boiled kartoffler, about a dozen of them, peeled and pale gold; and a mound of soft, white asparagus.  She collected the children and discretely left me to dig in, which I did with more than ordinary gratitude.  With the fervent thanksgivings of a saved soul I took in the steamy warmth, the smells and the food itself – potatoes crumbling in my mouth; ham salty and sweet, both;  asparagus tasting of life – with the sensation that eating was a miraculous discovery, a novelty I would never take for granted again now that I understood how precious it was.  I ate, and I ate, and as my hunger was sated and I comprehended the vast quantity I had packed away, I suddenly feared I must have eaten what had been set out for the entire family.  I sat in a panic, my heart now in my mouth, ready to bolt with mortified apologies, but also with the last two potatoes wrapped in a napkin for later.
My kind rescuer returned after a decent interval and met my anxieties with the assurance that the generous platter had indeed been intended for me alone.  I was touched that she had yet one more gift for me: a slice of ice cream decorated with tinted coconut and three jellybeans – a little Easter nest for the children, which she had the wisdom to see would charm me, too, for I must have seemed a very young and insecure 17.  I was moved to be included in their celebrations, or so it felt; to be reminded of my sisters and cousins who would that day be delighting in their Easter baskets.  The ice cream felt good on my throat, though I didn't really need it, and I went back to bed feeling safe again, knowing I would never forget the feelings of that weekend, nor the kindness of those strangers.
I've thought of this lately, not just because it's Easter, but because I am preoccupied these days with the passage of time.  I've thought of going back to Denmark to try to find that farmhouse and its occupants, but the motherly woman who fed me would be in her eighties or nineties by now, her children fifty-somethings.
This year I wanted to recreate those ice cream nests, or make something else for the holiday that would charm children, waifs and strays who might happen to make their way to my door.  None did, and by the time I had made my treats, Easter itself had come and gone.  So I celebrated quietly, my own private holiday out of time, as a ritual of thanks for renewal, as a way of understanding my own hunger, of recovering something lost.
Here are my Easter offerings: bread-roll nests for a coloured egg.  These are Italian in origin, a traditional Easter egg bread of the kind also found in Greece and across Eastern Europe.  I dyed the eggs in a meditative state, in love with colour and shape, kept company by memories of sisters and cousins and Easters at home, of my Danish Easter, and by a coming closer to a coming to terms with time.  I offer these to anyone who might sometimes fall out of sync with the calendar and have to mark important moments in their own sweet time.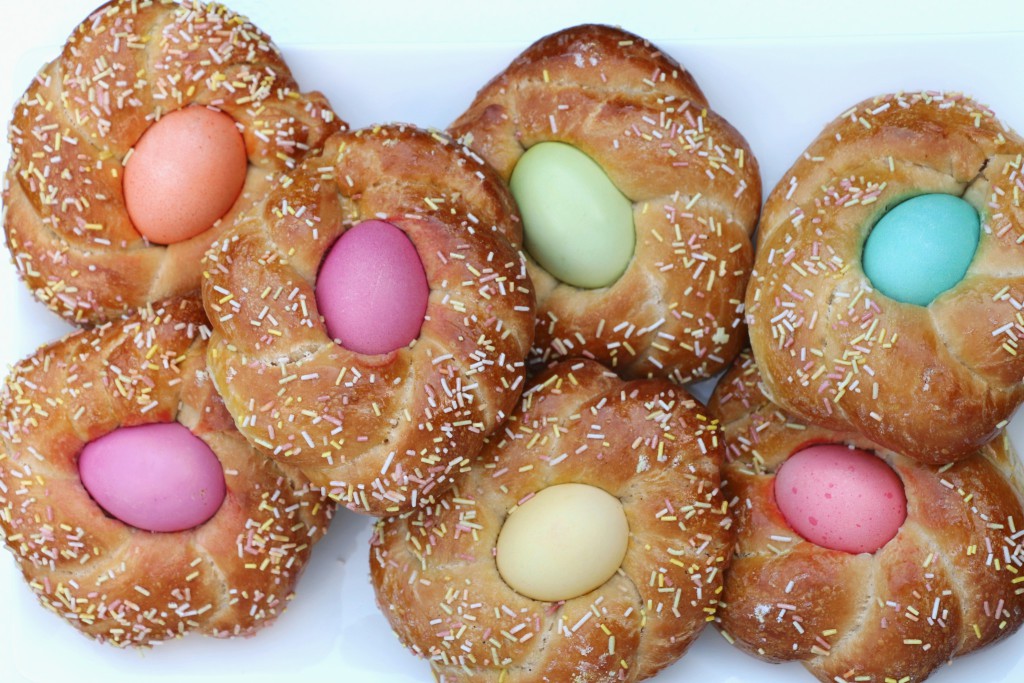 Easter egg bread-roll nests (pane di Pasqua)

These are based on the traditional Italian Easter rolls – pane di Pasqua – light, buttery and slightly sweet in the brioche style of an enriched dough.  The eggs are dyed while still uncooked and baked in the dough to an equivalent of hard-boiled. These pretty rolls make a lovely breakfast or brunch with some butter and honey or marmalade; or an afternoon treat.
A slow rise makes for good flavour, and they do need several hours to rise.  Usefully, the dough can be mixed and kneaded ahead to rise slowly overnight in the fridge; you can shape them next day cold from the fridge, and give them extra time for the final rise. The time required will depend on the temperature in your kitchen.
Note: This dough is versatile.  Originally for cloverleaf rolls, I've also used it with excellent results for hamburger buns and cinnamon rolls.  I've adapted the dough recipe from one for dinner rolls in the March/April 1997 edition of Cuisine magazine.  The method for making the Italian Easter egg rolls with dyed eggs is adapted from various baking bibles and bloggers, including Elaine Schurr McCardel of The Italian Dish.

Makes 8 rolls
8 raw eggs in the shell, coloured with food dye (see *below for instructions)
60ml (about ¼ cup) warm water: just blood-heat, no hotter
12g (1 tablespoon or ½ ounce) dry-active yeast
30g (2 tablespoons) sugar
125ml (½ cup) milk warmed just to blood-heat
115g unsalted butter (½ cup, 4 ounces, or 1 stick)
80g light honey (¼ cup)
2 large eggs
2 teaspoons vanilla extract
520g (4 cups sifted) all-purpose flour, PLUS about 30g more (3 tablespoons, unsifted)
1 teaspoon salt
1 egg and 1 tablespoon milk to glaze the rolls before baking
Optional: decorative 'hundreds and thousands' (edible 'sprinkles')
Put the warm water and sugar into the bowl of a standing mixer fitted with a dough hook – or into a large mixing bowl if you intend to proceed by hand. Make sure the water is not too hot or you will kill the yeast; it should feel just warm, as you would heat a baby's bottle. Sprinkle the yeast over the water and let it foam while you tend to the other ingredients. Foaming will tell you that the yeast is alive.
In a measuring jug, heat the milk with the honey and butter in the microwave on medium setting for about 1 minute until the butter begins to melt and the honey starts to dissolve. Stir halfway through to encourage this process, and heat again for a few seconds if needed, but don't let the milk boil or get any hotter than needs be, as you will need to cool the liquids to lukewarm again before proceeding. (You can of course do this in a small saucepan instead of the microwave.)
When the milk, butter and honey are melted and back to lukewarm, add them to the activated yeast in the bowl. Give everything a stir and add the eggs and vanilla. Stir well again.
With the mixer on lowest speed, gradually add the salt and almost all the flour, holding back just the small amount as indicated to add if needed. Alternatively, beat the salt and flour in with a heavy spoon.  Mix for 5 minutes in the machine, or 8-10 minutes by hand, until the dough mostly comes away from the bowl.  If it  seems too wet, add the remaining flour and beat for a further couple of minutes until incorporated.  At this point you are better off kneading the dough longer rather than adding more flour, if you can avoid doing so.  Both will make it less sticky, but adding more flour will make the rolls heavier.
Once the dough forms something like a ball, continue to knead it until smooth as a baby's bottom, not too sticky, but still soft.  If you poke it with your finger, it should spring back.  Form the dough into a neater ball and place it in a large, clean, oiled (or buttered) bowl, turning it over so it's oiled on top as well.  Cover the bowl with a wet cloth or cling film, set it in a warmish place out of draughts, and leave for 3-6 hours until doubled in bulk.  (You can also let the dough rise very slowly in the fridge overnight; remove and return to room temperature the following day when you're ready.)
Line two baking trays with parchment, foil, or a silicone liner.  Mix the egg wash by whisking the egg with the tablespoon of milk, and set aside with a pastry brush at the ready.  Heat the oven to 180C/350F.
Deflate the risen dough and divide into 8 equal pieces of about 130g each (4.5 ounces).  Divide each eighth into two equal halves. Working on a lightly oiled surface with lightly oiled hands, roll each half into a long rope about 25-30cm (10-12 inches) in length.  Try to make them as equal in thickness and length as you can.  Pinch the two dough ropes together at one end, and begin to twist them together until you have a fairly tight twist.  You may find it easier to flip one rope over the other in succession.  Pinch the two ends together, making a 'wreath' with a hole in the centre. Be careful not to untwist the ropes as you bring them together, and aim to make the hole just a little smaller than an egg.
Lay the twists onto a baking tray and position a dyed egg in the centre of each roll, perching over the hole rather than sitting on the bottom of the baking sheet; elevating it that bit will ensure it doesn't get buried in bread when the dough expands further on baking. Cover the doughy nests and their eggs loosely with a slightly damp cloth and place out of draughts to rise again until doubled in size, about 45 -60 minutes (twice or three times that if the dough is cold from the fridge).
When risen again, brush the rolls all over with the egg wash. Avoid the dyed eggs, and be careful not to puncture or deflate the risen dough.  Scatter on the 'hundreds and thousands' ('sprinkles'), if using.
Bake the rolls for about 20 minutes, then rotate the baking sheets and bake for another 5-10 minutes or until they are an even golden-brown on top and golden underneath.  They should feel firm and almost hollow when tapped.
Cool on a rack to prevent sogginess, and serve warm or at room temperature. These are best eaten warm from the oven, but the rolls can be kept for a day or two longer if you remove the egg and refresh the rolls themselves in the microwave for 10-15 seconds each. You can also freeze the rolls without the eggs at the unbaked stage after they are shaped, but before they've had the second rise.  Give them plenty of time to thaw and double in size, and then proceed from step 8.
* To dye the eggs
Choose the lightest-coloured eggs you can find.  Bantam eggs are especially good for this if you are lucky enough to have access to them.
You want to dye them raw in their shells (as they cook in the oven with the rolls), so handle carefully.
It only takes a bit of boiling water (enough to roll the egg in), a splash of ordinary vinegar to act as a mordant to set the dye, and a tiny amount of food colour, to dye each egg.  Start with a little colour and add more if needed.
Roll the egg briefly in the coloured boiling water until the eggs take on the hue you want. Pat them dry with paper towels and put them back in the egg box to store until ready to put in place in their dough nests.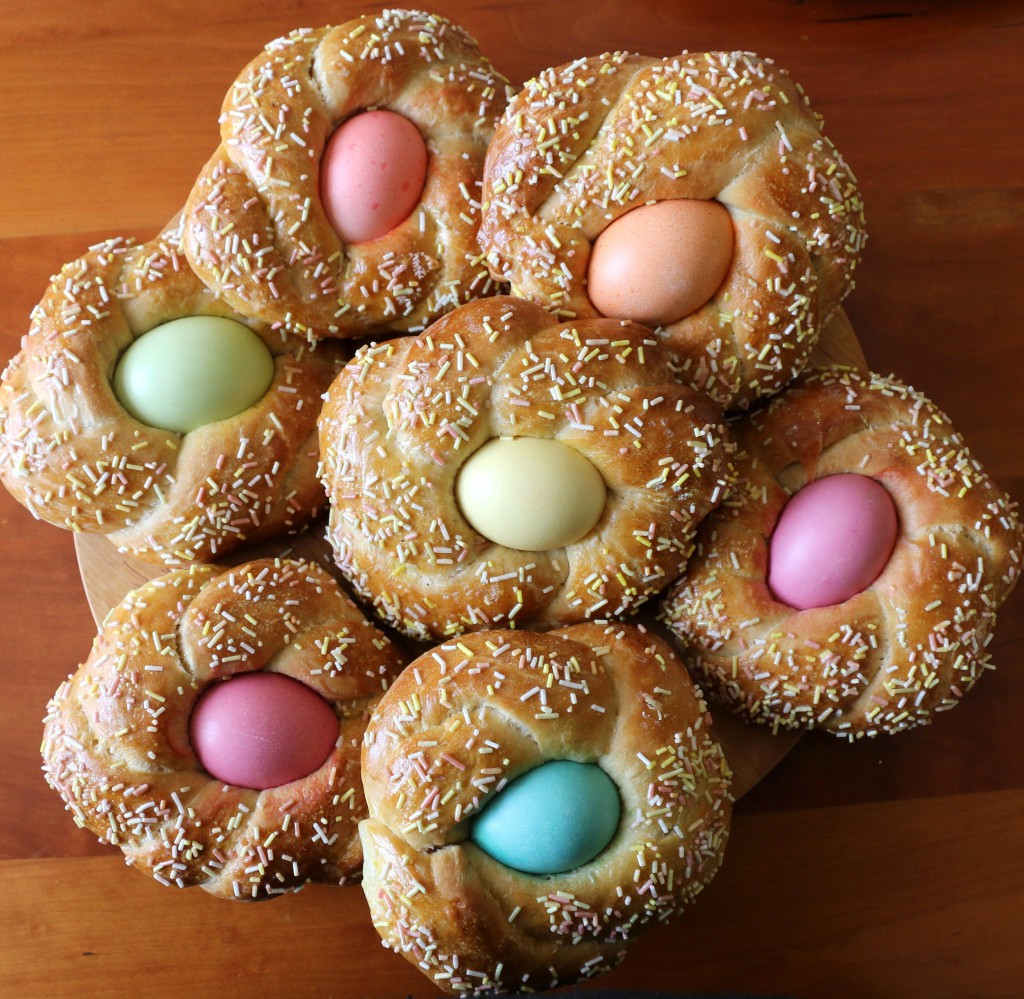 Other stories relating to Scandinavia, on Crumbs on the Table:
A Midsummer Night's Eve potion
Bullet ice cream and other strawberry tales