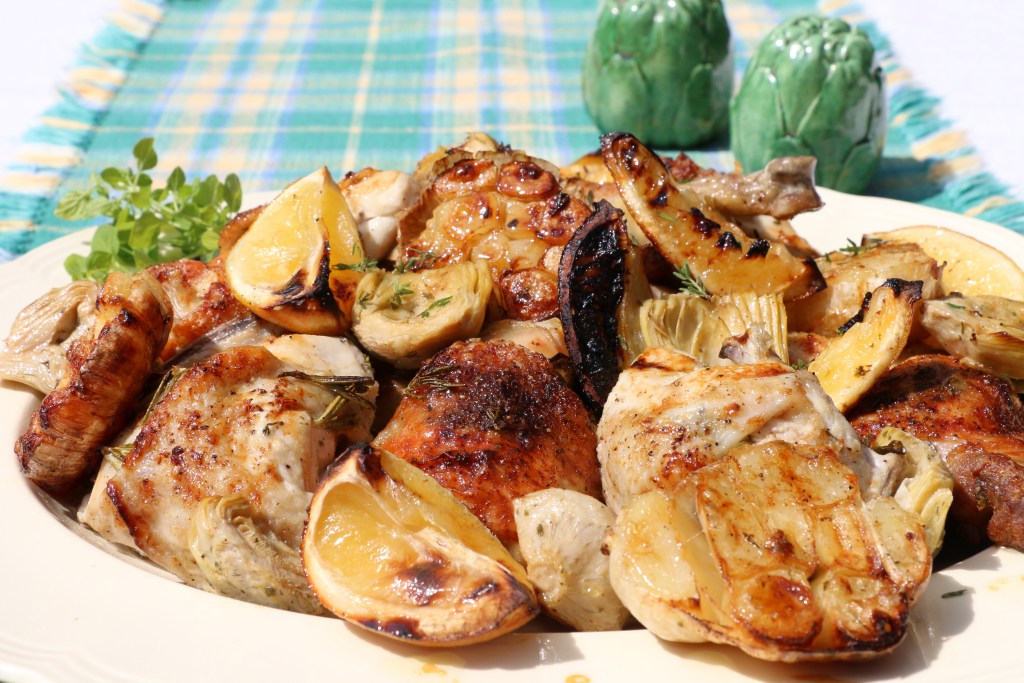 Bong was the characterful old tom cat who kept me company when I cooked in a student house in California that I secretly named the piggery.  He was such a fan of raw chicken that he once climbed my legs to get to the counter where I was jointing several birds.  He preferred it raw, but would gratefully receive scraps of this version as well, minus the garlic. [Back to story, "I used to cook in a piggery".]
This is a basic roast chicken technique that can be varied endlessly. This treatment is a favourite when lemons and garlic are good and there are lots of fresh herbs in the garden (or in the market).  I used to use fresh baby artichokes in California, which we could buy ten for a dollar. Now I use prepared artichokes in oil if I want to dress up the dish California style.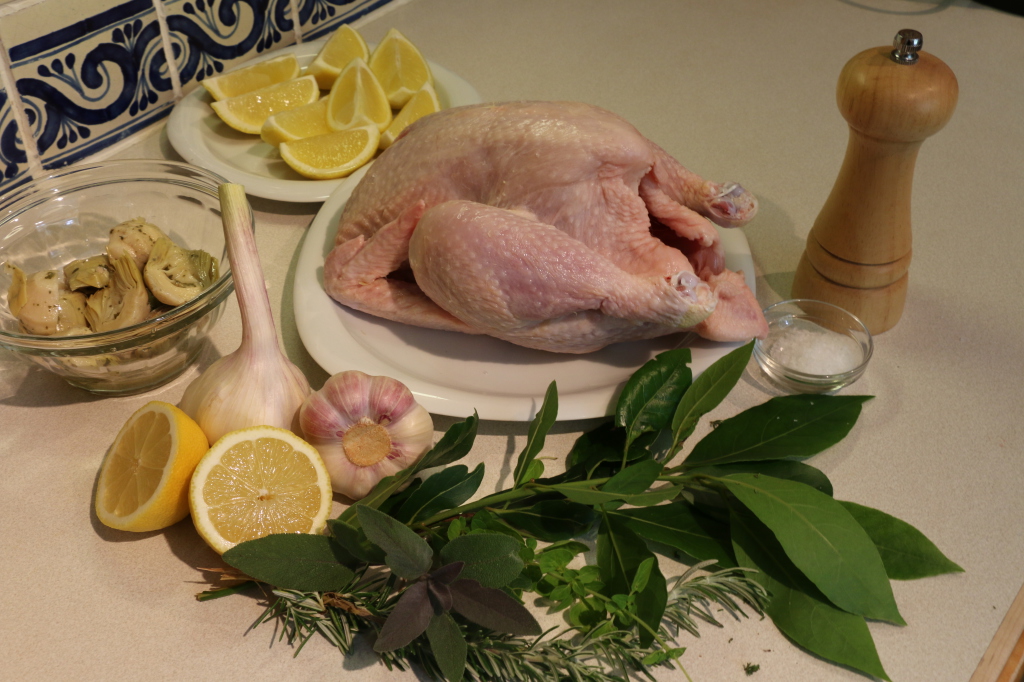 Ingredients:
1 chicken jointed into pieces (cut each breast  in half)
2 Tablespoons olive oil
2 heads fresh garlic, plus 3 or 4 more cloves garlic
2 lemons whole, plus 1 more for zesting and juicing (3 lemons in total)
1 jar prepared artichokes in oil (or approximately 8 oz. frozen)
a handful of fresh thyme and rosemary or other herbs
about 8 bay leaves
freshly ground salt and pepper (about 1 teaspoon pepper and 1 1/2 to 2 teaspoons salt)
Directions:
1.  Heat oven to 200 C / 400F (gas mark 7).
2. Oil a shallow baking/roasting tray and place the chicken pieces on it and roll them in the oil too. The shallower the better as it will help the chicken to brown.
3.  Chop your loose garlic cloves and most of the herbs (except the bay leaves) medium fine.  Zest the third lemon and combine the zest with the garlic and chopped herbs; add a good half teaspoon each of salt and pepper (save the zested lemon to juice over the dish at the end).
4.  Push back the skins on each piece of chicken and rub with the seasoned herb/garlic/zest mixture, then push the skins back in place. Season the reassembled pieces of chicken with more salt and pepper, top and bottom.
5. Cut the garlic heads in half along their meridian, and cut the whole lemons into quarters lengthways.  Distribute these evenly, tucking some in and around the chicken pieces. Add any whole herbs you've held back, and the bay leaves — again tucking them in and around the chicken evenly.
6. Add the artichoke hearts.
7. Bake the chicken for 20 minutes, then remove from the oven and check the chicken breast pieces for doneness.  They should take only 20-25 minutes at this heat, depending on their size.   Check by piercing with a thin skewer: if it goes in easily without resistence, it's done.  Don't go just by colour, as they may not have browned much in this time. Remove the breast meat and keep warm under foil for now.
8.  Cook dark meat for a further 20-25 minutes until it's fully cooked and has taken on a pleasing colour. Check for doneness by piercing with the skewer.  Again, it should penetrate easily without resistance, and the juices should run clear.  Remove from the oven and keep under foil while you finish preparing your meal.  It can rest for 10 minutes or so.
9.  If the skin on the breast meat is still pale, you can quickly brown the pieces in a frying pan for 2 minutes.  Don't overdo it, though, or you risk losing the moistness.
10.  Reunite the breasts with the finished dark meat, garlic, lemon and artichokes and squeeze the juice of the reserved lemon over the whole dish. Let it rest for another 5 minutes under foil for the juices to mingle.
I usually serve this family style on a large heated platter.
Serves 4 -6
Back to "I used to cook in a piggery".