March brings that antsy feeling, when we're tired of winter, but it's not quite finished with us. The signs of spring are getting bolder, but there are days when the lambs look a little cold in their new fleeces, and a late frost could still play havoc with the blossom and our moods.
It's the 'hungry gap' for UK-grown produce, which (apart from sprouting broccolli, which is excellent right now) needs a few weeks yet to get into its stride. Our stalwart root vegetables and winter greenery can still perform admirably this month if we don't overlook them through sheer familiarity; and not only make do –  they can make us sit up and take notice – especially in one-pot dishes where they meld together slowly while the cooker does most of the work.
There are few vegetables as sublime in taste and useful in the kitchen as a leek, the one essential I wouldn't be without when making stocks (and gorgeous sautéed with tarragon). A judicious amount of the humble swede adds depth to a dish; and if I tell you that the secret ingredient in the best broths I know is a turnip, I hope you will be persuaded, particularly when I admit that this secret is well known to the French.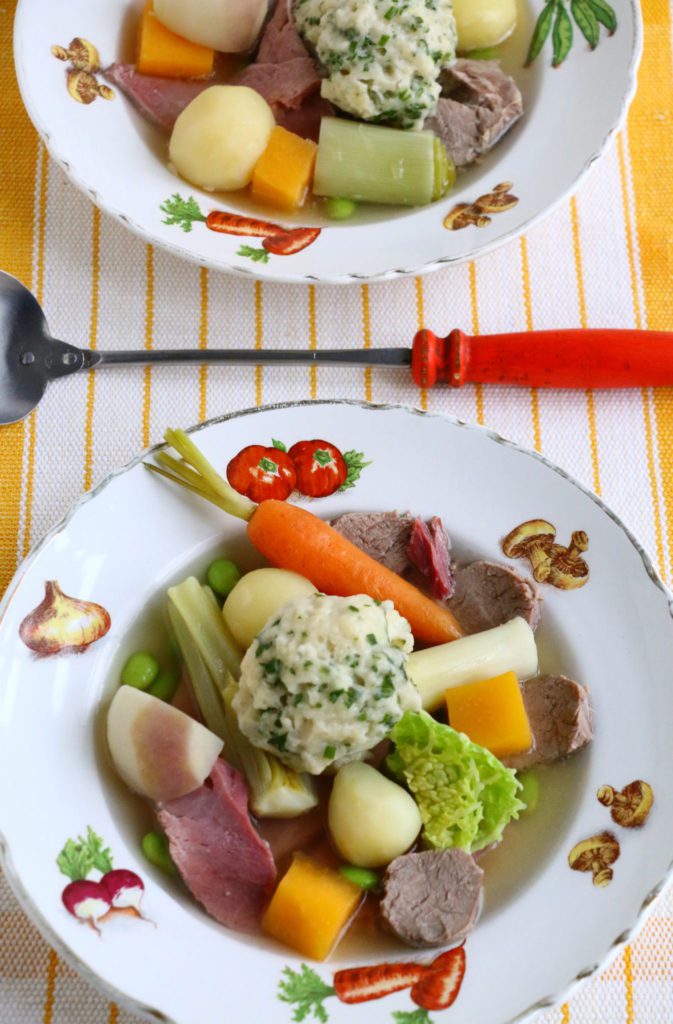 This is moment to use our remaining supply of all these sturdy home-grown veg, and they have the virtue of economy as well as flavour. Their value may be coming home to us more this year, as extreme weather in southern Europe caused winter shortages and spikes in the price of imported vegetables such as courgettes (Spain produces 80% of Europe's vegetable supplies during winter). Some fruit crops were also affected, so the full consequences may not be felt until later this spring and summer.
The effects of weather on our food supply are compounded with Brexit-related financial uncertainties, and it is likely, we are told, that we will be paying more for much of what's in our shopping baskets.  Some of this increase may be market-driven as well as cost-driven: higher prices for imported tomatoes, say, could effect the market for locally grown as well.
One thing is pretty certain amidst all the speculation: it is generally more economical to eat food that's in season where one lives. Duncan Catchpole, founder/owner of the Cambridge Organic Food Company (COFCO), told me that the imported courgettes that made it to market here when the Spanish stocks were hardest hit in winter, cost eight times the price that locally grown courgettes cost Cambridgeshire consumers last summer when the UK crop was at its height. These were exceptional circumstances, but such a dramatic difference illustrates the value of eating in season, quite apart from the superior taste.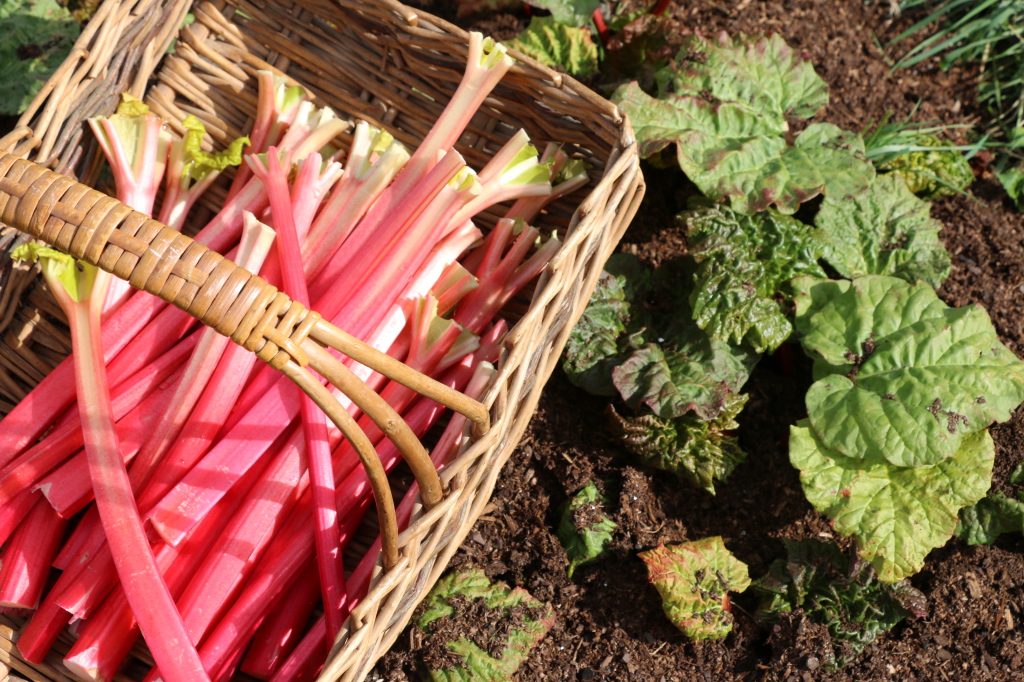 As for extending the seasons, forced rhubarb is in its full swing now, and this sure sign of spring is an invitation to make that exciting first crumble of the year. Forced rhubarb is raised with heat under cover, so it's typically more tender than field-grown, though not always as sweet as the later rhubarb grown more slowly outdoors. There is reason to celebrate both in their time, and the forced crop available now is hard to pass up – especially if you can find the Yorkshire Forced Rhubarb, which has protected status and is produced using natural methods, harvested still by candlelight for flavour and tenderness.
The cold snap that proved troublesome this winter for some UK farmers was a boon to rhubarb producers, as the crowns need cold to initiate production of healthy stems. Clive Martin, who grows organic field-grown rhubarb on 14 acres at Bedlam Farm near March in Cambridgeshire, is expecting a good crop this year. He will start cutting by mid-April and has varieties that continue through September, with some of the tastiest and juiciest coming in June. Each stage in the progression of rhubarb has its own virtues, so there's plenty of time for a crumble fix.
Cooking is always about adapting: to what's in season and best at the market, to what's in the purse or in the fridge, to the weather and ones own diary, not least. This transitional month is a good time to revisit the old favourites and enjoy them anew with good ingredients and fresh eyes. One-pot meals and simple puddings are found in many cultures and endure through time for a reason, fulfilling our longing for honest, good-value food that we remember, and anticipate, with pleasure.  And don't forget the turnip.
RECIPES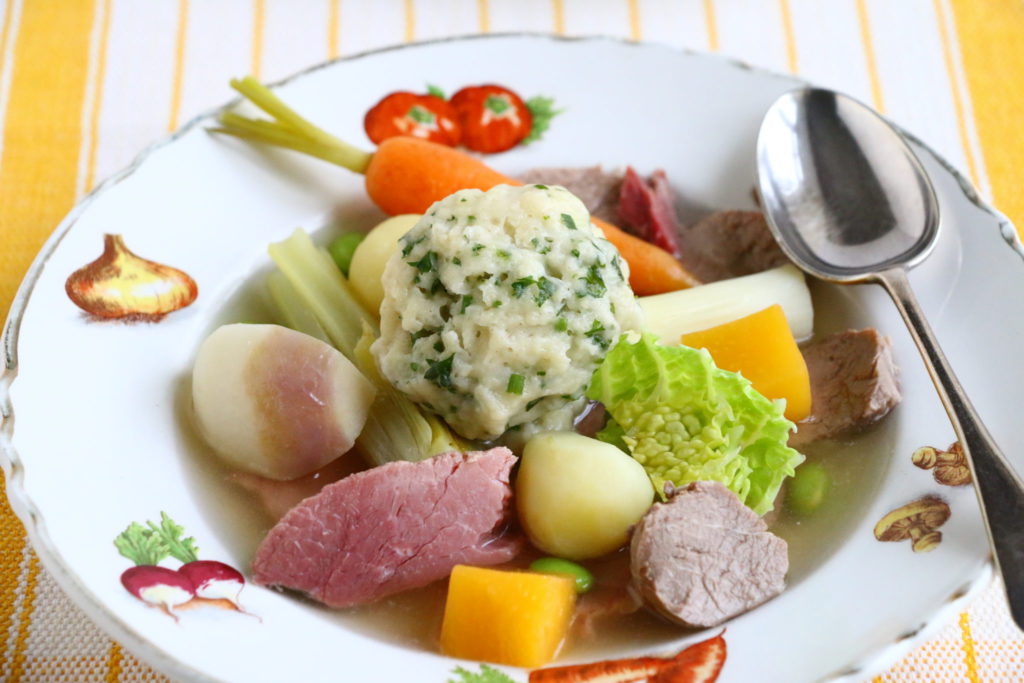 Lamb and gammon broth with mixed vegetables and herb dumplings
Serves 8  
This is a dish for transitional times, when we want something warm and comforting, but also long for spring and want our meals to be lighter. There is no browning required here to produce a broth of exquisite flavour. The two meats and the aromatic vegetables and herbs are transformed into a soul-satisfying meal-in-one – and it's even better the next day.
It's made in two stages. Firstly, the meats are cooked with the herbs and some of the vegetables to make the broth.  It's good to do this the day before you serve, as cooling the meats in the broth overnight makes it a cinch to take off every scrap of fat, and gives the broth time to develop exceptional flavour while keeping the meats moist and juicy.  At step two, the meats are removed for slicing, the veg and herbs from the broth-making are discarded, and the reserved vegetables are freshly cooked with the meat and the dumplings.  (Tip: Prep the veg for serving when making the broth, and store them in readiness for the final cooking.)
For the broth and vegetables:
750-800g (about 1¾ lbs) boneless lamb neck fillets (about 3), trimmed of excess fat and left whole (not cubed)
750-800g (about 1¾ lbs) unsmoked, boneless uncooked gammon in one piece, trimmed of excess fat
1 large onion, quartered and studded with 6 cloves
8 medium leeks, cleaned well and separated into white and green parts, the whites cut into 5cm (2-inch) lengths
4-5 medium-small turnips, scrubbed and halved or quartered
1 small swede (rutabaga), peeled and diced into 3cm (1¼ inch) cubes
2 whole celery hearts (see step 1)
9-10 medium carrots, peeled and chopped or not as you prefer, about 350g (12 oz)
450g (1 lb) baby potatoes, peeled or not as you prefer
8 thin wedges of cabbage, cut with some of the core attached so they stay intact
130g shelled broad beans (1 cup), or frozen soya beans or peas
Enough water to just cover the meats, about 3½ litres (7 to 7½ US pints)
3-4 fresh bay leaves or 2 dried
4 whole garlic cloves, peeled and bruised
1x 10g bunch fresh thyme sprigs or 1 tablespoon dried thyme
The stems from 1x10g bunch parsley (reserve the leaves)
1 teaspoon each peppercorns and mustard seeds
Optional: Salt only if needed, depending on the saltiness of the gammon
For the dumplings:
150g self-raising flour (1 cup plus 3 tablespoons, sifted before measuring)
75g suet (rounded ½ cup)
1 teaspoon baking powder
1 teaspoon sea salt or ½ teaspoon cooking salt
1 heaped tablespoon chopped chives
1 heaped tablespoon chopped parsley
About 110ml (7 tablespoons) buttermilk (or whole milk with 1 teaspoon vinegar added)
 STEP ONE: 
Cook the meats and make the broth:  Put the two meats into your largest pot with the clove-studded onion.  Add the green portions of the leeks.  Add 1 turnip, one-third of the swede (rutabaga), and 1 or 2 carrots.  Cut the top half off of each celery heart and add the loose stalks and pale leaves to the pot; quarter the bottom halves of the celery hearts, keeping some of the base attached so they stay intact, and reserve these 8 pieces.  Add enough water to the pot to cover the meats and vegetables.  Add the garlic, bay, herbs, peppercorns and mustard seeds directly to the pot (to be strained out later); or tie them together with butcher's twine in a square of cooking muslin and immerse as a small parcel into the water.  Over medium-high heat, bring the water to a consistent simmer – don't let it boil hard.  Maintain the gentle simmer to cook for 1½ to 2 hours or until both meats are tender enough to be pierced easily with a skewer.
Cool the broth with the meats and cooking vegetables in it, and ideally chill overnight in the fridge.
STEP TWO:
Strain the broth and slice the meats:  Remove and discard the fat that has risen to the surface of the broth.  Remove the meats and slice them about 1cm (⅓ inch) thick; set aside.  Remove and discard all the spent vegetables and herbs from the broth, squeezing to extract as much liquid as possible (use tongs or a colander to help with this).  Strain the broth through a medium sieve into a clean pot or large bowl.
Reheat the broth:  Return the strained broth to your largest pot and bring the broth once more to the simmer.  Taste for strength, and give it a few minutes to reduce and concentrate in flavour if necessary.  Taste again, and add a little salt only if the gammon hasn't contributed enough.  While the broth is re-heating, prepare the dumplings and have the remaining vegetables ready.
Make the dumpling mix:  In a medium bowl, stir together the suet, dry ingredients and chopped herbs.  Using as light a touch as possible, add most of the buttermilk (or milk and vinegar mixture), and stir gently until all the flour is incorporated and you have a somewhat soft, but not-too-sticky dough – hold back some of the liquid until you can judge whether you need it all. Pinch it into 8 or more pieces of equal size and roll gently into balls with floured hands.  Set aside.
Cook the vegetables and dumplings with the meat:  To finish the dish, add the sliced meats, potatoes, carrots, celery hearts, turnips, swede and the white parts of the leek, to the simmering  broth.  Add the dumplings so they rest on top, and cover the pot for 10 minutes, maintaining an even simmer – don't boil hard. Remove the lid and add the wedges of cabbage, positioning them so the cores are immersed in the liquid – don't submerge the dumplings.  Simmer for 5 minutes; then add the broad beans or frozen soya beans or peas and cook for a final 2-3 minutes.  Use a skewer to check that the dumplings are dry through the middle and the vegetables are cooked.  Serve in warmed bowls.
Rhubarb sponge crumble
Serves 8
Having tried lots of rhubarb crumble variations, I find this 3-layer version has just the right balance of sweet and tart, softness and crunch, fruit and squidge. A thin layer of sponge batter is spread in the pan first, raw rhubarb then blankets it generously, and an almond crumble is sprinkled over the rhubarb for that final, necessary, flourish.
It's delicious warm out of the oven; if you leave it to cool, it becomes firmer and more cake-like. (It can be re-heated in the microwave – give one serving about 15-20 seconds.)
For the rhubarb:
700g (1½ lbs) cleaned rhubarb cut into 5cm (2-inch) lengths (from 2 x 400g packs)
Juice of 1 lemon
30-40g (2-3 level tablespoons) caster sugar
For the sponge base:
115g (½ cup or 8 oz or 2 sticks) unsalted butter at room temperature
150g (¾ cup) golden caster sugar (or white sugar)
Optional: the finely grated zest of an orange
2 large eggs, room temperature
1 teaspoon vanilla extract
175g plain flour (1¹⁄

3

 cup sifted before measuring)
½ teaspoon baking powder
½ teaspoon baking soda
½ teaspoon cooking salt
125ml (½ cup) buttermilk (or whole milk with 2 teaspoons lemon juice added to make up to 125ml)
For the almond crumble topping:
170g (scant 2 cups) sliced almonds
35g (¼ cup) plain flour
120g (²⁄

3

cup) unrefined Muscovado sugar (or light brown sugar)
Optional: ½ teaspoon cinnamon
60g melted unsalted butter (4 tablespoons or 2 oz or ½ stick)
½ level teaspoon flaky sea salt
Butter a rectangular baking dish about 34.5x24cm (9×13-inch).  Heat oven to 180C/350F.
Mix the almond crumble topping:  Combine all topping ingredients in a medium bowl and mix lightly with a spoon or your fingertips until you have a uniform mixture.  Be gentle with the almonds to avoid breakage.  Set aside.
Mix the sponge batter:  Cream the butter, sugar (and orange zest if using) until light and fluffy, about 5-8 minutes with a mixer.
Add the eggs one at a time, beating just until combined.  Mix in the vanilla.
Sift together the flour, salt, baking powder and baking soda.  Add half the dry ingredients to the butter and egg mixture, beating at low speed only to combine.  Scrape down the sides of the mixer to ensure all ingredients are incorporated.
Add the buttermilk (or milk and lemon juice mixture) and beat at low speed only to combine; again, scrape down the sides of the mixer.
Add the remaining dry ingredients and give everything a final mix to ensure it's well-combined, but don't over-mix or the sponge will be tough.  Spoon the batter into the buttered baking dish and spread it smooth and level: watch that the centre is not thicker than the corners.
Add the rhubarb and almond crumble topping:  Mix the rhubarb with the lemon juice and sugar, and spread evenly on top of the sponge batter.  Then evenly distribute the almond crumble topping over the rhubarb.
Bake for about 35-45 minutes or just until a tester comes out clean of sponge batter and the top looks golden and set (the rhubarb may sink a little, but that's fine).  The top should feel firm, but shouldn't be hard, when you press it lightly. Serve warm or room temperature with custard, cream, crème fraîche, or nothing.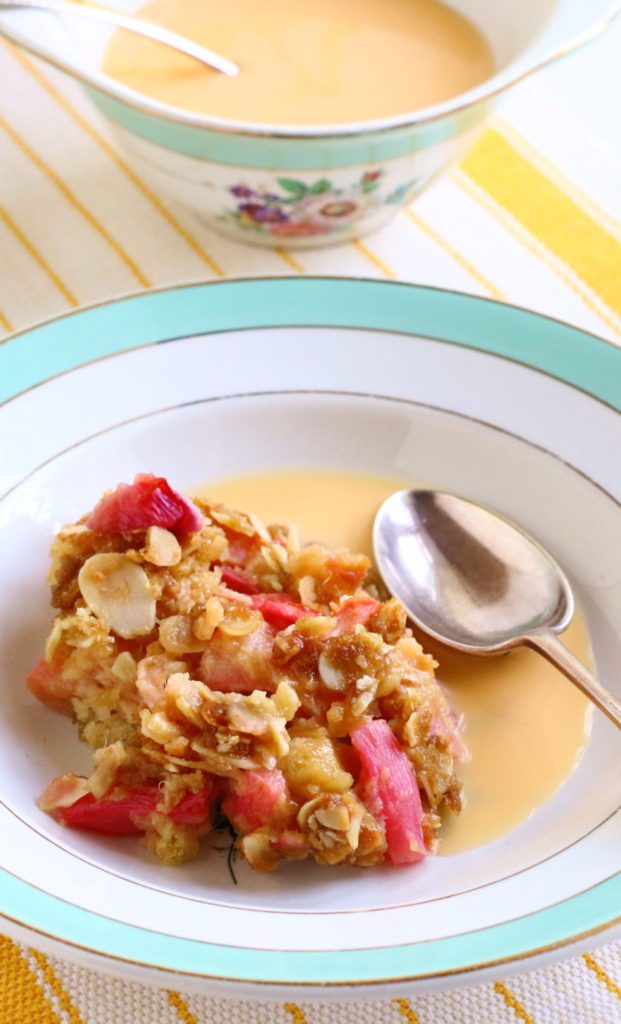 [This article was published in the March 2017 edition of
Cambridge Magazine.
]
Other Crumbs on the Table recipes for the winter/spring transition:
Other rhubarb recipes: