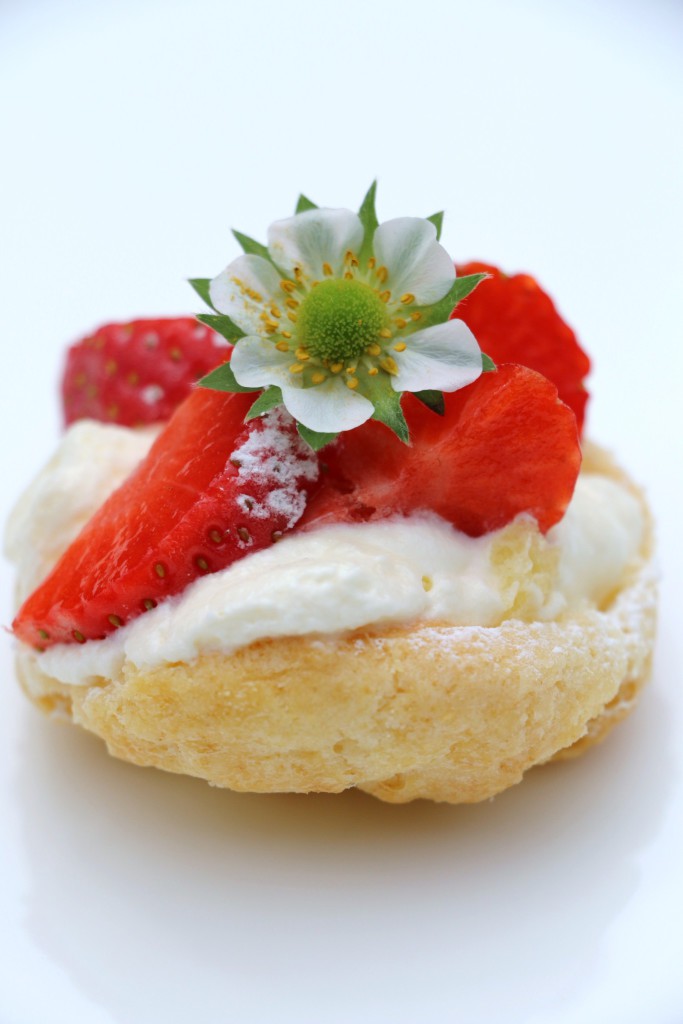 The most enchanting strawberries I have ever tasted were Norwegian berries, bought from the grower in a gravel-strewn lay-by on a winding road along Sognefjord on Norway's west coast. They were pale pink and I was suspicious of their anaemic pallor, but they were the sweetest, most intensely strawberry-ish strawberries I've ever had, the taste of a strawberry in a dream. They were also very soft – too soft to be a variety that could be sold commercially – and we ate them straight out of the basket, capturing the moment. Even if I could find the variety and grow them here in England, I cannot imagine they would taste the same, for of course they had the midnight sun in them.
Back at home, our English strawberries are also sublime signals that summer is here and the days are blissfully long. The early varieties are well underway now, grown under cover, but I can't wait for those grown out-of-doors, including those few I've planted, still green miniatures. I hope to rescue enough from the blackbirds for a batch of strawberry rose jam. Until then I am making the most of the Cambridgeshire growers' offerings for the purest strawberry sorbet, our favourite summer daiquiri, and a spectacular Fraisier cake, full of berries and custard. (Skip to recipes.)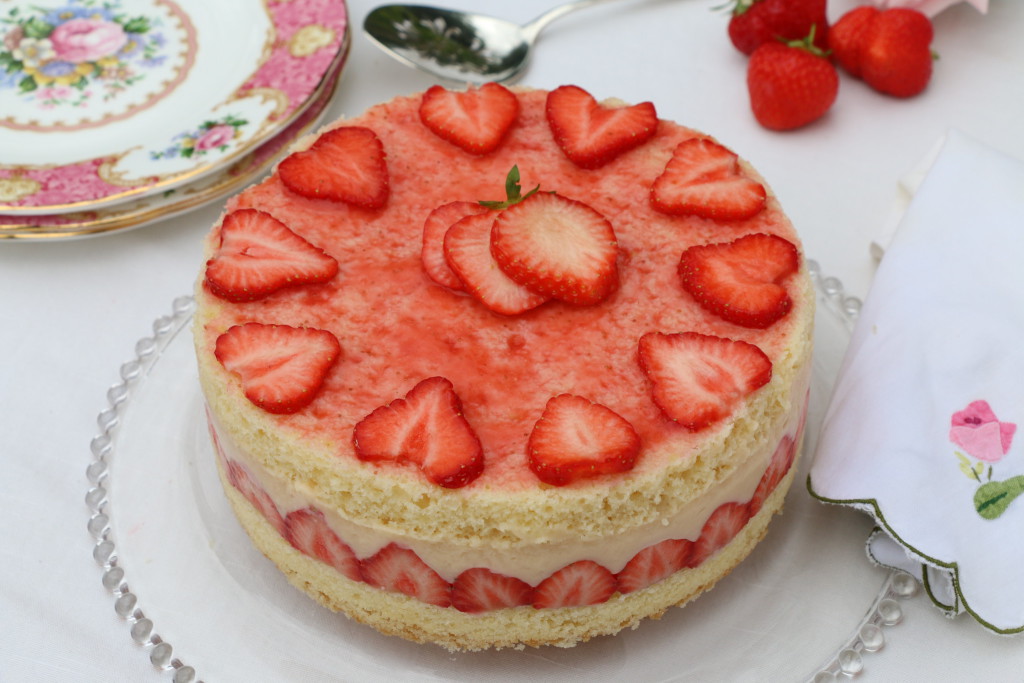 My abiding strawberry memory from childhood is of my father hand-cranking ice cream in the shade of the giant silver beech at our home in rural southern New Jersey.  Near the house was a woodland clearing that we kids called "the Deer Place", where one summer there was an explosion of wild strawberries. In previous years there had been only a few precious fruits that we would eat one-by-one off the long stalks, wishing there were more, wishing they were bigger. There were so many this one hot summer that we could fill our pails without having to move. No matter how careful we tried to be, we couldn't help stepping on them, crushing as many as we picked.
This was a big event, and everyone in the family brought baskets and bowls to the Deer Place, where we crouched and picked until the sun beat into our backs and burnt us strawberry red. When sunset put a halt to our gathering, we had such a haul it took every towel we had in the kitchen to dry the washed berries. And then we confronted the task of hulling them, something we neglected to think of as we picked. Seated together at the table, our fingers busy, the room fragrant with berries, the talk of jam and ice cream and shortcakes turned to jokes that became drier as the job went on and on into the night, past the point where we could eat any more. I remember seeing nothing but a sea of red as I tried at last to sleep, a constant stream of berries taking over my consciousness.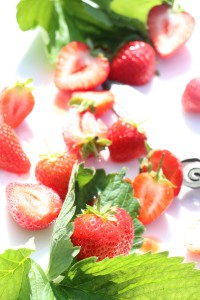 The resulting jam I don't recall, but the next day's ice cream was indeed memorable. We mixed the milk, cream, vanilla and sugar, and Dad had control of the churning, putting the ice and salt in the outer ring of our old-fashioned churn while the paddle turned in the metal container inside. He had the honour of pouring in a full bowl of the precious berries as we all watched, each of us having a vested interest in the outcome.
We all took turns cranking the paddle by hand – hard work, a job to be shared – and finally it came together as recognisable ice cream: luscious, soft, creamy. We were impatient to taste, but it had to be "cured" in the freezer.  So we waited longer still, until at last it was thickened enough to spoon into bowls.
We took our first bites with the highest expectations, realising with eruptions of laughter that the little strawberries had frozen hard as ice, virtually inedible. Bullet ice cream. We should have mashed them with sugar to lower their freezing temperature; or eaten the ice cream still soft, straight out of the churn; or pureed the berries to add to the milk and cream. But we ate it with satisfaction, having the joke as well as the ice cream itself, and it was utterly delicious if you ate around the bullets until they softened enough to remind you they were strawberries: a two-part ice cream novelty.
This story gets told often at family gatherings. We recall too when the majestic beech that shaded our ice cream ritual had at last to be taken down, victim of a fungal disease that riddled so many of its kind. It had been hollow for some time, and when it finally met its demise under the supervision of tree surgeons who knew their business, we watched on, bereft and then astonished, as an apocalyptic eruption of black snakes made their escape from the tree's lengthy innards, slithering fast over the grass down the hill to the lake, leaving behind nests of long, leathery eggs.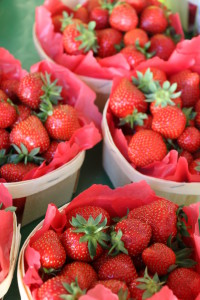 Back in the present, my father tells me this has been a good year for strawberries in New Jersey. They are eating them fresh and in "fluffies" (his malapropism for smoothies) while the perfect strawberry weather holds.
Here in England, we initiate every summer with an alcoholic version of the fluffy: a strawberry daiquiri. The ones made with fresh berries are impossible not to suck down with unseemly haste. The ones made from frozen berries when summer is fading into fall, we nurse more slowly, not only because they are colder, but because we're trying to hang on… That last daiquiri of the season is always bittersweet.
I haven't made strawberry ice cream for some years, but I do love to make a sorbet from berries I've picked when they are at their best. I remember making it our first summer in northern California. We had ventured south to the cooler agricultural coast just south of the sunny Bay peninsula, and drove past a hand-scrawled sign advertising "Pick Yer Sef". We stopped and gave into a picking frenzy just like the Deer Place all over again, but with bigger berries, and came home with more than we knew what to do with. Sorbet was the most sublime of all the treatments we gave those gorgeous fruits, ripened slowly in the alternating rhythms of California sun and fog. I call this my "East Palo Alto Sorbet" because that is where we lived when we first made it and its simple freshness was such a revelation I now associate that time and place with every sorbet I make.
These simplest of tastes get to the essence of things. Invariably, I've realised, the tastes least adulterated by human interference give me the closest connection with places and times that have meant most to me. This simple fruit brings such joy to people it reminds us we are hunters and gatherers at heart. Wherever we find our berries, we can connect with that in ourselves, and it makes us feel good.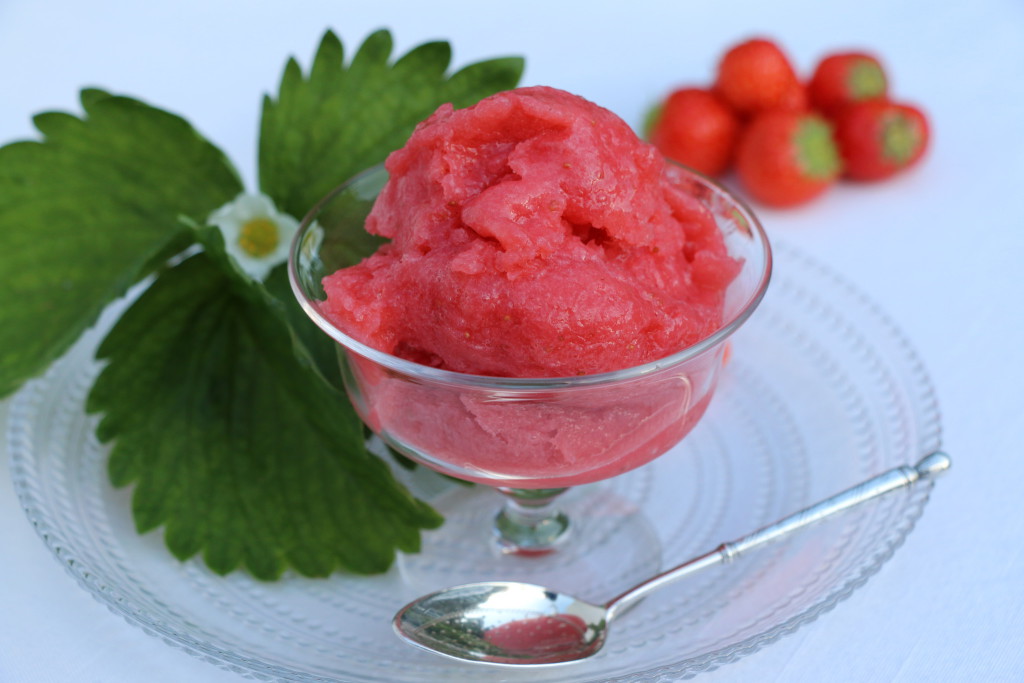 (serves 4-6)
This recipe is more a method. It works for many fruits, from ripe pears, to peaches, boysenberries, raspberries and strawbs, and can be adjusted to any amount of fruit you have.  All are exquisite because it relies on fresh uncooked fruit. Just mix together an equal quantity of sugar syrup and fruit purée and let it freeze for some hours until set. Then break it up and pulse it in a food processor for a few seconds to a smooth texture, and serve. If you don't have a food processor, you can mix and scrape the mixture with a fork a few times while it's freezing, for a coarser textured granita. And of course you can use the same mixture in an ice cream machine if you have one.  All are so clean-tasting, fruity and delicious you will feel you've caught the fleeting joy of the season.
Ingredients
 500 ml (2 cups) water
200 g (1 cup) sugar
1 strip of lemon peel
500 grams (a little over one pound) strawberries, washed, dried and hulled
optional: a squeeze of fresh lemon juice to taste
Directions

Make the simple syrup: over medium heat, dissolve the sugar in the water. Don't let it boil until completely clear of crystals. When it is clear, turn up the heat and boil for three minutes. Set aside to cool completely and then refrigerate until use.
Purée the strawberries in a food processor or blender until completely smooth, and sieve in a medium-coarse strainer to remove most of the seeds.
Mix the puréed fruit with the cool sugar syrup.  Taste and add just a squeeze of lemon juice if you feel it needs some brightness, but don't overdo it, as the lemon can easily dominate.
Cover and freeze for several hours until set through, but ideally not rock hard. A long shallow dish is best for freezing the mixture evenly, but a bowl is fine.
When set, break up the frozen sorbet mixture and pulse in a food processor a few times until just smooth. Don't over-process, or it will become too airy and loose some intensity of flavour. Serve immediately.
Notes:
The finished sorbet can be kept frozen for a couple of days, but ice crystals will start to form fairly quickly and it will lose some flavour, so it does take best fresh. Soften for several minutes before serving, until it can be easily scooped. It will taste best a little on the soft side.
I like to make a quantity of sugar syrup (also called "simple syrup") to keep on hand for sorbets, cocktails (including the strawberry daiquiri, below), and non-alcoholic summer drinks like lemonade. It lasts for several weeks in the refrigerator.
(for 2 generous cocktails)
Ingredients
120 ml (4 ounces) light rum
60 ml (2 ounces) fresh lime juice (from 1-2 limes)
30 ml (1 ounce) Cointreau
30 ml  (1 ounce) simple syrup, or more to taste
250 ml (about 1 cup) crushed ice cubes
about 20 medium strawberries, washed, dried and hulled, saving 2 with hulls for garnish
Directions
Chill two glasses in the fridge or freezer.
Set aside 2 strawberries still with the hull for garnish.
Blend all other ingredients together at high speed in a blender or food processor, until the ice and berries make a very smooth slush. Taste and add a little more sugar syrup if it needs it.
Pour into the chilled glasses and garnish each with a strawberry cut lengthwise starting at the tip. Serve immediately with a straw. Sip slowly if you can.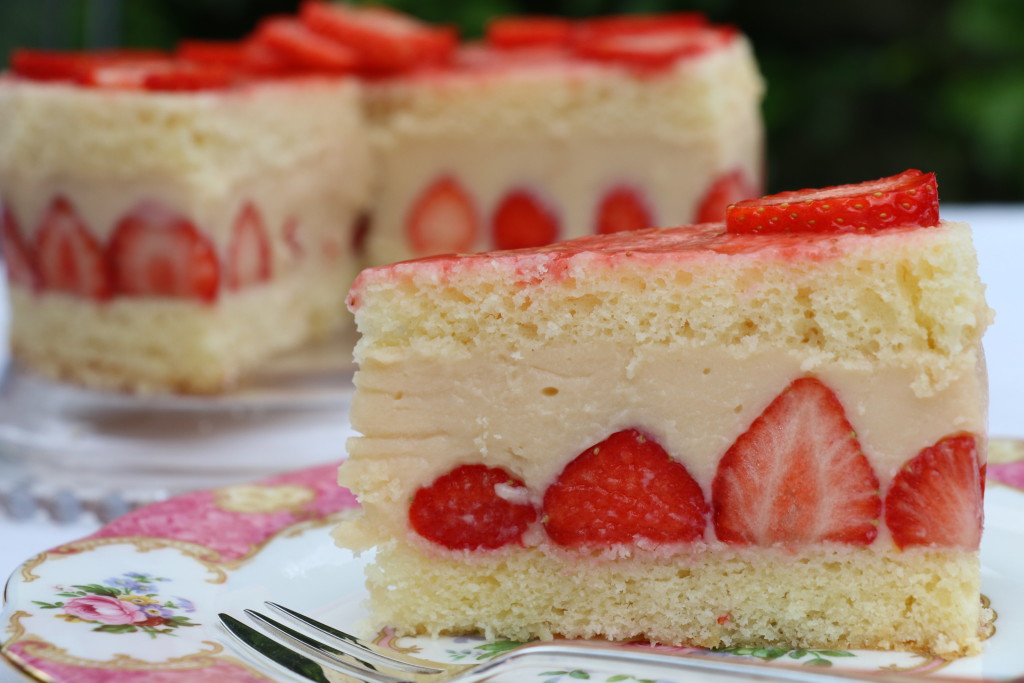 III.  Elegant Fraisier (strawberry custard cake)
(serves 8-10)
This is a special and somewhat challenging cake with a few steps, but each one is do-able.  The trick is to take care with the custard and give it time to set firm in the fridge before cutting.  Some recipes call for a very thick pastry cream in order to avoid the cake collapsing. I sometimes find such custard too pasty and heavy, so I use some gelatine in a lighter custard to achieve the same firmness without detracting from the texture and flavour. It's also important to make sure your strawberries are completely dry before assembling the cake, as any moisture could loosen the set.
The recipe for the cake component is adapted from Alice Waters' 1-2-3-4 cake, a versatile, reliable and delicious cake that is my standby favourite for many uses.  I make one 20-cm (8-inch) layer and slice it into two thin layers for a Fraisier.  I like to trim the outer edges and assemble it within a 7-inch cake ring, simply because I like the refinement of having no brown edges showing;  but you certainly don't have to take this step and can assemble the Fraisier in a cake tin the same size as the baked layers.  Whichever option you choose, just use a cake pan with a removable bottom for your assembly, and use just the ring itself, making sure it is the right way up to avoid your cake getting stuck on the lip when you unmould it.  It is a beautiful cake for a special occasion, when the strawberries are at their best.  If you can, use strawberries of uniform size, as they will look better and also make for a more structurally sound cake.
Ingredients

For the cake:
113 g (1/2 cup or 1 stick) unsalted butter, softened
200 g (1 cup) caster sugar
2 eggs, separated
200 g (1 1/2 cups sifted before measuring) all-purpose or cake flour
2 teaspoons baking powder
1/4 teaspoon salt
120 ml (1/2 cup) whole milk
1/2 teaspoon vanilla extract
For the custard:
500 ml (2 cups) whole milk
100 g (1/2 cup) caster sugar
30 g (1/4 cup sifted) cornstarch
4 egg yolks
pinch of sea salt
2 teaspoons granulated gelatine
1½ teaspoons vanilla extract
1 teaspoon water
For the whole strawberries, strawberry topping and assembly
about 450g (around one pound) whole medium-sized strawberries, washed and completely dried
optional:  2 tablespoons Grand Marnier
1 teaspoon caster sugar
½ teaspoon arrowroot
2 teaspoons water; plus extra if needed at the end
Directions

1.  Make the cake first:  Heat oven to 175C/350F.  Butter and flour a 20 cm (8-inch) cake pan. Cream together the butter and sugar for about 5 minutes until light and creamy.  Add the egg yolks one at a time and then the vanilla. Mix together the dry ingredients and add one-third to the mixture.  Mix just until incorporated and then add one-half of the milk.  Repeat the sequence, and end by adding the final third of the dry ingredients and beat again, just to mix.  In a clean bowl, with clean beaters, whisk the egg whites to the soft peak stage and fold them into the cake batter in three additions, being careful not to deflate the mixture.  Pour the batter into the prepared cake pan and smooth the top.  Bake until a skewer comes out dry and the top springs back — about 30-35 minutes; check after 25 minutes.  Rotate the cake halfway through baking to help it bake evenly.  Cool the cake for about 10 minutes in the pan, and then invert onto a rack to cool completely.
2.  Make the custard:  Soften the gelatin by sprinkling it over the vanilla and water in a small bowl.  Set aside.  Heat the milk until just under the boiling point.  Mix together in a medium saucepan the cornstarch, salt, and sugar.  Whisk the yolks into the dry ingredients in the saucepan until you have a thick paste.  Gradually whisk in the hot milk, stirring constantly to make a smooth mix.  Over medium heat, cook the custard slowly, scraping the bottom and sides with a heatproof rubber spatula to avoid it catching, and using a whisk every so often to keep it smooth.  When it thickens and finally reaches the boiling point, after about 10 minutes, allow a few big bubbles to appear and then take it off the heat.  Immediately add the softened gelatin, and at this point do not return it to the heat.  Stir the gelatin in well to ensure it melts completely, and taste for graininess.  Keep stirring gently until it is completely melted.  Strain the custard, cover with buttered clingfilm or parchment paper, and set aside to cool to room temperature.  If making ahead, refrigerate until you assemble the cake.
3.  To assemble:  Trim the edges of the cake if you want to, so it fits in a 7-inch ring; or leave it intact if you prefer an 8-inch cake with the browned edges .  Slice the cake in half horizontally and place the bottom layer within the ring you're using, on top of a serving plate.  Brush the bottom layer lightly with Grand Marnier if using.  Cut the bottoms off the strawberries so they can fit flat, and then slice them vertically in half, from tip to the flat bottom.  Arrange the strawberries cut side facing outwards along the inner ring of the mould.  Continue until the perimeter is lined with halved strawberries, and then fill in the centre with strawberries that have been trimmed flat, but left unsliced.
Stir your custard to ensure it is smooth, and spoon or pipe it over the strawberries, pushing it down gently to get into all the crevices between berries.  Brush the bottom of the remaining cake layer with a little more Grand Marnier if using, and place it on top of the custard.  Press down gently to ensure it sits evenly.  Cover the cake mould with cling film without touching the surface of the cake and refrigerate for 6-8  hours until firm, or overnight.
4.  For the top decoration: With the strawberries you have left, make a small sauce:  purée the fruit and sieve it to remove the seeds; you should have about 1/4 cup of strawberry juice. Add the teaspoon of sugar.  Dissolve the arrowroot in the water and add it to the sauce. Over medium high heat, bring it to the boil and stir until clear and thick; this should take about one minute.  You want a consistency thick enough to coat a spoon, not gummy and thick.  If it is too thick, thin it with a little more water or some Grand Marnier. Cool to room temperature.
5. To unmould the cake:  take a warmed kitchen towel and wrap it around the outside of the mould for about 20 seconds and carefully lift up the ring, holding the top layer of the cake down as you lift.
6.  To decorate and serve: Brush the top layer of the cake with the thickened strawberry sauce, going right to the edges.  Slice 4 or 5 handsome strawberries thinly and use the prettiest middle 2 slices as decoration, placing 8-10  on the top at even intervals, so each serving has one.  Lightly brush them with a little more of the strawberry sauce to keep them moist.  Slice with a long sharp cake knife, and clean it between each slice for a clean cut.
Note:  a circle of thinly rolled marzipan also makes a pretty decoration for the top, with one white-chocolate-dipped strawberry to mark each serving.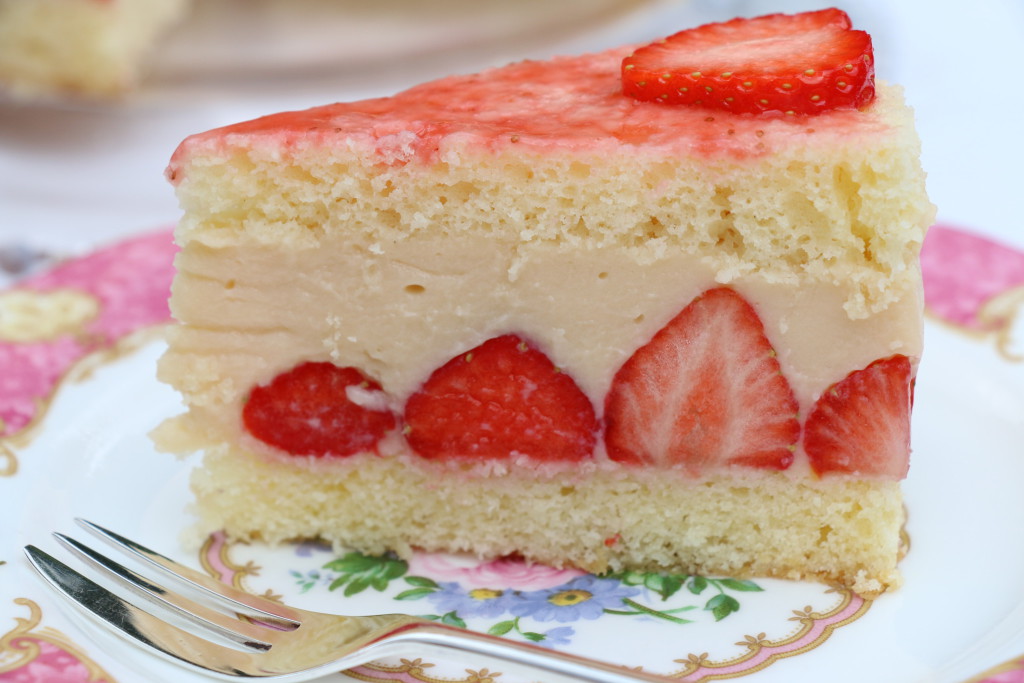 References:
Alice Waters.  The Art of Simple Food. Clarkson Potter Publishers, 2007.