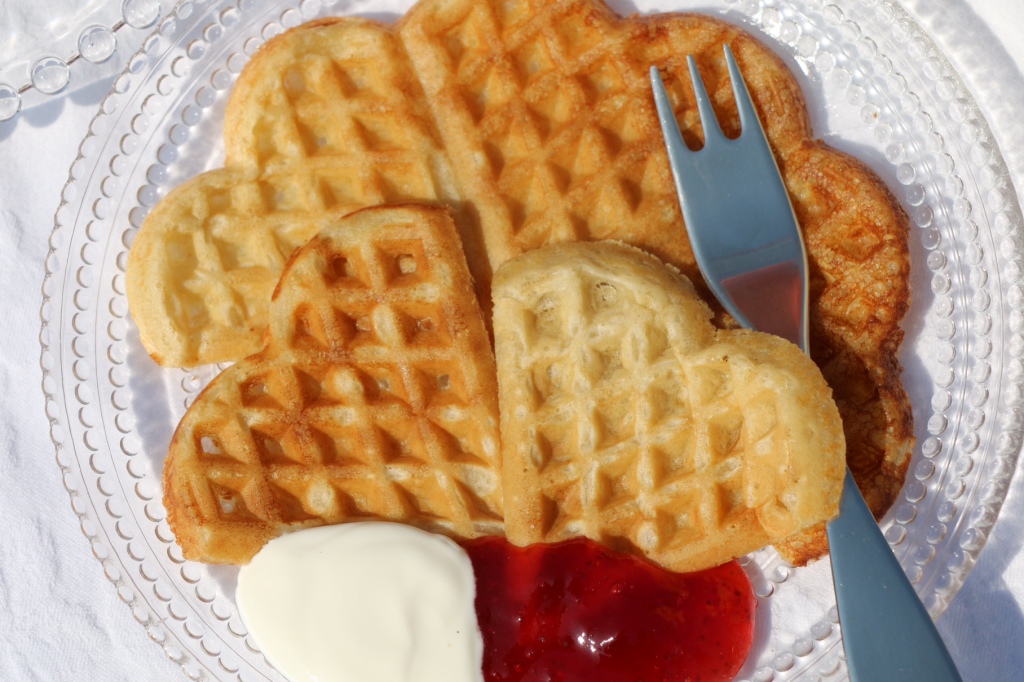 Norwegians everywhere on this 17th day of May are celebrating "Syttende Mai" – Norway's National Day of independence, the day in 1814 when its constitution as an independent nation was signed after over 400 years of Danish rule, following Denmark's defeat in the Napoleonic wars, at the moment when Norway was about to be ceded to Sweden.
The assertion of Norway's independence is a complex story (see below for a very potted history), but the significance today of Syttende Mai is pure celebration: of freedom both personal and political, of spring, of holiday. All over Norway, and wherever Norwegians assemble outside their own country, you will see colourful parades with the red, white and blue Norwegian flag much in evidence, waved by adults and children in gorgeous and varied native bunad dress, making music, eating and drinking, and engaging in all those other noisy indulgences of a collective day off with a common purpose.
It is common to start the day's festivities with a family breakfast. My first 17th May in 1987 was, I recall, celebrated with a traditional western Norwegian speciality of sour cream porridge called "rommegrøt" accompanied as tradition dictated by dried reindeer and sheep. The porridge, made with barley flour and sour cream, was, I confess, one of the few dishes in my life I haven't been able to choke down.
But there was better to follow in the form of delicious homemade waffles, cooked on a heart-shaped waffle iron, served with soured cream and homemade strawberry jam. Now that was my idea of a celebration.
The Norwegian "vafler" are a frequent appearance at celebrations large and small, and fill a similar niche in Norway as the scone does in the United Kingdom. They are not tied to Syttende Mai, but are certainly eaten in plenty on that day, along with ice cream, pølse (a kind of hotdog) and other party foods.
You find waffles at home served with coffee, and in tea rooms, cafés and mountain-top concessions, to be eaten any day. They are delicious when homemade, and the ones I am most familiar with, from Bergen on the west of the country, have been served with sour cream (rømme) and jam, usually strawberry (jordbӕr syltetøy).
I hate to think of the number of waffles I have polished off in my time, nor the number I have cooked on my own heart-shaped waffle iron at home in England: it must be in the hundreds at least – and I am not the only person outside Norway to find them irresistible. They are a frequent request of friends and family, and used to be very popular when I cooked them to order at local markets. They are great to make with kids, who love pouring in the batter, seeing the steam rise and hearing the waffle iron hiss and sing, and then prising the golden prize to eat still warm. It's a homely comfort food and dramatic performance in one.
Here is my preferred recipe, which I've used for almost 20 years. It's adapted from The Norwegian Kitchen (Vårt Norske Kjøkken, editor Kjell E. Innli, 1996). It makes enough for a celebration and can easily be halved. The heart-shaped waffle-iron is traditional, but this will work with any waffle iron, or even as free form crepe-like pancakes.
The Norwegian waffle is more tender than a Belgian waffle and not as deep, and they cook in about one minute or a little over, so you can stack a few at a time for serving. Serve them Norsk style, warm with soured cream and jam, or with fresh fruit and whipped cream, or maple syrup, or whatever you like. The cardamom lends a distinctively Scandinavian taste, but you can leave it out and the waffles will still taste delicious.
Norwegian waffles (Norsk vafler)
Makes about 16 waffles
Ingredients
660 ml (2 ¾ cups US fluid measure) full-fat milk
120 ml (½ cup US fluid measure) whipping or double cream
25 g (2 tablespoons) sugar
2 large eggs
170 g melted unsalted butter (just under 6 US ounces, or a teaspoon short of 1 ½ sticks)
330 g wheat flour (2 1/3 US cups, sifted before measuring)
½ teaspoon salt
optional: ½ to 1 teas ground cardamom, to taste
Directions
Whisk the dry ingredients together in a large bowl.
Mix the milk, cream and eggs together, ideally in a large measuring jug.
Add the liquids to the dry ingredients and whisk well. Add the melted butter and continue to whisk until you have a smooth batter.
Strain for lumps and refrigerate for about an hour
Cook in a waffle iron until golden brown. I find that 1/3 cup of batter fits the standard Norwegian iron perfectly.
Serve warm with the traditional soured cream and jam, or otherwise to your preference.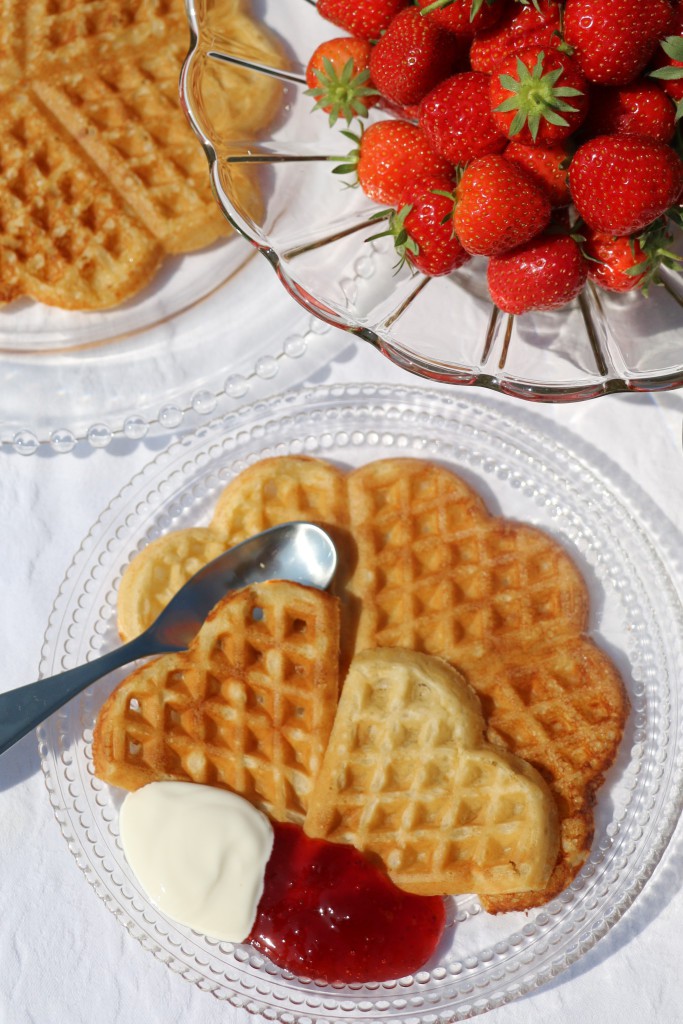 A very potted history of Norway's history and journey of independence