There is something sensuous about nibbling a dainty biscuit that transports one to a perfumed rose arbour or a sunny patch of violets.  And the taste of these really lives up to the romantic associations.  They are beautifully buttery, with a great balance of salt and sweet, and of course, they have that seductive floral flavour from sweet fragments of crystallised violets or rose petals.
These are a variation of shortbread, as they have a high proportion of butter, and no eggs or rising agents.  Instead of rolling and cutting them into chunky fingers, or pressing them into a shortbread mould, these are 'refrigerator biscuits', where the dough is rolled into cylinders and then chilled before slicing and baking into light and crispy rounds.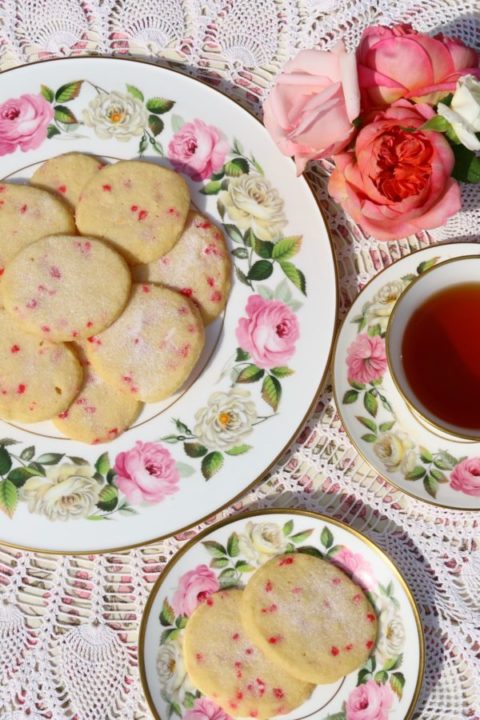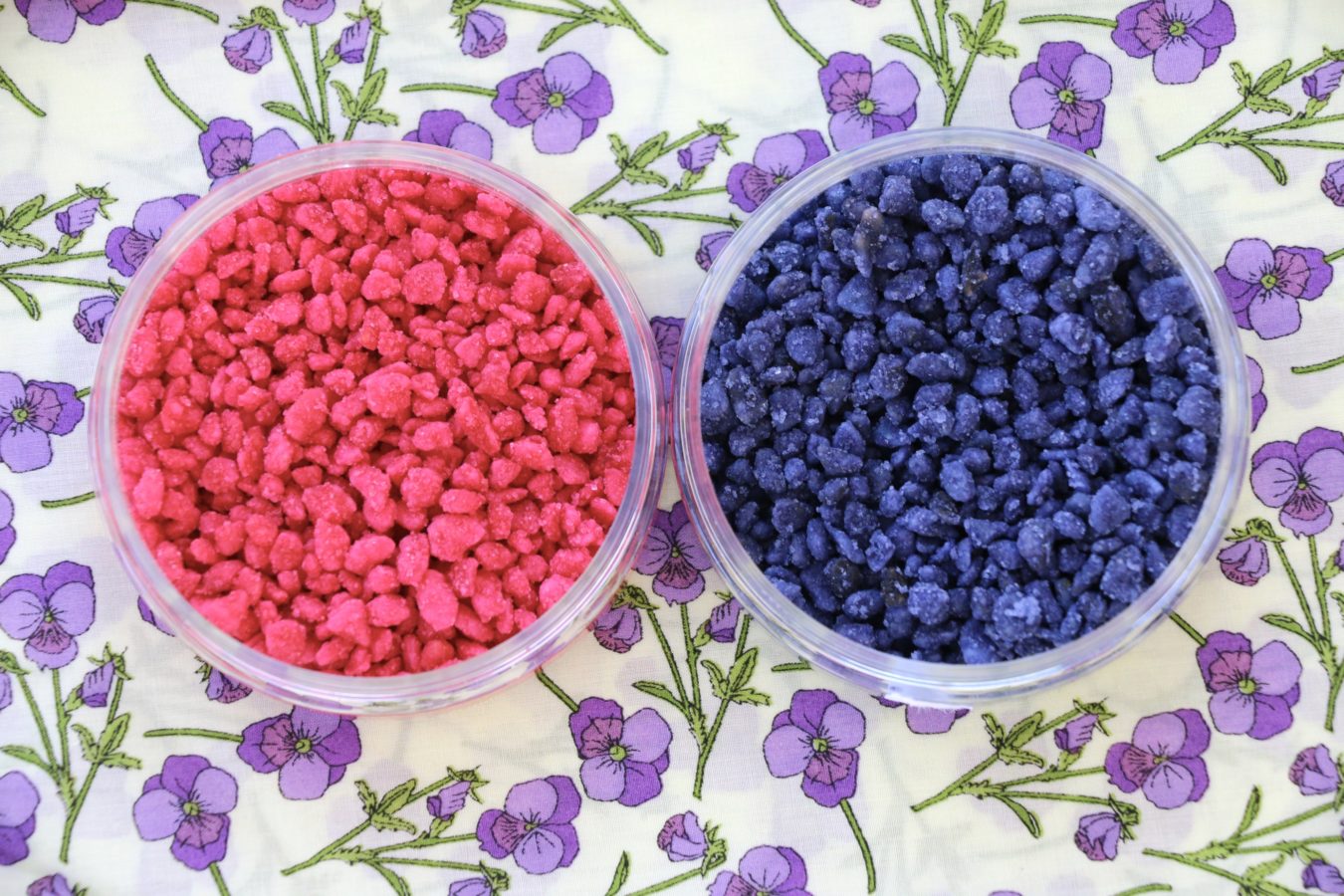 These are very easy to make, with one proviso – you have to procure the specialist crystallised rose petal and violet pieces (look for the pieces, not the whole petals).  I found them online in perfectly sized 30g (1 ounce) tins while browsing a specialist cook's supply site  and it's been my Delightful Discovery of lockdown.  They are not cheap, and you have to contain your impatience until they arrive, but the resulting biscuits are charming, delightfully unusual, and absolutely delicious.  Now that I've made these, I think I've got a collection of heavenly biscuit recipes — can we also call them cookies? — that will last me for life.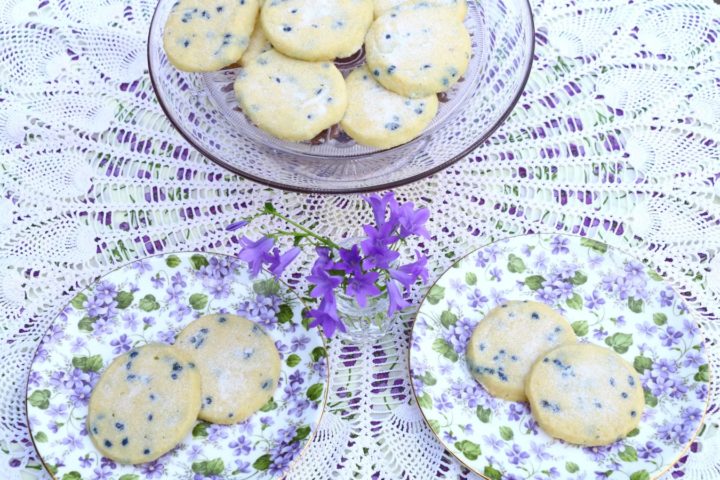 The simplicity of any shortbread seems to call for the best butter and salt you can manage.  Salt here helps bring out the flavour of the rose and the violet, so it's important not to under-salt.  However, too much produces a salty finish instead of a floral one.  When I can get it, I like using the beautiful butter of Brittany for these biscuits, with the sea salt crystals that make it noticeably saltier than most salted butters (at 3%, up to twice the usual amount).
But as Brittany butter isn't always easy to find under normal circs, much less with all the Covid-19 restrictions, I have tested these biscuits using both regular salted butter, and unsalted butter, and also two types of salt: flaky Maldon sea salt, ground finer in a mortar and pestle; and ordinary pouring salt.  Just check the notes in the recipe for how to adapt to what you have.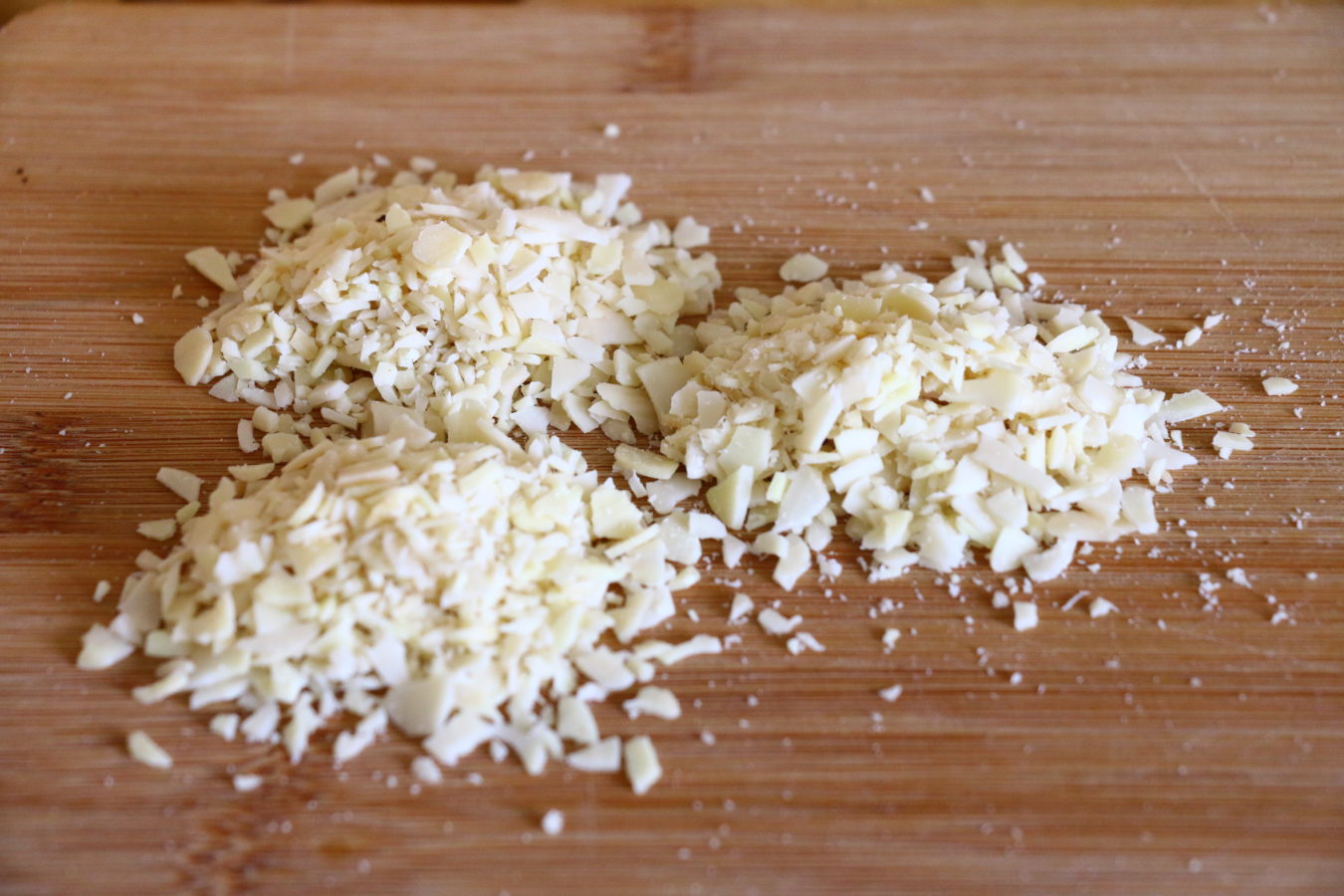 The dough also includes the addition of a modest amount of chopped, blanched almonds, which add another crunch to the texture and a background toastiness that contrasts beautifully with the crystallised flowers.  I start with sliced, blanched almonds, and chop them very finely.  You can also chop blanched slivered or whole almonds; or save yourself the small job of chopping by using more expensive 'almond nibs' (these are sieved so they're of uniform size).  I've also used ground almonds, which lend an excellent flavour, though I do prefer the extra crunch you get from using almond pieces.  I've always used untoasted almonds, and find they crisp up fine as the biscuits are baking; but if your almonds are a little stale, I would recommend freshening them up in a moderate oven for 5-7 minutes, or just until they're hot, but haven't taken on any colour.  Cool them completely before using.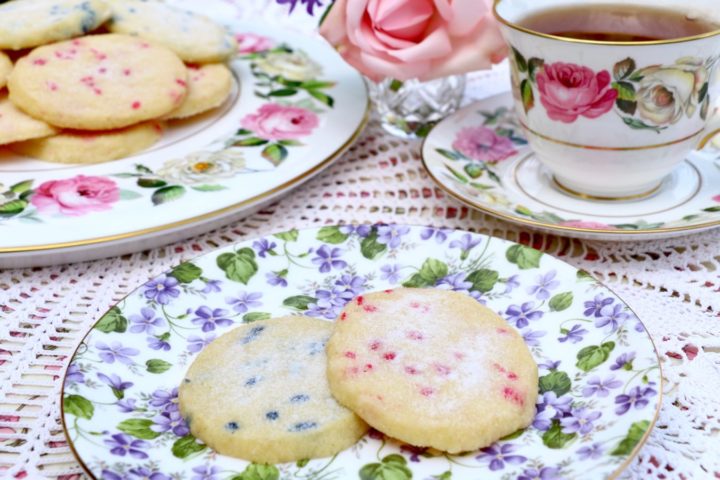 Like any shortbread or butter-rich cookie, these taste their tip-top best on the day they are baked, so I like to divide this recipe to make a half-batch of rose, and another half-batch of violet.  I then cut the unbaked dough logs into smaller lengths and freeze some, so I can defrost just enough to bake a few biscuits fresh when the need strikes.  (The baked cookies can also be frozen so they're ready to go.)  If you do happen to have a few left on day two or three, give each one 10-12 seconds in the microwave to refresh, and allow to cool completely again before crunching in; they'll crisp up nicely.
Anyone who has tasted the rose biscuits and violet biscuits sold in brightly coloured metallic tins by a certain London food hall with the initials F&M, will understand why I wanted to try to make something similar at home.  I'm delighted to say I really think this homemade version is even better.  I consider this over-the-moon exciting, but it does also mean I will now have to bake them myself for all the people I've turned into committed floral biscuit fans with presents of those awkwardly long tins.
I've given these homemade treats as thank you gifts since I managed to work up the recipe this summer, and they've been received with genuine delight and lots of wide-eyed  'Wows!'.   That reaction has really cheered me, too.  In fact, this is the recipe I think I'll remember most happily from this lockdown time.  They do somehow lift the spirits and bring the outdoors inside.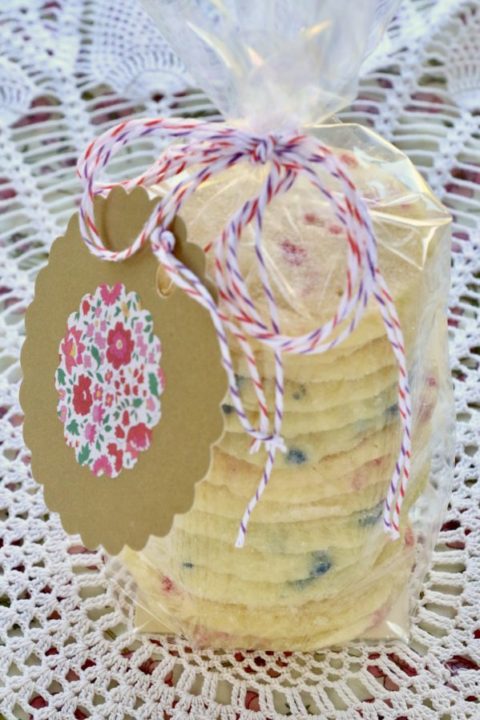 These pretty biscuits have graced sunny afternoons in the garden this summer, and a few gloomy ones indoors.  They are perfectly lovely with a cup of tea (rose pouchong if you're really in the mood), and I can't think of a better choice for an afternoon tea table to share with friends and family – something I really look forward to when the world is a safer place for all of us to gather again.
Rose and violet shortbread biscuits
Makes 4-5 dozen biscuits, depending on the length you roll the dough cylinders and how thinly you slice them for baking
This recipe uses 30g (1 ounce) of crystallised flower pieces.  You can make the entire recipe as given here with just one kind: either rose or violet.  Alternatively, this batch of dough can easily be divided into two equal parts if you wish to make a smaller batch of each flavour.  Just add half this amount of rose pieces to half the dough, and half this amount of violet pieces to the other half of the dough, and roll the two flavours into separate dough logs.  Instructions are given below for both options.
I add a little pure rose extract to the rose cookies, as I find the crystallised rose pieces are more delicate in flavour than the violet.  The biscuits will still taste delicious without rose extract if you don't have it to hand; the rose taste will just be subtler.  The tiny amount of extra liquid makes the dough slightly looser, not enough to make a significant difference to how they bake, but I do sometimes add just an extra pinch of flour, as indicated in the recipe.
*How much salt you add will depend on the butter you use, and also on your choice of salt.  A flaky sea salt like Maldon is my first choice for flavour and saltiness.  It needs to be pretty well crushed before measuring — use a mortar and pestle, or put it in a small bag and use a rolling pin to lightly bash it (I measure 1 teaspoon of crushed Maldon sea salt at a weight of 4 grams).  More solid sea salts or kosher salts can be much more concentrated in their saltiness, so I would recommend using about 30% less of them compared to Maldon, and also grinding them finer in a mortar and pestle for the most accurate level measure.  Regular pouring salt is about twice as salty as a flaky sea salt like Maldon.  Always use level measures when using pouring salt.
Tip: If you find that your biscuits are not quite salty enough once you've baked them, you can easily correct this by sprinkling just the sparsest amount of finely crushed Maldon sea salt on top of them when they're cool from the oven, before giving them a final sprinkle of sugar.  The merest sprinkle of sea salt will do: about 3-4 tiny fragments of crystal per cookie.  I do not recommend using regular pouring salt for this job, as it's so fine, and so salty, that it would be far too easy to over-do it.
 Ingredients 
30g (1 ounce, or 4 level tablespoons) crystallised rose OR crystallised violet pieces —  or 15g (2 level tablespoons) of each kind if you are dividing this dough to make a half-batch of both flavours
250g butter (I like Brittany salted butter, but any salted or unsalted will work — just be sure to adapt the amount of salt you add as noted below*)
125g caster sugar for the dough (½ cup plus 2 tablespoons granulated sugar)
An additional 40-55g caster sugar (3-4 tablespoons) to sprinkle over the biscuits once baked
260g plain flour (2 cups all-purpose, sifted before measuring)
*Salt as follows:

If using the saltier Brittany butter with a salt content of 3%, add ¼ teaspoon crushed flaky sea salt like Maldon (1g); OR 1/8 teaspoon regular pouring salt
If using lightly salted butter with a salt content of 1.5 to 1.7%, add ½ teaspoon (2g) crushed flaky sea salt like Maldon; OR ¼ teaspoon regular pouring salt
If using UNsalted butter, add 1 level teaspoon (4g) crushed flaky sea salt like Maldon; OR ½ level teaspoon regular pouring salt

30g (4 tablespoons) finely chopped blanched almonds (or substitute ground almonds)
1 teaspoon pure vanilla extract
Optional:  1/8 to ¼ teaspoon pure rose extract or rose water
Directions
 In a large mixing bowl, cream the butter and 125g (½ cup plus 2 tablespoons) of sugar until light and fluffy, using an electric mixer (save the rest of the sugar for sprinkling on the biscuits once they're baked).
Mix in the vanilla.
Mix in the optional rose extract only if you are making a full batch of rose biscuits:  if you are halving this dough to make a half-batch of rose, and a half-batch of violet, hold off on adding the rose extract for now.
In another bowl, whisk together the flour, the finely chopped blanched almonds (or ground almonds), and the salt (making sure to check the *notes above for the quantity of salt needed).
Add this dry mixture to the creamed butter and sugar in four goes, mixing gently and scraping the sides and bottom of the bowl as you go, until the flour is well incorporated.  Don't overmix, as the biscuits can toughen if you overwork the gluten in the flour.
The next step is to add the crystallised flower pieces:

If you are making a full batch of one kind:  Add 30g (1 ounce, or 4 tablespoons) crystallised flower pieces, either rose or violet.  Do this by hand using a sturdy spoon (a mixer could break up the pieces).  Scrape the bowl well to make sure they're evenly distributed.  (Tip: You can first roll the crystallised flower pieces in any dusty remnants of flour left behind in the bowl you used to measure the dry ingredients, as this helps the pieces combine with the dough.  If you are using the optional rose extract, you could add ½ teaspoon of flour to the bowl to compensate for the extra liquid.)
If you are halving this recipe to make both rose and violet biscuits:  Divide the dough into two equal portions and work with one half at a time; set the other half into another bowl.  The whole batch will weigh about 650g (2½ cups packed and levelled dough), so each half-batch should be about 325g (1¼ cup, packed and levelled).  To one half-batch of the dough, add the 1/8 teaspoon of rose essence, if using, and 15g (½ ounce, or 2 level tablespoons) of crystallised rose pieces.  To the other half-batch, add 15g (½ ounce, or 2 level tablespoons) of crystallised violet pieces.  Stir both doughs in turn by hand with a sturdy spoon, scraping the bottoms and sides of the bowls as you go to make sure the flower pieces are evenly distributed.  (Tip: You can first roll the crystallised flower pieces in any dusty remnants of flour left behind in the bowl you used to measure the dry ingredients, as this helps the pieces combine with the dough.  Do this with the violet pieces first; and if you are using the optional rose extract, then add ¼ teaspoon of extra flour to the bowl before dusting the rose pieces; this will compensate for the extra liquid.)

Shape the dough into two cylinders or 'logs', as follows:

If you've made a full batch of the same kind of dough, divide it into two equal parts, weighing about 325g each (this is 1¼ cup packed and levelled dough.)  If you've divided the recipe to make a half-batch of rose and a half-batch of violet, you're ready to roll.
Cut one length of cling film for each dough cylinder, to a length of about 36cm (14 inches). Lay it flat on your work surface, smoothing out the creases as much as possible.
Roughly shape half the dough into a log a little short of 28cm (11 inches) long and place it horizontally along the centre of the clingfilm, leaving equal margins at both ends.  Gather the top and bottom ends of the clingfilm together so they meet, and use this double-layer to wrap around the dough so it forms a tight cylinder. Wrap the clingfilm as smoothly as possible around the dough to avoid a 'seam' that would dig into the dough and leave a groove.
Tie one end of the clingfilm securely against the dough log to keep it from oozing from both ends while you're rolling it.  Leave the other end untied.
With your hands gently laid on top of the dough log, roll it back and forth — towards you and away, towards and away — until the cylinder has smoothed out to an even thickness and is about 28-cm (11 inches) long.  Tie the other end of the clingfilm tightly against the dough once you're happy with the shape of the cylinder, and refrigerate it for 1-2 hours until firm, or for up to two days.  You might find it helpful to place the two logs on a flat chopping board or platter to make it easier to get them in and out of the fridge.  (You can also freeze the dough logs, either whole as they are, or cut into smaller portions.  If you do want to cut them smaller, chill them first. Once frozen, thaw in the fridge before attempting to slice.)
SHAPING TIP:  If you are fussy about wanting the dough logs to stay perfectly round for the neatest biscuits, you can adapt the cardboard inner tubes from two rolls of kitchen towel to hold the dough logs as they chill:  just cut the tubes lengthways, open them up carefully with your hands, and slide the wrapped dough into them.

Bake the biscuits:  Heat the oven to 175C/350F.

Work with one dough cylinder at a time so the dough doesn't get too warm.  Unwrap it, and slice it crossways into discs 6-7mm thick (¼ inch, or a very little thicker).  Place the biscuits on a baking sheet lined with parchment paper, foil, or a silicone non-stick baking mat.  Leave at least 6cm (a little over 2 inches) between each one to allow for spread.
Bake for 10-12 minutes, until set and just beginning to turn golden around the sides, and on the bottoms. Rotate the tray after 7 minutes for even baking, and check after 10 minutes, giving it another minute or two if needed.
Leave on the tray for 2-3 minutes to set, as the biscuits are fragile when hot. Transfer to a rack and sprinkle lightly with the additional sugar, ideally while the biscuits are still warm.  Allow to cool completely and then store airtight.  These are best eaten on the day they are baked.  Baked cookies can be frozen (defrost while still wrapped so the condensation stays outside).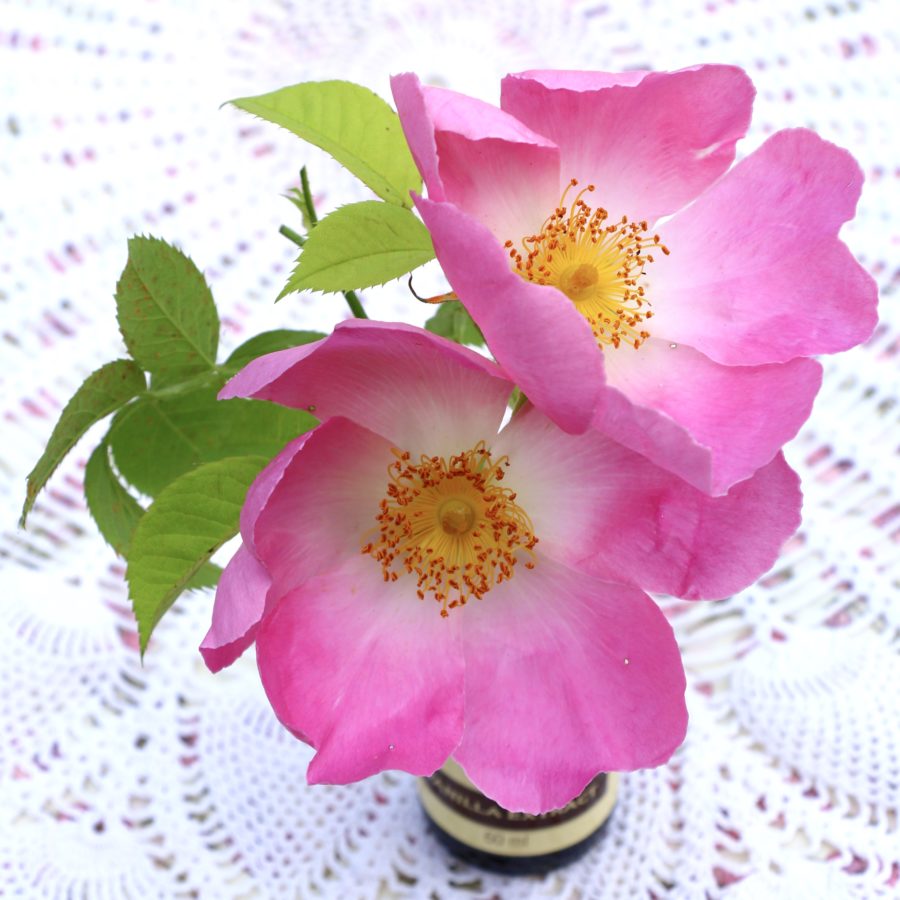 Other biscuit/cookie recipes on Crumbs on the Table:
Other edible flower recipes on Crumbs on the Table: