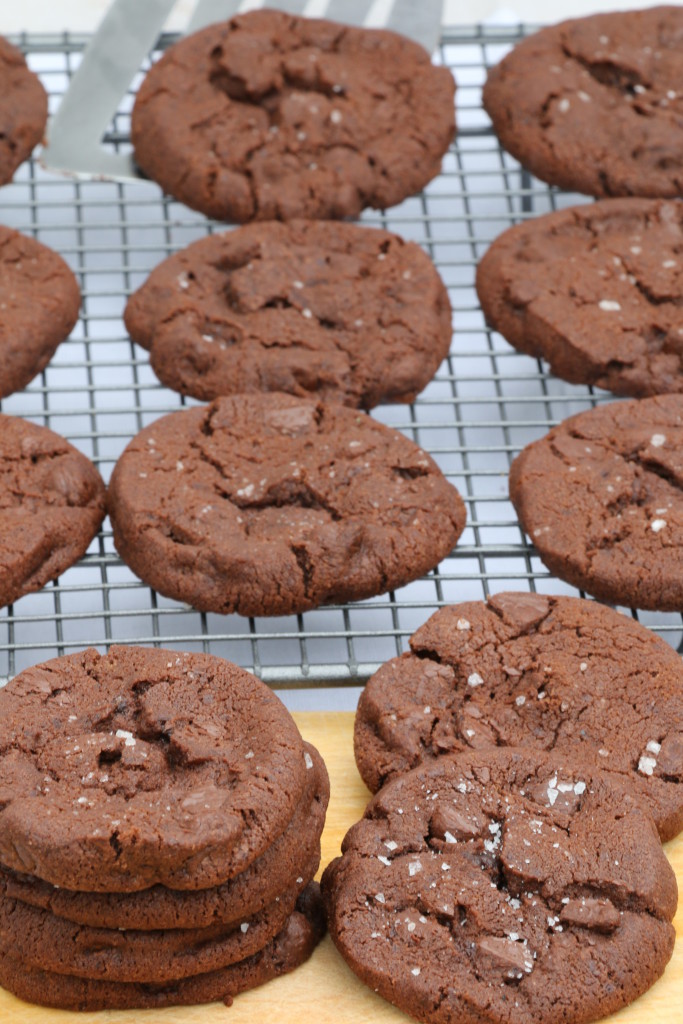 World peace.  That's a lot to put onto a cookie, but that's what cook book author and baker Dorie Greenspan calls this famous chocolate biscuit, crediting Parisian patissière Pierre Hermé with its invention.  It is world class, though, so I understand the temptation to hyperbole.  This is a meltingly delicious, short and crumbly chocolate cookie that's worth the calories. The joke in our house (obvious, really) is that it's so good it causes fights.
It's decadent without being overwhelmed with gimmicky extras, despite the name.  It's simply a cocoa shortbread with chocolate chips or chunks, treated as a refrigerator cookie dough: i.e., you roll the dough into a long sausage, chill in the fridge, and then slice to bake.  It needs good butter, cocoa and chocolate, and a light hand in the mixing; and it must not be over-baked, as the soft crumb is what makes the mouth-feel so extraordinary.
What I also find essential is a sparse sprinkling of flaky sea salt on the top before baking — not too much, not too little.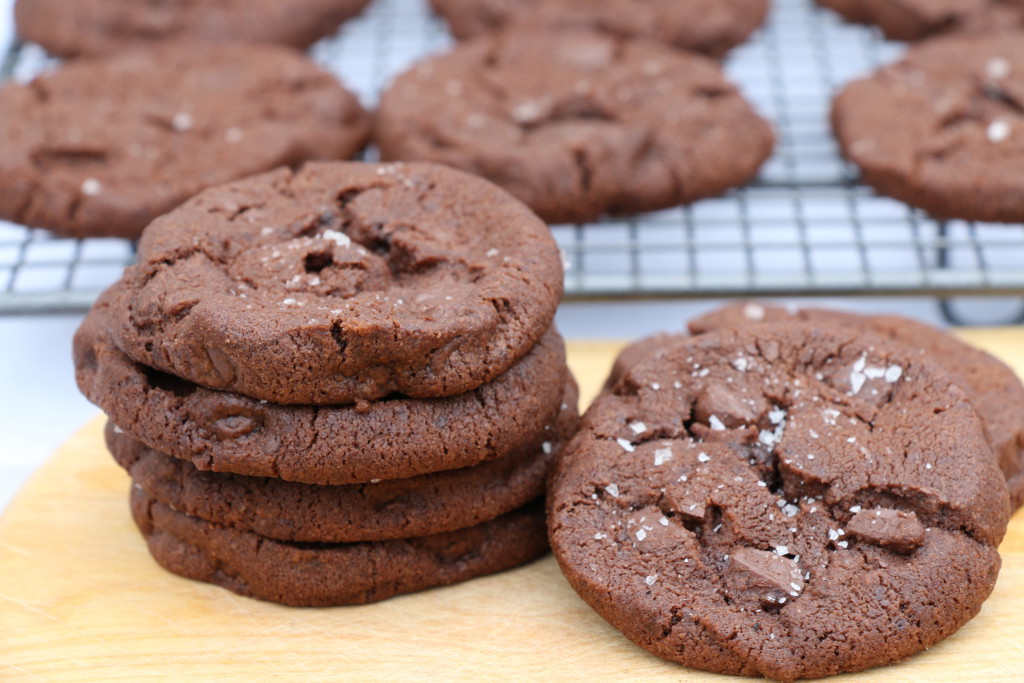 This final flourish is my only departure from Greenspan's excellent recipe. The embellishment has had the blessing of around 50 taste-testers who've sampled my trials with and without, so I feel justified in advocating it, unless you have reason to avoid the extra salt, or unless the particular salt you use in the dough is already salty enough. This recipe is simple, but it has nuances.
Salts do vary, as does the way we cooks measure it.  I use Maldon sea salt, which has light crystalline flakes, and lightly crush them with my fingertips before sprinkling or measuring — and my measures are always level.
You can trust Dorie's original recipe and its many thousands of fans.  This cookie has made a big chocolatey splash, and she ascribes its fame to the salt that Hermé added to the original chocolate sablés upon which her recipe is based.  Greenspan came to know Hermé around 1991 when she was in Paris researching an article on chestnuts for The New York Times  and he was the head pastry chef at Fauchon, Paris's renowned food emporium (I remember nearly fainting with longing at the sight of its fine pastries when I was a back-packing student who couldn't afford to do more than gape).  Dorie  later co-wrote two cook books with "the god of French pastry" as she calls him (now there's a job any food writer would like), and got to know a broad repertoire of his finest.
I found the recipe for 'World Peace Cookies' on the Food 52 website in 2014, where it was featured from Greenspan's 2006 book, Baking: From My Home to Yours, with an update from the author.  The Splendid Table online magazine also published an excerpt from the book in which Greenspan elaborates on Hermé's invention of this "remarkably and sensationally salty" creation, and calls it a breakthrough as important as the invention of the original chocolate chip cookie, the Toll House.  "It's the salt" she says, "that surprises, delights and makes the chocolate flavors in the cookies seem preternaturally profound."
Hermé used fleur de sel, which Greenspan describes as a "moist, off-white sea salt."  It's often used as a finishing salt, as its delicacy and soft texture can be appreciated sprinkled on top of food more readily than cooked into it (its price makes it impractical to use for routine cooking, but this cookie is worthy of it). It is less processed than most salts and more complex in flavour — definitely salty, but less salty than denser, cheaper salts.
This is why Greenspan's cookie recipe calls for ½ teaspoon fleur de sel, or half that amount of "fine sea salt".  I use half a level teaspoon of lightly crushed Maldon sea salt in the dough, and then sprinkle a little more on top.  If you use ordinary cooking salt in the dough, keep it to ¼ level teaspoon, as it is so much denser and harsher. I suggest you bake two cookies as testers first — one with a sprinkling of extra salt on top, and one without — to see which you prefer. (I would not recommend using ordinary salt to finish. The taste would not be at all the same, and it would be easy to overdo it).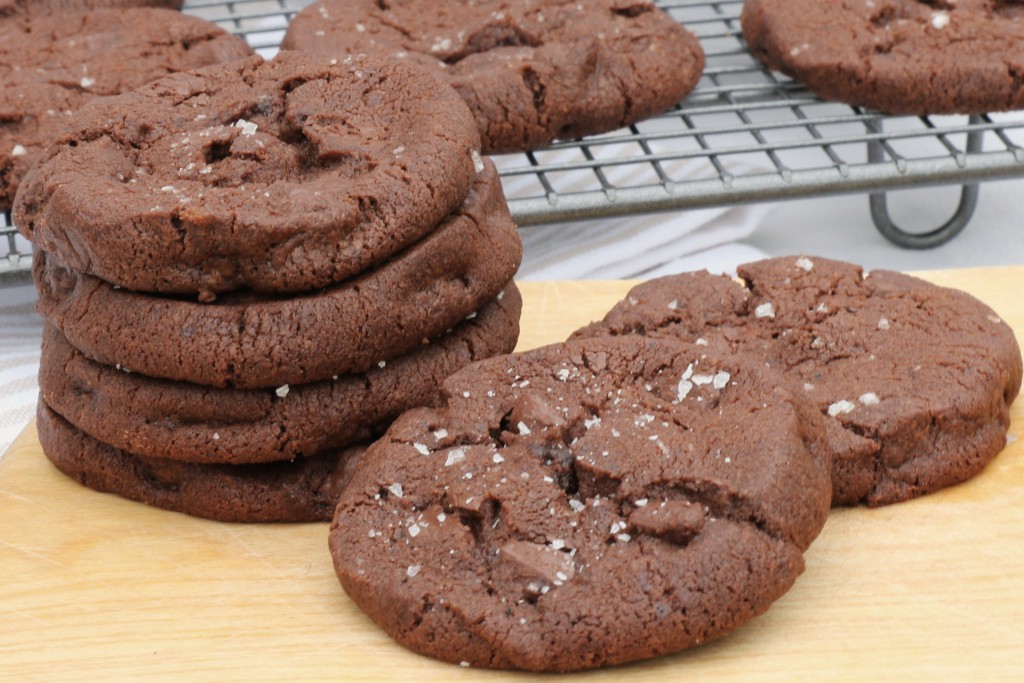 This cookie could well have been an inspiration for the trend for combining sweet and salty that we've seen so much of  in recent years — salted caramel, salted truffles, even chocolate potato crisps and the like — for Hermé and Greenspan both have a huge influence amongst pastry professionals and with the public.
As to how the cookies came to acquire their elevated name, Greenspan relates how she renamed them (originally called Kodova Cookies in her 2002 book, Paris Sweets) when her neighbour claimed that "a daily dose of Pierre's cookies is all that is needed to ensure planetary peace and happiness."
I felt the timing was right for something cheering from the kitchen, inflated names not withstanding. Our troubled world is sending many of us in search of comfort right now — post-Brexit, pre-election, pendant so much else — and whether we should look for it in a cookie or not, this one provides a little local relief.
What I really like to do with these is have them on hand in the freezer as smaller logs, ready to slice and bake a few at a time so they can be enjoyed at their very best.  They taste so good fresh out of the oven that you can serve them to guests, even at a dinner party.  Cookies for pudding might surprise people, but no one would complain… Or serve them to yourself as you pour over the papers wondering what handcart we find ourselves in and where we're going in it.
They last a couple of days stored airtight, but like all shortbread, they are best on the day. I like them most when they are just cooled to room temperature from the heat of the oven — firm enough not to fall apart, but the chocolate still a little soft.
I hope they have the desired effect for you.  Don't expect miracles, but I think you can be confident of a darned good cookie.  And there is something in the notion that happiness can be spread — a batch makes enough to go around.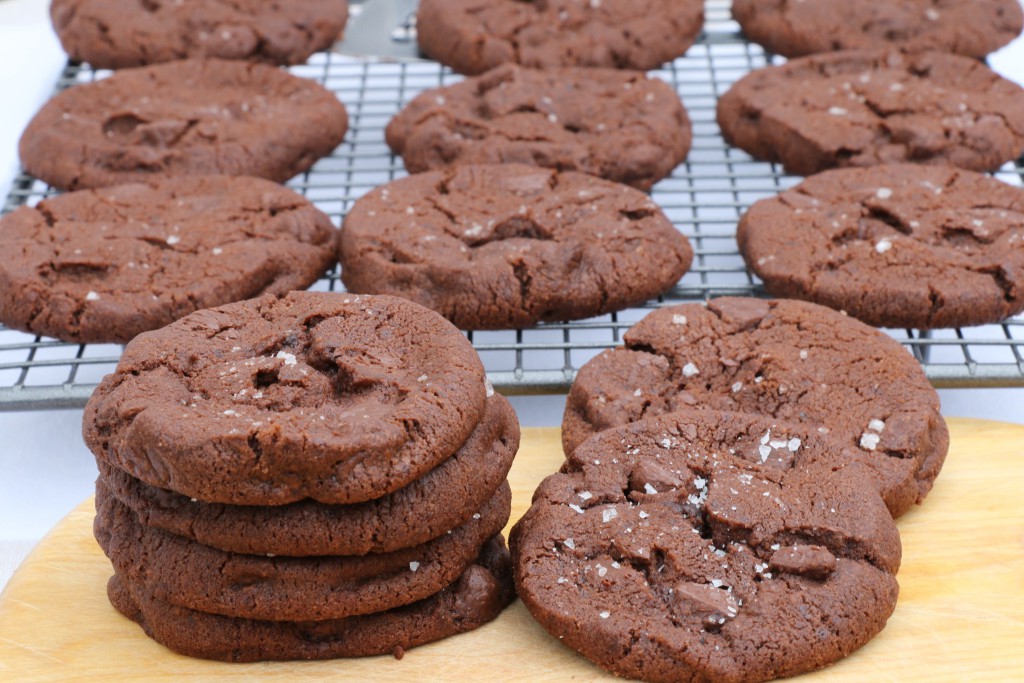 Dorie Greenspan and Pierre Hermé's World Peace Cookies
Makes around 3 dozen cookies
150g (1 stick plus 3 tablespoons) unsalted butter, room temperature
120g (⅔ cup packed) unrefined light Muscovado sugar, or light brown sugar
50g  (¼ cup) caster sugar (granulated sugar)
1 teaspoon pure vanilla extract
175g (1¼ cups, sifted before measuring*) plain (all-purpose) flour
30g  (⅓ cup, sifted before measuring*) unsweetened cocoa powder
½ teaspoon baking soda
½ level teaspoon  fleur del sel  or lightly crumbled flaky sea salt such as Maldon for the dough; or use ¼ teaspoon fine sea salt or cooking salt
150 g (5 ounces / generous ¾ cup) dark chocolate chopped into pieces about the size of chocolate chips; or use chocolate chips
Optional:  additional sea salt to sprinkle very lightly over the sliced cookies before baking
*Note:  It's important to measure the dry ingredients accurately, as too much flour/cocoa can make the dough too dry. To measure by volume, set the appropriate measuring cup/s for each ingredient in turn on a piece of parchment or foil, and sift the ingredient in question into the cup/s until they overflow.  Lightly tap the cup/s on the counter to settle the contents slightly, and level off precisely with the dull side of a knife. Pour what you don't use back into the containers with the help of the paper or foil.
Beat the softened butter until creamy;  then add the sugars and beat until light and creamy, about 3 minutes in a standing mixer and a little longer by hand. Add the salt and vanilla and beat again briefly to incorporate.
Sift together the flour, cocoa and baking soda in a separate bowl until very well mixed.  Add them gradually to the butter and sugar mixture in about four goes, operating the mixer at very low speed and mixing only as much as you have to for the dry ingredients to be absorbed into the wet. Don't over-mix, or the cookies will be tough.  The dough may be a little crumbly at this stage, but it should hold together if you pinch it.
Add the chocolate by hand, stirring it in just until evenly distributed. Again, handle the dough as little as possible.
Turn the dough out and divide it into three equal portions. Using a sheet of cling film for each one, roll each portion into a log a little less than 4cm in diameter (about 1½ inches). Refrigerate until firm, about 3 hours or overnight.  You can keep it in the fridge for a couple of days, or freeze it double-wrapped.
Preheat the oven to 165C/325F.  Line baking trays with foil or parchment paper.
With a sharp knife, and working slowly and deliberately to exert an even amount of pressure, cut the chilled logs into 12 slices about 1 cm thick (a little less than ½ inch).  The slices have a tendency to break, but they will meld together again while baking if you patch the pieces together on the baking tray.  Space the slices about 2½ cm (1-inch) apart, as they spread slightly on baking. Sprinkle each cookie very lightly with a tiny amount of sea salt if you wish.
Bake for 8-12 minutes, turning once for even baking.  Exact times will depend on your oven and the thickness of your cookies.  They will be ready to come out of the oven when they have lost their raw look, have spread slightly, and have just set on the bottom.  This is about the time when you they suddenly begin to smell of baking cookies.  They will still look under-baked, and if you gently touch the tops they will feel just this side of 'set' on the top, but they will firm up on cooling.  Over-baking will make them hard and could make them bitter, as it's not easy to see when chocolate is burnt.  (Baking a few as a trial batch may be helpful to establish timing, as well as salt preference.)
The cookies will be too soft to remove when they come out of the oven, so put the entire tray on a cooling rack, and only transfer the cookies when they only just warm.  This is my favourite time to serve them, but you can let them cool to room temperature before serving or storing.
These are best eaten on the day they are baked, but they can be stored airtight for up to two or three days. (You can refresh the cookies individually for about 10 seconds each in a microwave if they taste a little past their best; let them cool before eating.) Baked cookies can be frozen; defrost while still wrapped so the condensation stays on the outside. However, if you can freeze the dough and bake them fresh, they will be that much better.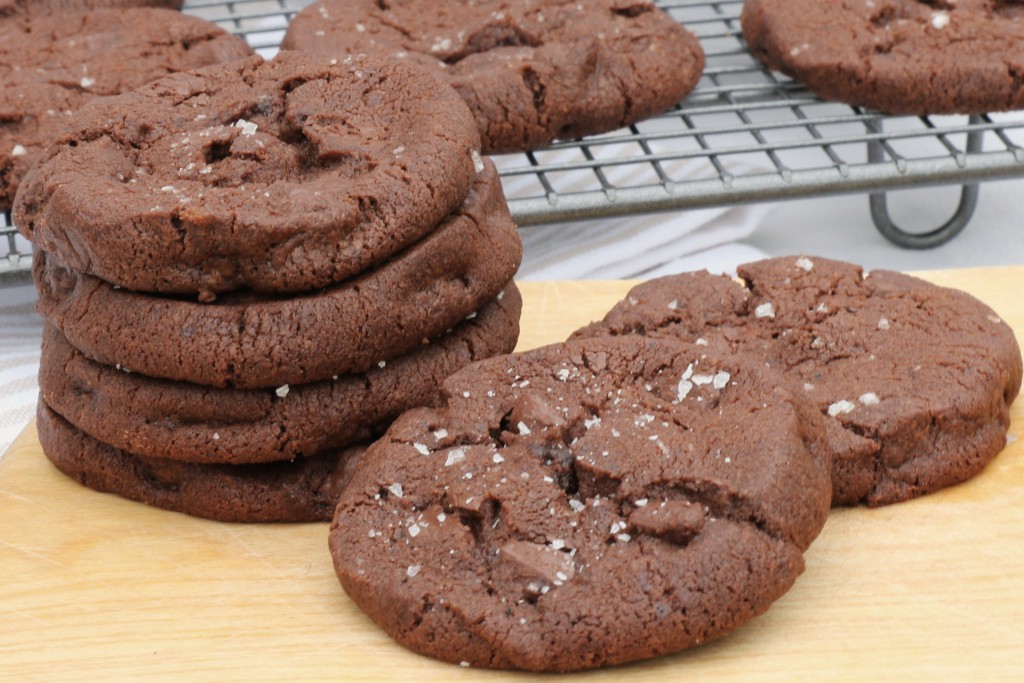 Links:
The recipe on Food 52.
More from Dorie Greenspan on the origin of the World Peace Cookie.
An entertaining account from Dorie Greenspan on how she met Pierre Hermé.
For Laura's other cookie recipes on Crumbs on the Table: