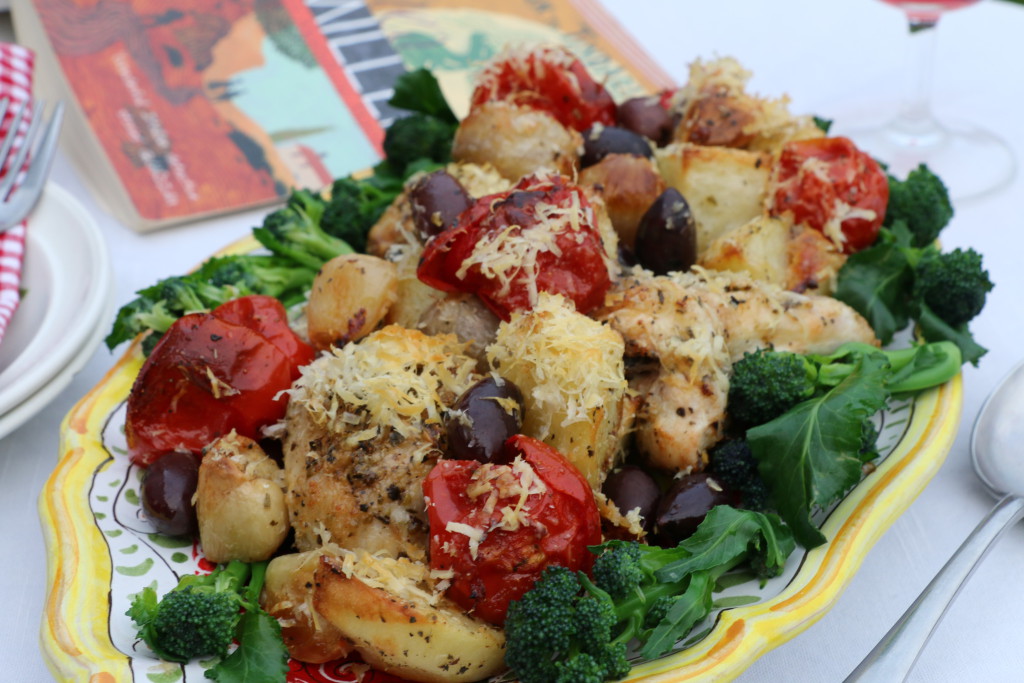 This dish is called 'Aunt Di's chicken' in our house. It's one of those comfort meals I grew up eating with the Italian side of my family and have made for many years since for my own family, for friends, and sometimes just for myself in the company of a good book, ideally one set in Italy (can't do better than Camilleri for light entertainment Sicilian style. His Inspector Montalbano series is full of sunshine and food.)
This soulful dish eats like an extravaganza, but it's an easy one-tray dinner of chicken pieces and chunks of potato, with garlic, tomato, black olives and herbs, all covered – and this is the best part – with a generous grating of parmesan cheese, and baked until golden. The juices of the chicken and tomato mingle with the potato and the parmesan coat adds a salty crunch: it's the stroke of genius that makes this dish so darned delizioso.  This is the meal I always come back to when I need guaranteed cheering up.
Aunt Di made it often for our family gatherings. She used whole plum tomatoes from a can and the kind of parmesan you shake from a box — and we adored it, adults and kids alike. There was never a scrap left, and even the tray was picked clean of every remnant (I know because that was me).
Today we make it with freshly grated parmesan (we've moved on from the boxed-cheese days) and sometimes with fresh tomatoes and herbs, but it is reliably delicious with store-cupboard tomatoes, olives and dried herbs — that's one of its virtues, and not its least.
It takes about 10 minutes to throw everything together on a tray, oil and season it, and grate over the blanket of cheese. Then 40-50 minutes in a hot oven (only about 20 minutes for the white meat), and you have a meal no one can refuse. Even picky eaters are seduced by the golden brown appeal of this dish, and its garlicky, toasted-cheese aromas.  A simple green vegetable (broccoli, kale or green beans with garlic, say?) or a salad on the side, makes the feast complete.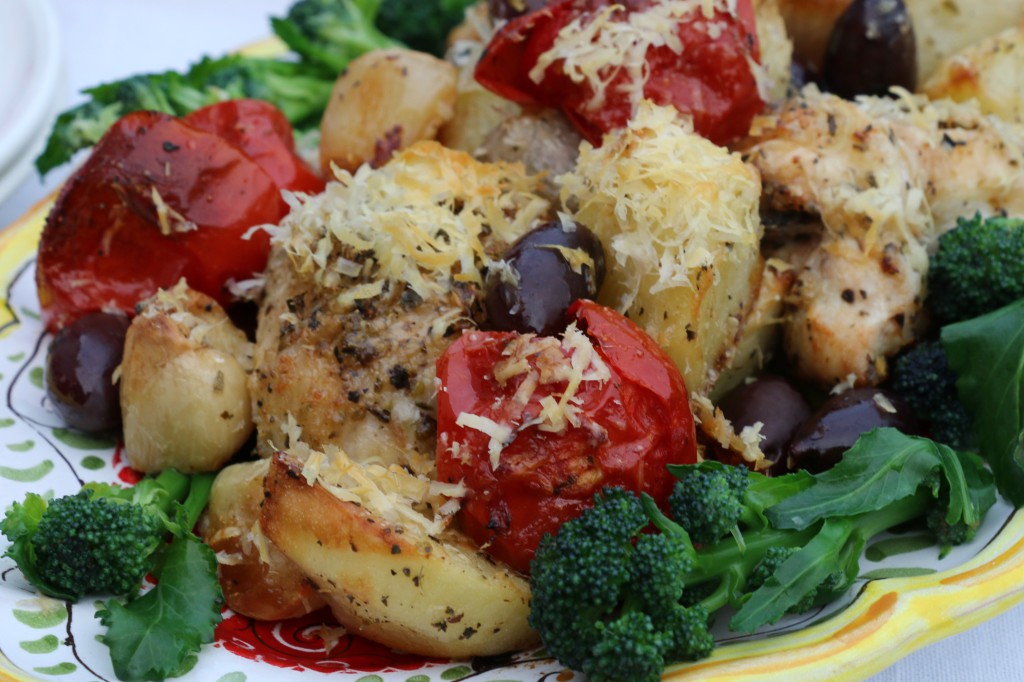 I love this dish also because of its story — how it came to have such a revered place in the heart of my American family, and has also become a favourite of my English family and not a few friends who have adopted it for their own.
In the way of many Americans, my family heritage mirrors the cultural melting pot of the nation. Through there is not (I believe) a drop of Italian blood in my veins, I grew up in the extended bosom of an Italian American family. My father's sister, Diane, gifted with a beautiful soprano voice, married a Navy musician, a sax player named Joe, the son of Italian immigrants.  Aunt Di and Uncle Joe gave me and my sisters our beloved cousins, Nancy and Adele, making us the five girls.
For my Aunt Di, this dish was and remains 'Nanny's chicken'.  Di adopted it in the early sixties from Joe's mother, Anunciata — Nanny to us kids — learning it and much else at Nanny's kitchen counter in Elizabeth, New Jersey. Nanny was a tiny woman, four-foot-something in sturdy black heels, and a gifted cook within a community of excellent cooks. She would get up at five in the morning to roll and cut pasta, stuff ravioli, brown meatballs, and start the tomato 'gravy' that would simmer all day in a huge pot on her old-fashioned stove. I have vivid memories of her straining cans of Italian plum tomatoes to catch the seeds, and of her urgent commands in broken English to steer clear when she struggled to pour the huge vats of boiling pasta over a drainer in the sink. She always wore a dress and stockings and those non-nonsense heels, and never seemed to have a dirty apron or mussed hair, despite the constant cooking.
Where Nanny got this chicken and potato parmesan recipe, no one knows. It was something Joe remembers her making in the Depression years of his childhood, and he and Di say they wouldn't be at all surprised if Nanny invented it when she came to Elizabeth in the 1930s as a young bride from her northern mountain village of Monteverdi.  One chicken could be stretched with potatoes to feed a family in those poor days, and the additions of the Italian herbs, tomatoes, olives and parmesan — easily available within the Italian immigrant community — would have been Nanny's way of making familiar the staple ingredients of her adopted country.
"Like most really good dishes that become a tradition in a family, it came from someone who cooked it, tasted it, absorbed it into their soul", Aunt Di said when I phoned to ask her more about this recipe.  Joe was also pleased to recall the dish, and I could hear him in the background: "It's got to be golden brown!"   This is the kind of food that inspires strong feeling, in the way of any tradition that is deeply cherished — and that is what this dish is and has been for eighty-something years, I now realise. How astonishing that is.
Di learned much of her cooking from Nanny: "I would watch and ask her, 'How much do you use, Ma?', and Nanny would hold out her hands and say, 'This much'".  Di laughs at the memory, and there is admiration and fondness in that laugh.  "Nanny never measured anything. She was one of those cooks who had it in her fingers. Once, when she came to stay with Joe and me she wanted to make her homemade pasta, but she didn't like my rolling pin — you know the kind, with the red handles, the small one we use for pie crust…. So she got my broom, unscrewed the handle, sanded it down and washed it really well and used that for her 'mattarello'.  She never used a machine to roll anything. It was just her hands and that long rolling pin, stretching the pasta so thin it would cover the whole counter." "Yes," I too recalled, "I remember her having to stand on an orange crate to reach."
I also remember her rolling long strips of thin spaghetti one by one with the palms of her hands, and thinking even then what a task that must be, to make enough for the assembled crowd. Yet she did it, strand by strand, with fast, skilled hands. And she was the only person I've ever known to purposefully plant dandelions; she used them to make her famous dandelion soup, the bitter greens melting in rich chicken broth enriched with the tiniest poached meatballs.  And of course the bones of the chickens that made the parmesan dish would have gone into the making of that broth, for nothing was wasted.
Di tells me more: "When we got together at Nanny and Poppy's for those big family meals, my job was to count the ravioli.  She'd cut them using a drinking glass, you remember?  Nanny would say, 'counta Di, counta,' and I'd say, 'it's 90, Ma', and then she'd say a few minutes later, 'counta, counta', and I'd say, 'it's 120 now, Ma'…. I'm a pretty decent Italian cook, but I never learned how to make Nanny's ravioli – no one can make them like she could."
This conversation long-distance with my Aunt Di brings back those memories of holidays at the long, vinyl-covered table in Nanny's basement that groaned with bowls of escarole or dandelion soup, those legendary ravioli, stacks of fried eggplant, zucchini and cauliflower, bowls of ziti, platters of meats cooked in tomato gravy, and sometimes, the honey-coated fried pastries decorated with confetti sprinkles that we children loved to lick and crunch.  The eating would go on all day, and we kids would get restless and run around until it was time to sit again for yet more food. Poppy's homemade red wine stained the teeth of the grown-ups, I remember, and there was noise, Italian and English voices in competition, a convivial chaos of shouting to be heard and reaching to pass the plates, all with opera playing in the background, for music was as big a love in the family as food.
And there were the smells, the steam and the kitchen itself, where I would watch Nanny rolling her pasta, standing on the orange crate. I always wanted to help, but was shy (and even shorter than Nanny), and I couldn't understand her, so I watched at a distance, hoping I wasn't in the way.  I took in a lot from watching her hands, seeing how thinly she rolled her pasta, how she sliced her eggplant, and tasted her gravy. That exposure made a huge difference to my sensory education, my appreciation of the work of hands, and I am indebted to Nanny, though she never knew that.
Food, music, exuberance, all came together in that concrete-floored basement, the taste of recall like a scent impossible to put into words in the memory of this American born in Oklahoma, now living in an English village, cooking the recipes of a woman who grew up a century ago in a village in Italy.  So our traditions of the table reach across borders of time and space, and we occasionally touch.
My associations with this Italian American heritage is coloured now by my adult European perspective, by the love of Italy I've acquired later in life on my travels, and by the idea of Italy I know only through literature and imagination, through such whimsical vehicles as Camilleri's light-hearted comedies of manners.
For me, this mix of high and low, lived and imagined, is what makes life real and joyous.  I am as touched by life's radiant beauty when laughing at Catarella's malapropisms as when listening to Verdi, when serving up Aunt Di's chicken as when gazing on Italian art. I marvel at our human creative instincts, at the colours, textures, tastes of life in all its vast emotional range, and I don't want to miss any of it.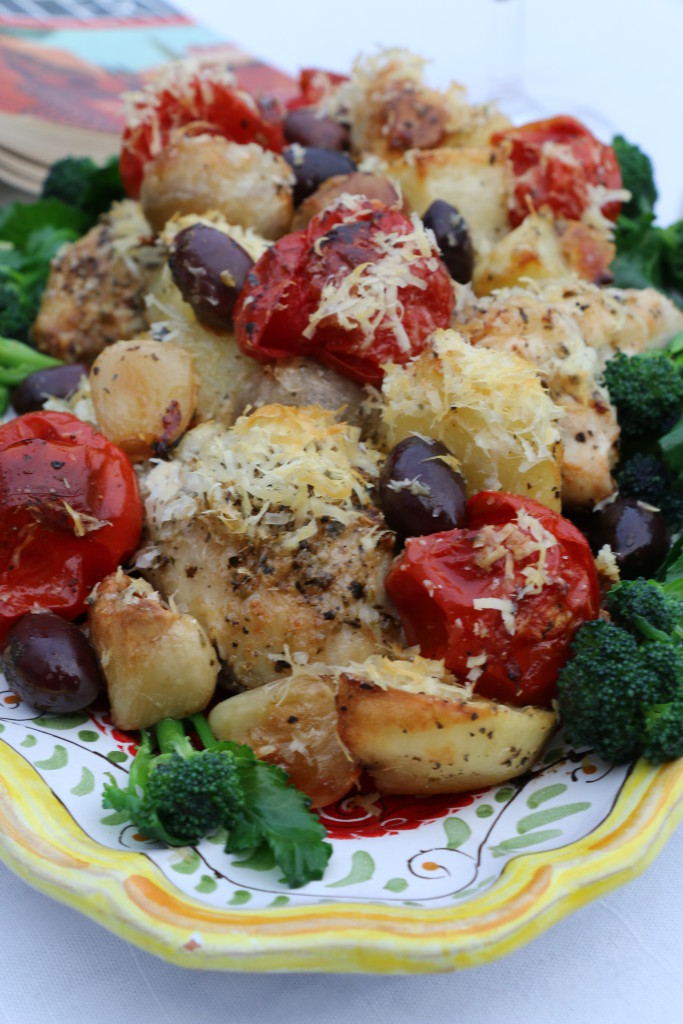 RECIPE
Baked chicken with potato, tomato and parmesan
Serves 4
Ingredients:
1 whole chicken, jointed into 10 pieces (cut breasts in half)
4 or 5 potatoes (unpeeled is fine), cut into medium-small chunks (about 3cm / 1¼ inch)
8 whole medium tomatoes OR two 400g tins / one 28-ounce can whole plum tomatoes, squeezed of excess juice
About 1 teaspoon garlic powder, or 4-5 cloves garlic, crushed
2 additional whole heads garlic, halved
About 30g (2 good tablespoons) pitted black olives, or more to taste
30-40g (1 cup or more to taste) finely grated parmesan
About 2-3 tablespoons olive oil
1 teaspoon dried oregano
1 teaspoon dried basil
2 teaspoons sea salt and several grinds of freshly ground pepper
Directions: Heat the oven to 200C/gas mark 6/400F.
Joint the chicken: 1) Cut along either side of the backbone, making sure not to cut away the 'oyster' on either side of the spine. Set spine aside for stock or discard. 2) Working from the inside of the bird, cut through the breast bone all the way down until you have two halves of a bird. 3) Separate the leg from both breasts, and cut off any excess from the end of the drumstick. 4) Separate the thighs and drumsticks, cutting cleanly through the joint to avoid shattering bone. 5) Remove the wings from each breast by cutting through the joint and taking a little meat with you, if you intend to cook the wings. If not, then take no excess flesh from the breasts. 6) Cut the breasts into two servings each. 7) Trim any excess fat etc from each piece of chicken. 8) Transfer the chicken to a shallow baking tray.
Season the chicken and potatoes: Dry the potato chunks and add them to the baking tray with the chicken. Drizzle all with just enough olive oil to provide lubrication, and then season generously with the salt and pepper, garlic or garlic powder, and dried herbs. Spread everything out into a single layer.
Finish assembling the dish: Tuck the whole garlic heads, olives and tomatoes in and around the chicken and potatoes. Cover everything with a generous coat of grated parmesan.
Bake the dish: Bake for about 15 minutes and check the doneness of the chicken breasts. Remove them if a skewer inserted through the thickest part comes out without resistance, and keep covered on a plate for now. If the breasts aren't quite ready, give them another five minutes and check again. Return the tray to the oven to continue cooking the rest of the ingredients for another 25 to 35 minutes until the dark meat is tender and the parmesan, chicken and potatoes are golden brown. Rotate the tray halfway through to encourage even browning. Timing will depend on the size of the chicken, so you may need a little more or less for the dark meat and potatoes. It typically takes 40-50 minutes total.
Rest the dish: Remove the tray from the oven and add the cooked breast pieces. Let everything rest together for about 5 minutes under foil to allow the white meat to warm through again and for the juices of the chicken and tomatoes to meld together. Serve hot with a green vegetable or salad on the side.
Thank you to my Aunt Di and Uncle Joe who shared their stories of Nanny and this recipe, and thank you in memoriam to Nanny, who started it all.