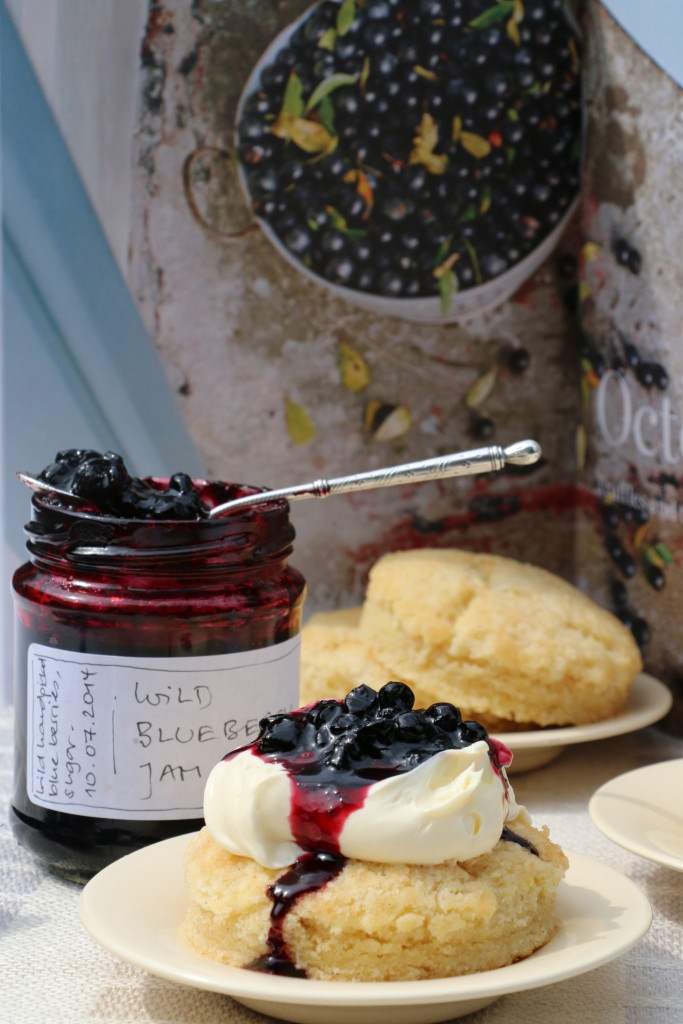 When I arrived in Britain in 1987, it was impossible to find blueberries here. Now they are available year round thanks to their recent super food status, and are even grown here, their season peaking in July and August when harvests from the southwest counties and as far north as Scotland come in. It's one of the most exciting changes I've seen in food here, and I make a greedy pie of them at least once a season, despite the price – for they are expensive when used in such quantity. But I'd rather have that pie than a steak dinner.
I do still find, however, that many people in the UK admit they don't like blueberries very much and tend to eat them out of duty for their health-giving properties. (I've heard them described as "inoffensive".  Sacré bleu!). Imported berries most people know are often mealy, flaccid and flavourless, bearing no resemblance to the tight-skinned berries that pop in your mouth with a burst of intensity when grown in the sun, picked ripe, and delivered fresh — as addictive as the sweetest strawberry and easier to eat (and cook with), as you don't even have to hull them.
For most of the year, blueberries are part of the great fruit con – sold out of season, picked under- ripe, only looking the part without being the real thing. (We have an Australian friend who says that fruit in the UK is ripe for half an hour, going from under-ripe to rotten so quickly you miss your window – unless you buy the expensive fruit that is actually labelled "ready to eat" – and what does this tell us about the rest?).
British-grown berries are a success story, and they are very good when fresh, and especially when organic — not as sweet as those grown in the prolonged heat of a New Jersey summer, but they are good and very healthy – especially those organically grown. Between 2013 and 2014, the sales of British-grown berries increased nearly 85%.  They are catching on.
Only the British-grown berries remind me the blueberries of my youth, picked from bushes taller than us kids in the sandy fields of southern New Jersey. They would ping as they hit the bottom of our pails, hard yet ripe and so delicious off the bush we would eat as many as we collected, our blue-stained mouths a dead giveaway to the Pick Your Own growers who, in those days, seemed tolerant of our thieving.
Wild blueberries (sometimes called bilberries in Britain) are something else again: deliciously blueberry-ish, but much smaller and somewhat seedier. You can taste the wildness in them, and that is very special. I have a magical memory of picking these in Norway, in a mountain wood outside Bergen so mossy and green it could have been Rivendell. I found the blåbӕr growing on low bushes amongst pine litter and ferns, the precious little berries well-hidden. I ate many in situ, and took another two hours to pick a handful for home, all the while batting away invisible gnats that made me itch all over. I carried my haul in a handkerchief back to my shared dorm kitchen and cooked them with a sachet of sugar in a battered saucepan, just until they gave up some juice. I ate them then and there as a compote, straight out of the pan, the Tolkienesque woodland in my mind's eye and blue on my tongue – an association of ideas and taste I will never forget.
Last summer I met the charming Elisabeth Luard, whose Welsh kitchen enchants me with its close connections to the countryside. She collected wild blueberries from home and made three jars of jam for the Oxford Food Symposium's small food stall, organised in honour of its theme on "Markets". I was lucky enough to come away with one of those precious jars, and had it at home with a fresh scone and cream. This was one of the most exquisite combinations for a cream tea I've ever had. Those little berries had the spirit of the Welsh woods in them and Elisabeth's own hand, and this added up to magic.
I. Blueberry pie
Adapted from a Southern Living magazine recipe from the 1970s
(serves 8)
This is my favourite blueberry pie. Blueberries produce a lot of juice, and this cookie-dough-like topping, instead of a top pie-crust, thickens the fruits to perfection and adds the right amount of sweetness, to my taste. It's also easy to make. (This topping works very well with tart raspberries and blackberries, too.)
You can add a teaspoon or two of lime or lemon juice to the berries and a teaspoon of finely grated zest if you like, to add tartness. Taste your fruits first: if they've had a lot of sun and are sweeter than usual, you may want to add a squeeze.
You will need a pie dish whose internal measurement (excluding any decorative lip) is 20 cm (8 inches). It should be at least 2.5 cm (1inch) deep.
This makes a generously deep pie, with the right amount of berries for the quantity of topping given here. If cutting down on the berries, also cut down on the quantity of topping or the pie will be too sweet, and use a smaller dish.
Ingredients
1 unbaked bottom pie-crust (recipe follows)
700 g (1 ½ pounds – about 2 pints, or 5 cups) blueberries, washed and dried
Optional: 1 or 2 teaspoons lime or lemon juice, and 1 teaspoon finely grated zest
113 g (4 ounces or ½ cup) unsalted butter
200 g (1 cup) sugar
100 g (¾ cup) flour
¼ teaspoon salt
1 large egg
1 teaspoon vanilla extract
Directions
Heat oven to 175 C/350 F.
Butter the pie dish lightly and line it with pastry dough rolled ¼ inch thick or a little thinner.
Toss the blueberries with the citrus, if using, and pour them into your unbaked shell, piling them high as they will cook down.
For the topping: cream butter and sugar until well combined. Add egg and vanilla. Add flour and salt, and beat just until mixed. It will be like a soft cookie dough. Spread evenly over the berries all the way to the edge and try to avoid putting too much in the centre where it takes longest to cook.
Bake about 55 minutes to an hour 10 minutes, until the topping is golden brown and the fruit is bubbling. Check after 55 minutes with a skewer to make sure the topping has fully cooked.
Serve warm, room temperature or cold, with or without vanilla ice cream (traditional in the US), or cream.
Adapted from Chez Panisse Desserts
This makes a dough that is flakier and easier to roll than an all-butter crust.
This quantity will give enough for two 20-cm (8-inch) bottom crusts; it can be frozen for three months.
Ingredients
260 g (2 cups) all-purpose flour
½ teas salt
1/4 teas sugar
140 g (5 ounces or 11 tablespoons) unsalted butter
55 g (2 ounces or 3 tablespoons) vegetable shortening (I used Flora)
3 ½ tablespoons ice water
Directions
Cut butter and shortening into the dry ingredients with a pastry cutter until you have a well-mixed consistency with some larger pieces of butter remaining. It should not be a fine "sand", but should have lumps.
Add 3 tablespoons of the ice water and mix lightly until the mixture has a texture resembling "rags".
Work it a little with your hand to bring the dough together, and add the remaining half tablespoon if it is too dry. Don't overwork it, and don't worry about a few lumps, as these translate to flakiness when baked.
Leave the dough to chill for at least half an hour, up to 24 hours; the gluten will relax, making a more tender dough that's easier to roll, and the moisture will also continue to penetrate.
Roll to ¼-inch thick or a little thinner, and line your buttered pie dish. You can rest the unbaked shell again for an hour or even freeze it at this stage to bake later. If you do freeze it, wrap it well and thaw it still in its wrappings so the moisture will condense on the outside.
Elisabeth Luard told me she uses the same proportions for wild blueberries as for her blackberry jam, the recipe for which is in her charming book, A Cook's Year in a Welsh Farmhouse. She boils the berries with water just to cover and allows the mixture to reduce by a third before adding the sugar. I add the sugar at the start and use less water so I can cook the fruit for a shorter time, but both methods work beautifully. You can see the results of her jam-making in the picture at the head of this posting, with a photo from her book in the background.
This recipe for blueberry jam is adapted from her book. It uses less sugar than usual, so should be stored in the fridge if you want to keep it for as long as a year. This also gives it a fresher, fruitier taste that is irresistible. It doesn't last long once opened.
Ingredients
1 kg (2 pounds and just over 3ounces) wild or cultivated blueberries
2 tablespoons lemon juice
Enough water to wet the berries and provide a layer of liquid on the bottom of the pan — about 110 ml (1 cup)
1 kg preserving sugar (with pectin)
Optional: small nugget of butter (to clarify the jam)
Directions
Use your largest pan as the jam will boil up, and one with a heavy bottom to avoid scorching. Have ready sterile jars, ladle and a funnel for pouring. Put two small plates in the freezer to use for testing the setting point.
Heat all ingredients except the butter over medium heat, stirring occasionally, and making sure the sugar dissolves completely before it reaches the boiling point. Use a pastry brush dipped in water to paint down any sugar crystals from the sides of the pan.
When the sugar is dissolved, increase the heat to medium high and allow to come to a full rolling boil. Add the butter, if using.
Boil hard for 4-5 minutes, stirring gently with a heat-proof spatula or spoon every so often to prevent scorching, until the drops from a spoon begin to knit together and fall more slowly. Test for setting point after 4 minutes by dropping a spoonful on a cold plate. If it spreads slightly but doesn't run, and if it wrinkles slightly when tilted, it's done. The exact temperature will read 105C/221F if you use a candy thermometer. Keep boiling for increments of one minute, testing again, until you get to that stage, and stir to prevent scorching.
Remove the jam from the heat and skim off any foam (there shouldn't be much if you use the butter). Ladle while still very hot into the sterilised jars and put lids on tightly. Set aside to cool (don't tighten the lids any further after they cool as you will break the seal).
The jam will keep for a year or so if you store in the fridge, and is at its best eaten sooner.
Note: If your set isn't quite thick enough for jam, it will still make an absolutely delicious sauce for ice cream or pancakes, so don't be put off trying.
References
Elisabeth Luard. A Cook's Year in a Welsh Farmhouse. Photography by Clare Richardson. Bloomsbury, 2011.
Lindsey R Shere. Chez Panisse Desserts. Random House, 1994.
British Summer Fruits (www.seasonalberries.co.uk)