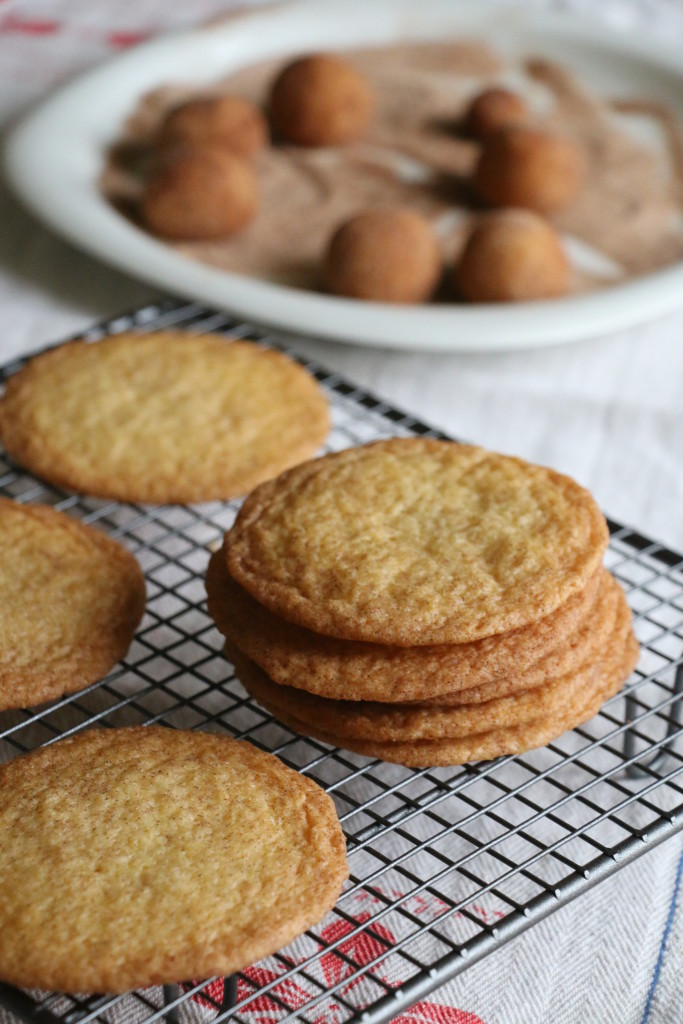 It's raining and cold, so the only thing for it is to bake a batch of cookies.  Making snickerdoodles is a guaranteed cheer-up activity.  They don't require unusual ingredients (no need to nip out in bad weather), they make the house smell warmly of cinnamon, and they are utterly delicious.
Snickerdoodles top my list of favourite cookies for their buttery richness, distinct vanilla tones and lip-smacking sweetness from cinnamon sugar, like old-fashioned apple cider donuts.  They surprise you with how ridiculously good they taste, as their looks are not showy, just appealingly homely, speckled and golden.  I've seen people take one, have a bite, and then do a wide-eyed double-take and have another.  Even my English friends who aren't fond of cinnamon and accuse Americans of overusing it ("there's cinnamon in everything there…") love these.  With a glass of milk, cup of tea or mug of hot chocolate, they are the perfect mood enhancer on gloomy days.  They are lovely with fruit for dessert, as well, and hold their place on a tea table.
The funny name is something of a mystery, but the snickerdoodle has been known since the mid-19th century in the United States, from Florida to New England.  James Beard, in his American Cookery  (1972), and Irma Rombauer in the original Joy of Cooking  (1936), both speculate that the name originates from the German 'schneckenudeln' ('snail dumpling'), a cinnamon-dusted snail-shaped sweet roll.  It's the cinnamon sugar coating that makes the snickerdoodle, so this makes sense to me.  Tom Jaine's 2014 edition of the Oxford Companion to Food  describes it as "a biscuit made from a creamed mixture enlivened with nutmeg, nuts and raisins… a speciality of the Pennsylvania Dutch, a community with many sweet biscuit and cookie recipes."  The nutmeg, nuts and raisins are not found in any of the 20th or 21st century recipes I've consulted, but it would make sense that European immigrants would combine ingredients typical of their cultures when they had them.
Earlier recipes from American magazines and church cookbooks often make the snickerdoodle as a shallow pan cookie, or what the British call a 'tray bake'.  These recipes added milk, producing a cakier consistency, and called for a sprinkling of cinnamon and sugar before baking and cutting into squares.  Some recipes used the same mixture as a soft drop-cookie, baking spoonfuls sprinkled over with cinnamon sugar.  An 1889 recipe published in the Home-Maker  magazine adds that the snickerdoodle is "easy to make when hurried."  Perhaps things haven't changed as much as we think.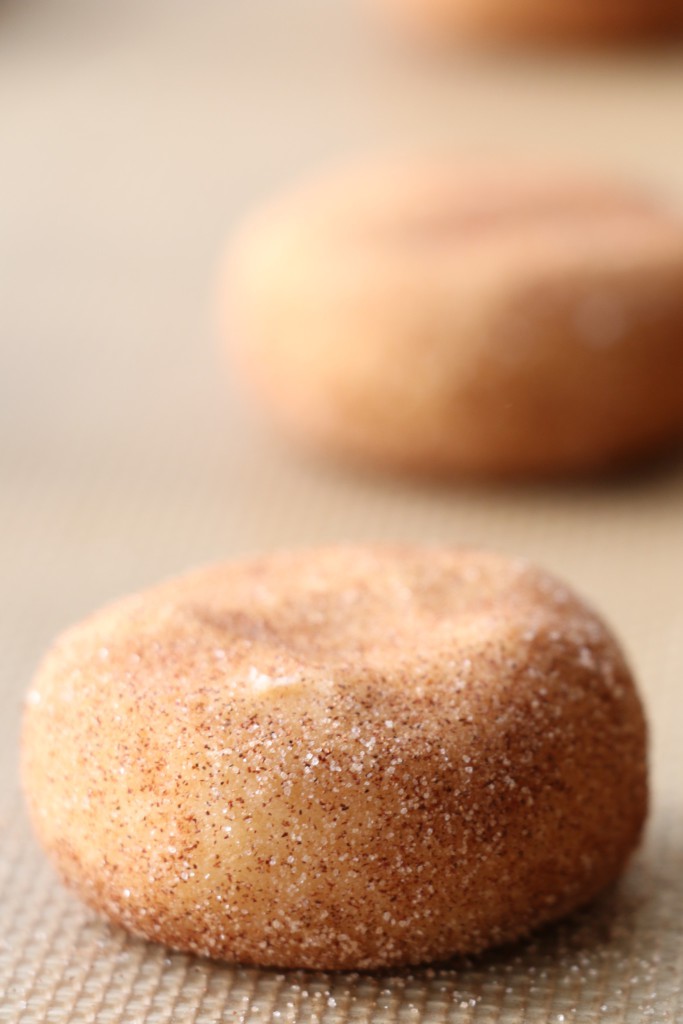 Today's method calls for chilling the dough and rolling it into walnut-sized balls that are rolled again in the cinnamon sugar.  Baked to taste, they can be either crisp and crunchy, or still a little soft.  I prefer them thinner and crunchier (they last better, too), but you can bake them a little less for a softer middle if that's what you like.  You will also typically find that vegetable shortening and/or margarine are used, but I use all butter, which contributes to the crunchy texture I like, as well as the flavour.  The vanilla is also very important, as it makes the buttery cookie come alive under its cinnamon coat.
My recipe came to me in 1980, from a submarine-qualified lieutenant named Bill Powell in Pearl Harbor, Hawaii.  I had been newly posted there from the Naval Air Station in Bermuda to take over his role at the Headquarters of the Pacific Submarine Command as training officer for the fleet, a daunting prospect as I had never been on board a real submarine and would rather have been knee-capped than go to sea in one.  Bill undertook our handover without batting an eye, and in the end, it was more than okay; but in that first week, when I feared catastrophic cock-ups, he put me at ease by bringing in a plate of snickerdoodles and talking about baking.  I knew things would be okay when he shared his mother's recipe with me the next day.  I've used it ever since, only changing her shortening to butter, adding more vanilla, and changing over time the proportions of cinnamon to sugar.
Bill was from Florida and there are claims that the snickerdoodle is, too.  It seems to have been popular in the southern states, surely, but I've discovered through recent researches that Mrs Powell's recipe as handed on to me is identical to the one published in the Betty Crocker Cooky Book  in 1963 (the same year Betty Friedan published The Feminine Mystique, which tells you something about the complex sexual politics of the time).  The Betty Crocker cookbooks were amongst the biggest sellers in US cookbook history and had a huge influence on the nation's ideals of womanhood and family as much as its diet.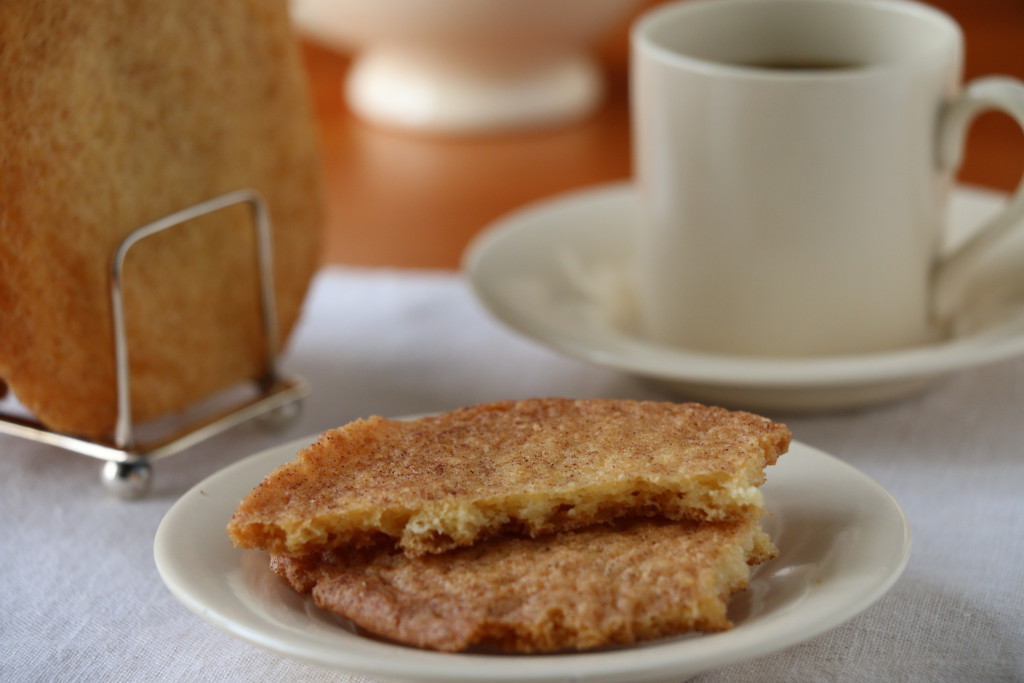 Betty Crocker was invented in 1921 as the personable face of what became the multinational General Mills, an act of marketing genius as this feminine corporate persona took on life as a trusted role model, teacher and kitchen confidante in the American home with a presence on radio, television and in print.  The snickerdoodle recipe, in company with the thousands of others published in Betty Crocker cookbooks, was developed by the company's less public home economists.  By the Second World War, Betty was reportedly the second-most-famous 'woman' in America after Eleanor Roosevelt, the reassuring face of the food industry's drive to educate housewives in how to cook with its new products, including the boxed cake mixes that boomed in the post-war years.  Betty Crocker's job was to make it acceptable to cook from scratch or from a box (and yes, there is a ready-mix for snickerdoodles, too).
I knew the snickerdoodle as just a favourite cookie with a funny name, but it has its place in American cultural history, symbolic of the domestic harmony that can be achieved through the gentle activity of whipping up a batch of cookies — or at least that's what Betty was invented to have us to believe.  They work for me, anyway.
The snickerdoodle hasn't escaped the notice of today's food industry and is inspiring cinnamon flavoured novelties in High Street coffee chains and donut houses on both sides of the Atlantic.  Even Betty Crocker's expanding snickerdoodle repertoire now includes everything from pumpkin to chocolate.  I have to admit that tinkering with the snickerdoodle gets my back up a bit.  I'm not usually such a kill-joy, but I rather object to this good thing from the American baking tradition being an excuse for excess when the genius of the snickerdoodle is its simplicity.  Recipes have always evolved to accommodate different tastes, occasions and ingredients available to the cook, so my affront is somewhat ridiculous, I know.  But still.
Recipes take amazing journeys, changing on the way as they change hands.  The recipe that came to me in Pearl Harbor travelled further still when I in turn passed it on to friends and family in several states, and to colleagues on vessels that sailed throughout the Pacific; and maybe some of those enthusiasts spread it further, too.  In the years since my submarine days, I have shared the recipe and the cookies many times over with people from England to Norway, Japan to Australia and Africa.  The cinnamon that makes them has taken its own complex journey to become the common ingredient it is, so we can bake these biscuits pretty much wherever we are.  For such a simple thing —  a plain cookie so easy to make when hurried —  the snickerdoodle has quite a story.
Adapted from the recipe given to me by Bill Powell in 1980, which was from the 1963 Betty Crocker Cooky Book
Makes about 24-30 cookies, depending on size
(For tips on measuring flour, making vanilla sugar, and on cinnamon, see notes below the recipe.)
Ingredients:
225g (1 cup/2 sticks/8 oz) unsalted butter, room temperature
300g (1½ cups) vanilla sugar** or caster/granulated sugar
2 large eggs
2 teaspoons vanilla extract
360g (2¾ cups sifted before measuring*) flour
2 teaspoons cream of tartar
1 teaspoon baking soda
½ teaspoon salt
For rolling the cookies:
3 tablespoons sugar
3 teaspoons (1 tablespoon) ground cinnamon***
Directions:
In a large bowl, cream the butter and vanilla sugar (or sugar) until very light and creamy, about 5-7 minutes with an electric mixer, or a bit longer if mixing by hand.  You want it to really fluff up.
Add the eggs one at a time and beat just until mixed.
Combine the dry ingredients well in another bowl, and gently mix in on lowest speed or by hand until well mixed, but don't overdo it or the cookies could be tough.
Chill the dough for at least an hour, and preferably longer or overnight.  You can also freeze the dough at this stage, or keep it in the fridge for up to two days.
When you are ready to bake, heat the oven to 190C/375F.  Line cookie sheets with aluminium foil or use a silicone liner.
Mix very well together the 3 tablespoons sugar and 3 teaspoons cinnamon on a plate.
Pinch off small quantities of the chilled dough at a time and roll into small balls using the palms of your hands. Aim for walnut-sized balls or a little smaller (about 20g is about right if you wish to weigh them for consistency).
Roll the balls of cookie dough in the cinnamon sugar, making sure you coat all sides.  You can do one at a time, or have a few on the plate of cinnamon sugar at a time; just try to coat them evenly and completely.
Place the cinnamon-dusted balls of cookie dough on the baking sheet, allowing a good couple of inches between them as they spread a lot.  Flatten the balls slightly with your fingers once they are in place.
Bake in the hot oven for about 10-14 minutes in total.  Bake initially for about 6-7 minutes, and then turn the sheet in the oven for even baking and give them another 4-7 minutes.  Bake until they feel set in the centre and have turned golden brown around the edges, with a slightly lighter-coloured centre.  If you prefer them softer, bake for a little less time.  Try a test cookie or two to see how you prefer them.
Let cool for a minute on the baking sheet so they firm up a little, and then use a spatula to remove them to a rack to cool completely.  Store airtight (or freeze).  These are delicious when freshly baked, but will last well for a couple of days, especially if baked until crisp. They can also be refreshed in the oven, at 190C/375F for a minute or two, or in the microwave for 10 seconds per cookie (allow to cool for best result).
Notes for snickerdoodle recipe
*A note on measuring flour:  A little bit of flour can make a difference to a snickerdoodle.  More, and it's thicker and doughier; less, and it's thinner and more buttery. The American method of measuring flour in cups has pitfalls for the pedantic cook, as one person's cup can be another's cup and then some.  When I moved to England in 1987 and began weighing ingredients instead of using cup measurements, my baking improved in consistency.  My recipe here, as adapted from the Betty Crocker version, calls for the same amount of flour as the original, but I always sifted mine before measuring into cups, while some cooks may not, and my gram measurements are calculated accordingly.  This can make quite a difference in volume measurements, which would account for the flatter, more buttery, result I get.  You could use 2 3/4 cups unsifted flour for thicker cookies. If like me you prefer a less floury result, then sift before measuring if you are using cups.
**A note on vanilla sugar:  You can make a marvellous vanilla-flavoured sugar to keep on hand for all manner of desserts and baked goods by adding a whole vanilla bean or two to your sugar cannister.  It will flavour the vanilla and give you great value from the beans, which you can still use later to flavour milk and other liquids (they dry out over time, but last well.  As long as they still have a fragrance they will flavour the sugar).
***A note on cinnamon sugar:  Cinnamon can vary a lot in quality and freshness.  A good, fresh cinnamon that smells enticing and vibrant will make all the difference.
References:
James Beard. American Cookery  (Little Brown, 1972).
Betty Crocker. Cooky Book  (Houghton Mifflin, 1963).

Marion Harland, editor. Home-Maker  magazine (New York, 1889).
Alan Davidson (author) and Tom Jaine (editor). The Oxford Companion to Food  (Oxford University Press, 2014 edition).

http://www.pbs.org/food/the-history-kitchen/who-was-betty-crocker/
Laura Shapiro. Something from the Oven: Reinventing Dinner in 1950s America  (Viking, 2004).
Irma S. Rombauer. Joy of Cooking  (Bobs-Merrill, 1936).