It renews us too: our love for life and each other, our desire to connect with all this radiance.  A friend was telling me recently as we walked through a beautiful garden that she remembers making 'May baskets' as a child in Iowa: small cones fashioned from coloured paper that would be filled with sweets – chocolate kisses, jellybeans – and wildflowers – violets, daisies, forget-me-nots.  One would make a few of these little baskets to leave in secret at the doors of friends, and it was always, she said, so lovely to receive them in return.
We may not give each other May baskets these days, but we do share closeness through food.  We cook for each other, or share a meal out – and sometimes we even cook together. Some of our best memories of family and friends may be of times we not only shared the eating, but shared the meal preparation itself. The labour is shared, the compliments are shared, and there's the satisfaction of doing something together in a more balanced dynamic.  Couples who cook together see benefits to their relationship, and friends too can get closer when they pool their time and share a session of recreational cooking as a welcome change from the daily 'maintenance cooking' that we sometimes have to do even when we're tired and out of ideas (and ingredients).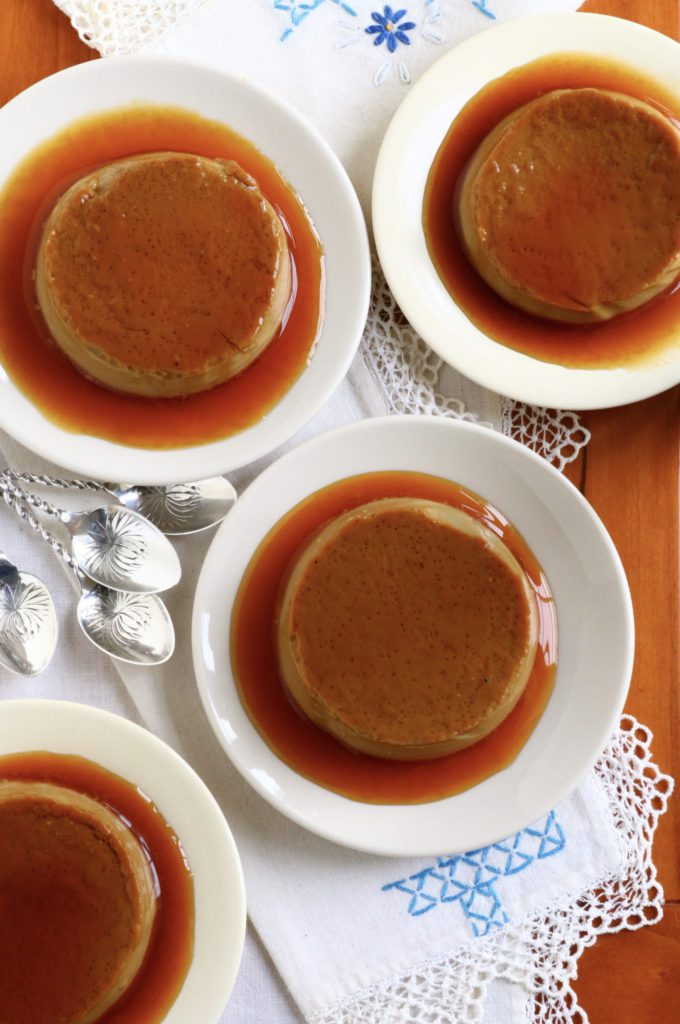 There was a time when it was more common for families to get together over a pot-luck supper, a shared barbecue or picnic, than at a dinner party.  I heard an eye-opener from my mother not long ago when she confessed that she had been a little anxious when she first had to entertain as a young wife, as 'having people around' in her life until then had always meant families sharing fried chicken and potato salad, not food from cookbooks served on fancy china.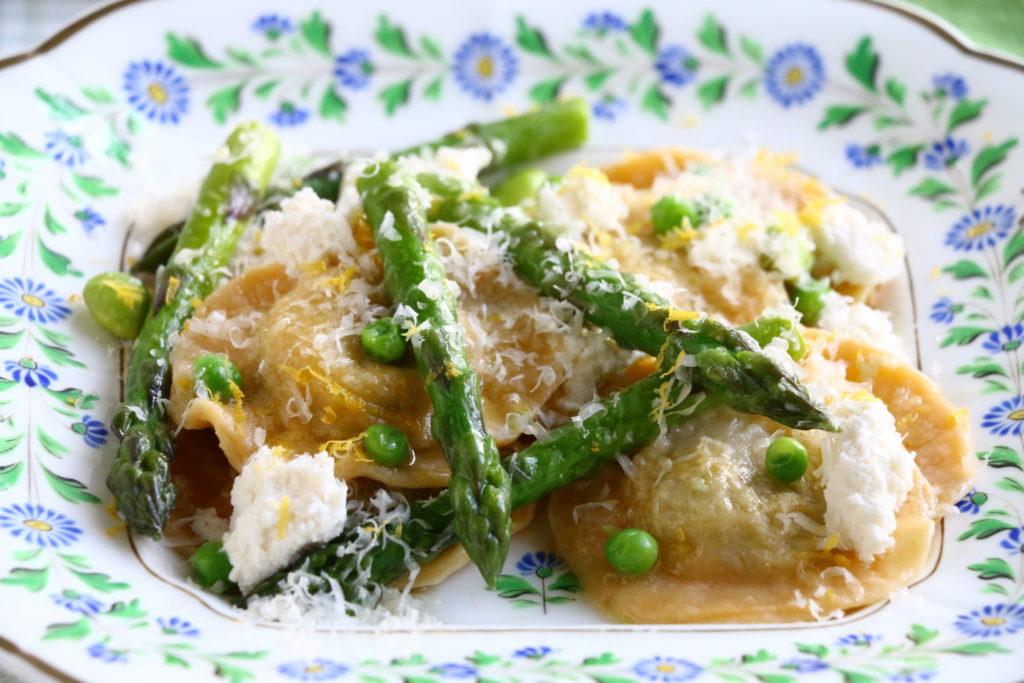 On the Italian side of my family, the sheer scale of the cooking needed to feed a large family-gathering fell on the shoulders of grandmother Annunciata (Nanny to us kids), but she had help from her daughters and daughters-in-law.  My Aunt Di tells how Nanny would make her ravioli, and Di's job was to help fill and keep track.  "Counta, Di, counta" Nanny would say, and Di would answer, "There are 90, Ma…";  and a few minutes later, "Counta, Di," and she'd say, "It's 120 now, Ma."  Nanny was the only person I've ever known who would take on that task for 24 people or more, even with help.
We are learning more all the time about the benefits of cooking at home: its health advantages; the benefits to our purse; the potential it offers to play, create, wind-down; its power to strengthen familial and social bonds, and boost our well-being.  But it does take time, and can be a solitary activity that may not always suit.
There have been some novel attempts to balance the benefits of home-cooking with over-committed schedules: casserole clubs where neighbours use an app to let each other know when they have extra portions to share; supper clubs where one family does the cooking for everyone in the group once a week or month; and pop-ins, where you eat meals cooked in the homes of strangers.  These innovations may be steps towards a communal-cooking movement — an acknowledgement that if we are to eat better we need help finding the time.
Maybe there's a simpler step we could take to those times we cook for friends and family, and get them involved in helping.  Making pasta is a perfect thing to do together as it's special, and so much easier than people expect, and you can certainly cut and fill more ravioli with help than you can on your own.  It's exciting to watch a simple dough transform, and the pay-off is so sublimely superior to anything you can buy that people will remember it for its wondrous taste as well as the fun and the pride.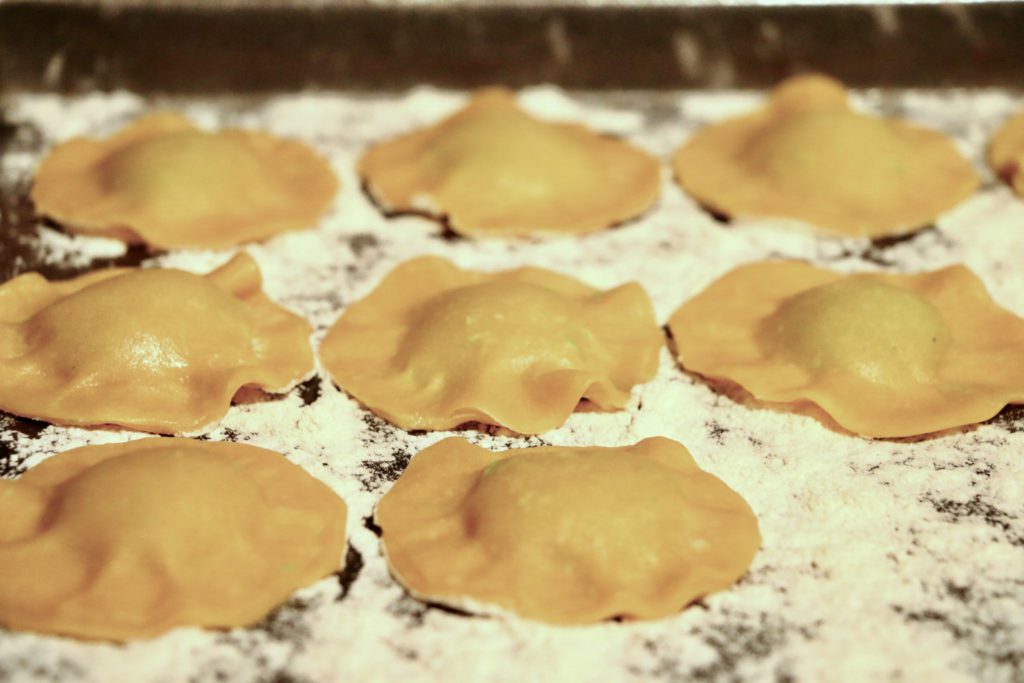 In Italy, where there is an abundance of beautiful produce all year and pasta is not uncommonly still made at home, it is often married with vegetables.  In May, in England, you can't do better than local asparagus in all its short-lived glory.  Freshly cut asparagus and fresh pasta made with good eggs have an exquisite affinity.
This is one of the meals I most adore, with echoes back to those Nanny made with such stamina and love.  It's unforgettable, especially when friends or family pitch in to make those little parcels together.  If you are a solo artiste, they are also imminently do-able in this more modest quantity.  It will take a bit of time, yes, but if you get into the Zen of it and enjoy the process, it's sensuous, soothing, and very, very gratifying, especially when everyone takes that first blissful bite.
RECIPES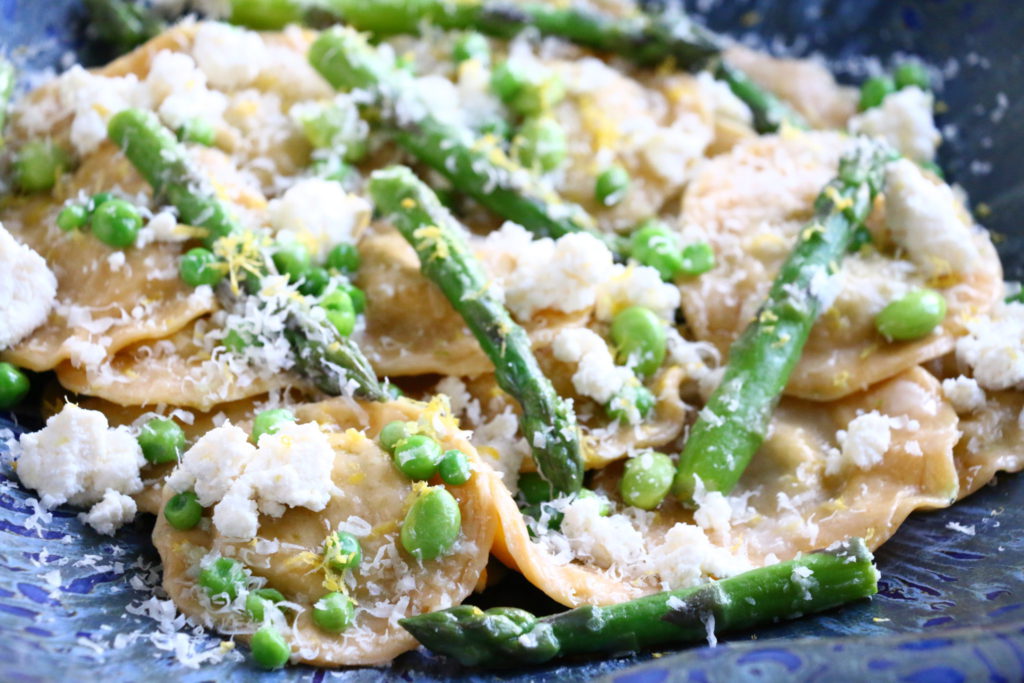 Asparagus and pea ravioli
Serves 4 as a main, 6 as a starter
Filled with asparagus and pea, these are dressed with more fresh spears, peas and broad beans, and butter.  Salted ricotta, parmesan and a modest grating of lemon zest, complete this celebration of spring.
Thinly rolled pasta dough makes for the lightest ravioli.  You can use a pasta machine, but you can also get excellent results by rolling the dough by hand with a rolling pin, instructions for which are given in this recipe.
Ingredients
350g (2½ cups

un

sifted) flour, ideally soft '00' pasta flour
½ teaspoon cooking salt
3 whole large eggs
3 egg yolks
500g (a little over 1 pound) tender stems of fresh asparagus; allow more for trimming off tough ends
100g (1 cup) petite peas, thawed if frozen
50g (½ cup) small broad beans or soy beans, thawed if frozen
2 tablespoons freshly grated parmesan
Optional: 1 teaspoon finely chopped fresh mint (about 3 medium leaves)
250g (8 ounces or 1 cup) ricotta, seasoned with ½ teaspoon sea salt and freshly ground pepper
140g (5 ounces, or 1 stick plus 2 tablespoons) good salted  butter
1 small garlic clove, minced
a glug of oil for boiling the pasta
To garnish: more freshly grated parmesan and zest of 1 lemon
Directions
Make the pasta dough: In a large bowl, mix the flour and cooking salt; then make a well.  Beat together the eggs and egg yolks, and pour them into the well in the flour. Begin mixing the eggs into the flour with a fork, taking a little flour from the sides of the well at a time.  When most of the egg is incorporated, begin kneading in the rest of the flour with your hands, adding a little more if the mix is too wet.  Knead for 5-10 minutes on a work surface until the dough is silky smooth and free of bubbles.  If it's too sticky, add a very little flour at a time.  If it becomes too dry, add a touch more beaten egg by rubbing it onto your hands and massaging it in.  Cut the dough in thirds, wrap each in clingfilm, and rest it for one hour.
Make the ravioli filling: Blanch the asparagus in salted, boiling water for 2-3 minutes, or until just tender.  Plunge it into iced water to stop the cooking.  Drain and pat dry.  Trim the spears into 10cm lengths, and reserve the pieces with tips.  Measure 225g (a heaped cup) of the remaining pieces, chop them coarsely, and pulse in a food processor with half the peas to make a rough paste.  Add the 2 tablespoons grated parmesan; then add the mint, if using, and season to taste with sea salt and pepper.  If the filling seems too wet, drain off excess moisture in a sieve.  Set aside.
Roll the pasta dough: Clear an area where you can spread out.  Lightly dust your rolling pin and work-surface with flour.  Roll one-third of the rested dough at a time, working from the centre; rotate regularly and turn it over ocasionally to work the reverse side.  If it begins to resist or shrink, leave it to rest for 2-3 minutes.  Continue rolling until it's thin enough to see light through, or about the thickness of a penny.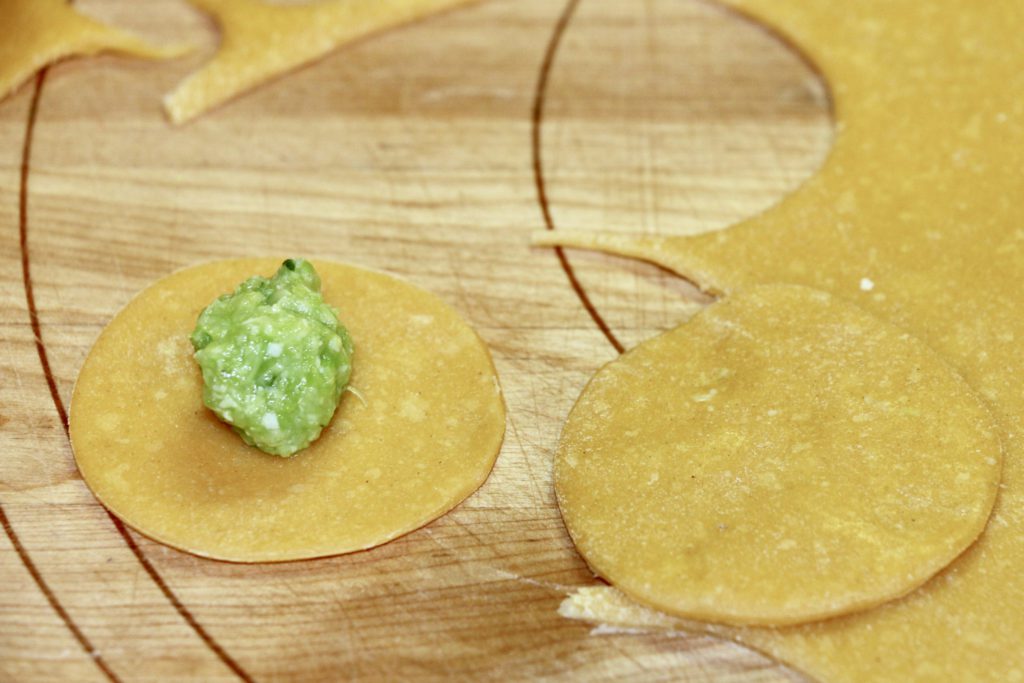 4.  Cut, fill and dry the ravioli:
a. For round ravioli, cut circles with a floured biscuit cutter or up-ended drinking glass – 6cm is a good size.  Proceed as follows: on one circle, place a small mound of filling, about ½ teaspoon, leaving an area clear all around.  Take a second circle of dough, moisten its edges lightly with water, and press over the filling. Moisten only one circle, as the ravioli won't stick together if both parts are wet.  Carefully but firmly pinch all the way around each parcel to seal it well and thin out the double-layer of pasta.  Place finished ravioli in a single layer on a well-floured tray; the flour prevents them from sticking to the surface and breaking open as they dry.
b. You could also make square ravioli in any size you like: cut a rectangular strip of dough (as long as you have) that's wide enough to fold over lengthways (e.g., a 12-13cm width will produce 6cm-square ravioli).  Place filling at regular intervals (e.g. 6cm) along one half of the strip, as many as you can fit.  Moisten the pasta between and around each mound of filling, and fold over the blank side of the pasta to cover the filled side.  Seal on all sides, expelling any air bubbles, and cut into squares.  Pinch and dry as above.
You can cook the ravioli immediately or leave them to dry for a few hours before cooking. They can become soggy if left too long, so check that they aren't sticking to the tray. Alternatively, freeze them right after assembling, as they cook well from frozen.
5.  Cook the ravioli: Fill your largest pan with water and bring to the boil.  Salt it and add a glug of oil to keep the ravioli from sticking together.  Add the ravioli and maintain a moderate, not vicious, boil for 5-8 minutes, or until the pasta tastes tender, but still has some bite.  Timing will depend on the thickness of your pasta.
6.  Warm the veg: While the water is boiling, warm a large serving platter.  In a medium pan, melt the salted butter over low heat with the garlic; don't allow it to colour.  When the ravioli go in to cook, add the reserved asparagus to the melted butter to warm through.  About 1 minute before the ravioli are done, add the peas and broadbeans to the butter.
7.  Finish the dish: When the ravioli are ready, spoon half the melted butter into the warmed serving dish.  Drain the ravioli and add half of it to the melted butter, stirring gently to coat.  Distribute half the asparagus, peas and broadbeans on top, add a grating of parmesan, and sprinkle on half the seasoned ricotta in bite-sized bits.  Add the remaining ravioli, and spoon on the rest of the butter and vegetables, grate on more parmesan, and add the last of the ricotta.  Grate the zest of one lemon over the top, and serve on warmed plates.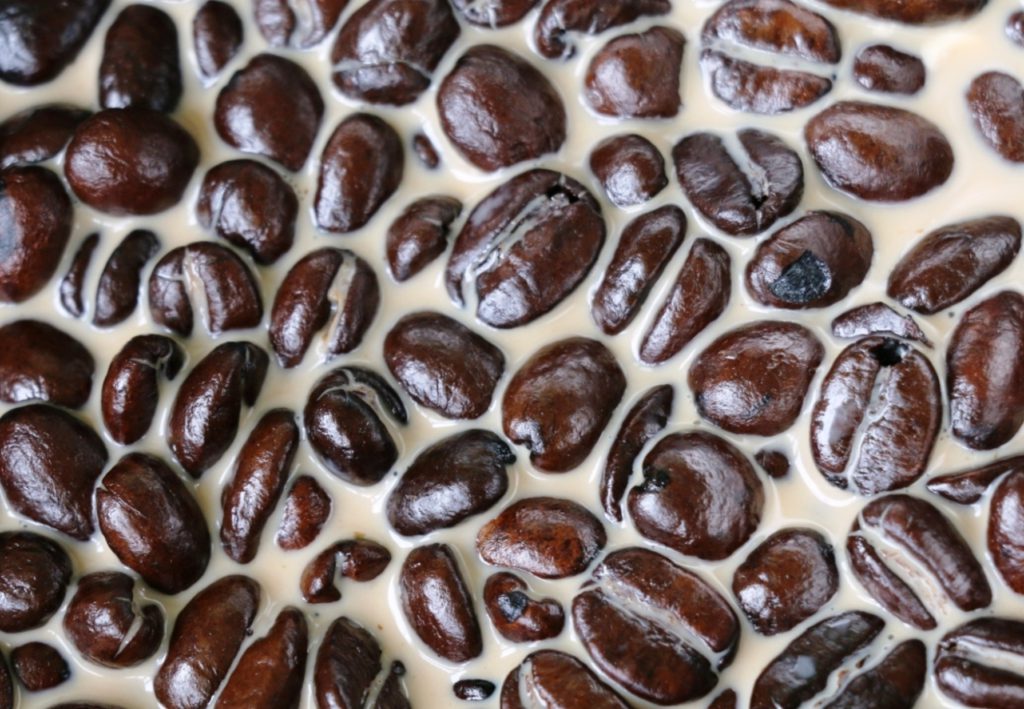 Coffee crème caramel
Adapted from Simon Hopkinson
Serves 6 – 8      
 These exquisite coffee-flavoured custards are unmoulded after chilling for several hours or overnight to reveal an amber caramel sauce. They make the perfect ending to an Italian meal.
The recipe makes enough to fill six 145ml (5oz) ramekins, or eight 114ml (4oz) ramekins.  You will also need a deep baking dish into which they can fit, as the custards are gently cooked in a water-bath in the oven to give them a silky texture.
Ingredients
300ml (1¼ cup) whole milk
100ml (generous ¹⁄

3

 cup) double (heavy) cream
250ml (1 cup) espresso coffee
80g (1 scant cup) whole espresso coffee beans
1 teaspoon vanilla extract
pinch of salt
200g (1 cup) caster sugar and 4 tablespoons water for the caramel
100g (½ cup) caster sugar for the custard
4 large eggs
4 egg yolks
Directions
Flavour the milk: Heat the milk, cream and liquid espresso together until quite warm, but don't let it boil. Remove from the heat and add the whole espresso beans, the vanilla extract and salt. Cover and leave to steep for one to two hours, until the liquid has taken on a good, strong taste of coffee.
Make the caramel: Melt the 200g (1 cup) sugar with 4 tablespoons water in a small saucepan over medium heat. When the sugar has dissolved, raise the heat to a gentle simmer and cook just until it turns a medium amber colour. Watch carefully and adjust the heat if needed, as it can quickly burn. It should smell sweet and caramel-like (if it's gone over it will smell scorched). Pour the caramel carefully into your ramekins, and put them into the baking dish in readiness. Let the caramel harden on the bottoms while you make the custard mixture.
Mix the custard: In a 1-litre (or 1 quart) pouring jug or bowl, beat together the whole eggs, egg yolks, and the 100g (½ cup) sugar. Strain onto this egg mixture the espresso-infused milk and cream, and discard the spent beans. Stir the custard mixture well, and pour it through the strainer into the waiting ramekins (straining the custard again catches any shell and those white, stringy parts of the egg, called the chalazae).
Cook the custards: Heat the oven to 150C /gas mark 2 / 300F.  Place the baking pan holding the custards onto the middle shelf of the oven, and carefully fill it with hot but not boiling water, to come about two-thirds up the sides of the ramekins.  Cook for an initial 20 minutes and then rotate the pan for even cooking. The custards will need 25-40 minutes in total, depending on size and the temperature of the water.  Test for doneness by inserting a skewer or knife in the centre: it should come out clean. The custards should not cook to the stage where they puff up.
Remove the pan from the oven, and remove the custards to a rack to cool completely (you may find it helpful to lift them out with tongs in one hand, and a potholder in the other).  Once the custards have cooled to room temperature, cover the tops with cling film and chill in the fridge for 3-4 hours or overnight. To serve, run a knife around the edges of the ramekins and invert onto shallow serving dishes to hold the delicious caramel sauce.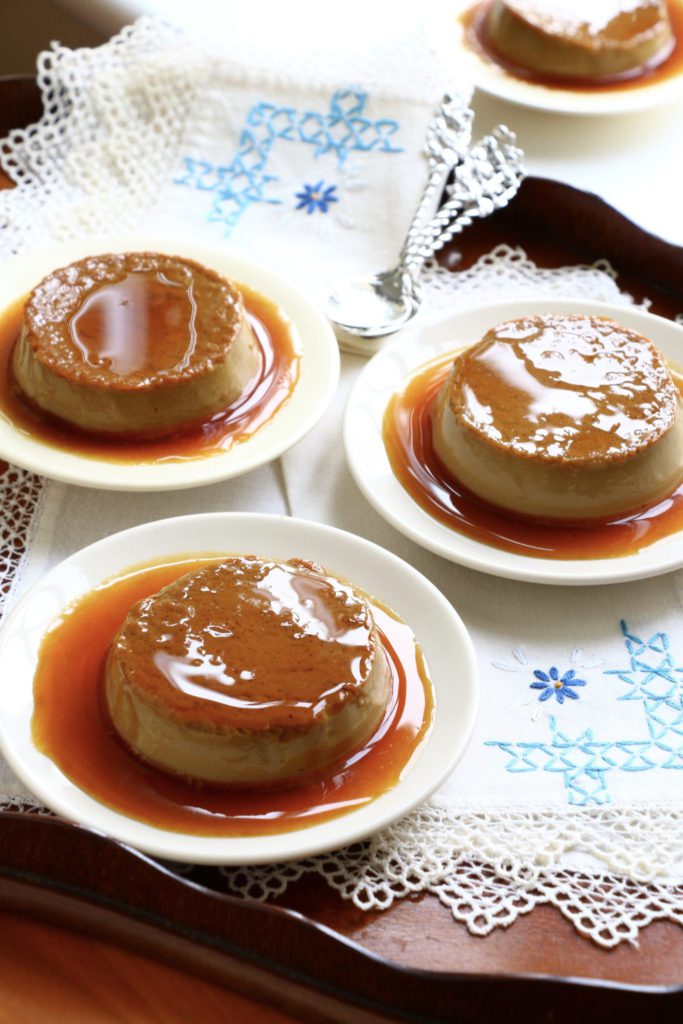 This article was published in the May 2017 edition of Cambridge Magazine.
For other Italian recipes on Crumbs on the Table, see:
Other baked custard desserts: