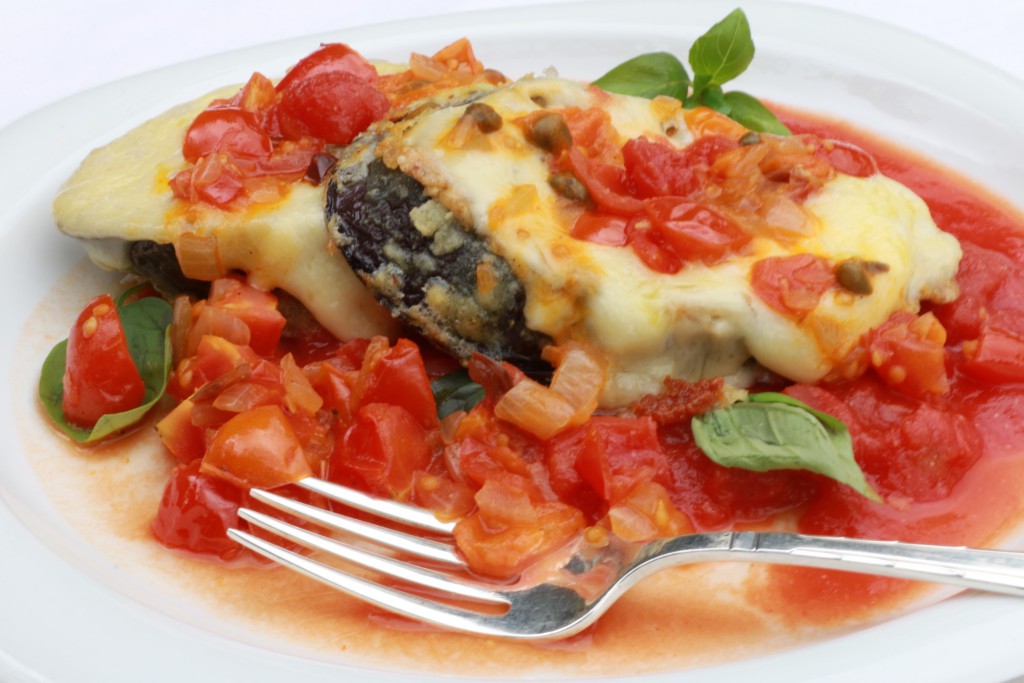 This is one of those ideas I kick myself for not thinking of earlier.
We adore eggplant parmesan – aubergine parmesan – or as they actually call it where it originated, melanzane alla parmigiana.  I make a big festive dish of it at least once every year using the Italian side of the family's recipe for all-day tomato 'gravy' and thinly sliced eggplant. I also make the lovely pork and beef filled eggplant rolls here every late-summer with fresh tomatoes. These dishes are two of the best I make – they taste very special and are not too much of a production since I love being in the kitchen, but they definitely take longer than I have on busy days.
So when one is rushed (and when is one not?) and longs for that taste, I've recently realised it is quite possible to make an exquisite aubergine parmesan for two people in about 20 minutes, all on the stove top. This makes enough for two light dinners or good lunches, or would be a lovely vegetable accompaniment to something else for four.
Instead of slicing the eggplant very thinly and having to cook it in three or more batches, layering the slices with sauce, then cheese, and finally baking the whole dish, all you do with this simplified version is to:
1) Slice one aubergine into thick slices, like a generous burger or steak, and salt well.
2) Flour and egg the slices in the usual way for an aubergine parmesan, and sauté them in one easy go in a large frying pan.
2) Make a quick sauce with a handful of chopped tomatoes brought to a simmer while the aubergine cooks. You can dress up the sauce with garlic and onion, a pinch of capers, or fresh basil, but the tomatoes themselves are delicious solo if you season them well with some good salt, pepper and olive oil.
3) Top each piece of aubergine with a slice of any cheese you like, and let it melt while the aubergine finishes cooking. Serve up two pieces with a little sauce on each plate and a scattering of basil leaves if you have some around. (Full recipe below.)
Job done. Craving satisfied. Much less mess to clear up, and not so many calories, either.
So, what took me so long?
Twenty-minute aubergine parmesan
(makes 4 or 5 thick pieces, serving two for a light dinner or good lunch)
"Scoring" the cherry tomatoes punctures their skins and allows them to cook more quickly: simply give them a quick but careful nick with the blade of a sharp knife, as an alternative to halving them.
For the cheese, use one slice per aubergine piece of any melting variety you like or have to hand: e.g., mozzarella, cheddar, Italian fontina, gruyère, Monterey jack)
Ingredients
1 medium aubergine (400-500g, roughly 1 pound)
salt and pepper
1 egg
a pinch each of dried oregano, basil and black pepper
70 g (about ½ cup) flour
optional: a pinch of garlic powder
about 2 tablespoons olive oil to sauté
about 30 cherry tomatoes, scored or halved, or 2 to 3 large tomatoes roughly chopped (or 1 400-g tin chopped tomatoes)
optional:

a couple of slices of onion, diced
1 clove garlic, minced
a pinch of capers
a few fresh basil leaves

150-180 g melting cheese (one slice per piece of aubergine)
 Step-by-step directions
Slice the aubergine into 4-cm thick slices (1 ¼ inch), the thickness of a generous burger or steak – you should get about 4 thick slices from one aubergine — slice on the diagonal for larger pieces.  Salt the slices well on both sides.
Whisk the egg briefly with a fork, adding the dried oregano, basil and black pepper. Season the flour with a pinch each of salt, pepper and garlic powder if using.
Dip the salted aubergine slices first in the seasoned flour, then the seasoned egg, then back in the flour to coat them well on top and bottom, patting it on with your fingers.
Meanwhile, heat the frying pan over medium heat and add the olive oil. When hot but not smoking, add the floured aubergine slices and sauté gently over medium heat until the bottom is nicely brown. Resist moving them until you can see they are beginning to crisp up and move easily in the pan, about 5 minutes.
When the aubergine slices go onto the heat, start the sauce: In a medium saucepan, sauté the onion if using, then the garlic, then add the scored or chopped tomatoes and season well with salt and pepper (and a pinch of garlic powder if not using fresh garlic). Bring to a simmer until the tomatoes soften, about 5-10 minutes. Add fresh basil leaves at the end if you want to.
Turn the aubergine slices once they are crisp and brown on bottom, top the cooked side with a slice of cheese, and let it melt while the bottom of the aubergine cooks. Check for doneness with a skewer: it should slide through easily with no resistance.
Serve up with a little sauce on the plate for your aubergine to rest on and a scattering of basil leaves if you wish, and spoon more sauce on top.
See also: recipe for aubergine rolls in "Late-summer recipes".