The dog days are passed, but we hope for one or two last barks. We know it's coming, but we're not yet ready to hand over to autumn.
No need, just yet, for summer's exuberance is still here in the late-summer harvest that is glutting our markets and gardens. Even the supermarkets look like roadside stands with all that bounty: tomatoes with sun in them, sleek-skinned aubergines, baby courgettes and cucumbers, frothy Florence fennel, berries still in abundance, the first apples, and to my amazement, even Cambridgeshire-grown apricots alongside the English plums. Surely not!? Yet here they are, fragrant as honeycomb.
What better way to capture the rest of summer than celebrating those vegetables and fruits that are at their best right now? This has been summer's project, after all. It's handed in its work and the least we can do is dig in and enjoy.
My star recipe for late-August is a dish of aubergine rolls that makes the most of tomatoes and aubergines both. It's clean-tasting and light, the aubergines and tomatoes in balance with a judicious beef and pork filling. It can be adapted for vegetarians, too.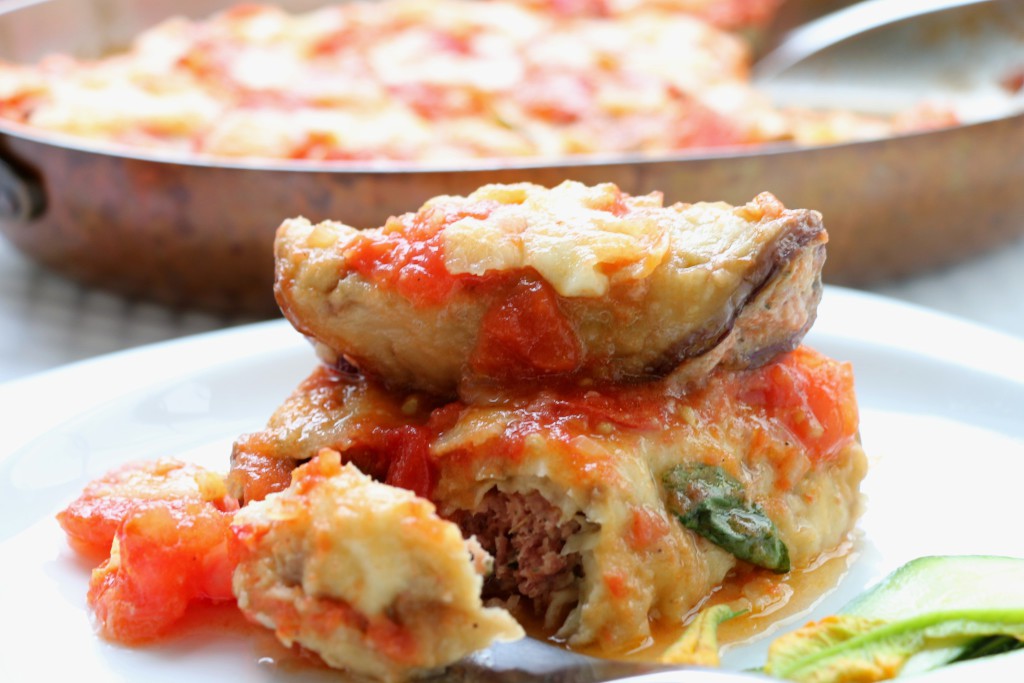 The fresh tomato sauce is what elevates it to summer stardom. It's an exquisite and easy sauce, and so versatile. Make it for pasta or polenta; as the basis for a splendid soup; or simply for a bruschetta or "tomato bread" like the Spanish make. It takes ten minutes to cook once you've prepped the toms.
All this dish needs is a little greenery to accompany it. Some raw fennel bulb, sliced as thinly as you can with its aniseed tops chopped in, dressed with a little lemon juice, salt and olive oil, is refreshingly delicious. And don't neglect the ubiquitous courgette. Slice raw into thin ribbons, and dress as for the fennel. Both are excellent alternative salads when the rocket has flea beetle and the lettuce has bolted.
Courgette fritters are my other main-course favourite right now. These will make you love that glut: easy, economical and delicious. August's answer to beans on toast, they are the reason I plant more courgettes than a sane person should. If all you have in the house is a courgette and an egg, I guarantee you a noble feast.
Victorias are not the only plums…
The pud has to be fruit, naturally. This is the moment for plums, and if you can still find them, the last of the English apricots. It has been a bumper year for the UK apricot after five years without a harvest. This spring's escape from late frosts also benefitted our plums, the trees so laden that growers are propping up branches groaning under the weight.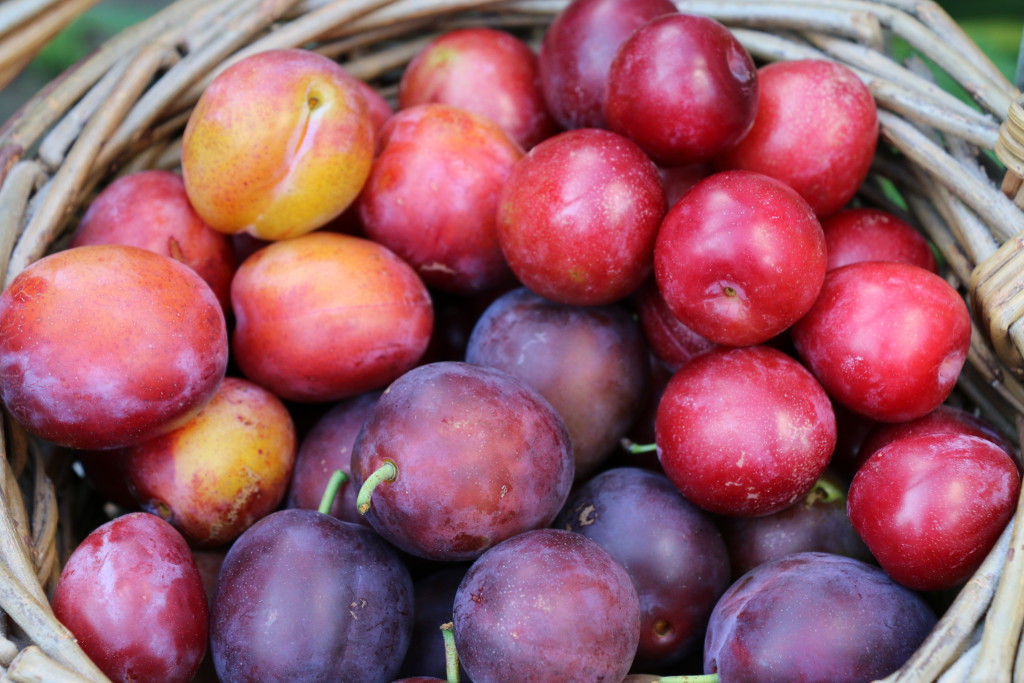 We adore Victorias for good reason, but there are other plum varieties we should seek out and love. I had a plum epiphany last week at the Bushel Box Farm Shop in Willingham, having gone in search of their apricots. A family farm for three generations, it produces 35 varieties of plum, some very old (Early Rivers, Purple Pershore, Oulins Golden Gage, Burbanks Tangerine…). The harvest is sold mostly in the farm shop, as the yield from some of these trees fills only a 5-kilo "tray". I left with Lizzies, a tart cherry-plum with ruby flesh; Opals, as delicious as Victoria herself; and the prize: a precious kilo of Monsieur Hatifs that smelled as beautiful as they tasted.
I overhead daughter, Wendy Manning, answering a regular's question, "What's good this week?" She gave him the run-down: "The Swans and Herons are good, Tilly is very sweet, the St Hubertus have thicker skins but a good balanced flavour, the Purple Gages are at their best, very perfumed…". I love that someone is still tending these trees, that every plum has its character and its day. What's perfect this week will be over by next, so treasure each in its time. This is living in the moment. Who needs a guru when you have freshly picked plums?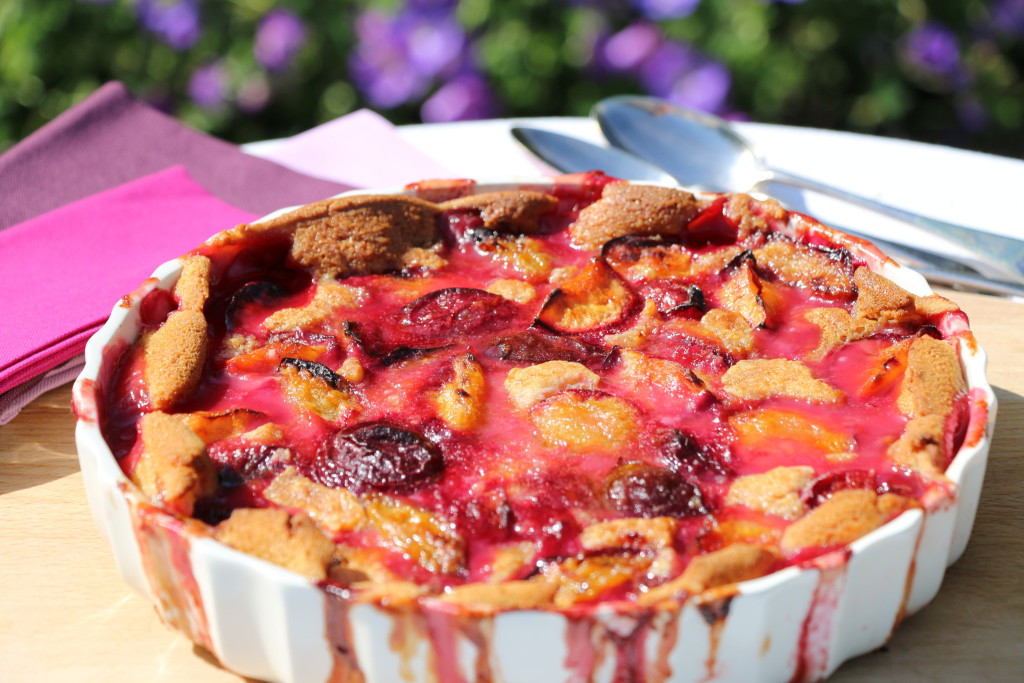 Adapted from The Victory Garden Cookbook, Marion Morash (Knopf, 1982)
This dish can be prepared the day ahead. If you want to avoid the egg-wash and flour routine, you can oil the aubergine slices and bake them at 180C/350F for about 20 minutes until soft and just golden. Salting the aubergine slices before cooking helps them absorb less oil. For an alternative vegetarian filling, wrap the aubergine rolls around a bit of mozzarella, or seasoned ricotta cheese with added herbs.
For the fresh tomato sauce:
1 kilo (2 lbs 2 oz) fresh tomatoes
1 shallot
2 cloves garlic, minced
¾ teaspoon sea salt (or ¼ teaspoon cooking salt)
a few grinds of black pepper
a handful of basil leaves
1 tablespoon olive oil
For the meat filling:
200g (7 oz) minced beef
200g (7 oz) minced pork, or substitute beef
2 large eggs
50 g (½ cup) dried breadcrumbs
2 garlic cloves, minced
1 teaspoon dried oregano
1 teaspoon sea salt (or ½ teaspoon cooking salt)
A few grinds of black pepper
For the aubergine rolls:
2-3 small or 1 large aubergine (about 600g, or 1 lb 5 oz, total weight)
1 egg beaten with 1 tablespoon water
80-100g (about ¾ cup) plain flour, seasoned with a pinch of salt and pepper
about 60ml (4 tablespoons) olive oil for frying
For the assembly:
125g (about 4 oz) buffalo mozzarella
Directions:
Heat oven to 180C/350F/gas mark 4.
Slice aubergines no thicker than 6mm (¼-inch) and salt lightly.
Prepare the sauce: Pour boiling water over the tomatoes in a bowl in the sink. Swish them around for one minute to soften the skins, then run under cold water. The skins should slip off easily. Halve and core the skinned tomatoes and remove most of their seeds. Chop the flesh into bite-sized chunks. Heat a saucepan with the oil and gently cook the shallot until transparent; add the garlic and cook for about 1 minute until fragrant; don't allow to brown. Add tomato pieces and salt, and turn heat up to medium high. Cook for 10 minutes until the tomato pieces are softened, but not disintegrated, stirring occasionally. The sauce should be juicy and flavourful. Taste and cook another few minutes to reduce if needed. Add some pepper, more salt if needed, and the basil leaves at the end. Spread one-third of the sauce into the bottom of a lightly oiled oven-proof casserole dish. Reserve the rest for the top.
Cook the aubergine: Wipe the slices dry. Dip in seasoned flour, then in the beaten egg, and back in the flour for a final coat. Heat half the oil in a large frying pan over medium heat and cook as many slices as you can fit, until golden on both sides. Drain on kitchen towel. Repeat with remaining aubergine, adding the rest of the oil as needed.
Prepare the filling: Mix the meat, breadcrumbs, eggs and seasonings in a bowl, stirring well. Spread a walnut-sized piece of the mixture very thinly over each cooked aubergine slice, going all the way to the edges. Roll the aubergine up so the meat mixture is inside, and place each roll seam-side down on top of the sauce in the casserole dish. Continue until all the aubergine pieces and filling are used.
Finish assembly: Cover the aubergine rolls with the remainder of the tomato sauce, and distribute the mozzarella in small pieces over the top. Cover loosely with buttered parchment / foil and bake for 30 minutes. Remove the covering and bake for another 10-15 minutes until the meat is cooked through and the cheese is melted and beginning to brown. Serve hot.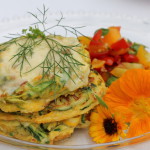 II. Courgette fritters (serves 2)
These are great with melted cheese and a slice of tomato on top, or the fresh tomato salsa, below. Some crispy bacon on the side satisfies the carnivores.
 Ingredients:
450g (1 lb) courgettes (any variety or size)
2 large eggs
60g (scant ½ cup) plain flour (a little more if your courgettes are very wet)
1 teaspoon sea salt (or ½ teaspoon cooking salt)
Few grindings of black pepper
Optional: 80g (about 3 oz) cheese of your choice to melt on top
Optional: 1 tablespoon chopped dill
Directions:
Grate courgettes coarsely, salt them, and squeeze out excess water with your hands.
Add eggs, black pepper and dill, if using, and then the flour. Stir well to mix. The mixture will be lose, but if it looks very wet, add a touch more flour.
Heat a large frying pan over medium heat with the oil and butter. When it begins to sizzle, scoop in four half-cup measures of the fritter mixture to make four fritters. Leave room between them so you can turn them over.
Cook for 5-8 minutes until the undersides begin to brown and the fritters are firm enough to flip. Turn them over and top with cheese, if using. Cook for another 5-8 minutes or until the fritters have puffed up slightly and are firm to the touch, and the cheese has melted.
Serve hot with a slice of tomato or tomato salsa.
Variation: Instead of melting cheese on the fritters, add 2 tablespoons chopped coriander, 1 tablespoon chopped mint, fresh chili to taste, and 80 g (about 3 oz) feta cheese to the courgette mix, and cook as above.
III. Easy summer tomato salsa (serves 2 as a side dish)
Basil is the classic partner for tomatoes, but dill is wonderful, too.
Ingredients:
2-3 tasty tomatoes or about 2 dozen cherry tomatoes
½ teaspoon sea salt and a few grinds of black pepper
half a runt garlic clove, minced
1 teaspoon lemon juice or sherry vinegar
1 tablespoon olive oil
a few basil leaves
a sprig or two of dill (optional)
Directions:
Coarsely chop the tomatoes, add the other ingredients, and give everything a gentle stir. Use right away so it doesn't get watery. Serve with the fritters, or as a bruschetta topping.
Variation: To accompany courgette fritters made with feta, mint and coriander, add chopped coriander, mint and chili to the salsa, and use lime juice instead of lemon juice or vinegar.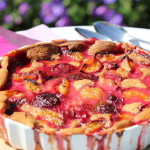 IV. Batter-style plum cobbler (serves 4-6)
Adapted from New Southern Cooking, Nathalie Dupree (Knopf 1986)
This is a delicious and very easy fruit dessert made with an eggless batter that rises up around the fruit. The batter is a cinch to mix—quicker than crumble, the classic scone-topped cobbler, or Yorkshire pud — and makes for a crisp, almost caramelised top and squidgy centre that contrasts irresistibly with the intense, juicy plums.
For the fruit:
400g plums, stoned and quartered (about 2 cups prepared fruit)
juice of half a lemon (or 2 tablespoons kirsch / brandy)
1 tablespoon caster sugar
For the batter:
50g (2 oz) unsalted butter
130g (¾ cup minus 1 tablespoons) caster sugar
100g (¾ cup sifted) plain flour
¼ teaspoon cooking salt
1½ teaspoon baking powder
180ml (¾ cup) whole milk
1 teaspoon vanilla extract
 Directions:
Heat oven to 180C/gas mark 4.
Stir the tablespoon of sugar and lemon juice (or kirsch) through the plums; set aside.
Put the butter in an ovenproof dish to melt in the oven while you mix the batter.
Whisk together the sugar, flour, salt and baking powder in a medium bowl (a fork is fine for this job). Add the milk and vanilla, and mix until smooth.
When the butter is melted, carefully pour the batter into the hot dish, right on top of the melted butter. Then distribute the plums on top of the batter as evenly as you can without disturbing the batter underneath.
Bake for about 40-50 minutes until the top is a golden brown all over, the fruit juices are bubbling, and a skewer inserted into the centre shows no uncooked batter. Rotate the dish halfway through to bake evenly, if needed.
Let cool for a few minutes and serve warm. A little crème fraîche or pouring cream is nice, though it doesn't really need it. Refrigerate leftovers.
This article, written and photographed by Laura Donohue, was first published on 21 August 2015, in  Weekend (editor, Alice Ryan), the Saturday supplement of the Cambridge News.