This Tex-Mex recipe is one I've cooked regularly for over thirty years because it's so good — one of those dishes people ask me to make, and want the recipe for, so I guess it qualifies as something of a retro classic that's stood the test of time.  It's essentially an unconventional variation of chili con carne that's topped with a cornbread mixture and baked in the oven.  It satisfies cravings for something spicy, meaty, a little bit sweet, and hearty with carbohydrate, all at the same time.  It's inexpensive — it takes just 450g (1 pound) of ground meat to serve six — and it's easy to make, and very reliable.  It's easy to eat, too, being juicy and moist, and kids love it as well as grown-ups.  The only reason I haven't posted this family favourite earlier is that we always eat it before I can photograph it.
This is my favourite version of this southwestern American classic, which takes its name from the Mexican tamale, a street food with an ancient history, very popular on both sides of the border.   A true tamale is labour-intensive, made by filling dried cornhusks with a masa or cornmeal mixture that encases a rich filling of spicy meat.  Each cornhusk parcel is folded and tied before being steamed or cooked in broth.  The hot bundles are then unwrapped to reveal a soft corn exterior hiding a delicious filling.
Tamale pie owes its inspiration to the popularity of the authentic Mexican delicacy, but it's a Tex-Med reinvention that has its own cultural history going back decades, and certainly inspires nostalgia and a lot of variations around and beyond the Southwest.
I wish I could claim credit for this particular recipe, but my hand-written copy of it cites the January 1984 edition of Gourmet  magazine (I've since lost the magazine itself, alas, on one of my moves).  It's one of the few recipes I've never been tempted to tinker with as I've always found the seasonings to be spot-on.  It is richly spiced and has a little tingle, but (like my preferred chili con carne recipe) the heat is subtle and doesn't blunt the other flavours, which are nicely complex.   I love the undertones of cocoa, the sweetness of corn kernels, and the saltiness of pimento-stuffed green olives.  The cornbread topping is tender in the middle, crunchy on top, and a little bit sweet to harmonise with the filling, so together, the two layers make a very satisfying mix of tastes and textures.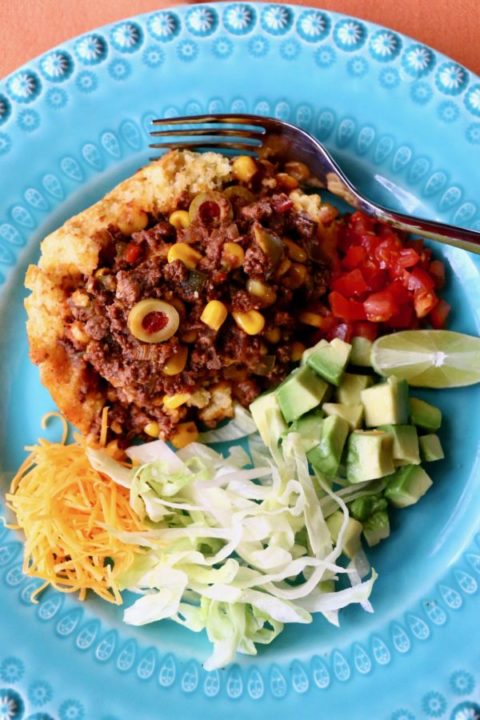 Though you may have to think ahead for some of the ingredients, they can almost all be kept on hand in the store cupboard or freezer.  During lockdown I've even frozen the chopped onions and green peppers, measured out for this recipe, as I haven't always been able to count on having them to hand.
Tamale pie requires cornmeal  — I like the medium grind but there are fine and coarse grinds, too.  It's a staple in many American kitchens, and is thankfully becoming more available in Britain at whole food shops, and online.  If you can't find it, it's still worth making the tamale pie filling to use as a taco filling, in a Tex-Mex salad, or to serve over rice and beans, or polenta.
You can upgrade to fresh tomato sauce, fresh corn kernels in season, and more sophisticated olives, but for me, the point of this casserole is that it's really good with basic ingredients all year 'round, and so much better than the sum of its parts.  Some 'fixings', or a fresh salad with grated cheese, tomato, and avocado, are nice ways to round out the meal.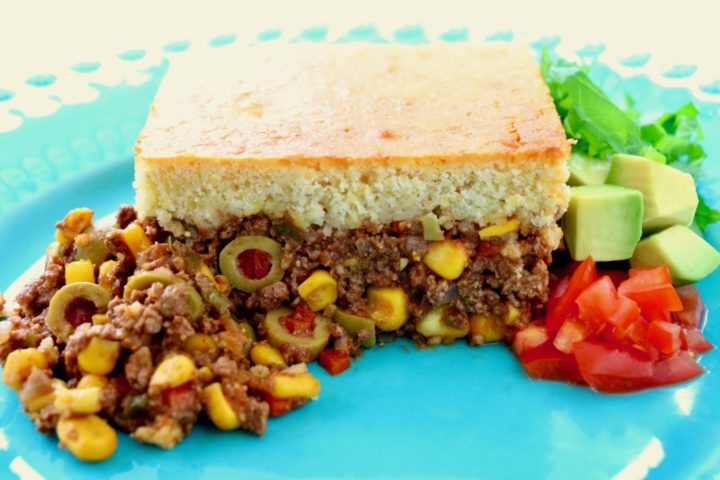 You can crack into tamale pie with a spoon to dish it up,  or you can cut it into neat wedges and serve it so the two layers are more on show.  I sometimes make it with the express purpose of portioning it up to freeze in single servings.  These homemade 'ready-meals' are a doddle to defrost and heat through in the microwave.  It's one of the things I try to get in the freezer before the holidays so there's something spicy to look forward to as a change.  Most years, while I'm at it, I make a double batch of cornbread to go into my mother's wonderful stuffing for the turkey.
This year I'm not sure there will be a turkey, as who knows at this point who any of us will have sitting at the table with us?  Well, I think I'm just about okay with that (I guess we really have to be) and am grateful to have what I have.  Anyway… and it may be a little thing, but… there's some compensation in knowing I'll have my cornbread fix right here.
RECIPE
Tamale pie
Serves 6
The filling recipe is adapted from one published in the January 1984 edition of Gourmet  magazine.  I use my family cornbread recipe  for the topping, scaled down as indicated below. 
Notes:
A 2½ quart oven-to-table dish, or cast-iron skillet, is the perfect size for this recipe; or go a little larger.
The Gourmet  magazine  recipe calls for 285g (10 ounces) of thawed frozen corn, which is the size of the packet that was conveniently available at the time it was first published in 1984.  I usually reduce the amount of corn slightly as I prefer the corn to be less dominant, but the dish can take the larger amount if you find it convenient and to your taste.
I also make a delicious tamale pie with ground venison, which is leaner even than lean ground beef, so I add a little extra tomato sauce for extra moisture.  You could make the filling with minced turkey instead of beef, in which case I'd also recommend using the extra tomato sauce.
I recommend measuring out all the ingredients before you start cooking.  This initial prep makes the cooking more efficient and less stressful, and helps ensure you don't leave anything out.
Ingredients
For the meat filling:
450-500g (1 pound or just over) lean ground beef (or use ground venison or ground turkey)
2 tablespoons vegetable oil
130g (1 cup) onion, chopped medium-fine (about 1 medium-large onion)
130g (1 cup) green bell pepper, chopped medium-fine (about 1 medium pepper)
250ml (1 cup) tomato purée or passata; use 60ml more (a generous ¼ cup) if using ground venison or turkey
2 tablespoons tomato paste or sun-dried tomato paste
1 tablespoon ground cumin
2 teaspoons chilli powder (I use ancho, but use your favourite)
2 teaspoons unsweetened cocoa powder, packed and levelled
½ teaspoon ground allspice
1 Tablespoon Worcestershire sauce
1 teaspoon Tabasco sauce
1 Tablespoon yellow cornmeal
½ teaspoon pouring salt; OR 1 teaspoon flaky sea salt (such as Maldon)
130g (1 cup) sliced Spanish olives (the small green ones stuffed with pimento)
225g corn kernels (8 ounces, or about 2 cups), thawed if frozen
For the cornbread topping:
115g (¾ cup) yellow cornmeal (I use medium grind, but fine and coarse are good too)
100g (¾ cup sifted) plain flour (all purpose)
40g (3 tablespoons) caster sugar (granulated)
1¾ teaspoons baking powder
¼ teaspoon pouring salt
185ml (¾ cup) buttermilk (or substitute milk mixed with 1 teaspoon cider vinegar or lemon juice)
1 medium or large egg, beaten
 85g (3 ounces, or 6 tablespoons) unsalted butter, melted and cooled to tepid
Directions
 Heat the oven to 200C/400F.  Butter your casserole dish (or skillet).

To make the meat filling:

In a large skillet over medium heat, cook the chopped onions and peppers in the oil until they begin to soften, about 5-8 minutes.
Crumble the meat into the pan and cook it until it's no longer pink.
Stir in the tomato sauce and tomato paste (or sun-dried tomato paste), and bring to a low simmer.
Add the cumin, chilli powder, cocoa and allspice.  Add the Worcestershire sauce and tabasco sauce.  Add the tablespoon of cornmeal and the salt.  Stir everything through and simmer for 5 minutes until the mixture has thickened slightly.
Add the sliced olives and corn kernels.  Simmer for another 5-10 minutes while you mix up the cornbread topping.
Decant the meat mixture into the buttered casserole dish and spread it evenly.  It's now ready to add the cornbread topping.  (You can make the tamale pie ahead to this stage and refrigerate it overnight, or freeze the filling once cool to use later.  If you do refrigerate it, bring it out an hour ahead to take the chill off before proceeding.)
3.  To make the cornbread topping:
In a medium bowl, mix all the dry ingredients together well.
Make a well in the centre of the bowl and add the buttermilk, the beaten egg, and the tepid melted butter.  Mix everything by hand with a large spoon just until the dry ingredients are well-incorporated.  Don't overbeat, or your cornbread will be a little tough; a few small lumps are fine.
Pour the cornbread mixture over the tamale pie filling in the casserole dish, and bake at 200C / 400F for about 25-30 minutes or until the top is a deep golden colour and firm to the touch, and the meat filling is bubbling nicely and piping hot at the centre.  Test by inserting a skewer into the centre of the casserole.  It should come out clean of crumbs, and hot to the touch.
TO FREEZE: If you want to portion and freeze the tamale pie, allow it to cool completely and then slice into 6 portions.  Wrap each one well in parchment paper, and then in foil or a freezer bag, and don't forget to label.  Defrost still in the parchment paper so the condensation stays outside.  Loosen the paper wrapping so steam can escape, and heat through in the microwave until piping hot.
Other Crumbs on the Table Tex-Mex dishes, and recipes using cornmeal: