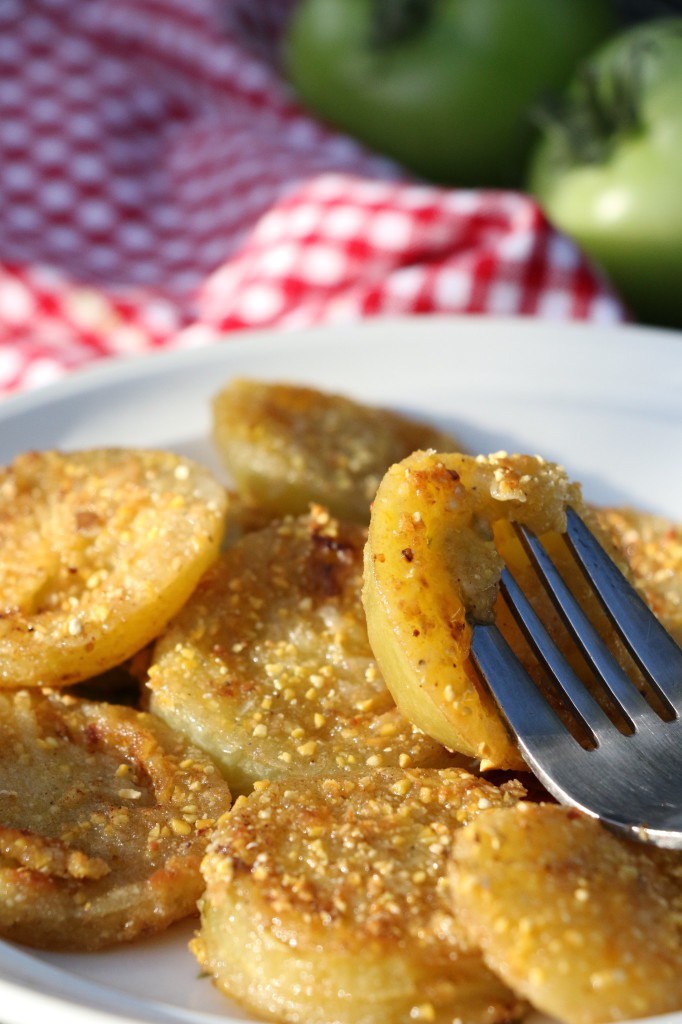 My article, "In Tomato Fields", tells the story of the 'Jersey tomato' in its heyday, during the years when my sisters and I were growing up surrounded by fields of them. It relates how the collective memory of those who loved it and lamented its loss is helping to bring back some flavour to a much-abused staple of our tables.
Fresh tomatoes, ripened in the sun, are a reason to live.  But green tomatoes, and I mean really green, without any pink at all, are another blessing bestowed by this wonderful plant when sliced and fried in some cornmeal, served with fried chicken or just on their own. They are a treat that always, always, brings me back to my childhood and my mother's cooking, with her cast-iron skillet.
In England, where I've long made my home, I recently made the fortunate discovery in a farm shop of some unripe tomatoes as green and hard as Granny Smiths.  The man selling them told me, "You can ripen them on the windowsill", and I said with some gusto, "Oh no, I want to fry them green, just as they are."  He asked after a moment's silence, "Do you like iced tea?"  I was thrown by the non-sequitur, but then realised he was making a connection with another American taste anathema to the English.  It was a funny moment – funny odd, and funny ha ha.
The story of tomatoes makes me understand how powerful are remembered tastes – for bringing people together, for bringing back forgotten heritage on the brink of being lost – but also how powerful a force it is not  to share a taste memory.  I felt more 'foreign' in that moment with the green-tomato man than I have in a while.
Well, I understand.  It does sound odd if you've never had them, but there are people who will say you don't know what you're missing, and I'm one of them.  If you forget how pointless and disappointing an under-ripe tomato tastes, and understand how a committed green tomato is transformed into a sharp, yet tender, delicacy with a silky mouthfeel relieved by a slightly salty crunchiness that may remind you of popcorn, you might begin to understand why millions of Americans eat them (yes, most are Southerners, and everyone knows they have some of the best soul food – it's a fact.)
I'm hoping for some converts.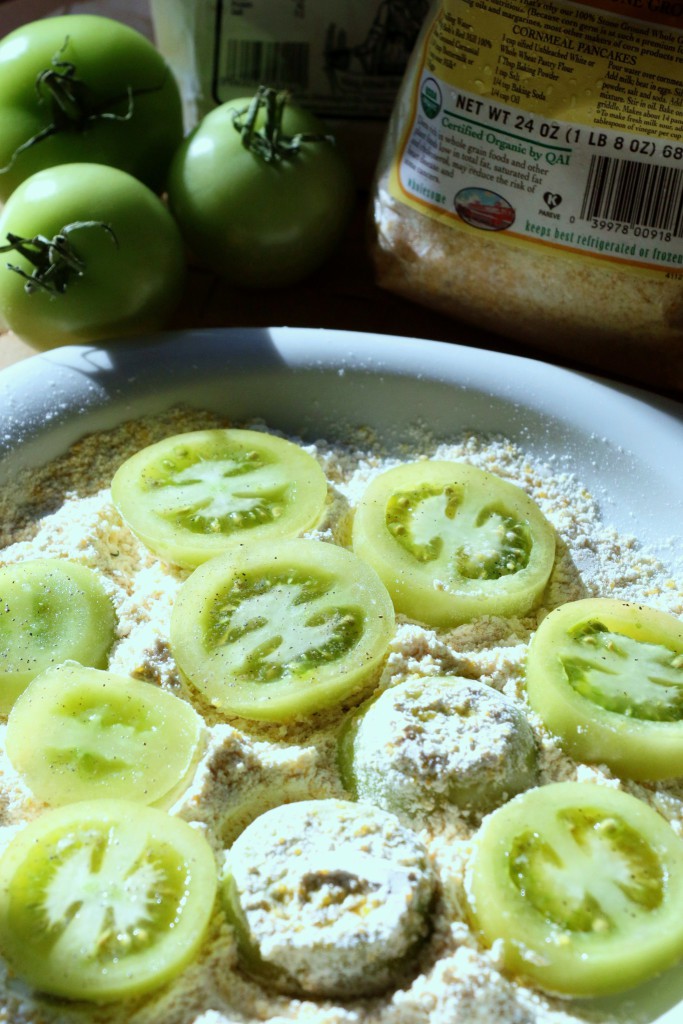 FRIED GREEN TOMATO RECIPE
This isn't really a recipe – it's a method to use on any amount of hard, green tomatoes you want to sacrifice – or as I prefer to think of it, rescue  from turning a bland kind of pink on a windowsill that may or may not get enough sun to bring out any flavour (if, like me, you live in England, for example).
Use ground cornmeal or polenta (not  cornflour/cornstarch) fine, medium or coarse, as you prefer (I generally use medium, but my mother uses fine). You can find cornmeal in health food shops if not in your supermarket.
Ingredients:
Green tomatoes
Equal quantities of plain flour and cornmeal
Salt and pepper  (I use sea salt and freshly ground pepper)
Oil or fat for frying (rapeseed, peanut, or lard)
Combine an equal amount of plain flour and cornmeal on a plate.  Add a good pinch of salt and pepper.
Slice the green tomatoes about 6mm (¼ in) thick, sprinkle them with more salt and pepper, and then coat them on both sides in the cornmeal and flour mixture, shaking off the excess so it doesn't burn.
Shallow-fry the coated tomatoes over medium heat, with just enough oil to cover the bottom of the pan.  It's healthiest to use oilseed rape oil or peanut oil, but I know people who use a bit of bacon fat or all lard, and swear by it. Give the oil time to get very hot (but not smoking) before you add the tomatoes – so they absorb as little oil as possible.
Turn them when they are golden on the bottom, and when you can see they have started to exude some of their juices on top.
Cook on the other side until they are completely cooked through, and golden on both sides. You may have to reduce the heat to allow them time to soften without getting too dark.  You will start to smell a pop-corn smell as the cornmeal toasts on both sides, and this means they are getting close. In all, it takes about 8-10 minutes – 4-5 on each side.  A little patience is worth it.
Fried green tomatoes are often served with other fried things in the American South – fried chicken, fried fish, fried shrimp – or with ham, ribs or something called 'chicken-fried steak'  (thinly cut steak from a tougher cut of beef, pounded, floured and fried, and served with a white milk-gravy made by adding milk to the caramelised bits in the frying pan).
I like them with meatloaf, roast chicken, grilled fish, or just as they are for a once-a-year treat if I'm lucky.  They have an almost lemony tang that cuts a bit through the richness of frying, so they can be considered a vegetable side-dish (the norm for a Southern spread). I usually consider them more as a starch, and serve them instead of potato.  A fresh, clean-tasting salad or green vegetable is a good accompaniment, especially if you're serving other fried food.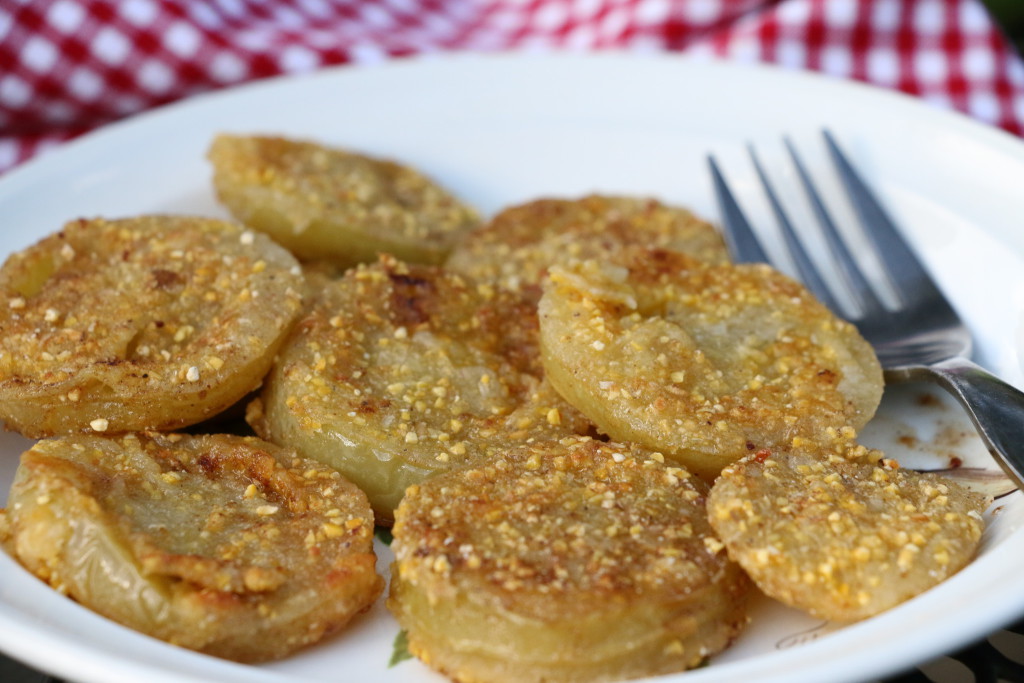 Read Laura's article on the rise, fall, and renewal of the tomato:  "In Tomato Fields".