There is a lot of advice out there for ways to distract ourselves during this second British national lockdown, and while the results of the US election unfolds, if like me you're seriously distracted by that.  Baking a cake isn't a bad choice (or if it is, lots of us are doing it anyway).  When I woke up this morning, I knew it had to be this cake, because it's very distracting:  the sort of cake you crave when you feel the need to be shamelessly self-soothing and stick your fork into something sweet when no one's looking.
This is my very simplified sheet-cake version of a caramel cake from the American South, which if you're lucky enough to have tasted the three-layer original of Southern hospitality legend, you'll know it has one of the most luscious flavour and texture combinations there is in the firmament of cakes: light-as-a-cloud vanilla cake, with a luscious caramel icing.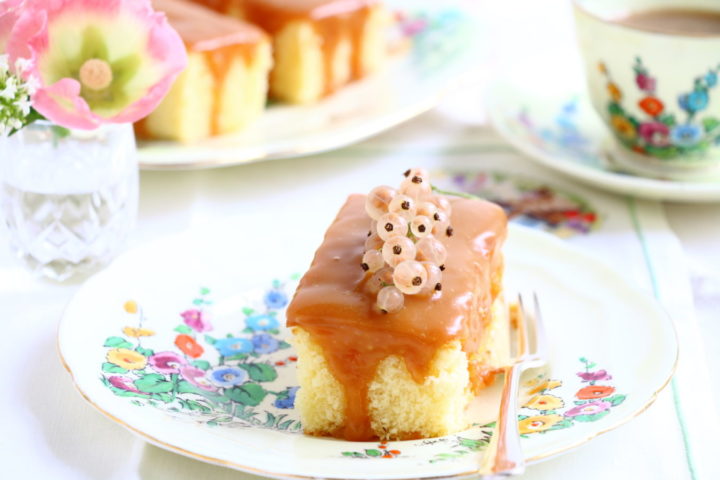 If you've ever tried to make one, you'll also appreciate that it is one of the most challenging cakes to get right.  I've great respect for anyone who can make those three-layer extravaganzas taste divine while also looking gorgeous and staying structurally intact.  I've seldom managed both in one cake.  Either the layers slip and slide in different directions, even when stuck full of toothpicks and barbecue skewers, or the caramel has done its job of glueing them all too well.
It's a matter of flavour as well.  To be honest, I don't much like the texture of caramel made with condensed milk, which a lot caramel cake recipes call for.  It can come out claggy and chokey in my experience, but that's no doubt me.  It certainly takes much longer to make and requires more precision with cooking times and temperatures.  A proper Southern caramel cake is the glory of a nuanced recipe heritage that holds on to its secrets, and one can't expect to master it without the experience of those who do it best.
So I concluded some years back that the best way for me to enjoy this wonderful cake's flavour combination was to simplify the construction and not even attempt to get layers to behave themselves.  I make my lightest, most toothsome yellow cake as a simple sheet cake — one layer only — and top it with my best caramel icing, made with real cream and butter, and a pinch of seasalt.
So this is my cheat's version, if you want to call it that, but I absolutely stand by its flavour.  No shortcuts taken there.  It's got the deliciousness of a lovely, light, vanilla cake, with just the right amount of caramel icing that stays lusciously soft, and isn't sickly sweet.
It's versatile, too.  I love dressing this up as dainty tea cakes (I did just that last summer for my lockdown birthday).  In that case, cut the cake into portions first, and ice them individually like petit fours.  These always remind me of the tasty packaged snack cakes that my sisters and I grew up loving.   These are nice decorated with a few fruits if you want to get fancy.  White currants, raspberry, strawberry, peach or nectarine, or orange all have an affinity with caramel.
Or you can keep it casual and ice the whole cake right in the pan, and serve it forth from same said pan to yourself and to anyone else in the house who is standing around in pyjamas looking for some sweet distraction while the news blares in the background.
Now, I want you to understand what you're getting here:  the icing will ooze down the sides a bit when you pour it on.  It does set as it cools but will stay sticky to the touch.  That's one of the things I like most about it:  that it keeps a smooth and easy-to-eat texture that doesn't stick to the roof of your mouth or challenge your teeth.  Nor is it sickly sweet like some thicker caramel icings made with more icing sugar.   This does mean, though, that you might want to serve it on a plate with a fork, especially if you want to eat it soon after baking.   And you definitely  don't want to try using this caramel icing to assemble a layer cake (you will hate me if you try to do that, as no amount of skewers will keep it from slithering apart).   The cake will cut clean the next day if you leave it in the pan, but the icing will still be soft (and it doesn't crystallise either, which is another benefit).   Just make sure you avoid direct contact with the top of the cake when you cover it so you don't disturb the icing.  That would make you really mad, too.
You can even use this as a caramel sauce if you want to stop before adding the icing sugar.  That's exactly what it is, really:  a gooey caramel sauce stabilised with just enough icing sugar to work as an icing.  It's interesting that caramelising sugar actually cuts its sweetness, so adding the relatively modest amount of icing sugar called for here still makes for a balanced sweet/salty/buttery flavour that's quite irresistible.
The iced cake lasts a good three days stored airtight in a cool place, and freezes well too.   This recipe does make a good amount, maybe enough to share with a neighbour or friend if you feel so inclined.   Perhaps a generous gesture would also help right now as much as the cake itself.
Wishing you good health and good spirits, Kind Reader — and good cake.
Caramel sheet cake or tea cakes
Makes 12-16 portions depending on how you cut it
The cake recipe is adapted from Alice Waters's 1-2-3-4 cake in  The Art of Simple Food  (2007).
The caramel icing recipe is an adaptation and amalgamation of recipes from several old and contemporary cookbooks and online recipes, especially:  Felicity Cloake's article on salted caramel sauce in the Guardian (2015),  Sally's Baking Addiction post on salted caramel sauce (2019), The Joy of Cooking  recipe for caramel frosting  (1972),  The Settlement Cookbook recipe for caramel frosting  (1960).
* You'll need a sheet pan measuring about 36.5 x 26 x 4cm (12-inch by 9-inch by 1.6 inches).  For American bakers, the standard 9-inch by 13-inch baking pan is ideal too.
A long-handled wooden spoon is useful for making the caramel;  a light-coloured saucepan is best so you can judge the colour of the caramel as it cooks.
Ingredients
For the cake:
170g (¾ cup) unsalted butter, softened
300g (1½ cup) caster (granulated) sugar
3 eggs, separated
300g (2 1/3 cups plus 1 teaspoon, sifted before measuring) "00" cake flour, or plain (all-purpose) flour
3 teaspoons baking powder
½ teaspoon salt
180 ml (¾ cup) whole milk
2 teaspoons vanilla extract
For the caramel icing:
2 teaspoons water for the pan
200g (1 cup) caster (granulated) sugar
½ teaspoon sea salt, crushed (use a mortar and pestle or rub between your fingers until fairly small)
250ml (1 cup) double (heavy) cream, heated to just under the boiling point
85g (3 ounces, or 6 tablespoons) unsalted butter
1 teaspoon vanilla extract
1 teaspoon lemon juice
115g icing sugar (1 cup sifted)
Directions:
Make the cake:
Heat the oven to 180C/gas mark 4.  Butter the baking tin and line bottom and sides with a single sheet of baking parchment, tucking in the corners neatly and ensuring the paper comes a little above the depth of the pan on all sides.  (See *note above for pan measurements).
In a large bowl, cream the butter and sugar with an electric mixer for about 5-8 minutes until very light and fluffy.  Add the egg yolks one at a time, beating just until incorporated.  Keep the egg whites separate for now.
Sift together the dry ingredients in a separate bowl.  Combine dry and wet ingredients alternately in three goes, starting and ending with dry.  Mix just until the batter is smooth.
In a clean bowl with clean beaters, whip the egg whites on medium speed until they reach soft peaks (the foam should have good volume but will flop a bit on the beaters).  Mix in one spoonful of the beaten whites to loosen the batter; then gently fold in the rest in two or three goes, blending until no lumps of white remain while taking care not to deflate the mixture too much.
Spoon the batter into the prepared cake tin and roughly level it.  To discourage the cake rising higher in the middle, I find it helpful to then 'borrow' some of the batter from the middle-third of the cake, and use it to build up the corners and sides a little.  This keeps the cake flatter, which is helpful especially if you're cutting it for the individual tea cakes.  Just check that it's as uniform around all the sides as possible and that the adjustments aren't too drastic.
Bake for about 25-30 minutes, or just until the top is lightly golden and springs back when touched in the centre; the cake should have just begun to come away from the sides of the pan, and a skewer inserted into the centre should come out clean.
If you want to cut and ice individual portions, let the cake cool in the tin for about 20 minutes or until set but not completely cool, and use the parchment paper to lift it out onto a rack to cool completely.  Once completely cool, transfer the cake to a cutting board and slice it into 12 equal portions.  Set the slices back onto the rack with the parchment underneath to catch any drips, and ice the cakes once your caramel is completely cool and thick enough to pour without running too much.
If you are keeping the cake as a sheet cake to serve straight from the pan, let it cool completely  in the pan, ideally set on a rack, and pour the caramel icing over when the icing is also completely cool and thick enough not to run.
Make the icing:
Put the water in a medium-sized flat-bottomed pan of a light colour, and then add the sugar and crushed sea salt.  Give it a minute to soak up the moisture, and then set the pan over medium heat.  Allow the sugar to dissolve first, and then to caramelise to a rich amber colour – but not darker as it will turn bitter.  Watch for hot spots as the caramel can burn very quickly.  Swirl and re-position the pan as the sugar melts, and stir gently only if needed. Break up stubborn larger clumps with a wooden spoon.  The sugar will melt down into a clear caramel syrup if you keep the heat gentle and even.
Ensure the cream is hot; and the moment the caramel is a rich amber colour, immediately stir in the cream.  It will bubble up fiercely, so stand well away and use a long-handled spoon.  The caramelised sugar may clump up at first, but should dissolve back into the cream as you stir.
One the cream is added and has stopped bubbling madly, add the butter, and stir until the caramel is uniformly coloured and smooth.  Allow the mixture to come to a gentle simmer for 1 minute, stirring and scraping the sides and bottom of the pan as you go.  It should be smooth now and just thick enough to coat the back of the spoon.
Remove from the heat and set aside to cool in the pan for 15 minutes.
Stir in the vanilla and lemon juice.  If any stubborn lumps of sugar remain, put the caramel through a sieve into a clean bowl to remove them.  At this point you have a lovely salted caramel sauce, which you can keep in a jar in the fridge to use as is.  It will thicken as it cools, so re-heat in a microwave if you want to pour it.  To convert it to an icing for the sheet cake here, proceed with step 6.
Cool to just warmer than room temperature.   Sift the icing sugar into the caramel sauce right in the pan, in two or three goes, and beat until smooth.   A whisk is good for this.  Keep beating until there are no more lumps and the icing has thickened.
The icing will get thicker once it cools completely (you could set the pan in a sink of cold water to speed this up).  Give it regular whisks as it cools.  It's ready to pour once completely cool, and thick enough that a spoonful drizzled on the surface of the icing keeps its shape for a few seconds before sinking back in.   Make sure your cake is completely cool, too, before icing.  Experiment with pouring over a little icing first to test that it won't run too quickly, and if it does, wait a bit longer and beat it a little more before trying again.
Once the icing has reached the desired thickness, ice the cake/s.

For individual cut portions,

place them on a sheet of parchment to catch the excess (or put them on a rack with the parchment underneath), and spoon the icing onto their tops; it will ooze down the sides a bit, but firm up on standing.

If you are keeping the cake in the tin as a sheet cake,

 spoon the icing over the cake as evenly as possible, and using a long icing spatula or a knife, coax it from the edges and corners if it's running downhill.  The icing will set firmer after a couple of hours in a cool place, and will cut neatly into squares, fingers or whatever shapes you choose.  It's best not to slice a portion from the pan until you're ready to serve, as the cake will stay fresher uncut.

The cake/s will keep covered in a cool place for about three days.  The uncut sheet cake will keep fresher longer than the individually cut tea cakes.  If the environment is hot, refrigerate the cake/s and bring to room temperature before serving.  Since the icing stays sticky, avoid contact with the top of the cake.  This cake also freezes well.  Thaw still in the container so the condensation stays outside.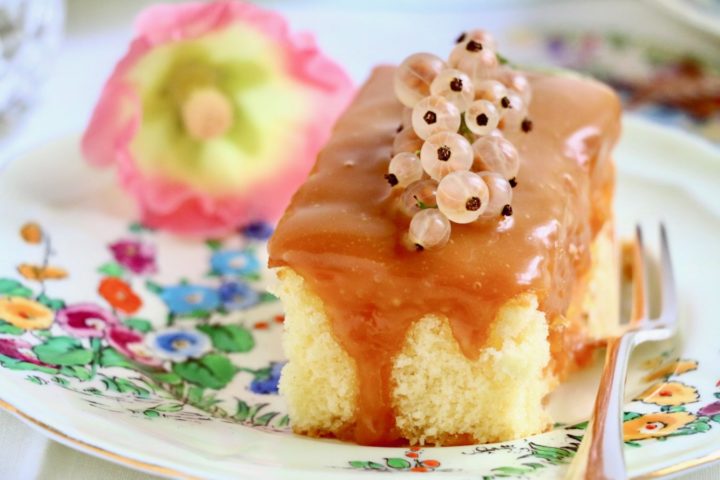 More cake recipes on Crumbs on the Table:
More caramel and toffee recipes on Crumbs on the Table: