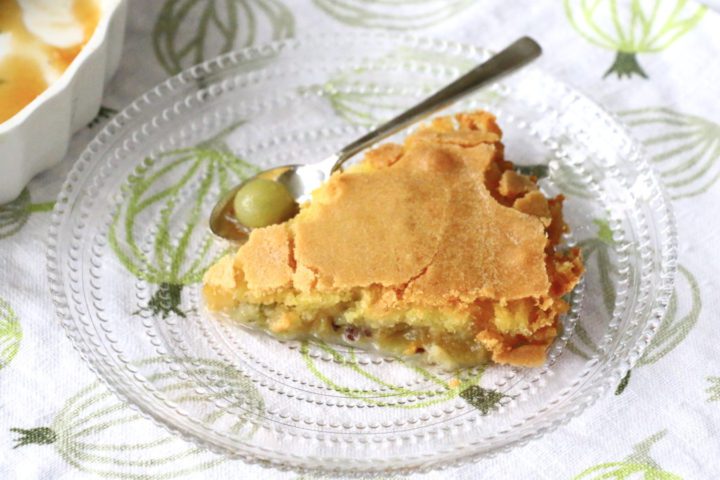 My father-in-law Neal grows gooseberries in his abundantly fruitful Derbyshire garden, and this year my curiosity overcame me and I accepted a good quantity at harvest-time, despite thinking I didn't like them.  I now realise how much I've been missing all these years, and hope I can convince you to try this under-rated fruit in this astonishingly good baked pudding from Jane Grigson's excellent Fruit Book.   I tried several recipes with my haul, and this one is not only an outstanding way to enjoy gooseberries, it is one of the best fruit desserts I've had.  My other half agrees, and he's had an aversion to gooseberries since childhood.  What a pity — and what a lesson for us both, and to anyone else inclined to listen, on how our prejudices can deny us both knowledge and pleasure.
This pudding is pleasingly plain in appearance, and this makes its secrets all the more exciting.  It is far easier than making a pie, but it's still very much about the fruit, which is partly why it's made my  Top-Fruit-Desserts List — that, and the amber layer of butter and Demerara sugar upon which sits the tart and earthy gooseberries.  It's a fruit that can take that caramel treatment without being overwhelmed, and add an irresistible complexity to it.  The golden topping is a tender, very buttery, cake-y layer that is thin enough not to dominate the fruit, but to provide the perfect balance with its texture and tartness.
It is difficult to compare this more-ish dish to a cake, or a pie, or a crumble or a cobbler.  It has characteristics of all of these, but isn't any one of them, and even has the slight chewiness of a really good homemade cookie eaten when still warm.  Rich, tender, buttery, fruity, comforting, and pretty in its own right, no adornment needed,  it is a romantically English country pudding that puts me in mind of green rolling hills, warm rain, and fruit bushes dripping with diminutive, translucent globes of the prettiest, freshest green.  Such poetic gastronomic rewards are all the more satisfying considering the ease with which this pudding is thrown together, and the informal way in which it can be served.  You could spoon it into bowls or cut it into pie-like wedges, eat it at the kitchen table, or serve it forth on china plates to end a special dinner.  Either way it is, dare I say it, exciting.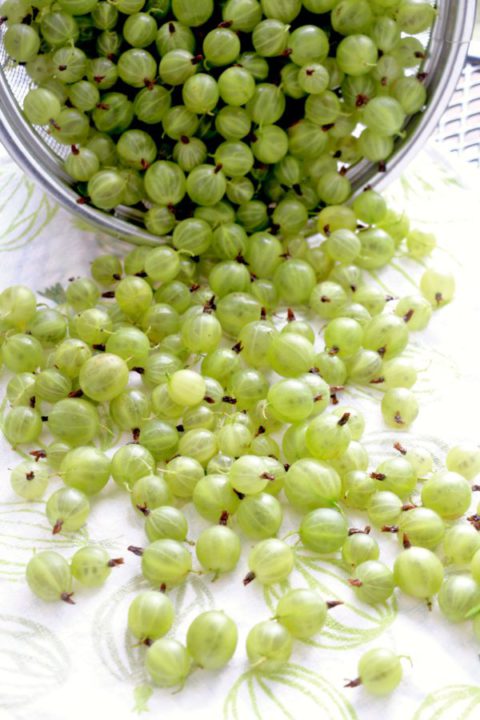 Green gooseberries have a sharpness almost on par with lemon, but they're earthier, more floral and (no surprise) fruitier.  Picked early in the season they can be mouth-puckering, but later, when larger and almost yellow, they are much sweeter.  Don't ignore the smaller berries, even though you have to work harder, proportionately, at topping and tailing, as their tart intensity makes them perfect in a pudding like this.  The red dessert varieties of gooseberry are sweet enough to eat raw, but really come into their own when gently cooked. You could use them in this recipe with the addition of a squeeze of lemon juice over the fruit.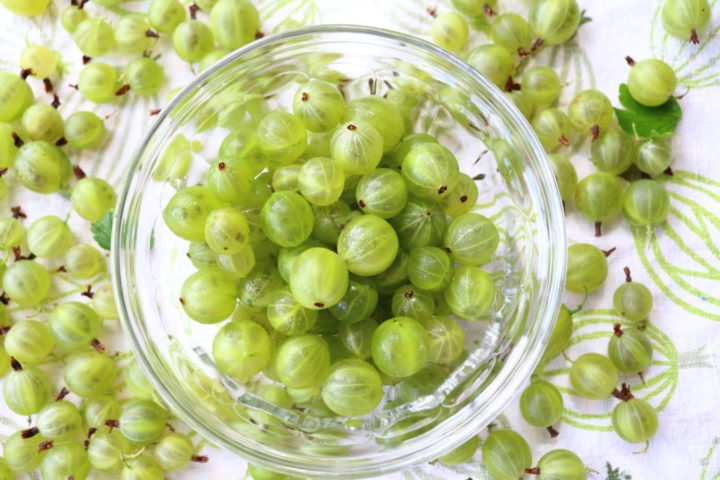 I think it's the somewhat mushy texture of gooseberries that's put me off all those years, but that is wholly rectified by cooking.  Their seeds look intimidating, but are actually unobtrusive in the mouth, if not to the eye (I think they add interest).  My in-laws like their gooseberries lightly 'stewed' with a little water and sugar, with some thin English custard or single cream to pour on top.  I've tried that treatment too, and we two reformed gooseberry sceptics agree it's simple and satisfying, the texture wholly agreeable.  The baked pudding wins out for us, though, when there's time for a little more effort, and allowance for more calories.
I like this pudding best warm, but it is also very good room temperature and easier to cut into neat slices if you do let it sit a bit.  It won't behave like a cake, though, to be eaten with hands, and that is the charm.  You'll want a spoon to get every last bit of saucey fruit.  Jane Grigson suggests cream with it.  I find it perfect without, but a jug on the table would allow everyone to please themselves.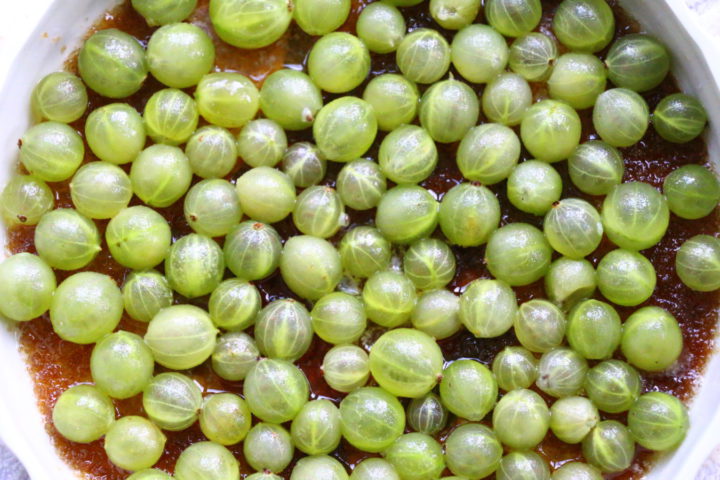 Baked gooseberry caramel pudding
Adapted from the recipe for baked gooseberry pudding, in Jane Grigson's enduring  Fruit Book  (1982)
You will need a 26cm (9-inch) pie dish 3cm (1½ inches) deep.
For the caramel and fruit base layer:
350g gooseberries, topped and tailed (about 2 rounded cups)
60g (half a stick) unsalted butter:  15g (1 tablespoon) for buttering the dish, and 45g (3 tablespoons) for the caramel layer
100g Demerara sugar (½ cup packed); or use light brown or Muscovado sugar
For the cake-y topping:
1 large egg, plus 1 extra yolk
175g (¾ cup) caster sugar (superfine or granulated sugar)
100g (¾ cup sifted before measuring) soft "00" or cake flour, sifted (or use plain or all-purpose flour)
a pinch of salt
100g (1 stick, minus 1 tablespoon) unsalted butter
Heat oven to 175C/350F.
Butter the pie dish well with 1 tablespoon of the softened butter.  Sprinkle the Demerara (or light brown or Muscovado) sugar evenly over the bottom of the dish, and then lay small pieces of the remaining butter on top of the sugar at even intervals.  Put the pie dish in the hot oven for about 10 minutes or until the butter has melted into the sugar.  The sugar need not be completely melted, but it should be on its way.
Remove the dish from the heat and add the gooseberries so they lie in a single layer in the dish; don't disturb the base layer of Demerara sugar and melted butter.
Mix the cake-y topping:  in a large bowl, mix the whole egg, the extra yolk, and the 175g (¾ cup) caster sugar with an electric mixer until light in colour, and thick and foamy — about 5-7 minutes.  It should be thick enough to form a ribbon, but not so thick that it becomes stiff.
Melt the butter gently, and allow it to cool almost to room temperature, but still remain liquid.  Set aside.
Sift the flour over the thickened egg and sugar mixture, and use a spatula or large spoon (not the mixer) to fold it in gently.  Then add the melted butter in four goes, by pouring it down the inside of the bowl and folding it in with the spatula until the batter is well-mixed and smooth, with no butter showing.
Pour the batter evenly over the gooseberries, making sure you don't overload the centre; level it with a spatula so the edges are as deep as the middle.  Bake the puddling for about 40-50 minutes until it is golden all over, the gooseberries juices are bubbling, and a skewer inserted in the centre comes out clean.
Cool for a few minutes and serve still warm, or at room temperature if you prefer.  Any leftover portions can be reheated for about 10 seconds in the microwave.