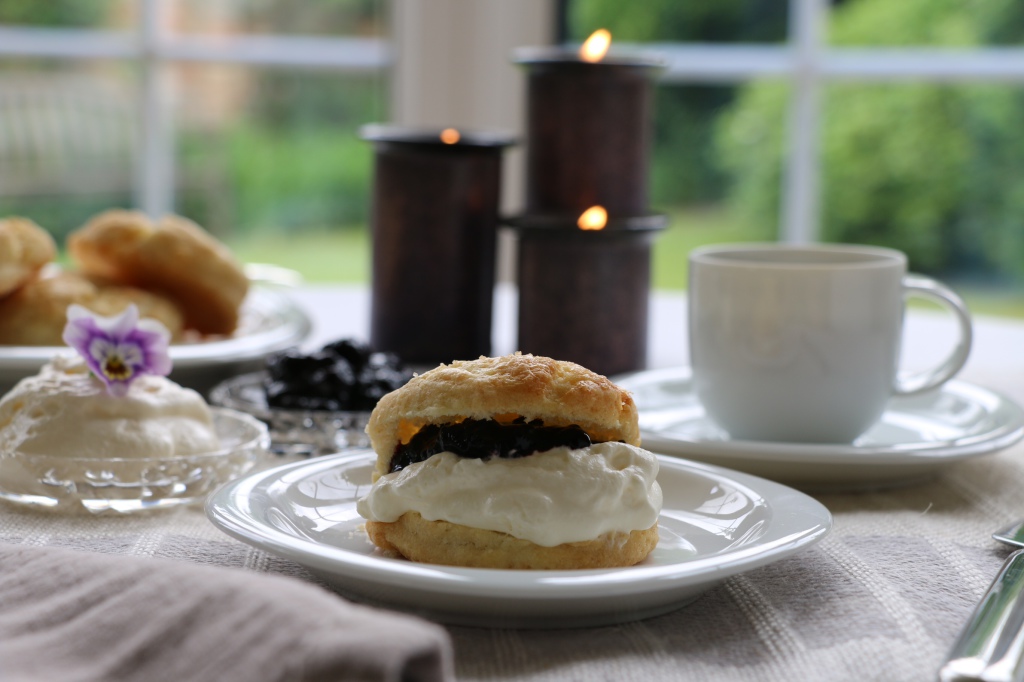 Since living in England these many years, I have come to appreciate the ritual of afternoon tea, be it a simple cup of "the vital Oolong" (to quote Bertie Wooster), an indulgent cream tea at a pretty spot on holiday, or the overpriced once-or-twice-in-a-lifetime extravagance at a swish place like the Ritz or Fortnum's.  An excellently brewed cup of Darjeeling or Earl Grey on its own can be more sustaining than one might expect, so I can just about understand how the ladies in Jane Austen novels manage to get by without fainting as long as they sip from their china cups. It is indeed a "tissue restorer" (to quote Bertie again in a mixed literary allusion).
Everyone who has been in England any length of time has a story about how tea is used to treat all ills.  Mine comes from my first year as a graduate student at the University of East Anglia in Norwich. A group of fellow American students came trundling into the English department where I happened to be checking my mail, saying "You'll never believe what just happened to us."  They had been on a double-decker bus when it plunged 10 feet into a sinkhole that had opened up beneath them (Norwich is built on ancient chalk mines), and the only way out was through the emergency door in the roof.  One young woman related with shaken bemusement: "And you know what they did when we got out?  They gave us a cup of tea!"
I recall my own confusion when, upon arriving in England, I invited some people for "tea", only to be told by my Derbyshire-born husband that "tea" was synonymous with "dinner" ("what shall we have for tea tonight?").  So when you invite people for tea here, you are advised to be specific about times — and to specify afternoon  tea, if you intend actual cups of tea, scones, cakes or toast.  It's one of the many linguistic pitfalls of thinking you already know the language.  I likewise remember my sister Amy being treated like a Martian when she once asked for "some  cream tea" in a little tea room in Norwich. She meant, of course, a  cup  of tea with milk (why Americans call milk "cream" is another mystery). To the teenager who served her, there is "a  cream tea" — meaning the meal of scones with cream, accompanied by the beverage by that name; and there is a  "cup  of tea…" but "some cream tea"  was beyond his comprehension.
I also have come to realise that afternoon tea has a tradition in the American South, and some of my mother's family in Texas would occasionally indulge in a genteel tea with cakes and inventive little sandwiches — something my mother revived at home with my dad in New Jersey, after I had moved to England and they had enjoyed scones with clotted cream and jam with me in many a National Trust tea room. I love sharing a pot of Castleton darjeeling with them on my visits home, using their pretty tea things.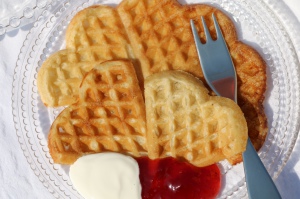 Another influence on afternoon tea in our house in England is the Scandinavian smørrebrød. These open-faced sandwiches are a delightful presentation for a tea table, as they are for lunch.  After holidaying in Denmark, my English mother-in-law used to make what she called "mini brods" for late night supper when she had a greedy family at home to feed, using a baguette cut cross-ways.  This diminutive treatment of the Danish and Norwegian smørrebrød repertoire provides just enough difference from English tea sandwich classics to lend a welcome variety to an afternoon repast; and the Norwegian vaffler (heart-shaped waffles served with soured cream and strawberry jam), are also a tea time favourite with us (filling the scone-with-cream-and jam-niche), as well as delicious with morning coffee. I sometimes like combining the English and Scandinavian traditions for an international tea.
My formative association with a proper afternoon tea is, though, from that magical scene in C.S. Lewis's, The Lion, the Witch, and the Wardrobe, when Lucy is persuaded to take tea with Mr Tumnus the faun, at that charming stage in the story before it takes a more serious turn. Their very English "lightly boiled brown eggs", "sardines on toast", "buttered toast and toast with honey", and the "rather splendid-looking sugar-topped cake" eaten by the fire, bewitched me as much as Lucy was bewitched by the sound of her new friend's flute.  I've always longed to recreate that tea, but somehow don't think it would feel the same served anywhere but Mr Tumnus's Narnian cave, seated in those comfy armchairs, toasting the toast in his roaring fire.
What fun it would be to host parties from literature:  the Mad Hatter's tea party, Ratty and Moley's picnic from Wind and the Willows, something with a Wodehousian flavour served with an Edwardian tea set, or a take on the Famous Five children's picnics (which, by the way, never did include "bags of lettuce" and "lashings of ginger beer").  If, like me, you adore children's literature, and especially the evocations of comfort and joy created in scenes of feasting, you may find Jane Brocket's book, Cherry Cake and Ginger Beer: a golden treasury of classic treats, a tempting read (Hodder and Stoughton, 2008) listed here.  It's a book I wish I'd written first.
Here are some favourite tea time recipes of mine, which I will add to over time.  I include a few tricks for putting a tea together for a gathering: what you can do ahead, and other practical ideas that I hope will help you enjoy your own tea party. Those charming miniature sandwiches and sweet dainties can take more time than you'd think, so a do-ahead strategy helps!
Some afternoon tea menus
Tips  (see also "Planning an afternoon tea menu")

Recipes