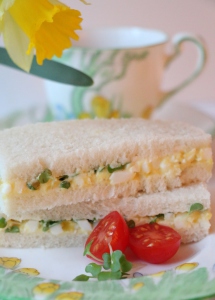 My Derbyshire mother-in-law, who lived through WWII and its subsequent rationing, appreciates the beautiful simplicity of a fresh egg, and accords a good one high status. "If you have an egg, you have a meal".
Some of the best ways with eggs are the simplest.
Egg salad tea sandwiches
As one of the most popular sandwiches going, I won't presume to provide a "recipe".  This is simply to inspire, if inspiration is needed.
I like to grate a hard boiled egg coarsely, or mash it with a fork and about a tablespoon of good mayonnaise and a liberal seasoning of sea salt and freshly ground pepper – sometimes adding a pinch of curry powder, and/or fresh dill. A few cress leaves are perfect for a dainty tea sandwich on thin white bread. Mustard or radish sprouts are a great addition for a greedier sandwich.  My friend Suzanne likes egg salad plain on a soft roll with lots of hot English mustard.
(See also my story, Afternoon Tea of a Faun)
Eng Seng's boiled eggs
My brother-in-law shared with me some years ago his method for hard boiling eggs, and I've never looked back.  It makes for a fluffier texture — not a touch of rubber — a moist but set yolk with no sign of black, and a more delicious taste than those I've boiled conventionally over the years.  This is how he does it:
Put your egg in a saucepan of cold water and bring it to a definite, but not furious, boil. Time the unequivocal boiling for one minute, then remove the pan from the heat, and leave it with the lid on for 6 minutes for a large egg at room temperature, or 7 minutes for a large egg out of the fridge.
Plunge into cold water when the 6 or 7 minutes are up, crack to let some water in, and keep the water running over the egg/s until cold.
That's it. The gentler heat makes a difference.  I swear by it.  If your eggs are jumbo colossal, add up to an extra minute with the lid on.   Experiment with your usual eggs before committing to cooking several, just to be sure you've nailed the timing.  But do persist, as this method really does justice to a good egg.