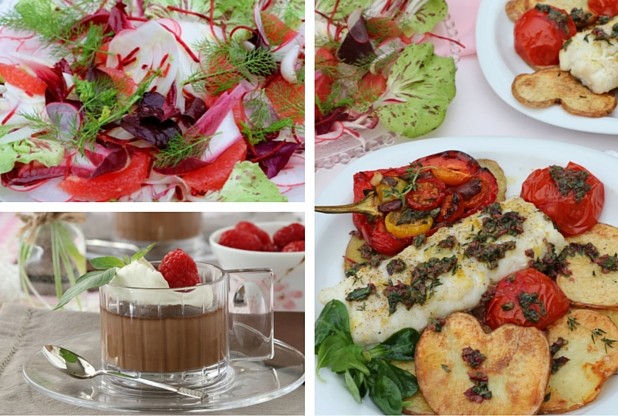 We are all in search of easy ways to eat well, but when I see recipes that claim to be 'effortless', I raise my eyebrows.
Feeding ourselves is a basic need that requires effort, even when it's pleasurable, creative and appreciated. Preparing a meal can be easy and it can certainly be rewarding and joyous, but it's not always the performance it appears on television: heavy on passion, light on peeling and washing up.  Whether we are doing the cooking ourselves or relying on others to feed us (50% of our meals are now eaten outside the home, after all), this necessary activity takes time and that time deserves respect.  Otherwise we risk diminishing the status of caring for ourselves and each other, just when we're increasingly aware of how important what and how we eat is to our health and that of our environment.
If we consider the resources it takes to get our food to us, it seems even more important to take an honest measure of effort.  Take the fish we love so much.  We know it's good for us and is quick to cook.  It can also be harder to find outside a chippie than it should be on this island of ours, and a minefield to know what to buy if we want responsibly sourced and sustainable seafood.
The 'big five' – cod, haddock, salmon, tuna and prawns – account for eighty percent of fish sold in the UK, but there are good reasons to expand our horizons beyond these.  Our favourite North Atlantic cod, for example, is in trouble. Despite most cod sold in Britain coming from the best-managed Norwegian and Icelandic fisheries, the species is struggling to recover from decades of over-exploitation.
Hake is an alternative to cod that is worth getting to know.  Available as line-caught in UK waters, it is currently considered by the National Federation of Fishermen's Organisation to be one of the most sustainable fish in Britain.  Like cod, it is a meaty, flaky, white fish, slightly sweeter and softer than its more famous cousin, but flavourful and with a good texture.  It's gaining favour in the UK, but only a small percentage of the UK catch is sold here; it's better known in France as 'white salmon' and beloved of the Spanish, who know it as la merluza.  Hake is traditionally cut across the backbone into round steaks with a centre bone, but if you ask for a boneless loin or fillet, you can buy handsome meaty pieces that are as easy to cook and eat as cod.
This Valentine's menu featuring hake isn't effortless (credit where it's due to both the cook and the fish), but it is straightforward to prepare and features exciting, seductive flavours that say 'I've made something special for you.'  Clean-tasting fillets atop skinny potatoes are given lots of Mediterranean pizazz with roasted tomatoes and a vibrant tapenade.  It's virtually a one-tray meal which needs just a salad on the side: try sliced fennel and red chicory with grapefruit, radish and beetroot for one in gorgeous Valentine's colours, great with fish.  For a starter or another side, you could roast red pepper boats filled with cherry tomatoes and a sprinkling of all the ingredients used for the tapenade.  The chocolate pots de crème for pud are silky and sensuous, and can be prepared a few hours in advance or even the day before.
Food is a mammoth, messy, global business of consumption, but it's also about love, as we all know when we sit down at a table with people we care about.  Humans have an instinctive connection between taking in love and taking in nourishment, and when we feed ourselves and each other we reconnect to that.  It's worth the effort.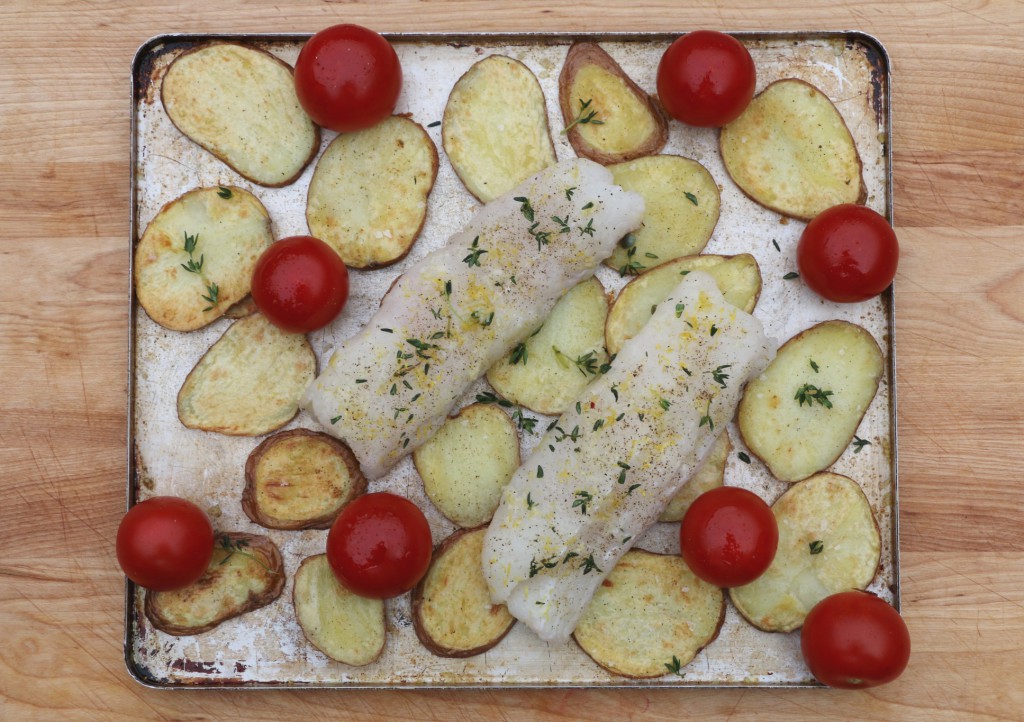 Above: Hake fillet with potato and tomato, at the stage where the potatoes are tender, and the fish is added ready for the final few minutes in the oven (to be served with olive and herb tapenade).
Baked hake fillets with potato, tomato and tapenade
Serves 2
This one-tray fish dish works brilliantly for two, and can be scaled up for a family or a few friends – just use two trays if needed so the potatoes can cook in one layer.  The concept of cooking thinly sliced potato and fish fillets together is a Jamie Oliver keeper I've been using for years, adapting to different fish and flavour combos.  For this version, I've used hake loin fillets and added tomatoes, their winter flavours concentrated in the oven, and a vibrant olive herb tapenade.
The tapenade is delicious on many kinds of fish, from the hake here, to fresh mackerel fillets and seared tuna steaks. This version is Ed Smith's, of Rocket and Squash.  The quantities given here are generous for two, but it tastes good next day, though it gets darker.
This high-heat baking method works for many types of fish.  Adjust the cooking time to ensure your fillets are just set and still moist with a slightly underdone centre.  As a rough guideline, start checking after five minutes, and make sure the potatoes are cooked through when the fish goes in.
For the fish:
2 hake fillets, or other fish of your choice, checked for bones
Zest of a lemon
1 clove garlic, finely minced
Leaves of 3-4 sprigs of fresh thyme
½ teaspoon sea salt
A few grinds of pepper
A drizzle of olive oil
For the potatoes:
2 or 3 medium potatoes (Maris Piper, Desiree or Mozart are all good)
6-8 medium-sized whole tomatoes
2 cloves garlic, finely minced
1 teaspoon sea salt
A few grinds of black pepper
About 2 tablespoons olive oil
For the tapenade:
50g Kalamata olives, pitted
20g capers
3 anchovy fillets
40ml extra virgin olive oil
20 large fresh basil leaves (a 25g bag will have about this amount)
Juice of half a lemon

Heat the oven to 200C/gas mark 6. Slice the potatoes in their skins about 6mm (¼ inch) thick.  Pat them dry on both sides: this will help them brown instead of steam.  Pile them onto a large, shallow baking tray with the 2 tablespoons olive oil and the garlic.  Rub the oil and garlic onto the potatoes, making sure both sides are coated lightly  but completely; don't drench them.  Make sure the tray itself also has been lightly oiled in the process. Now arrange the potato slices in a single layer and season with half the salt and pepper.  Turn them over and season the other side.  Pop them into the oven and set the timer for an initial 15 minutes.
Once the potatoes are in the oven, season the fish fillets with the salt, pepper, lemon zest, thyme leaves and garlic; set aside.
This is also a good time to throw all the ingredients for the tapenade into a blender or food processor, but don't blitz it yet; it's best to whiz up just before serving so the basil doesn't discolour (the lemon discourages this, but it will darken with time).
After their 15 minutes in the oven, check the potatoes: you're looking for a good golden colour and for them to feel done through.   Give them another 5 minutes if they're not there yet.  When they are, take the tray out of the oven and carefully turn over each potato slice with a flexible spatula and replace onto the baking sheet, again in a single layer.  Arrange the seasoned fish fillets right on top of the potato, drizzle them with a little olive oil, then distribute the tomatoes around the potatoes and fish.
Return the tray to the oven for 7-10 minutes to cook the fish and tomatoes.  Check a little before you expect it to be done.  The fish should be just set, not stiff to the touch when you gently press and squeeze; there should be a bit of give and some moisture in evidence.  If you're unsure, gently check the thickest part of one of the fillets: the middle should be slightly translucent and underdone.
Remove the tray from the oven and rest it under foil for 3-5 minutes.  The fish will continue to cook and the juices of the tomato and fish will mingle with the potato.  While it's resting, blitz the tapenade in the blender:  give it about 10 pulses to retain some texture.
Serve with some of the tapenade spread over the fish, and add more to taste at the table.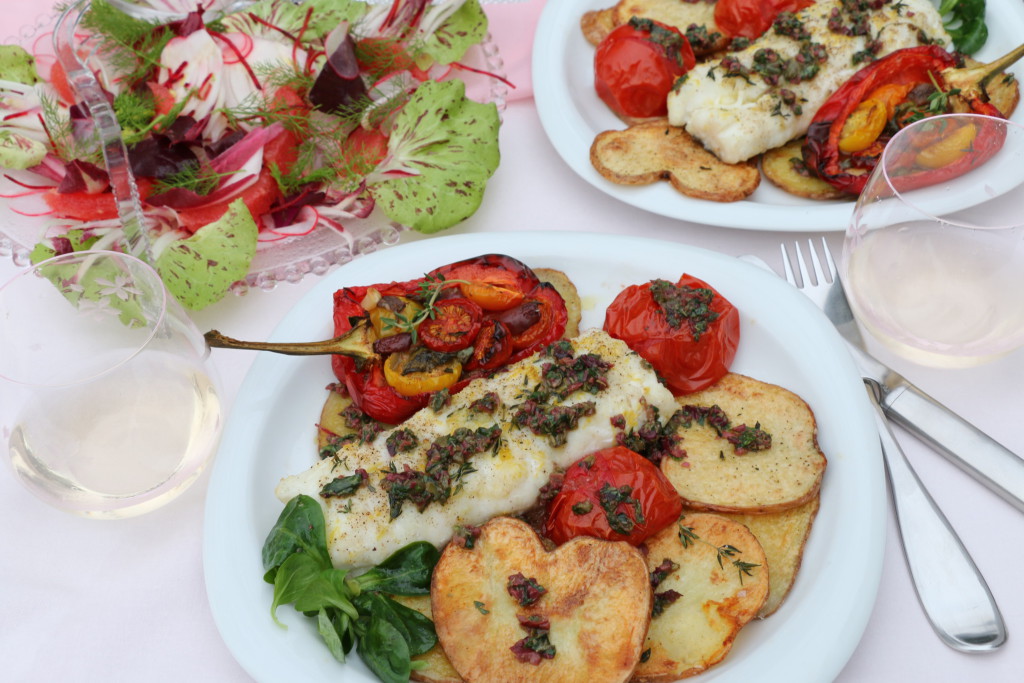 Above: Valentine's menu of Baked Hake with Potato, Tomato and Tapenade; Roasted Red Pepper Boats; and Fennel and Ruby Grapefruit Salad.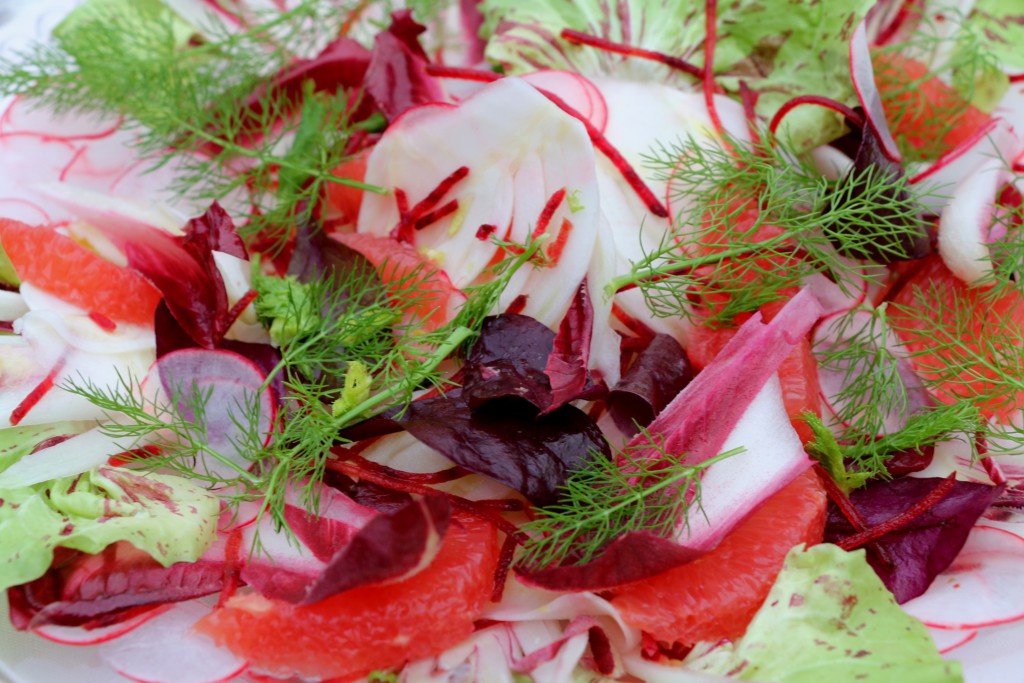 Above: The florence fennel and ruby grapefruit in this pretty salad are great companions to fish. For two people you'll need one small bulb and one small grapefruit. Add them to a small handful of any leaves you like.  Red chicory adds a good contrast of slight bitterness here, or you could use radicchio.  For an extra splash, add grated raw beetroot and the red baby leaves, and a couple of radishes.  Thinly slice the fennel and use the frothy tops (rub the slices well with lemon juice as fennel discolours when cut).  For a dressing, mix 1 part lemon juice to 3 or 4 parts extra virgin olive oil and season with salt and pepper.  Sprinkle the beetroot on top so it doesn't bleed into the fennel.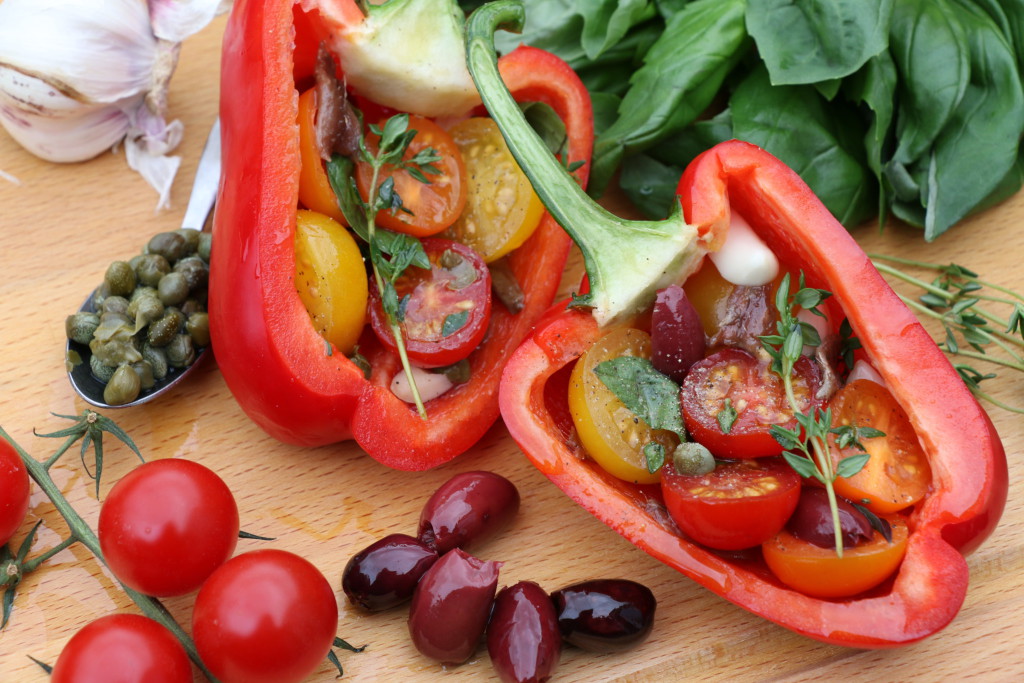 Above: Roasted Red Pepper Boats make a lovely starter — or side dish — and they can be made with the same ingredients as used for the tapenade.  Halve a red pepper, clean out the seeds and membrane, and fill each boat with seasoned, halved cherry tomatoes; one or two halved olives; a pinch of capers; a sliver of garlic; half an anchovy (omit for a vegetarian version); and some fresh basil and thyme leaves. Drizzle with olive oil and pop into the oven about 10 minutes before the potatoes go in; they will be ready as a starter when it's time to put the fish in.  Or keep them in as the fish cooks if you want to serve them as a side dish.
Adapted from Maida Heatter's Book of Great Chocolate Desserts (Knopf, 1980)
Makes 6 ½-cup ramekins
This is one of the best chocolate desserts I know for that most seductive quality of chocolate: the mouthfeel.  It is silky,  and the flavour is a sweet-semisweet.
Like all baked custards, this one is cooked in a water-bath (bain marie).  Unlike custards that are done when a knife inserted in the middle comes out clean, this one needs to remain looser to achieve a dreamy consistency, so don't overcook it.  You want it to distinctly wobble across the middle half, as it will continue to firm up as it cools, which takes about 3-4 hours.
These chocolate pots are great unadorned or with a little lightly whipped cream and berries.  You can buy excellent frozen English raspberries all year that only require a light sprinkling of sugar and a few minutes to defrost.
The pots are lightest on the day they're made, but still delicious the next.  If you take them out of the fridge an hour before serving, they will be a little softer than they are straight from the cold.
If you are cooking for two and don't want leftovers, you can make one-third of the recipe and cook for a little less time on the stovetop; keep the heat low and watch carefully.
Use ramekins, little pots with lids made for pots de crème, or even heat-proof coffee cups.
Ingredients:
500ml single cream
115g semisweet chocolate (ideally around 70%), broken into pieces
6 large egg yolks
30g caster sugar
1½ teaspoon vanilla extract
A pinch of salt
Optional to serve:
150ml double or whipping cream, softly whipped with 1 tablespoon sugar
400g frozen raspberries thawed with a sprinkling of sugar
Mint or Thai basil leaves to garnish
Directions:
Heat the oven to 160C/gas mark 3.  Put the kettle on to boil for the bain marie.  Take a baking dish deep enough to take your ramekins or pots and line it with a sheet of kitchen towel so the pots don't slip; then put the pots or ramekins in place ready for the custard.  Set aside.
Put the chocolate and 125ml of the cream in a large measuring jug and microwave it for 30 seconds, and then up to 20 more seconds if needed, to just melt the chocolate.  Alternatively, set the jug in a pan of hot but not boiling  water to melt.  Don't overheat, as chocolate scorches easily.  Stir until completely smooth and set aside.
Lightly mix together the egg yolks, sugar and salt in a medium bowl (ideally one with a pouring spout).
Heat the remaining cream in a medium saucepan over medium-low heat until it just begins to simmer.  Remove from the heat and gradually add it to the melted chocolate, mixing until completely smooth.
Now add the chocolate mixture slowly to the egg yolks and sugar, stirring constantly so the yolks don't scramble.  Then pour the entire mixture back into the saucepan and cook on low  heat for 3 minutes, stirring and scraping the sides and bottom with a spatula to keep the mixture smooth.  It will thicken enough to coat a spoon.
Remove from the heat and stir in the vanilla.  Strain the custard through a medium sieve back into a jug, and then pour it equally into the ramekins or pots.  Cover them with their lids, foil, or a baking tray to prevent a skin forming on top.  Put the baking pan with the custards in the oven, and then pour the boiling water from the kettle into the pan to surround the custards, at a depth of about halfway up the sides of the custards.
Bake for 18-22 minutes, until the custards have set about one-half of the way in, and are no longer liquid, but still wobbly, in the middle half.
Carefully remove the custards from their water bath and set aside to cool to room temperature before chilling for 3-4 hours or overnight.
Garnish with softly whipped cream and defrosted frozen raspberries if you wish, and a leaf of mint or Thai basil.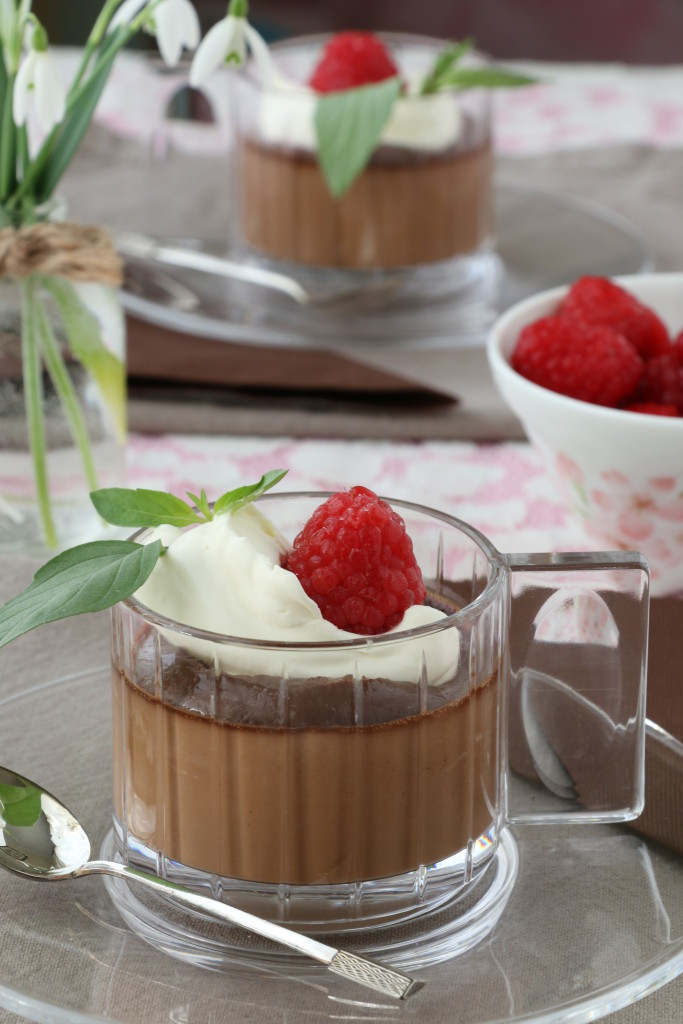 [This article was one of a series of Crumbs on the Table  monthly food columns published in Weekend  (editor, Alice Ryan), the Saturday supplement of the Cambridge News.]