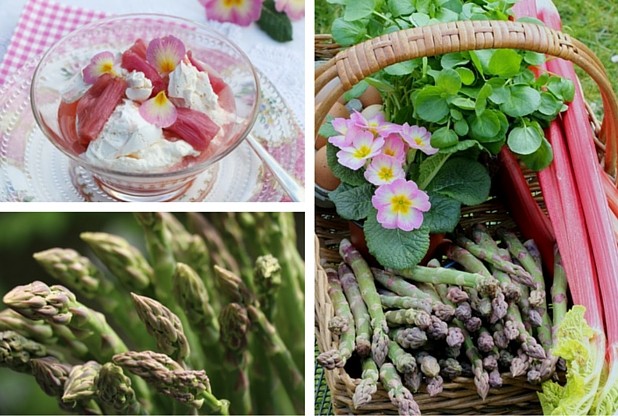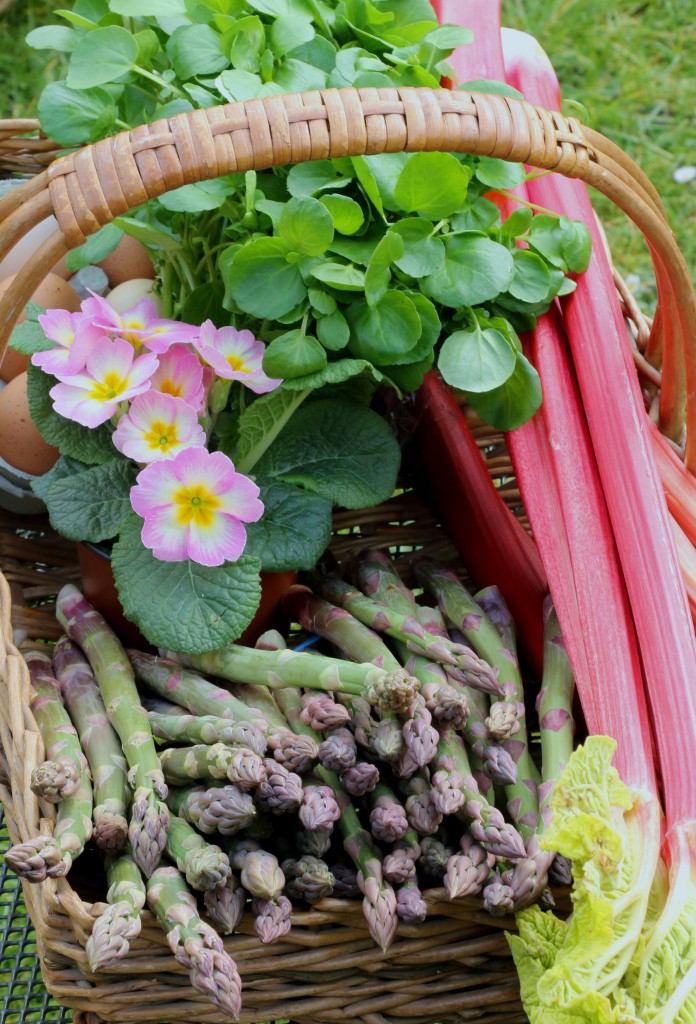 Skip to recipes
This has been one confused winter: daffodils rehearsing in December, snowdrops extending their run into March, then actual  snow just as the daffs get into full costume.  It's as though winter had stage-fright and only roused itself to get into character at the last minute.  Well, hooray to say, the vernal equinox is now waiting in the wings.  It looks like winter has given her final bow until next year's performance – surprise encores pending.
In the growing calendar, the new season's stars are arriving to steal the show: the first pink stems of rhubarb, beautiful spring-green watercress, early lettuces, juicy radishes.  And I'll let you in on a secret: English asparagus is also here, several weeks before the main season gets underway — but you won't find it in supermarkets.  The asparagus you see for this year's early Easter is likely to be imported from as far away as Mexico, but if you know where to look it's available right here in Cambridgeshire, to buy straight from the grower, the day it's cut.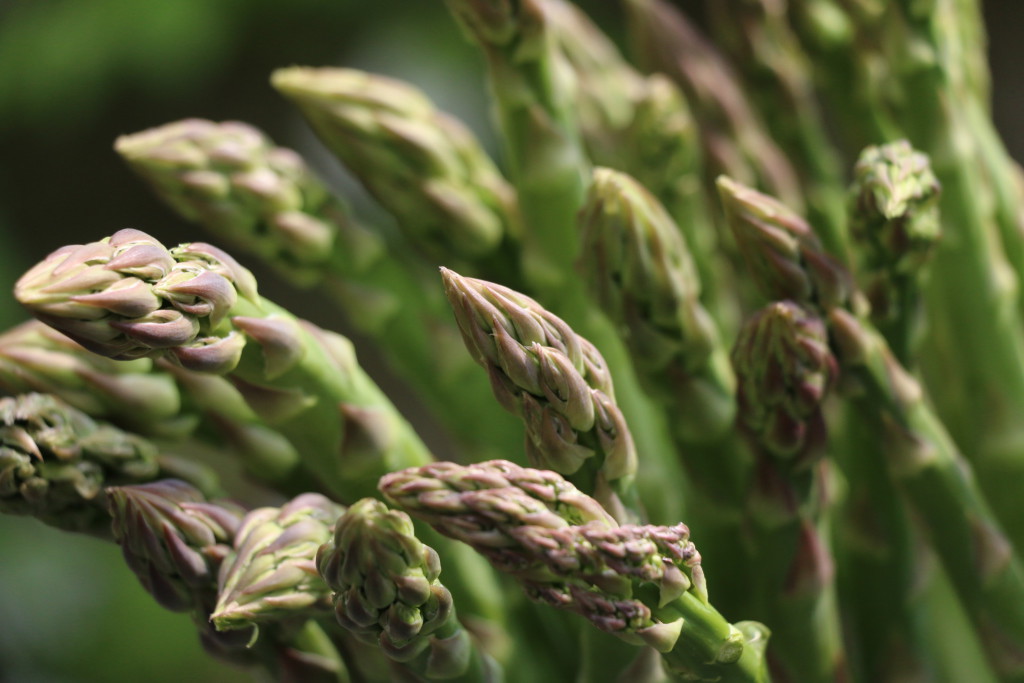 Nick Rumble of Cambridge Asparagus grows delicious varieties of this noble crop under glass in that part of Great and Little Abington, southeast of Cambridge, known as the land settlements.  This area is now home to several independent market gardeners, but was originally part of a 1930s scheme to resettle unemployed industrial workers from Britain's cities in a network of cooperative small-holdings where they could rebuild their lives and help feed the nation.
Mr Rumble has just started cutting his asparagus crop, and will harvest every day for six weeks, filling the gap until the outdoor-raised crops are ready and our markets are full of East Anglian 'grass.  At that point he will allow the crowns to fern up so they can replenish their energy and continue to give for years to come.
Asparagus grown under glass is a rarity.  The crowns need three years in the ground before they can be harvested, and stay put for their 20-year lifespan; yet they earn their keep for only six weeks of the year. This would normally make indoor-growing prohibitive, but the Rumbles' glasshouses were already in place from years of cultivating bedding crops. Seeking to diversify, the family discovered their sandy soil was ideal for asparagus. They chose varieties for flavour over yield and uniformity, and their venture was so successful that asparagus has long been their sole crop.
The day's harvest invariably sells out, but you can reserve a bunch or two to buy direct on site, or look for it at the Great Abington Stores on the High Street, where you can also find the seasonal produce of Wild Country Organics, also grown on the land settlements.  In summer you can pick your own cherries nearby at the Great Abington Cherry Orchard, so this is an area of Cambridgeshire worth getting to know.
Straight from the ground, raw asparagus tastes of freshly shelled peas.  Boiled lightly it tastes delicately of spring: clean, new and irresistible. The trick is not to overcook it, for it can quickly turn to mush; but it cooks fast, so vigilance is only required for two or three minutes.  Roasted asparagus is also exquisite: intense, smoky and rich.  Throw some spears on a baking tray with a bit of olive oil and salt, and roast in a 200C (400F) oven for 10-12 minutes until lightly charred.  You'll want to eat it with your fingers, straight from the pan.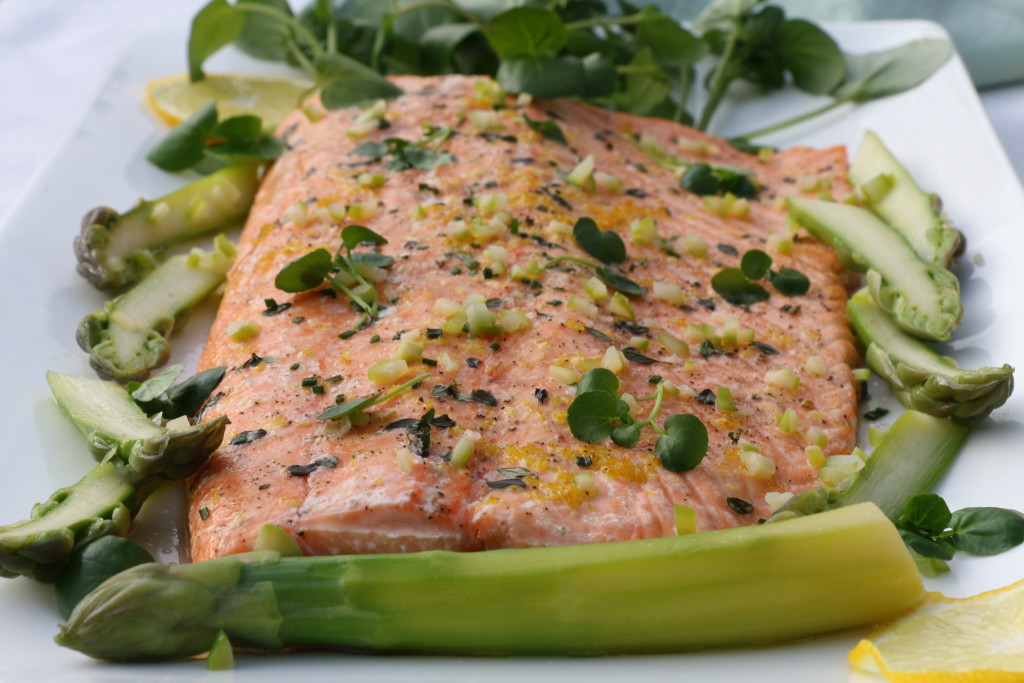 Asparagus has equal billing with the salmon in this month's savoury dish, and both partners are excellent hot or room temperature, making this a special yet low-stress meal for a celebration.  In keeping with the symbolism of the season, eggs also make an appearance in both recipes.  For pudding, it's billowy meringues for a rhubarb version of the classic 'Eton mess', juicy and tart with those ruby sticks.  For the salmon and asparagus there's a homemade mayonnaise with spring-green herbs that's made in a matter of seconds as if by magic with an immersion stick blender – no dribbling oil drop-by-drop and frenzied whisking.
All these early-spring delicacies are the stuff of magic, blessings extraodinaire, delightful, rejuvenating, miraculous.  We have many riches on our doorstep, and seeking them out can be a pleasure of discovery with rewards beyond the table.  Applause to winter; and now, welcome, spring.
Where to buy English asparagus now:
Cambridge Asparagus, 46 North Road, Great Abington CB21 6AS (www.cambridgeasparagus.com)
Abington Stores, 81 High Street, Great Abington CB21 6AB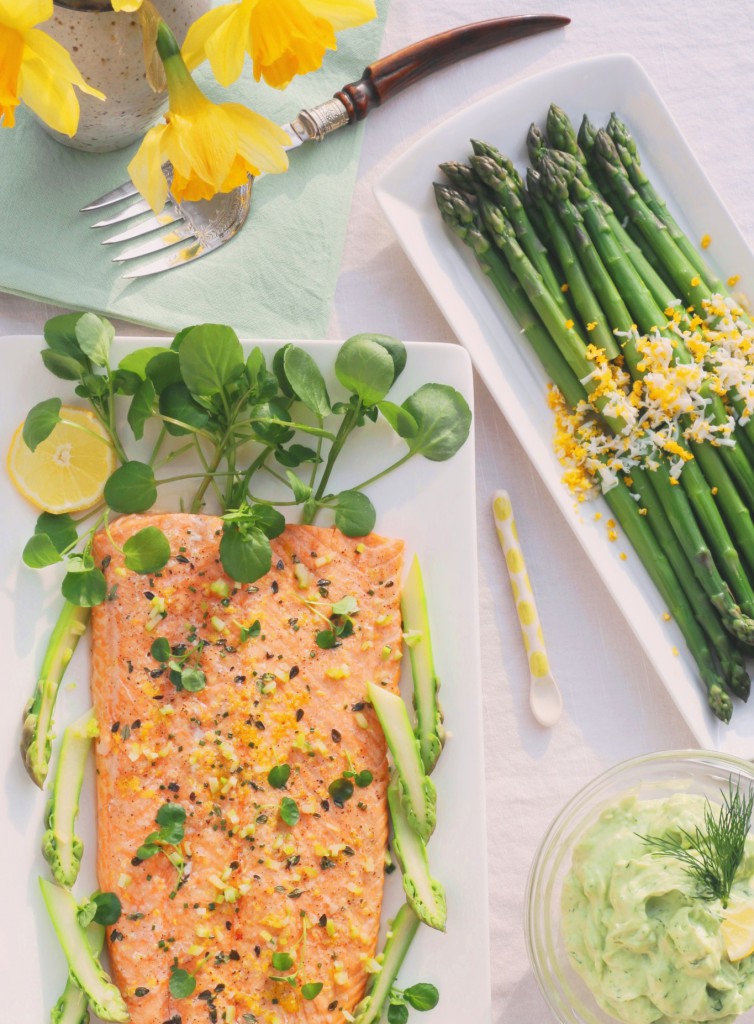 RECIPES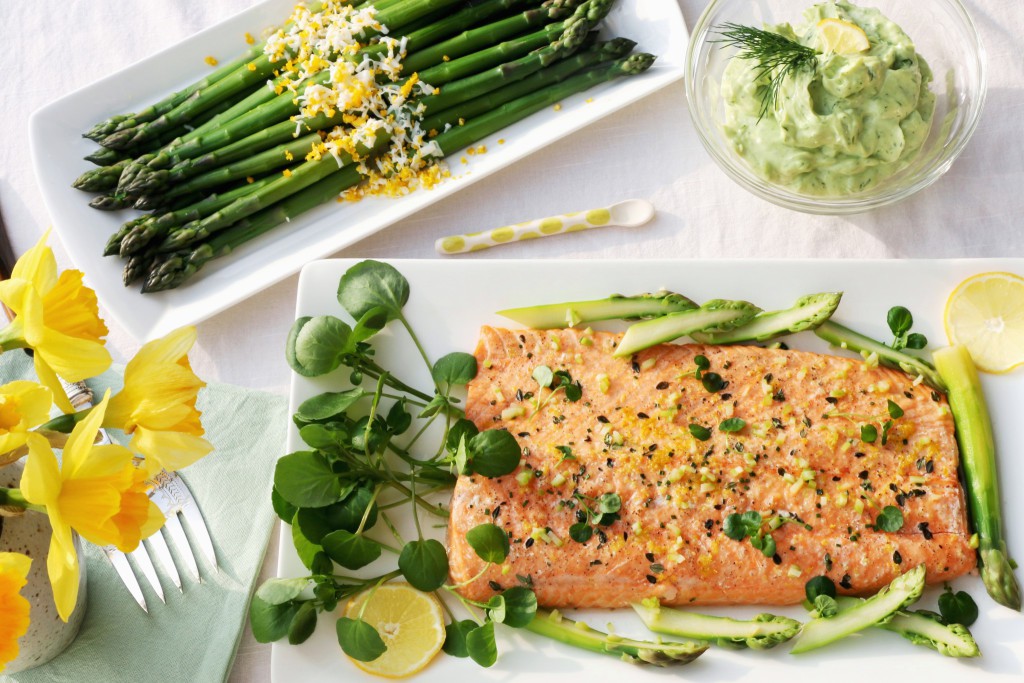 Side of salmon with asparagus and spring-green mayonnaise
Serves 6
This dish can be made ahead to serve at room temperature.  Perfect with English asparagus, this is the easiest, most succulent way I know with salmon, and it makes a beautiful centrepiece.  A whole side is baked in a low oven for 15-20 minutes until set but still pink in the middle, and left to rest, where it continues to cook in residual heat.  The asparagus is easy to cook to perfection as it is boiled only briefly and then shocked in iced water to maintain its flavour, texture and colour.  The mayonnaise is so delicious and easy you may never buy the stuff in a jar again.  It's made with a raw egg, so use the freshest you can find, and take the normal precautions serving to higher-risk people.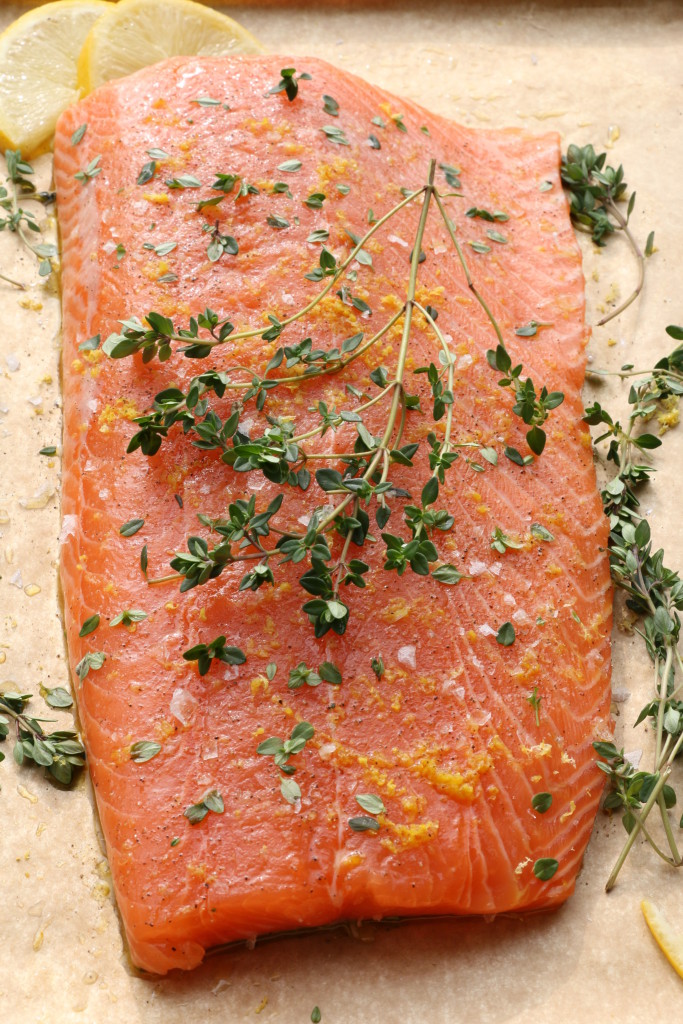 For the salmon:
One whole side of salmon, allowing 175-225g (6-8 ounces) per serving (ask the fishmonger to give you the centre part of the fish if a whole side is too large)
Zest of 1 lemon
4-5 sprigs of lemon thyme
1 tablespoon olive oil
1½ teaspoons sea salt or to taste
Freshly ground pepper
1 bunch of watercress to garnish
Heat oven to 150C/gas mark 2 (275F), and line a baking tray with parchment or foil.
Remove any remaining fish scales and bones, and place salmon skin-side down on the lined tray.
Rub the surface of the salmon with the olive oil, scatter over the lemon zest and leaves of the lemon thyme, and grind over some pepper.  Let the fish absorb the flavours at room temperature for about 30 minutes.
Sprinkle over the salt, and bake the salmon for 15-20 minutes or until set but not stiff.  It should still feel tender at its thickest, though not mushy, and some moisture should be in evidence.  The middle should be distinctly pink.
Remove from the oven and let the fish rest on the tray set on a cooling rack, until just barely warm.
Remove the skin: keeping the fish skin-side down, gently lift the corners to tease apart the skin and flesh.  Raise the fish a little from the tray and slide your hands, or a blunt knife or spatula, between the flesh and skin to separate them: you should now be able to pull the skin away.  Carefully transfer the fish to a large serving platter.  Refrigerate if doing ahead, and allow to come to room temperature for half an hour before serving.  Garnish at that point with a bit of watercress and asparagus.
For the asparagus:
1 kilo (a bit over 2 pounds) asparagus
A generous pinch of sea salt
Wash well in cold water and trim off the tough ends so only the tender part of the spears remain.  If your asparagus is very fresh there's no need to take off the scales, but if these are dry, nip them off with a knife.  Peel 3-5 spears to garnish the salmon if you like, and cook these with the rest.
You'll need a saucepan large enough for the asparagus to lie flat. Fill it with water to a depth of about 5cm (2 inches) and bring to a rapid boil. Fill a large bowl with cold water and a handful of ice, ready to 'shock' the asparagus as soon as it comes out of the pan.
Salt the water and add the asparagus in a single layer.  It's important the water continues to boil, so you may have to cook the asparagus in 2 or 3 batches.  Boil each batch for 2 minutes for medium stalks, or 3 minutes for thick stalks, to retain some crunch.  Test by piercing with a skewer: there should some resistance, but not a fight.
Remove immediately with a pair of tongs and plunge into iced water.  Allow to cool completely and drain. Refrigerate if making earlier in the day and allow to come to room temperature for half an hour before serving.  To garnish the salmon, cut a few spears in half lengthways, or dice one to scatter on top.  Serve the rest separately.
For the mayonnaise:
1 large whole egg, fresh as you can get
250ml (1 cup) light vegetable oil, or a mix of 200ml light oil and 50ml extra virgin olive oil (100% olive oil is too strong here)
Sea salt and freshly ground pepper
1-2 tablespoons each of dill, parsley and chives, roughly chopped
Half a small garlic clove, roughly chopped
Juice of half a lemon
Put everything into a bowl or measuring jug that can take an immersion stick blender.  Immerse the blender into the ingredients and hit full power.  The mayonnaise will appear before your eyes in about 30 seconds as the oil and egg emulsify.  When it's well-mixed and thick, have a taste and correct the balance with salt, pepper, lemon juice or more herbs as needed.  Decant into a serving bowl, cover and refrigerate until using.  Keeps two days.
Note of thanks: I am indebted to good friends Bob and Kim Findlay for passing on this mayonnaise shortcut.  They are superb cooks and Bob is a genius at finding a technological solution to most of life's challenges, including those in the kitchen (as a mutual friend says, 'he lives in the future').  Bob nosed out this immersion stick blender method from Everyday Maven, who got it from another blogger in the way of these things.  http://www.everydaymaven.com/2014/how-to-make-mayonnaise/).  Pass it on.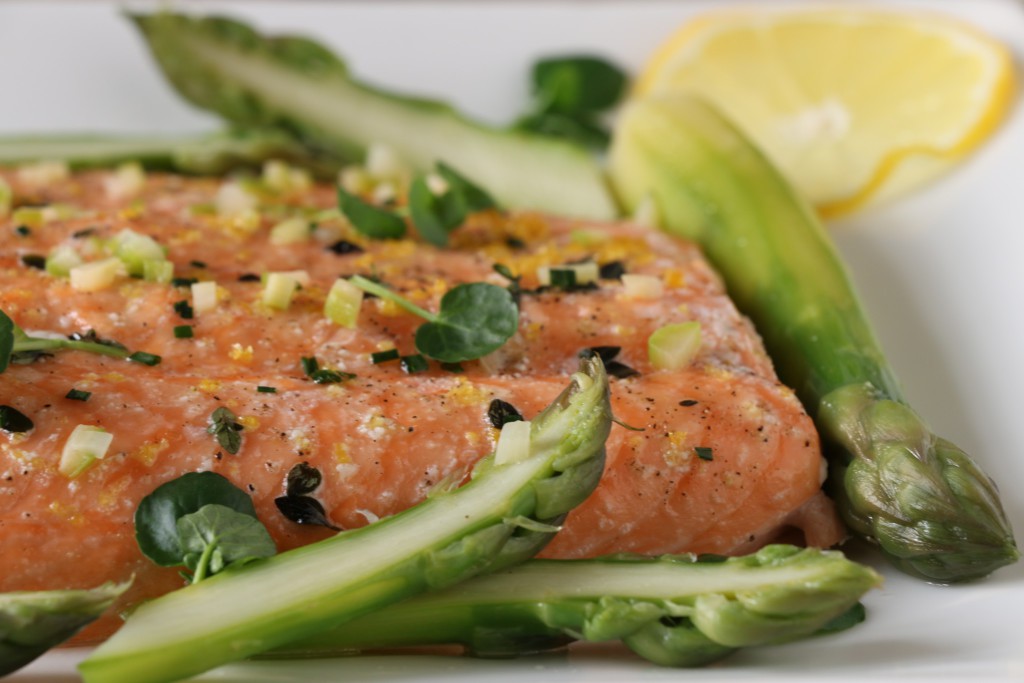 For more asparagus recipes from Crumbs on the Table, see also: "Asparagus now!", and "Stalking wild asparagus".
Serves 6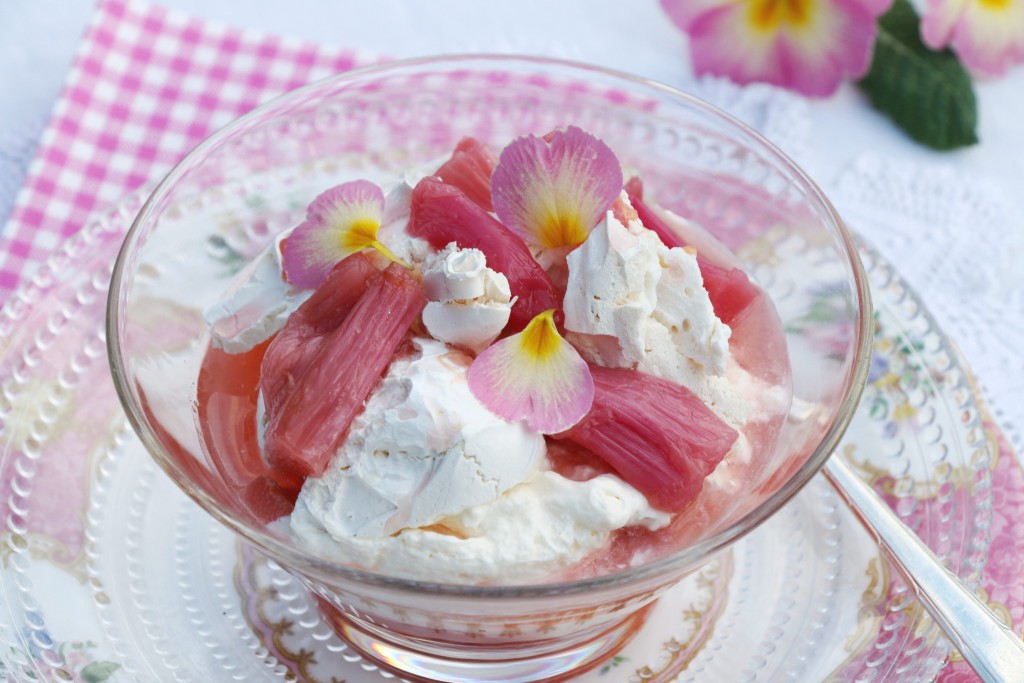 This Eton mess treatment for early rhubarb is sweet-tart, juicy and more-ish.  The orange and honey are as natural with rhubarb as strawberries are later in the season.  As a compote on its own, the rhubarb is delicious; and oven-poaching makes it less likely to fall apart.
Chill the compote and assemble the mess close to serving time, as the juices of the rhubarb will soften the meringues if you do this too far in advance; or let everyone make up their own from a plate of meringues and bowls of compote and cream.
Buy 1 kilo (a bit over 2 pounds) of rhubarb loose with leaves, or two 400g packs if you are buying trimmed stalks at the supermarket.  Either should yield 700-750g (1½ pounds), which is about right for six servings of rhubarb mess, or four servings of unaccompanied compote.
For the compote:
700-750g (1½ pounds) trimmed rhubarb cut into 3cm (1¼ inch) pieces
The juice of 3 blood oranges or oranges, supplemented with enough water to cover the bottom of the dish by about 1cm (½ inch)
2 rounded tablespoons (60ml) light-flavoured honey
2 tablespoons (30g) sugar or to taste (caster, golden caster, or demerara)
For the meringues:
4 egg whites, room temperature
A pinch of salt
100g (½ cup) caster sugar
150g (1 cup) sifted icing sugar
2 teaspoons vanilla extract
For assembly:
around 300-400ml (around 1¼ – 1¾ cups) cold double (heavy) cream or whipping cream
2 teaspoons caster sugar
½ teaspoon vanilla
Optional decoration: edible primula petals
Make the compote: Heat the oven to 160C/gas mark 3 (325F). Put the rhubarb pieces into a baking dish with the honey, sugar, orange juice and water, and cover with foil. Bake for about 30-35 minutes or until tender but still intact. Taste a bit of the fruit and juice together and add a little more sugar if needed. Don't overdo it as the rhubarb should retain some tartness to offset the meringues. Set aside to cool.
Make the meringues: a) Heat the oven to 130C/gas mark 1/2 (250F),  and line a baking sheet with parchment or foil. Make sure your egg whites, bowl and beaters are completely free of yolk and grease. b) With an electric mixer on medium speed, beat the whites and salt until you reach the soft-peak stage (the whites will flop a little on the beaters). c) Gradually add the caster sugar and beat until the mixture has increased in volume and just holds its shape. d) Add the icing sugar on low, and then increase to medium-high, beating until the sugar is smoothly incorporated and the meringue is thick and glossy. Mix in the vanilla. e) With a large spoon, drop 6 dollops of the mixture (or one for each person) onto the prepared tray. f) Put the meringues in the oven and immediately turn the heat down to 110C/gas mark 1/4 (225F). Bake for 60 to 90 minutes, turning once for even cooking, until the meringues are a pale off-white in colour and sound almost hollow when tapped. g) Turn off the oven and open the door a crack, leaving the meringues to cool gradually in the residual heat. h) Remove to a storage tin when completely cool. They will last a couple of days.
Prepare the cream: Up to three hours before serving, combine the cream, sugar and vanilla in a large bowl and whisk by hand or with an electric mixer until lightly mounding; it should hold some shape but still be soft, so don't overbeat. Refrigerate.
To assemble the mess: Spoon some rhubarb compote into the bottom of your bowl/s and add whipped cream. Break over some meringue, and add more cream and rhubarb compote. Garnish with edible flowers if you like. Serve straight away.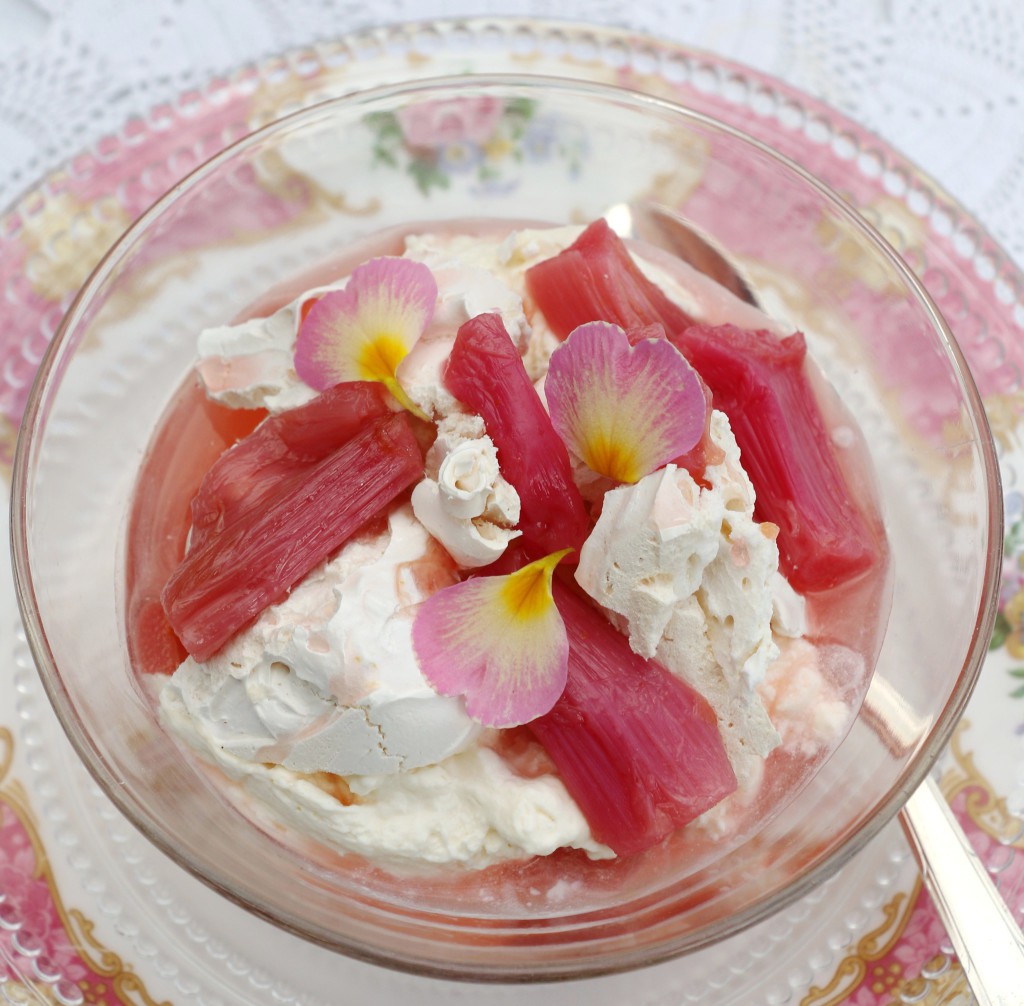 [This article was one of a series of
Crumbs on the Table
  monthly food columns published in
Weekend
  (editor, Alice Ryan), the Saturday supplement of the
Cambridge News
.]
Other rhubarb stories and recipes on Crumbs on the Table: