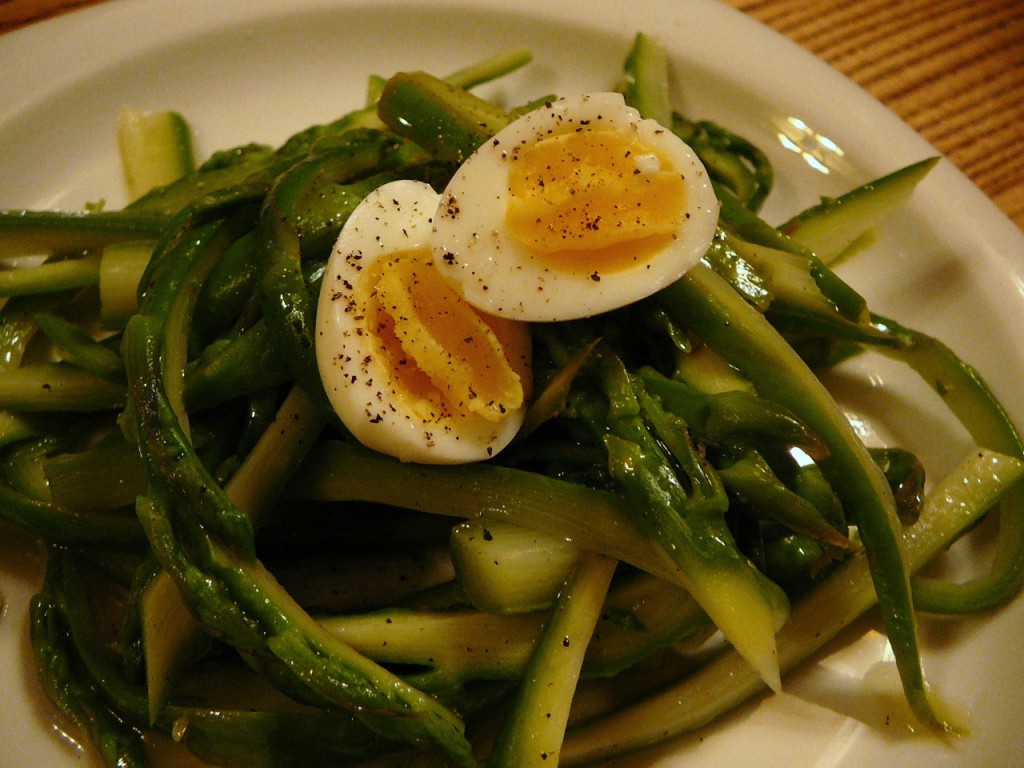 As kids in rural southern New Jersey, the five of us cousins made a ritual every Easter of plundering the wild asparagus that grew on the sandy verges of the unpaved road that ran to the house. The habitat offered generous pickings on the margins of fields that would later produce the celebrated Jersey corn and tomatoes.  Depending on how early Easter fell, we would find either perfect spears, or ferny trees, and we picked them all, delighting in our indiscriminate harvest. The pride of the haul was followed by an orgy of eating the cooked stalks with our fingers, brushing them in melted butter and sprinkling them (and the table) liberally with salt — also taking satisfaction in the notes of ecstasy from the grownups' table as they feasted on the choicest specimens.
I experience the same joyful lust every year when the first green spears poke through the asparagus bed on my English village allotment.  My favourite way to cook the spears, whether long, short, thin, fat, perfectly formed or marred by imperfections, is still to plunge them into a large sauté pan of well-salted boiling water for 3 or 4 minutes until my trusty skewer can go in without brute force, and to serve them immediately with melted butter and salt — eating them with fingers, naturally.
But for an appealing variation on this simplest of treatments, try a room temperature salad of cooked spears, cut lengthways into long 'noodles' after blanching to just that still-crunchy-but-penetrable stage. Make one or two cuts the length of each spear, depending on its thickness, and collect the long strips in a bowl to dress with a light sprinkling of lemon juice, some good oil, and salt and pepper.  (Mix the dressing first, as neat lemon juice can discolour the bright green.)
If you want to elevate this to an elegant yet straightforward starter, mound the pliable strips into a handful on a side plate and top with a soft-cooked quail's egg. To cook the little eggs cold from the fridge, cover with an inch of water, and when it just begins to simmer, remove the eggs from the heat, run them under cold water to stop the cooking, and peel. They will still feel squishy out of the shell when warm, but will firm up on cooling. Slice in half lengthways to serve.  You should have a softly boiled and creamy egg, with a set but moist yolk, to go with the crisp spears and lemony dressing — a kind of deconstructed hollandaise: classy and pretty, cleaner on the palate, and easier on the cook.
Asparagus is easy to slice lengthways when cooked, so it's quicker work than it sounds.  You may not want to do this for a crowd, but for a few people, when you want to get a special salad ready in advance, it's a time-efficient way to produce a seasonal dish with wow factor in taste and presentation.
Recipe
This is not so much a recipe as a method:  each portion assumes 4 to 6 asparagus spears, depending on size, and one quail egg.  This recipe can easily be doubled, or scaled-up for four.  For the dressing, use 1 part lemon juice to 3 or 4 parts oil, to taste.
For one serving:
 asparagus spears for one  (5 average-sized spears is about right)
1 raw quail egg in the shell
1 teaspoon freshly squeezed lemon juice
1 generous tablespoon rapeseed or olive oil
a pinch of sea salt
a couple of grindings of fresh pepper, ideally white
You'll need two pans: a sauté pan large enough to lay the trimmed asparagus flat in one layer, and a smaller saucepan for the egg/s.  Have a metal skewer handy to test the spears; use a sharp knife to trim them, and to halve the egg. I find it easiest to remove the asparagus and eggs from boiling water using a pair of tongs.
Fill your sauté pan about halfway and put on to boil while you prepare the spears.
Trim the asparagus with a sharp knife to remove the tough bottom ends. Work your way up until the knife goes through without resistance. If the spears are very fresh, don't bother with the scales, but if these look dry, trim them off with a scrape of the knife.
Before cooking the asparagus, put your quail egg/s in a smaller saucepan with  cold water to cover by one inch.  Put the heat on medium-high and let it come to a simmer. When you see the first bubbles, remove the pan from the heat and run the egg/s under cold water to stop the cooking. Let sit in the shell while you tend to the asparagus.
When the water for the asparagus reaches a full boil, add about a tablespoon of salt, and put in the spears so they lay flat in the boiling water.  Put the timer on for 3 minutes.  (If the water has gone off the boil you will need longer, but check after 3 minutes.)
While monitoring the boiling of the asparagus, shell the quail eggs and leave whole for now.
Test your asparagus:  you want some resistance, but for the skewer to go in and out easily without having to tug. Average spears will take about 3-4 minutes and fat ones may take 5.  Watch carefully at the 3-minute stage and keep testing.
As soon as the asparagus is cooked, run it under the cold tap to stop the cooking.  Lay it out on a clean kitchen towel and gently pat to remove excess moisture.
Slice the cooked and cooled spears lengthways into halves, or thirds, depending on the thickness of the spears, so you have long, pliable, asparagus 'noodles'.  Collect in a bowl.
Mix the dressing by squeezing fresh lemon juice into another bowl, adding salt to dissolve, some pepper, and then whisking in the oil.
Pour the dressing over asparagus and place in a mound on a side plate.
To finish the dish, halve your peeled quail egg and place on top of the asparagus mound.  Sprinkle with a little more salt and a grinding of pepper.
Asparagus tips
To peel or not to peel?
With fresh local spears, you shouldn't have to peel or remove the 'whiskers', and I prefer the flavour of unpeeled asparagus when it is beautifully fresh.  If not as fresh, I do peel; this makes it cook more quickly, preserving a beautiful bright green colour and giving a more delicate flavour.  There is a place for both.  If intending to serve whole spears at room temperature, I also peel them, as the colour lasts better.  If slicing the spears into 'noodles' as described above, I don't peel them, because I want the contrast of outer green and inner white.
Fat or thin?
I love the fattest spears.  Contrary to received wisdom I find them deliciously preferable and more impressive on the plate. When truly fresh I have never known them to be woody.  But asparagus of any thickness is delicious when fresh — fat, thin and in-between.  Just cook spears of like thickness together to avoid overcooking the thinner ones.
Cooking times
Colossal spears may need 5 – 6 minutes, but check after 4.  You are looking for some resistance, but not a fight, when you test with a skewer.  Thin spears may take less than 3 minutes once the water has boiled.  Test and watch carefully.  Vigilance isn't needed for long, so it's worth taking some pains at this stage.
To snap or cut?
To trim, I cut rather than snap, to avoid waste. I start cutting at the tough end and work my way up with a series of shallow cuts until I feel the knife going through easily.  Then I make the final cut.  You can make a soup with the tough ends if you strain well to catch the fibres.
Footnote
My father was a devotee of Euell Gibbon's treatise on foraging from nature, and with the guidance of the 1960's classic, Stalking the Wild Asparagus, we tried fiddlehead ferns, elderberries, bird cherries and even acorns, but wild asparagus was a true delicacy that we looked forward to almost as much as our Easter baskets.  My father's satisfaction in the results was part of the pleasure for us.  We loved to see him rejoice in "eating like a king for the price of a pat of butter."
 Stalking the Wild Asparagus, by Euell Gibbon, 1963; Hood, Alan C & Company, Inc.