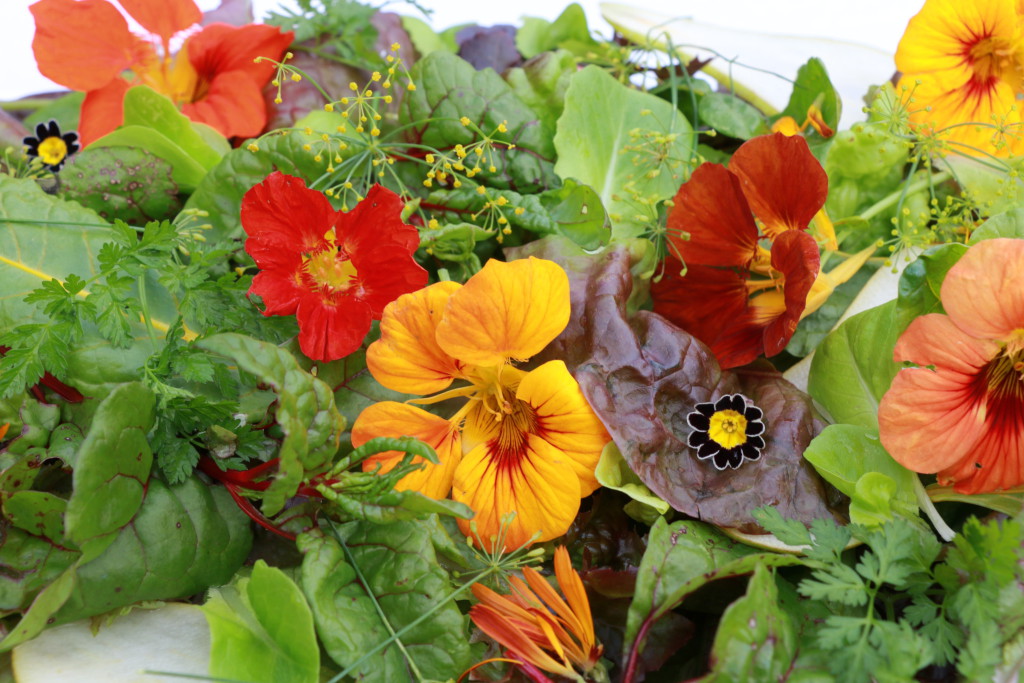 This has been the most colourful October I've seen in England for years. We've been blessed with generous sun this month after a wet September, and it has burnished our autumn palette with gold.
My edible-flower and salad garden, newly planted this spring in pots on the patio, has also proved a delightful surprise. It's looking its best at last, after slow progress through the colder than usual summer. Nasturtiums and calendula are finally giving their fluorescent all before first frost, determined to put on a show. The primulas, violas and pinks are having a second flush, as healthy as their first; and my scented pelargoniums are suddenly full of flower, after greening up for months.
The October sun has brought on some charming herb flowers, too — dill and chervil are the most fairy-like and delicious — and the cooler weather has prolonged the life of my favourite lettuces and rainbow chards. I adore the Merveille de Quatre Saisons lettuce. It's delicious, tender, and so pretty in its shape and colour it's difficult to pick. It will tolerate some frost, so I leave the inner leaves to carry on.
Everything growing in these four square feet seems to be at its most delightfully radiant just when it can't last. I love that they have the spirit to go out on a high. I too believe in making it at the last minute.
I rejoice in them while I can, eating them in salads, a few of each leaf every few days and a choice of herbs and flowers, adding a slice of apple and pear, or some walnuts, say, nothing fancy. I resist season-panic and determine to appreciate each day's progress, accepting frosts and clocks going back as the way of things. But I hope for just a little longer: a few more days to pick, to make that floral pasta, that rose geranium cake; a few more days to gaze on a perfect thing.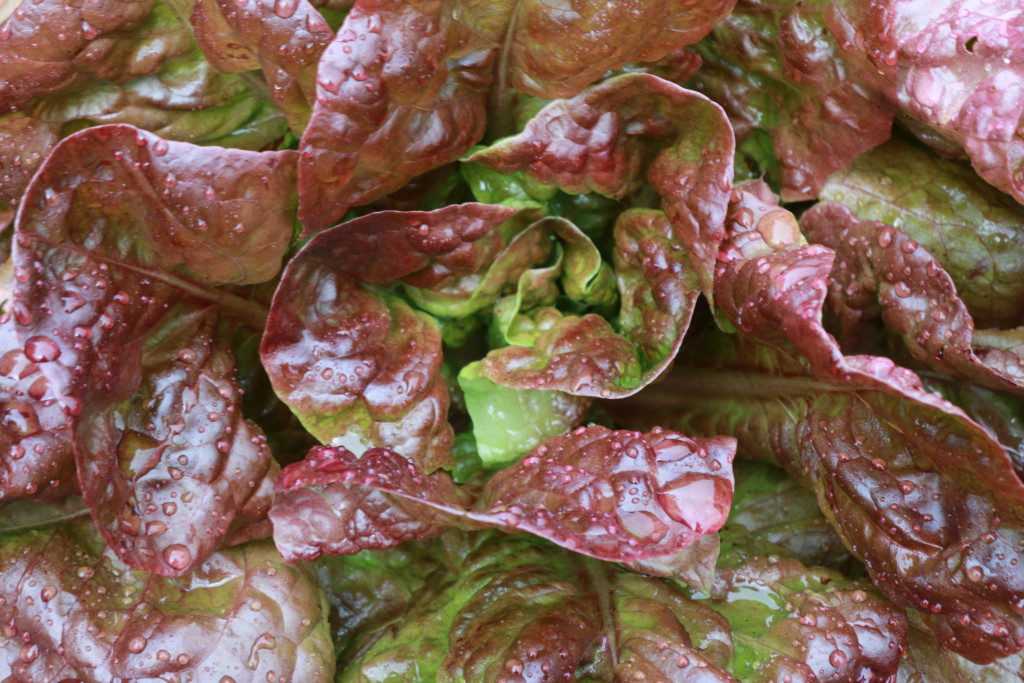 RECIPES
A way to make a leafy salad
Salads tend to get short shrift in favour of dishes that are cooked, relegated to a lesser status somehow; but a good salad is hard to beat, and they deserve more appreciation. Making one does take time for washing and drying, but if you can think of it as a meaningful effort rather than the thing that gets in the way of real cooking, and work with appealing ingredients whose tastes you like, making a salad can be creative and satisfying.  A pretty salad can be an incentive to eat healthfully, and a great consolation to a dieter, too, let me add. So honour your labour, respect the greens, and play a little with all that colour.
Here are a few tips for making a good leafy salad.
Choosing
There are some beautiful lettuces right now in the shops and markets, as well as spinach, chard, endive, radicchio and other leaves. The mustard family are appearing, too, and will keep going through winter. For prettiness, late-flush chive flowers, dill heads, rocket flowers, nasturtiums and courgette blossoms that aren't going to make courgettes at this stage, are all pretty and tasty for an autumn salad; and apples, pears and walnuts are seasonal additions that add a healthy crunch.
Check the cut ends of lettuce heads to make sure they look fresh. With loose leaves, choose ones with body and disregard any that are beginning to wilt. Buy as close as you can to the time you intend to serve, depending on how dedicated your greengrocer is to freshness. Look for a good full head on a lettuce, as the smaller inner leaves are premium, and you may need to discard the outer leaves are they are often damaged.
Washing
Wash leaves a little while before you wish to serve them so they have time to dry. (Don't tear into smaller pieces until ready to dress them, as they can turn brown.) At Chez Panisse, we used to wash lettuces and other salad leaves seven times to make sure they were completely free of pests and grit. You shouldn't need to go to those lengths with a smaller amount of clean-ish bought lettuces, but do wash them at least two or three times in a sink full of water, checking any folds and wrinkles, and changing the water in between. The rule of thumb is to keep washing and changing the water until it's completely clean. Rinse leaves in gently running water at the end, and handle them carefully throughout so they don't bruise.
Drying
Let them dry well. If you use a salad spinner, don't overload it, to avoid damaging the leaves. Spin a few at a time, drain, and lay out the lettuces in a single layer to drain downwards on some clean kitchen cloths or paper towels out of the sun. If you have limited space, stack the layers, separated by cloths.
Storing
You can refrigerate washed leaves a morning or day ahead of serving if they are dry , but fragile greens can turn slimy overnight if still wet, especially if they aren't very fresh to begin with. I've had the best results by storing leaves loosely wrapped in a clean kitchen cloth sealed tightly in a plastic bag with some air, like a balloon, so they don't get crushed.
Dressing (see vinaigrette recipes, below)
Vinaigrettes with fresh ingredients, like lemon juice or herbs, are best made shortly before serving. Whatever you use, try to dress the leaves at the last minute. Many fragile greens will not sit for more than ten minutes without getting limp. My own preferred way is to dress the leaves (and just the leaves) in a separate bowl in the kitchen, and then to assemble the salad on clean plates or a communal serving platter. It makes for more washing up, but also a neater presentation and allows better control over the amount of dressing used.
I don't dress delicate herbs or edible flowers as they tend to matt together. If I use other ingredients besides leaves, I dress them separately so I can place them where I want them.
To apply the dressing, I use my hands and lightly work it in by touch so I know when all the leaves are lubricated without being soggy. For people who prefer to mix a bowl at the table, my advice is to add dressing in a couple of goes, holding back a little at first, and tossing gently but thoroughly. Whichever method you use, you want the leaves to just glisten and taste smooth in the mouth without being drenched — not dry, not wet (try a taste as you go). You shouldn't see dressing at the bottom of the bowl; there should be just enough to cling to the leaves.
Assembly
For a delicately balanced leaf salad, use components of equal weight so nothing falls to the bottom (chunks of tomato and cucumber, for example). Herbs and edible flowers combine nicely with leaves. If you use heavier ingredients in a leafy salad (radish, apple, pear, cucumber, fennel, etc…) slice or shave them thinly so they are as light as your greenery. A mandolin is very handy for this (use the cutting guard and "take well care your fingers", as the instructions on my Japanese model say).
I tend to use flat serving platters or individual plates, or sometimes shallow bowls. To build the salad, I distribute about half of the dressed leaves, including the largest, on the serving dish/es using a light hand to keep some "air" in the arrangement. I then strew on about half of any shaved ingredients in a pleasing pattern, and then a few herbs and edible flowers so they can be discovered as people make their way down. Keep a variety of the smallest leaves and prettiest herbs and flowers for the top layer, and arrange these how you please, to give the salad a little height and balance, with something as a focal point.
If you are making a salad with heavier components – a meat salad, for instance, or a starter salad with various ingredients — begin in the same way by arranging a foundation layer of dressed leaves first, and make some spaces for heavier ingredients, most of which will probably work best sitting on the base layer. Arrange the heavier elements in the spaces you've made for them, and add a few of the decorative elements. Add some more greenery to build height, again reserving the smallest leaves and something decorative for the top, e.g., a snipping of fresh herbs.  For a natural look, scatter them on from a few inches high without obscuring the main ingredients.
Basic vinaigrette recipe and some variations
A classic vinaigrette will have 1 part acid (e.g. lemon juice, vinegar) to three or four parts oil (e.g., olive oil, nut oils, other vegetable oils). This will depend on your ingredients and your personal preference, so start with a lesser amount of acid first, and taste. If you have to correct the balance, it's better to add a little extra lemon juice or vinegar than a lot more oil.
A simple vinaigrette benefits from using the best and freshest oils and vinegars you can. (I have one bottle of "best" olive oil and another for everyday.)
As a guideline, 1½ teaspoons lemon juice or wine vinegar, and 2 tablespoons oil will dress a side salad for two people, or a larger salad for one.
Seasoning is important.  Add sea salt to the acid element first so it dissolves, and freshly ground pepper. Then whisk with the oil to create an emulsification. Whisk again just before applying.
Other simple seasonings to add:
a pinch of sugar or a little honey added to the acid element along with the salt;
a teaspoon of Dijon mustard added before whisking in the oil;
half or less of a small garlic clove, mashed or minced;
snipped herbs (e.g., chives, parsley, mint).
You can also use creamy liquids such as buttermilk, yogurt, crème fraiche, sour cream, mayonnaise, or cream, with (or instead of) the oil.
 Some classic vinaigrette combinations:
Olive oil and red wine or balsamic sherry vinegar;
Olive oil and lemon juice;
Walnut oil and raspberry vinegar;
Tarragon vinegar and olive oil or cold-pressed oil-seed-rape oil.
Other favourite vinaigrettes:
Basil oil and lemon juice;
An anchovy mashed to a paste with small piece of garlic and some mustard, with grated parmesan sprinkled over the salad;
Honey, poppyseed and good cider (or quince) vinegar with cold-pressed rapeseed oil and crème fraiche, with roasted seeds of pumpkin and sunflower sprinkled over the salad (good with alfalfa sprouts and carrot, too);
Pomegranate molasses and sumac with cold-pressed rapeseed oil (and pomegranate and mint on the salad);
Blue cheese, white wine vinegar and sour cream (for a salad with walnuts, shaved celery and grapes);
Lime juice, yogurt, fresh coriander, mint, spring onion, and a pinch of chilli (on a salad with avocado);
Lime juice, olive oil or other vegetable oil, and cumin (on a salad with peach or papaya);
Hot bacon fat with the addition of olive oil, and red wine vinegar, for a warm salad of frisée, bacon and mimosa (grated hard-boiled egg).