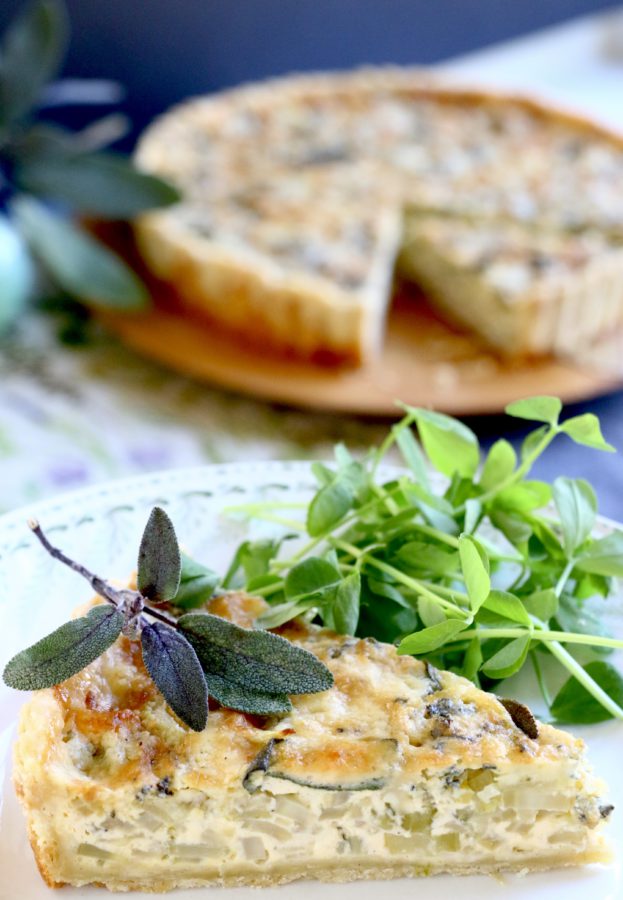 This is a special tart, one of my very favourites in the savoury class.  It's a wonderful way to enjoy celery at the time of year when it's at its best – from October to Christmastime.  Celery and stilton (or any blue cheese) are a classic pairing; and fresh sage leaves add a herbal highlight to this tart that complements both those strong flavours, giving the whole a harmonious balance.  Served with a fresh green salad this tart makes a delightful starter, lunch, or supper dish.
Of course celery is available year-round, and it's always healthy, versatile and refreshing. I've made this tart in every season — just seek out the freshest, firmest celery you can find and avoid bunches with hollow or bendy stalks.
But here in Cambridgeshire we are blessed to have on our doorstep the remarkable Fenland celery that is so crunchy, juicy and sweet that it converts even those who dislike the stuff or regard it as good only for dieters.  Grown in the black soil of the Cambridgeshire Fens and harvested by hand, it grows to an impressive size in both height and girth, and is often sold with its rootball intact, covered in earth, or trimmed by hand in the field where it's harvested to a pencil-like point using a special cutting tool.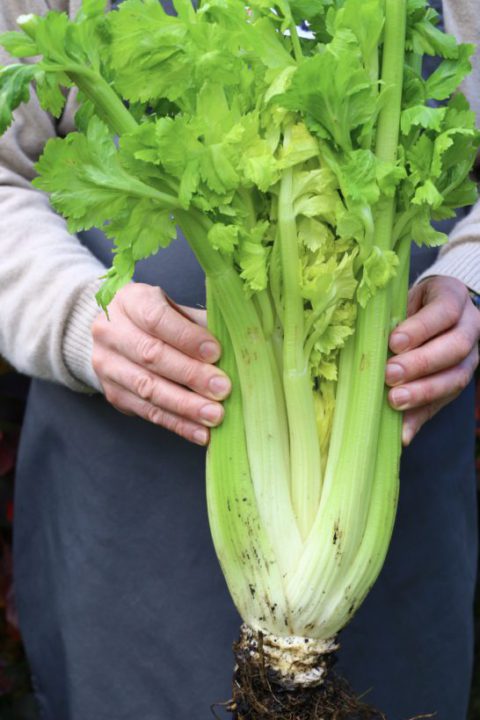 The peaty Fenland soil is dark as chocolate, rich and deep – a beautiful sight, especially when one can see Ely Cathedral in the distance, the 'ship of the Fens' rising on its earthy sea.  The soil's organic content is 15-20%, compared with other UK agricultural soils, which can be as low as 3%.  Its exceptional fertility gives the Fenland celery a unique flavour, as do the traditional growing methods which are maintained today by the few farmers who invest in this labour- and land-intensive heritage crop.
Grown in deep trenches with generous space between rows, the heads are regularly earthed-up with soil throughout their 5-month growing period, leaving just the brilliant green leaves above ground.  Banking the soil around the developing stems in this way blanches the stalks and protects them from the extremes of cold and heat.  This process hydrates the plants and prevents the over-development of chlorophyll, which makes some celery taste bitter and tough.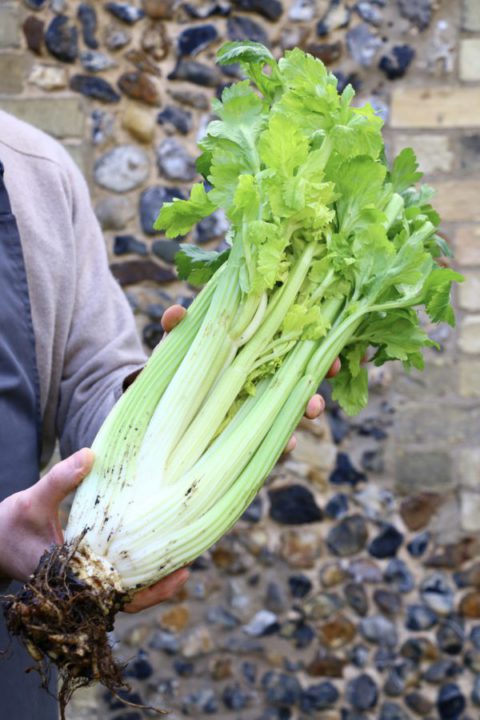 The special character of Fenland celery is recognised by EU law, which granted it Protected Geographical Status in 2013 under the Protected Names Scheme.  This official designation recognises the ties between a traditional product and the place where it originates – as with Champagne, and Parma ham — and outlaws the use of those names by anyone producing outside the geographical region, or following non-traditional methods of production.  Fenland celery is one of 65 UK products to enjoy this status, in the company of Jersey Royal potatoes and Yorkshire forced rhubarb.
Fenland celery has been grown for 150 years. The Victorians loved to grace their tables with impressive arrangements of Fenland celery stalks, tall and leafy, displayed in specially designed celery vases, especially at Christmas, to help cleanse and refresh the system after all those rich meats and sauces and plum puddings.
It is enjoying a revival in recent years, thanks to its superior flavour and the growing interest in heritage varieties.  It is something to treasure where and when we can find it.  But don't be dissuaded from trying this tart if you don't live within range of the Cambridgeshire Fens.  It's delicious with any good, well-grown celery.  Celery is rich in nutrients and has anti-inflammatory properties and a low GI index — and of course it's low in calories and high in fibre and water, which make us feel fuller for longer.  No wonder it's refreshing to have with a rich cheese like stilton.  It's thanks to celery's fresh, clean, quality that this tart is very satisfying without being overly rich.
And by the way, this is a great recipe to have up your sleeve after the holidays, should you find you have some surplus celery and Stilton on hand.  It will refresh your appreciation of both.
Recipe
Celery, stilton and sage tart
Adapted from Sarah Raven's Food for Family and Friends  (Bloomsbury, 2010)
Makes one 29cm /10-inch tart, serving 8 as a starter, 4 to 6 as a main course
This makes a deep tart, so use a tart pan that is at least 3.5cm or 1 3/8 inches deep, ideally a loose-bottomed one.
Ingredients
For the pastry:
200g (1½ cups sifted) plain (all-purpose) flour
Scant ½ teaspoon cooking salt
125g (4 ounces, or 1 stick plus 1 scant tablespoon) unsalted butter, cut into small cubes – cold, but not rock hard
1-2 tablespoons iced water
For the filling:
30g (2 tablespoons) unsalted butter
1 tablespoon olive oil or other vegetable oil
1 medium-large onion, chopped (about 150g prepared)
450g (1 pound) cleaned and trimmed celery, sliced thinly (NB: this is the prepared weight you should get from 1 large head or 2 good-sized hearts)
250g (about 8 ounces) Stilton or other blue cheese
15 fresh sage leaves, finely chopped, and 10 more left whole
3 large eggs
280ml double cream (1 cup plus 2 tablespoons)
Directions
Make the pastry (for more detailed instructions, see "Troubleshooting shortcrust pastry"):  In a large bowl, rub together the flour, salt and butter, using your fingertips or a pastry cutter, until most of the butter is incorporated and a few pea-sized pieces remain. Use as light a touch as possible to avoid overworking the pastry.  Add just enough the ice-cold water to make it come together, shape it quickly into a disk, wrap it in clingfilm, and chill for one hour.  When it has rested, roll it a little thinner than ¼ inch, or about as thin as a pound coin, and line a lightly buttered tart dish with it, leaving some pastry overhang for now.  Prick the bottom several times with a fork, cover with clingfilm and chill the pastry-lined dish for at least one hour more.  This prevents shrinkage when the pastry hits the heat of the oven.
Heat the oven to 180C/350F and place a baking tray large enough to accommodate the tart into the oven to get hot.  Remove the pastry shell from the fridge and trim off the overhanging pastry by running a knife along the edge of the dish.  Lightly butter a sheet of parchment paper that's big enough to fit inside the dish, scrunch up the paper, unfold it again and use it to line the tart, butter-side against the pastry.  Fill the paper lining with baking weights or dried beans, and bake the empty tart shell for 15 minutes.  Remove the lining and the beans, and bake for another 5-7 minutes, or until the pastry is set and begins to take on a little colour.  Set aside on a rack to cool completely.
Make the filling: In a large sauté or frying pan over medium heat, add the butter and oil, and then the chopped onion, thinly sliced celery, and chopped sage.  Cook gently, stirring occasionally, until the vegetables are translucent and softened, but still have some bite.  Set aside to cool a little, and then spread the softened vegetables into the pre-baked and cooled tart shell.  Crumble the blue cheese over the vegetables.  Mix the eggs and cream well in a medium bowl or measuring jug (ideally one with a pouring spout), and strain the mixture through a sieve over the cheese and vegetables.  Arrange the whole sage leaves on top of the custard, poking them into the filling so they don't burn.
Place the tart on the hot tray already in the oven, and bake the tart for about 35-40 minutes or until it is golden brown and the filling feels set.  Allow the tart to cool to just warmer than room temperature before serving.  (Refrigerate leftovers, and only re-heat once.)