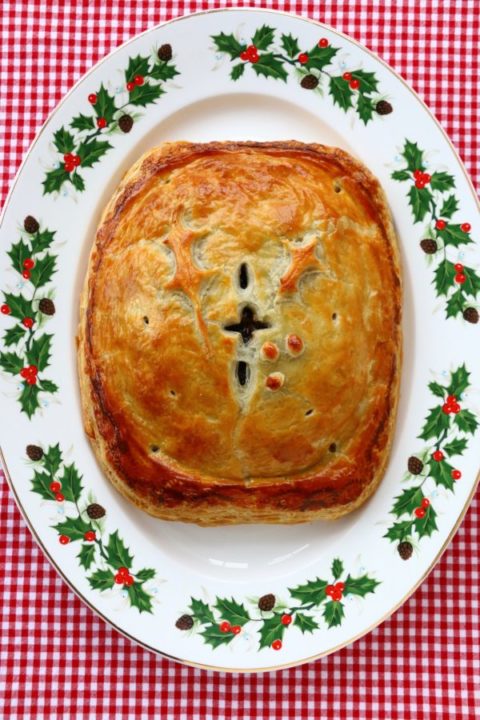 As everyone keeps saying, Christmas will be different this year.  For me, it will be cooking transportable, reheatable meals for delivery to people who aren't cooking for themselves; baking some goodies as thank you gifts for those kind and competent souls who have made this time bearable and even lovely at times; and – something I haven't done for many years on the day itself – cooking just for two, to please ourselves.  I love so many traditions of the Christmas table, but I'm going to view the limitations of this year as welcome permission to break with tradition and take things easier.
I do want to do something special for the day, but it's not going to be turkey, or rib roast, or anything that requires steaming vegetables and making gravy.  I'm going to scale down on prep, cost, and quantity, and do something lighter that's still festive and indulgent:  something we really love eating and would only do for an occasion.  I'm pretty sure I'm not alone in saying I'd like Christmas this year to be a bit of a rest, as well as a celebration.
I devised this chicken in puff pastry construction a decade ago for a special birthday (the kind that ends in zero and leaves you wondering where time goes).  It was the knock-out of the party buffet-table, as good at room temperature as it is hot out of the oven.  People loved the salty, sweet, smoky combination of black olive tapenade, roasted red peppers, and sweet prunes with juicy chicken breast.   The combination owes its inspiration in part to the green olive and prune dish sometimes called chicken Marbella, but the red pepper and prune combination owes more to Mexican pot dishes.  Putting these ingredients together in puff pastry, Wellington-style, came to me as a way to translate these striking flavours to something with real showstopper appeal.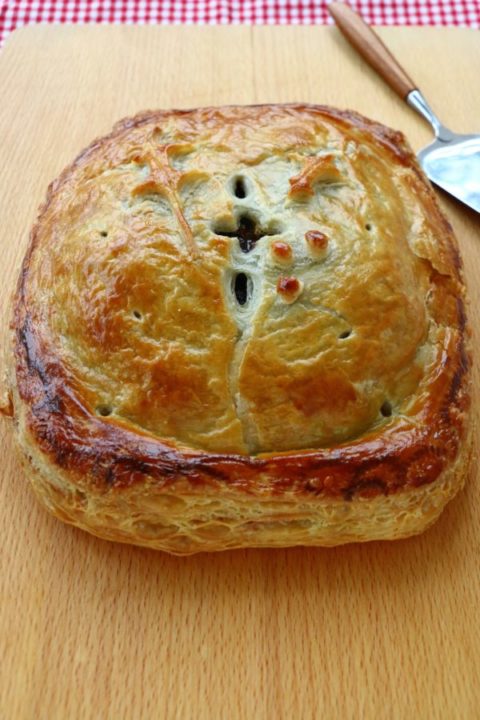 We've had so much pleasure from this dish, but only make it for special occasions and haven't even done that in a while, so it seems a perfect candidate for Christmas this year.  It has several virtues for current times.  It's more of an assembly job than 'cooking' per se.  Yes, you can make your own tapenade, roast your peppers at home, and make your own puff pastry, but everything you need can be bought ready to use.  Just get the jarred red peppers in large pieces rather than strips, choose a good tapenade, get the moist prunes that don't require soaking, source the best free-range or organic chicken breast you can; and please, please, buy the all-butter puff pastry if you're using ready-made.  *If you do want to make your own puff pastry, and I say go for it if you have time and inclination, here's the recipe I use.
The other thing I love about this dish, besides the fact that it's so gorgeous when it's on the table, is that every step is pretty, colourful, and interesting for the cook.  Some of the ingredients aren't ones I use everyday, and I like to see them build up into a burnished work of art.  Putting it together with the help of ready-to-go specialities feels like having your own sous chef — but it definitely still requires enough effort to satisfy the seasonal need to make a production.  Plus there's the little decorative element you can fuss with if you feel like it.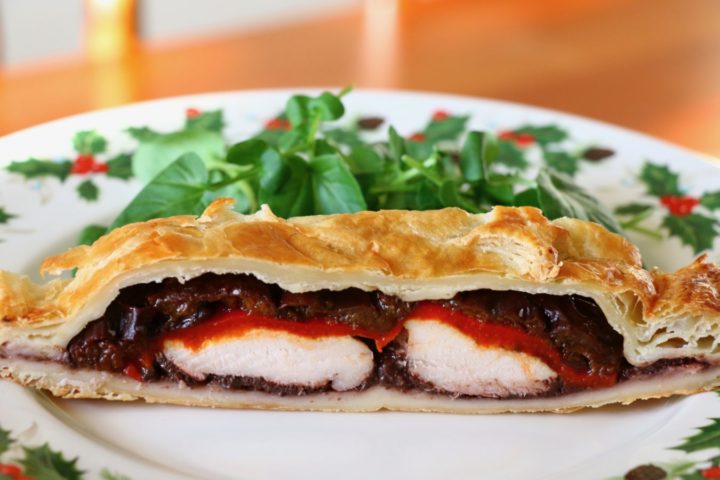 This year we'll be having it with a refreshing salad:  spinach, tender lettuces, some shaved celery and pomegranate seeds.  You could also serve it with steamed brussel sprouts, roast potatoes or squash and all the rest, if you want the traditional side dishes.  It's very versatile, and none of its distinctive flavours are so dominant that they'd clash with anything else you might want to put on the table.   All the steps are laid on for you in the recipe, below.
Some other ideas for this very different Christmas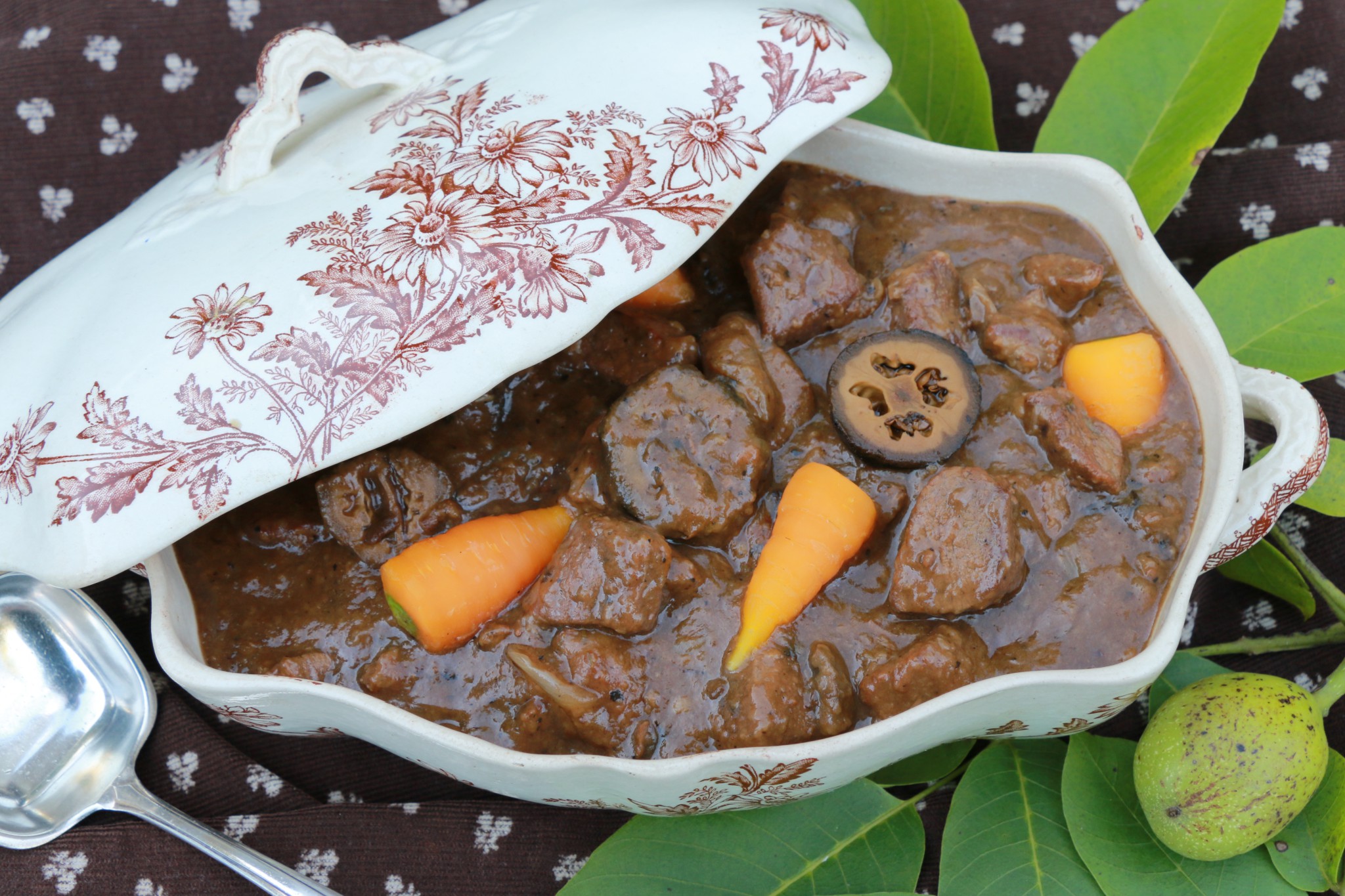 I've other alternative Christmas ideas for this year.  High on the list is a really good venison pie, adapted from my favourite venison and ale stew.  The stew itself is very special as it is, but making it into a pretty pie makes it more of a centrepiece for a holiday table.  To make the pie, I replace the pickled walnuts in the recipe with some chunks of stilton once the stew is cooked and cooled, and top it all with a short-crust pastry.   It's a great thing to make ahead, and it's perfect for meals to deliver, too, made as smaller pies.  It suits all the traditional veg for those who would miss them, and of course it has its own gravy.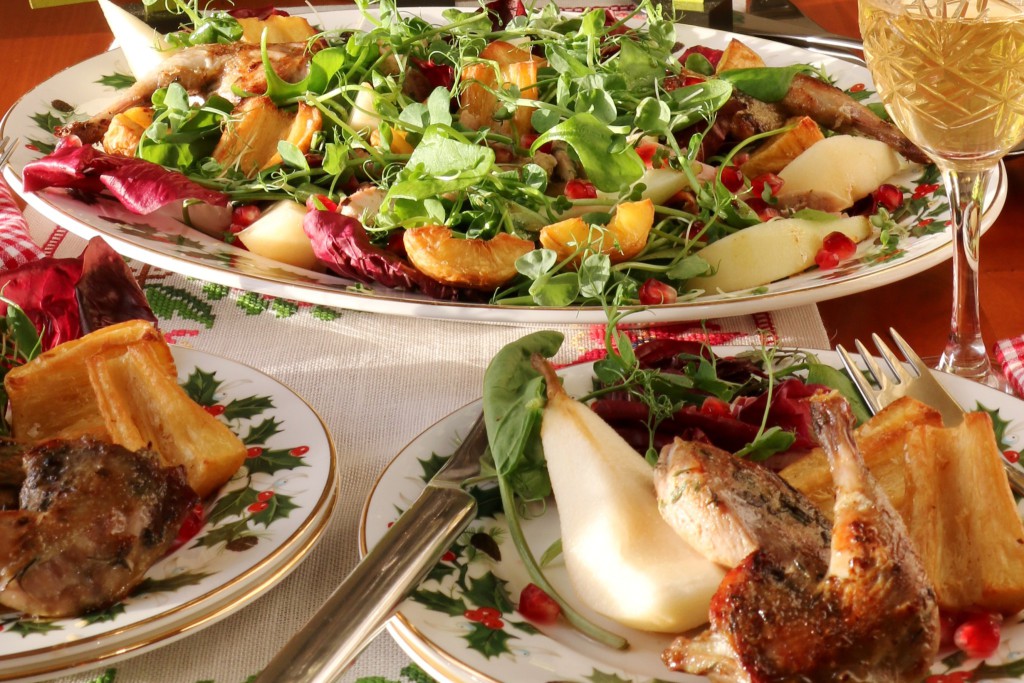 There's feathered game, too, and it's at the peak of its season right now and very fitting for a scaled-down holiday feast.   Partridge is my favourite of them all.  They are small enough for one or two people, not expensive, and can also take all the traditional trimmings if you'd miss stuffing, cranberry sauce, and roast potatoes.  The main thing is not to overcook partridge, as it should be served slightly pink, in which case it will be delightfully juicy.  A whole young bird takes about 25 minutes in a high oven.  My all-time favourite way with partridge, though, is this main course salad, with pear and roasted parsnip.
If fish is part of your holiday plan, this wonderful bream we discovered in Naples, baked with a top coat of pink peppercorns, coriander seeds and rosemary, is hard to beat — not overpowering at all, as you might think from the quantity of herbs and spice — just right, and so Christmassy in looks, too: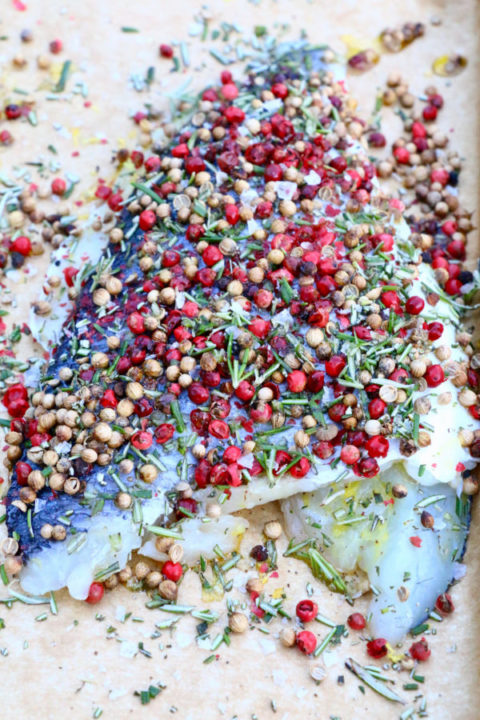 For vegetable lovers, a celery, sage and stilton tart has seasonal flair and tastes divine.  It's a great after-Christmas tart as well, if you happen to have celery and stilton left from the big day.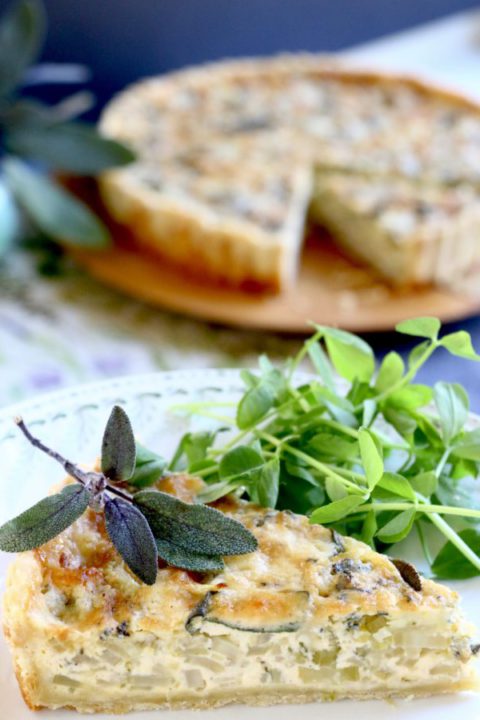 This leek and goat cheese tart, made with flaky puff pastry, may be my favourite of all savoury tarts, when leeks are at their best as they are right now.
For gifts, these little Umbrian red wine, olive oil, and aniseed biscuits are delicious and last beautifully, so good with coffee, tea, or a glass of Christmas sherry or wine.  They smell beautiful baking and in the biscuit jar, and a batch goes a long way.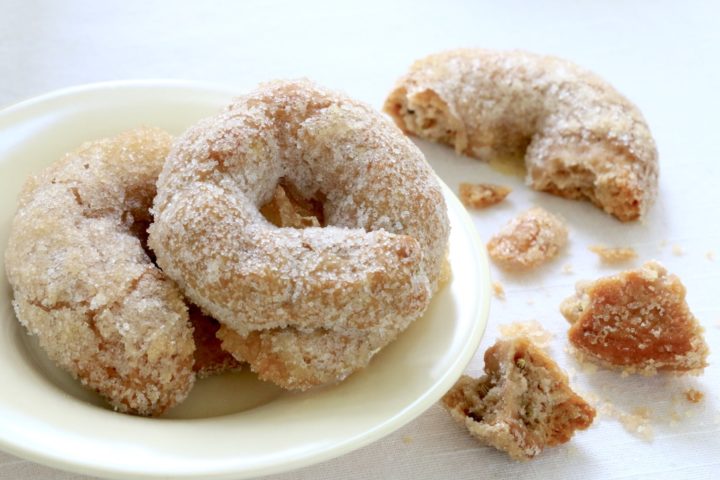 Or of course,  there's always gingerbread, and this recipe, with cocoa and black pepper is truly sublime.  Shaped with cookie cutters, or in old-fashioned moulds, they couldn't be merrier.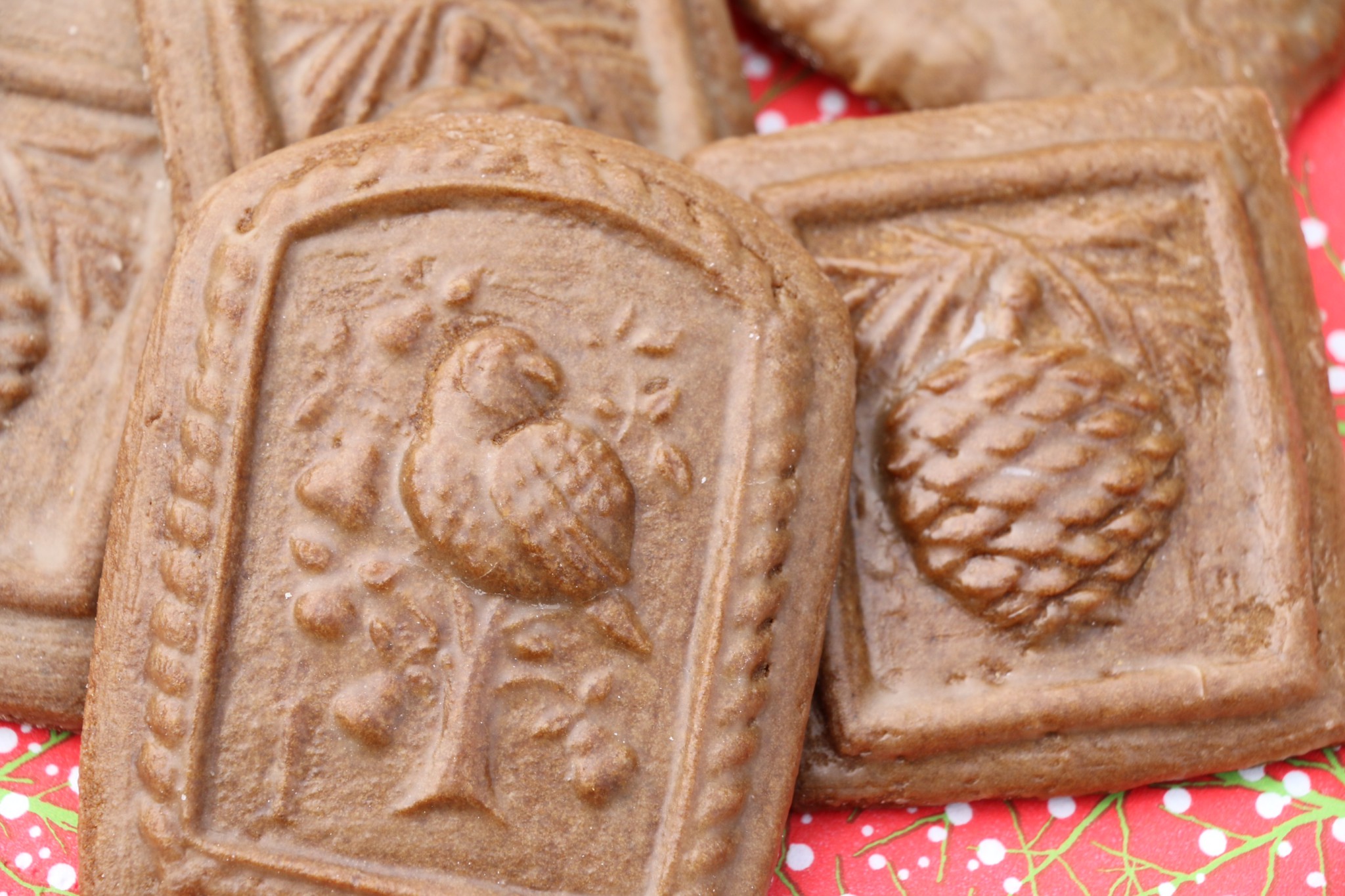 The Scandinavian Toscakaka is one of my favourite seasonal cakes, so delicious with its caramelised almond topping over a tender rich sponge.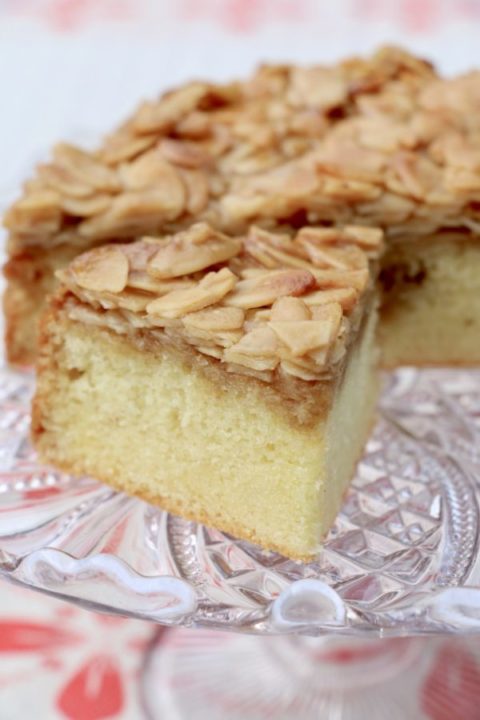 If you enjoy spending more time on a festive project, the Hungarian Dobosh torte, with its seven or more thin cake layers alternating with chocolate ganache, is as delicious as it is spectacular.  This was a highlight of my childhood, made with love by my mother for years and handed on as a tradition to me.  I've taught it, in turn, to others who make it with pleasure and pride.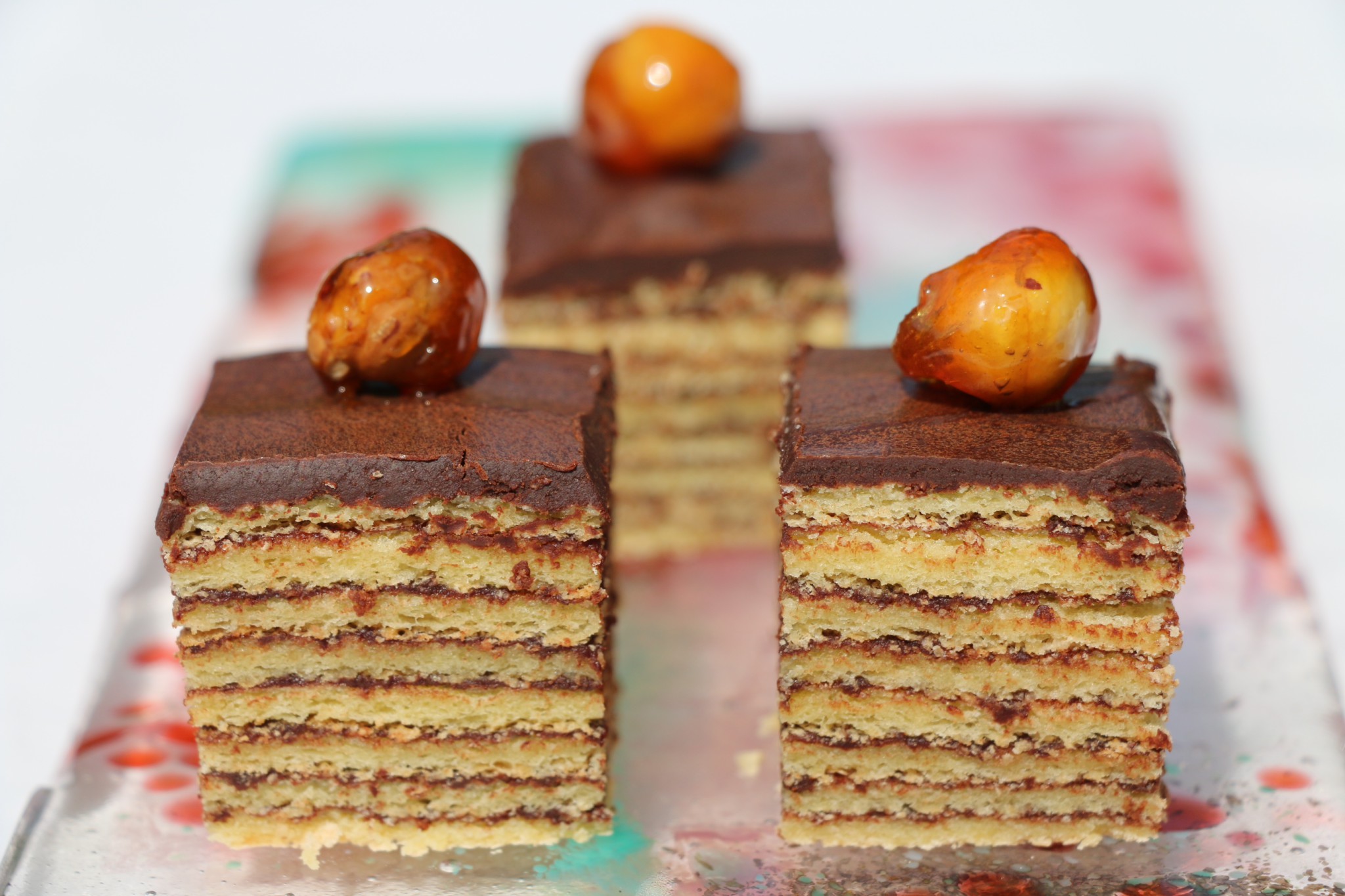 For those who love Christmas whimsy, making this particularly luscious and feather-light Buche de Noel, or Christmas Yule log, is a really fun way to spend some hours in the kitchen.  The chocolatey sponge-roll is filled with gingery cream, and decorated with charmingly lifelike 'mushrooms' made of meringue.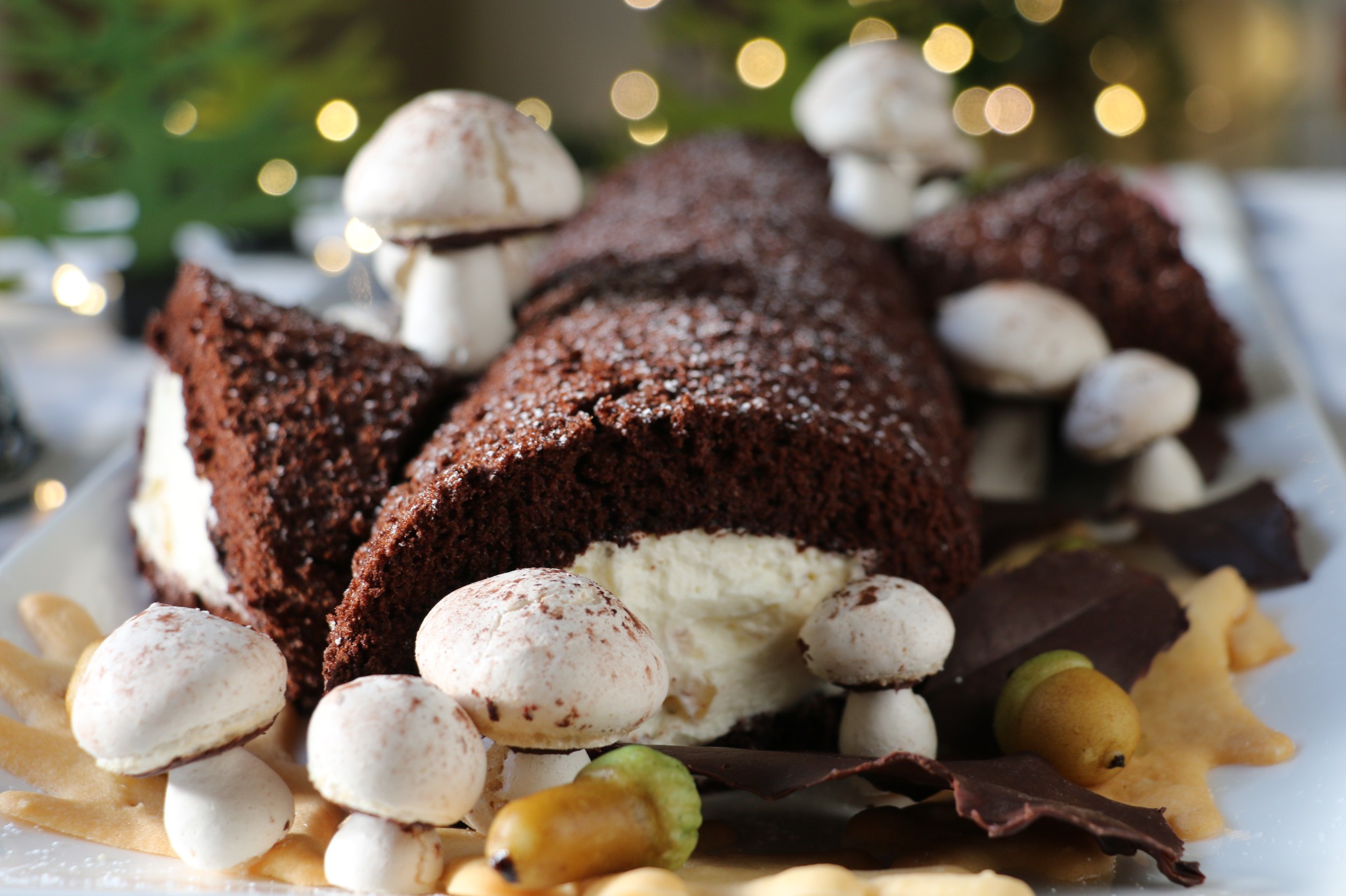 Whatever you cook, dear Reader, may it bring you comfort and joy in the kitchen and at the table this different Christmas.
RECIPE
Chicken breasts with black olive tapenade, roasted red peppers & prunes in puff pastry
Serves 4
Ingredients:
2 skinless, boneless chicken breasts, each weighing about 260g (9-ounces each)
450g (1 pound) all-butter puff pastry, thawed
100g (3.5 ounces) black olive tapenade
about 225g (8 ounces) roasted and skinned red peppers from a jar, cleaned of seeds and fibres, and patted very dry on kitchen paper
about 170g (6 ounces) pitted prunes (the kind that are soft, not too hard)
2 cloves garlic, crushed
judicious sea salt and more liberal black pepper
1 egg yolk beaten with 1 tablespoon milk (to use as an 'egg wash' to seal the pastry and glaze it)
Directions:
Heat the oven to 200C/400F.
Clean the chicken breasts of all sinews, fat and gristle, and season both sides with the garlic and some black pepper.  Place the two breasts next to each other on a chopping board, nestling them together so they look like one large breast.  Season just the top lightly with sea salt.  Pound out the fatter bits of the breast gently with a meat pounder or a rolling pin well-covered in plastic wrap to protect it from the raw meat.  Measure the size of the two breasts so you know how large to roll the pastry.  (Mine measured 14cm x 16.5cm, or 5.5 x 6.5 inches.)

Roll our the pastry base.

  On a clean, lightly floured work surface, roll out half the puff pastry into a rectangle that's 3cm (a little over one-inch) larger in every dimension  than your two nestled chicken breasts.  You need this clean margin to seal the top onto the bottom layer of pastry.   Roll the pastry a little less than half a centimetre (or quarter-inch) thick.  (Mine measured 20cm x 22.5 cm, or 7.5 x 8.5 inches.)  Transfer the pastry base to a thin baking sheet lined with parchment paper.
Spread the black olive tapenade in an even layer over the base, leaving a clear margin of 3cm (1 inch) on every side.
Place the two nestled chicken breasts over the tapenade and pat them snugly together.
Trim the well-dried red peppers so they fit neatly over the chicken breasts, in a single layer with no overlaps.
Open up the prunes so the soft interiors are exposed and place them in a single layer, so they touch, to cover the red pepper.
With a pastry brush or a clean finger, apply a thin layer of egg wash all around the clean margins of the pastry base.  This will help to seal the pastry top in place.

Roll out the pastry top:

 On the clean, lightly floured work surface, roll the remaining half of the puff pastry into a rectangle that is larger than the base was by another 3cm (1-inch) in every dimension.   (My top pastry was therefore 26cm x 28.5cm, or 9.5 x 10.5 inches.)   The top pastry sheet needs to be larger in order to cover the mound of chicken without stretching too much.  Carefully drape the top pastry over the chicken/peppers/prunes, and guide it into place to join neatly with the bottom pastry, pressing lightly at first as you go.  'Burp' any air bubbles out of the top pastry blanket before you seal it all around, and use your hands to mould it to the chicken filling.   Use a fork (or the tines of a mini whisk) to press and seal the edges securely all around.  At this point the pastry edges will be untidy.
Trim off the excess pastry on all sides with either a sharp knife, or ideally, a sharp pizza cutter, which is easier to steer without dragging the pastry.  Leave a 3cm (1-inch) edge all around.   Round off the edges if you like.  Check that everything is still securely sealed.  Make a steam vent in the centre of the pastry with a sharp knife (this is where you'll check for doneness), and also make some extra holes for steam to escape: about 8 all around the pastry.  Just go through the top, not deep into the ingredients.  Decorate with scraps of pastry if you wish, making sure not to cover the steam holes (pastry tips and small cookie cutters work well for this).
Brush the beaten egg very lightly onto the sealed margins of the pastry, being as careful as you can not to drip egg over the sides onto the tray, as this will act like glue to hamper the rising of the pastry.   Proceed to glaze the rest of the pastry with a light application of the egg wash.
Chill the pastry for half an hour to help it set if you have time.  You can proceed right away if you don't.
Bake at 200C/400F for about 35-45 minutes, or until it's beautifully puffed and a deep golden brown all over.  To ensure the chicken is perfectly and safely cooked, an instant-read thermometer should read 74C (165F) when plunged into the centre.  You can also test with a metal skewer:  it should slip into the chicken easily and come out with no resistance.
Let the pastry rest for at least 10 minutes so the juices settle.  To serve, cut into thickish slices with a sturdy serrated knife, and serve hot or at room temperature.  For food safety, refrigerate any leftovers within two hours and serve them the next day.  I prefer to eat any leftovers a few minutes out of the fridge so they're just lightly chilled (like you'd have a British pork pie).  You can also re-heat them on a baking sheet in a 190C/375F oven until the centre is piping hot, but don't wrap or cover them, as the pastry will get soft.
This makes a beautiful party centrepiece for a buffet table.  It is also lovely served as a main course with an interesting green salad (baby spinach is good, or shaved celery with cress and pomegranate for something Christmassy).  Being very versatile, it also works just as well with steamed or roasted vegetables (butternut squash and brussel sprouts  are good companions).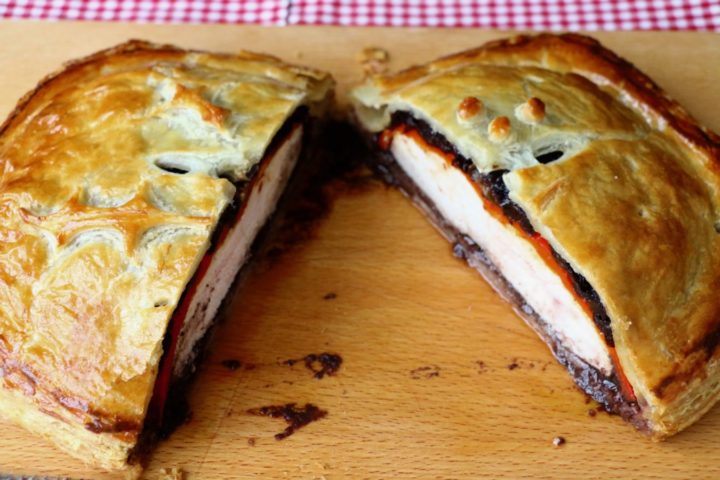 Other Christmas stories and recipes on Crumbs on the Table: