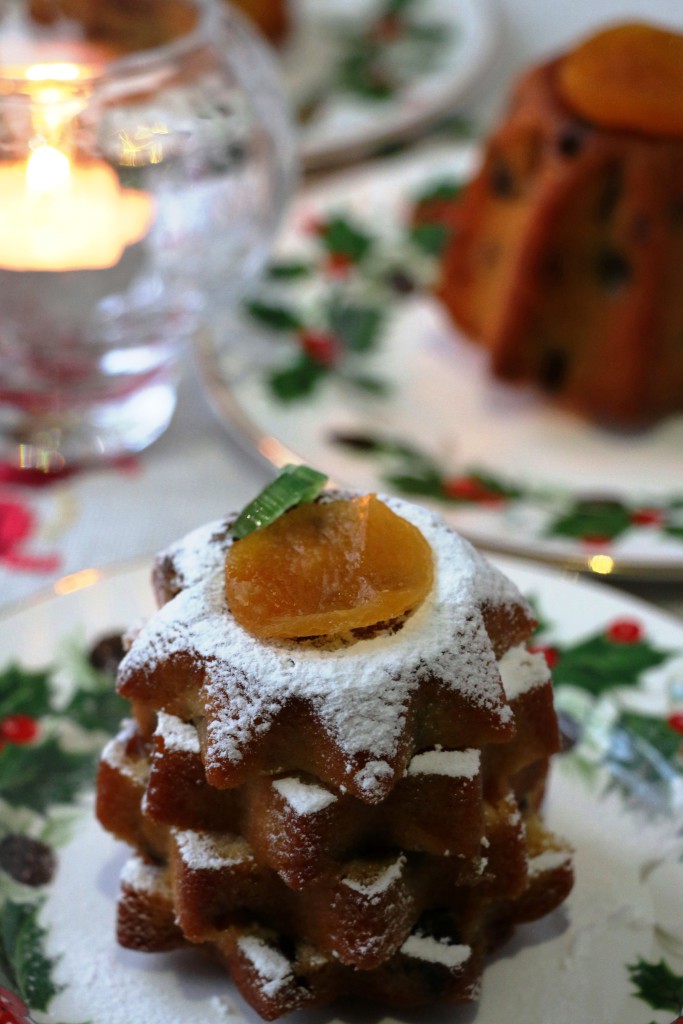 It's days before Christmas, and I haven't made The Cake yet.  These past few years I have taken on the hefty responsibility of making my English family's traditional British Christmas Cake, and this year I dropped the ball. I should have made it in October and fed it with brandy at least three times, giving it time to age before being covered with the traditional marzipan and royal icing. Well, I could make it anyway and see if anyone notices — maybe the ageing lark is a myth that adds that little bit more unnecessary pressure to the pre-Christmas rush. Or maybe all that dried fruit really does need time to taste of more than a slice of dried fruit. Well, yes, of course it does. Would I doubt tradition, much less the word of Delia and all her predecessors and successors?
So this year I will get on with making a lighter cake with apricots and figs that can be made at the last minute, and I'll be honest: I like it better than the denser, darker version, though I be shunned for saying so. It has a higher ratio of cake to fruit than the traditional British production, and rum and vanilla are both important to its flavour — no spices are involved at all (no marzipan or royal icing either: a definite plus when pushed for time). It reminds me more of a rum cake with fruit in it than the other way around. I like using dried figs and apricots along with vine fruits and cherries, but you can please yourself; just keep to the proportion of about 300g (about 10 ounces) total in fruit.
This cake tastes better and is easier to cut a day after baking, and will be at its best for about 5-7 days — a little longer if you soak the fruit well before baking and brush the cake all over in rum once it's out of the oven. It freezes beautifully, though, so you can make it even if you are super-organised ahead of the hols.  Just leave the glaze and garnish until it's thawed (and defrost still in its wrappings so the condensation collects away from the cake).
If you don't want to use rum, soak the fruits in tea and just use the apricot glaze to finish the cake. The vivid-green candied angelica used for decoration is the glacéed stem of the tall aniseed-flavoured herb, more common in Italian and French patisserie than in English or American baking. It's strongly flavoured, so use sparingly.
This amount makes one 20x8cm (8x3in) loaf cake, or you can make smaller cakes in muffin tins.  I used miniature Pandoro moulds for the cakes in the picture above (the Pandoro is an Italian yeast cake flavoured with vanilla, traditionally cut horizontally to look like a Christmas tree).
The mix is easily doubled, so if you need a present for someone else who procrastinates, this could be it.
Vanilla-rum fruitcake with figs and apricots
serves 8-10
Adapted from Michel Roux, Desserts (Quadrille, 2011)
Ingredients
For the cake:
75g (about 2.5 oz) dried vine fruits (e.g., Lexia raisins, golden raisins, sultanas, currants)
75g (about 2.5 oz) dried apricots, coarsely chopped
75g (about 2.5 oz) dried figs, stems removed and coarsely chopped
75g (about 2.5 oz) glacé cherries, rinsed, dried and halved
50ml (about 3 tablespoons) dark rum for soaking, plus 50-70ml (3-4 tablespoons) more for brushing on the cake
125g (9 tablespoons) unsalted butter, room temperature
125g icing sugar (1 cup confectioners sugar sifted before measuring)
2 large eggs plus one additional egg yolk
2 teaspoons vanilla extract (or the seeds of one vanilla bean)
190g plain / all-purpose flour (1½ cup sifted before measuring)
1 teaspoon baking powder
¼ teaspoon salt
For the glaze and decoration:
80g (about 4 tablespoons) apricot jam, sieved
5 dried or glacé apricots, or a mix of dried apricots and figs
Small strip of glacé angelica, cut into 10-12 thin strips
Directions
Soak the fruits in the 50ml (3 tablespoons) rum overnight if you can, or for a few minutes while you prepare the baking tin and other ingredients.
Heat the oven to 180C / 350F.
Butter a loaf tin measuring 20x8cm (8x3in), and line it with baking parchment.
Beat the butter and icing sugar until light and fluffy.  Add vanilla (seeds or extract), and then the eggs, one at a time, and the extra yolk, beating after each addition just to incorporate.
Reserve a little of the flour to dust the fruit. To the bulk of the flour, add the baking powder and salt and whisk well to mix.  Add this to the butter mixture in three goes, beating just until the mixture is smooth. Don't overbeat, or the cake will toughen.
Sprinkle the reserved flour over the macerating fruit, and then add to the batter. Stir well by hand to combine evenly. The batter will be thick.
Spoon into the prepared pan and press in to ensure there are no gaps.  Level the top, pushing a little extra into the corners and making a slight depression along the centre to compensate for the cake's tendency to rise higher in the middle.
Bake for 35-45 minutes, or until the cake is golden on top and a skewer inserted where it's thickest comes out clean. Turn the pan halfway through baking to ensure even browning. Cover the top with foil if it colours too quickly.
Brush some of the remaining rum on top when the cake comes out of the oven.  Let it cool for 15 minutes on a wire rack and then remove from the tin.  Brush the sides with the remaining rum while still warm and let it rest for a few minutes.
Apply the sieved apricot jam to the tops and sides of the cake: use just enough to make it shiny, but not too sticky.
Decorate with the apricots (and/or figs), brushed lightly with jam, and arrange the angelica strips on either side.
Serve the cake the next day, and store airtight.