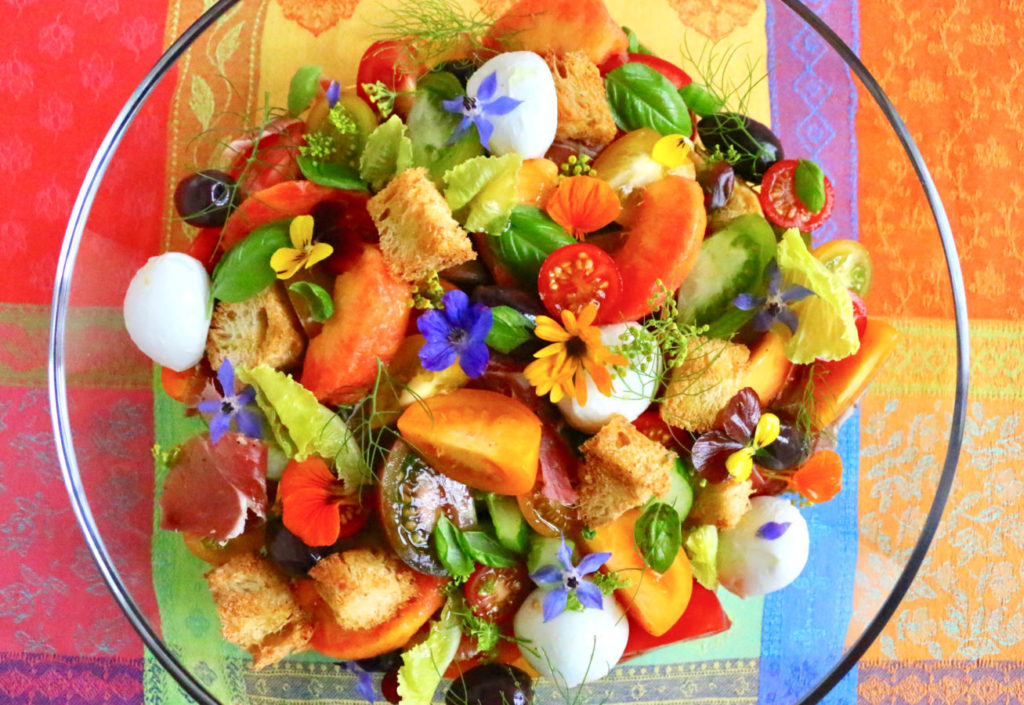 It seems most of us have vivid memories of August and its edible treats, thanks no doubt to the power of school holidays. For me, a countryside childhood in hot climates instilled a fearsome respect for this month, which my peers and I cherished in spite of parched landscapes and heat mirage because it also brought those feral freedoms.  We would disappear for hours, beyond (as we thought) the censoring eyes of adults, to adventure in the woods, hurl tomatoes at each other in the fields where they ripened under that brutal sun, forage wild berries, hunt for basking turtles, and indulge in other mostly harmless mischief, running ourselves red-faced and ragged in a landscape drained of green until we were called in panting for lemonade, or watermelon, or popsicles.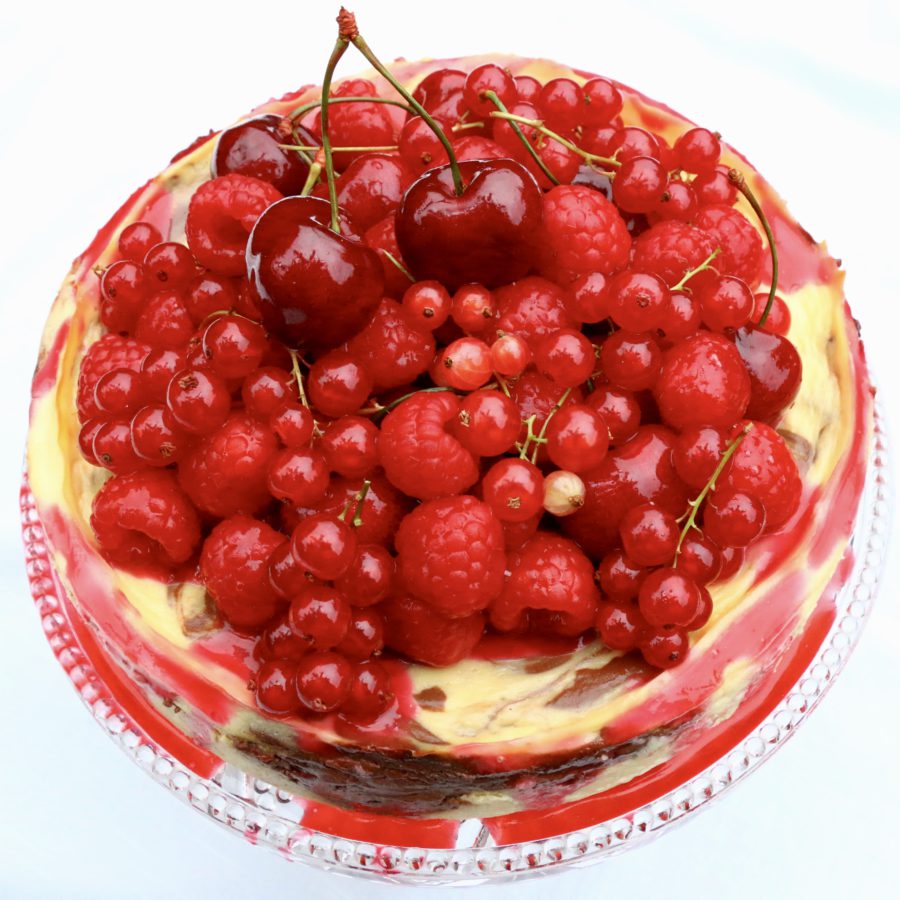 The other extreme was the languid collapse: the Nancy Drew mystery read under a tree; the fishing poles left idle, their hooks wormless, the aluminium rowboat too hot to handle; or giving in to sleepiness in the hammock to the drone of bees and mosquitoes. And when we made our seasonal pilgrimage to the shore, it was lying on beach towels scrunched in gritty sand; the blistering skin, the salt-tangled hair, the greasiness and coconut smell of suncream, all giving rise to discomforts of the body that were so longed for, so desirable.  No British seaside 99s for us, but there was Jersey shore salt-water taffy.
It was the season of peach cobblers, blueberry and sour-cherry pie, cantaloupe and corn, snap beans and stuffed peppers, and those ripe tomatoes put to better use; and sometimes hand-churned ice cream (once with wild strawberries frozen hard as bullets), and barbecues (memorably one year with steak stolen by Monk, our St Bernard, straight off the bed of hot coals).
Now, on the adult side of life here in milder, kinder England, the August sun may be less reliable in the hours it keeps, but makes its presence felt in the fertile fields and fruitful orchards, the heavy-tassled corn, the barley bleached grey and the wheat tanned brown.  It offers different freedoms, like quieter roads (a holiday in itself for those who stay at home), barring the occasional encounter on narrow country lanes with a combine-harvester.
And there are simpler meals, to be eaten outdoors on those lucky days when we can complain of the heat.  These summer assemblages don't feel like cooking so much as hunting and gathering, and can be a feast of a treat to assemble from the rainbow of produce bearing fruit in August, as various as we could wish for in colour, form and flavour.  The edible bounty is at no time greater: local tomatoes ripe at last, cucumbers, courgettes, aubergines, herbs, lettuces, and all those gorgeous, paradisal stone fruits and juicy berries.
At no other time would I choose to eat nothing but tomatoes, a plate of melon or peaches, or cold sliced meats and a bit of cheese. But August makes them perfect.  It's not just the heat, it's the sense of freedom, the silly season's temporary respite from normal routines and obligations, including those of the kitchen.  School is suspended and work abandoned for a while. Holidays beckon, and if we're lucky we find ourselves again, through a step out of time, through the go-slow that nature enforces when it's that bit warmer and we want to make the most of it.  Whether we escape to hotter climes or not, August still feels like a holiday.
Taking advantage of the sun's offerings at the market can make us feel sunnier, even on those August days when rain flattens the petunias and blights our garden tomatoes.  Even then, August being August has that timeless quality.  Time stretches out; it heads towards us instead of running away.  The continuum of seasons pauses for a moment with more space in between just to be.  We can live a little differently this month, a little freer; and our appetites are lighter, from all that light.
Something deliciously fresh and beautiful to eat can help us hold onto that feeling.  I adore the simplicity of a main course salad this month, where everything is brought together on one canvas, a one-dish supper celebration for the late days of summer.  And a summer pud has to be fruit-focussed; even, or especially, in a decadent, show-stopping extravaganza.  This month's recipes bring together so much that is most vibrant in this most vibrant of seasons: peaches, cherries, tomatoes, cucumbers, herbs, lettuces, edible flowers, red currants, and the raspberries that are plentiful and cheap enough now to feast on without restraint.
Here's to summertime's colours on our plates.  Here's to feasting on sunshine.  Here's to sipping a Pimms while watching the last of the swifts circle overhead before starting their journey across the Sahara.  May we all linger a while at leisure for the joy of it.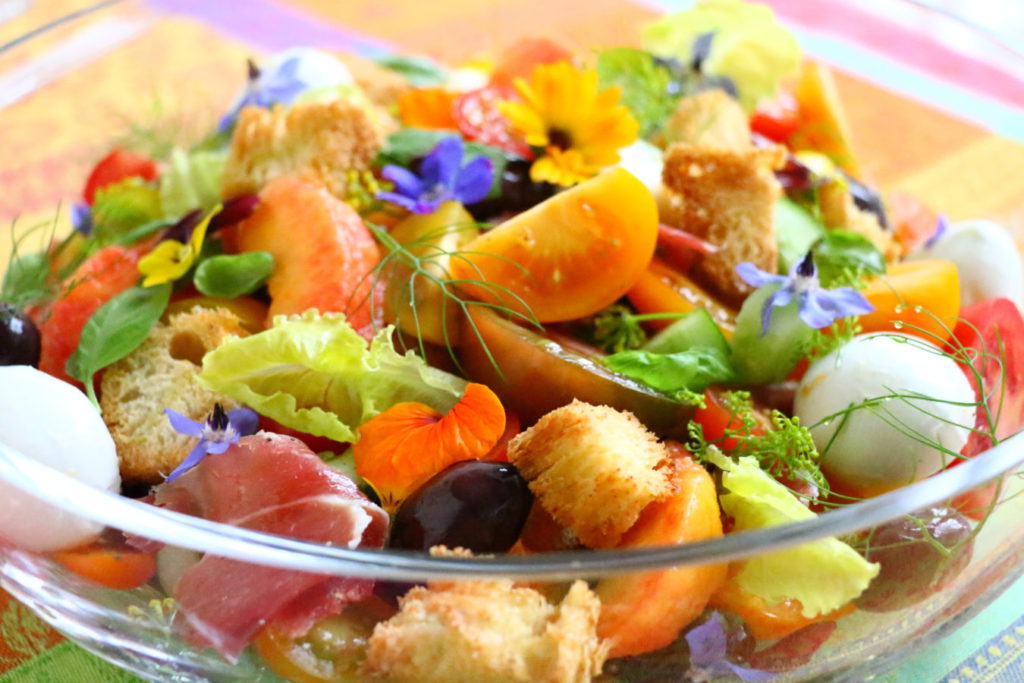 Peach and prosciutto panzanella
Serves 4 as a main course; scales easily up or down  
Panzanella is a satisfying and practical Italian salad made with leftover bread, tomatoes and good olive oil. This variation includes peaches and prosciutto for an easy meal-in-one salad when it's too hot to cook – nothing else needed.
Try to get a selection of tomato varieties for a contrast of flavours and colours. Assemble the salad about 15 minutes before serving so the croutons soak up some of the delicious juices – but don't leave it long, or the bread could become too soft.
The croutons can be made in the cool of the day and stored at the ready. You do need a loaf with good body for this. Don't try it with pappy bread, which would simply disintegrate. And use the best olive oil and vinegar you can. Exact quantities of both will depend on your tastebuds and ingredients, so adjust to please.
Ingredients:
Half a loaf of sturdy Italian-style or sourdough bread, 1-2 days old, crusts removed (for a handful of croutons per person)
About 2 tablespoons olive oil or garlic-infused oilseed rape oil for the croutons
Sea salt and freshly ground black pepper
4 ripe peaches, and the juice of half a lemon
8 slices prosciutto (or substitute crisp-cooked bacon)
4-5 large tomatoes
24-30 cherry tomatoes
1 garlic clove, finely minced
1 cucumber
8 bocconcini –  mini buffalo mozzarella balls (250g, or 7-8 ounces)
About 20 olives, black and/or green
A handful of robust, small lettuce leaves (e.g., little gem or inner leaves of romaine)
A handful of whole basil leaves; and 5-6 mint leaves, roughly chopped
About 4 tablespoons extra virgin olive oil for the individual components, plus another 6-7 tablespoons for a dressing
About 1½ tablespoons wine or sherry vinegar for the dressing, and another drizzle for the tomatoes
Optional: 1-2 red chilli peppers, finely minced; and snipped fresh dill or chives
Optional garnish: dill and/or fennel fronds and flower heads; and edible flowers such as borage, anchusa, viola, pot marigold, nasturtium
Directions:
Cube or rip the stale bread into bite-sized pieces, distribute them in a single layer onto a baking sheet, and moisten with the 2 tablespoons of olive oil or garlic-infused oil-seed-rape oil (mix them with your hands to distribute the oil).  Sprinkle lightly with sea salt and bake for about 15 minutes in a pre-heated 180C / 350F oven until golden brown on the edges and crisp throughout.  Cool completely and store airtight for up to 3 days.
Peel the peaches by pouring boiling water over them and then running them under cold water: the skins should slip off easily.  Slice each peach into about 8 wedges into a bowl, and squeeze on the lemon juice to prevent discolouration; add 1 tablespoon of olive oil, and a pinch of minced chillies, if using.  Set aside.
Core, and cut large tomatoes into wedges; cut cherry tomatoes in half.  Season with salt and pepper, a modest drizzle of olive oil and wine vinegar, all the minced garlic, and a pinch of the chillies, if using.  Set aside.
Slice the cucumber down its length and scrape out any watery seeds (peel if the skin is tough); slice into1cm half-moons, season with sea salt and pepper, and drizzle with olive oil.  Add chopped dill or chives, if using.
Season the mozzarella balls with sea salt and pepper, add the rest of the chillies, if using, and a drizzle of olive oil.
Whisk together a dressing from about 1½ tablespoon vinegar, a pinch of sea salt and pepper, and about 4 tablespoons of olive oil.  Taste and adjust proportions as needed; set aside.
To assemble: Build a base with equal amounts of tomatoes and peaches, including the juices, and sprinkle on some basil leaves and mint.  Scatter over half the cucumber, olives and mozzarella balls; half the croutons; and then half the prosciutto, ripped into manageable pieces.  Tuck in half the sturdy lettuce leaves.  Drizzle on half the dressing. Now build the top layer by repeating the sequence so you have some of each ingredient on display.  Drizzle on the remaining dressing.  Garnish with feathery herb fronds and edible flowers if you wish.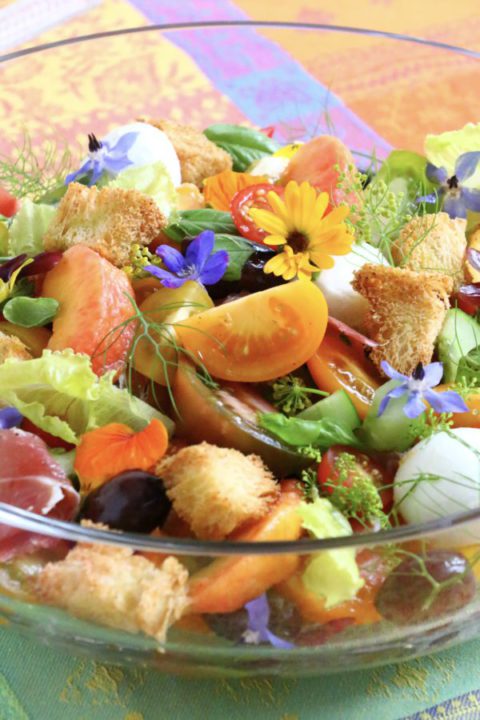 Chocolate marbleised cheesecake with summer fruits
Serves 8-10
Adapted from Maida Heater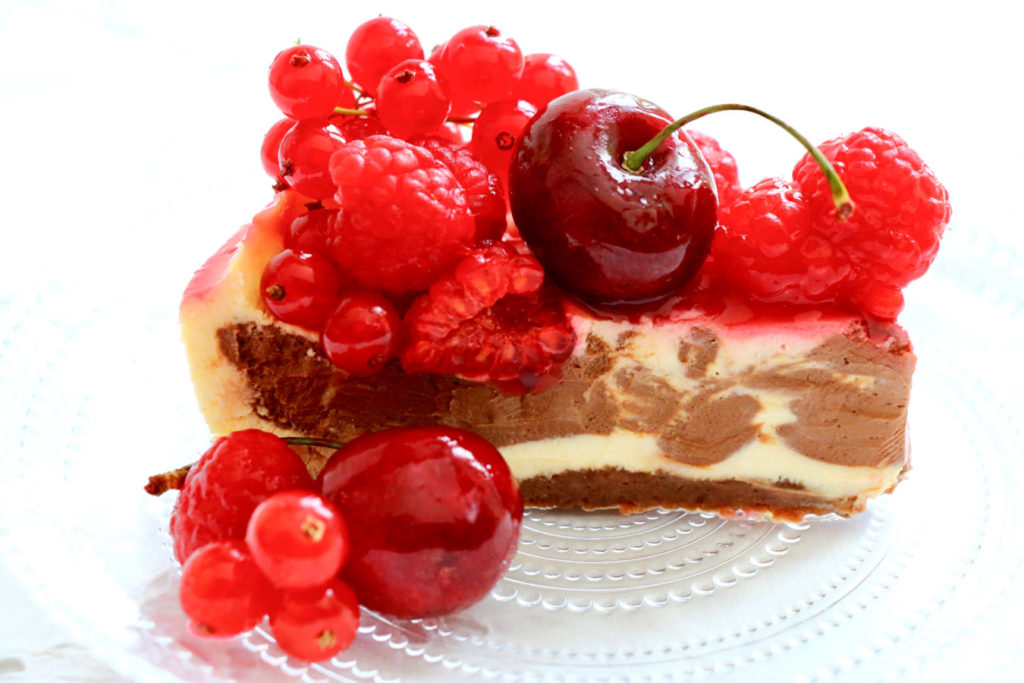 The contrast between the chocolate and vanilla swirls in this beautifully marbleised cheesecake is delightful, and makes the perfect foil for late-summer red fruits: raspberries, red currants, cherries, pile them high as you dare.
This is a baked cheesecake: it needs just 30 minutes in the oven to produce a silky smooth and softly melting texture. Allow at least six hours for it to chill once baked. You will need a 20cm x 6.5cm round springform pan (8×2.5 inches) with a removable bottom.
For the biscuit crust:
115g (4 ounces) chocolate biscuits (remove any filling)
30g (2 tablespoons) unsalted butter, melted
For the cheesecake:
170g (6 ounces) semisweet chocolate
340g (12 ounces) full-fat cream cheese, at room temperature (if using Philadelphia, use the original formula, not the 'creamier' version)
100g (½ cup) caster sugar
2 large eggs
500ml (2 cups) full-fat sour cream
1 teaspoon vanilla extract
pinch salt
For the fruit topping:
About 200g (7 ounces) each of raspberries, red currants and cherries; or about 1.3 pounds of any combo you like
1 level teaspoon arrowroot or cornstarch
2 tablespoons caster sugar
Directions:
Heat the oven to 180C/350F, and position the rack one-third up from the bottom of the oven.  Butter the sides of the springform pan well, but not the bottom: this allows the cheesecake to be released easily from the base for serving.
Make the crust by pulverising the biscuits in a food processor, or put them in a sturdy plastic bag and bash them into fine crumbs with a rolling pin.  Mix the crumbs with the melted butter until you have a sandy mixture.  It may look dry, but don't add more butter as this will make the base greasy and hard.  Use your fingers to press the crumbly mixture evenly and fairly firmly onto just the base of the springform pan.  Chill the base while you make the filling.
For the filling: Melt the chocolate over very low heat, being careful not to scorch it — you will add ingredients to the melted chocolate later, so use a medium saucepan to allow room (or bowl if you melt the chocolate in the microwave).  Set aside to cool to lukewarm.
Pat dry the room-temperature cream cheese using several layers of clean kitchen towel; it should easily peel away to avoid any waste when you've removed the excess moisture.  In a clean, large bowl, mix the cream cheese through with either a sturdy spoon or an electric mixture to ensure it's completely free of lumps.  Add the sugar, vanilla and salt, and mix well.  Then add the eggs, one at a time; and finally mix in 375ml (1½ cups) of the sour cream, reserving the remaining 125ml (½ cup).  Give everything a good stir.  (TIP: Place the bowl directly onto your kitchen scales and weigh each ingredient in turn directly into the bowl, remembering – and this is crucial! –  to zero the scales after each addition.)
Now for finishing the chocolate portion of the cheesecake mixture: place the pan (or bowl) with the lukewarm melted chocolate onto your weighing scales – remember to zero it! – and stir in the remaining 125ml (½ cup) sour cream.  Then add 375ml (1½ cups) of the vanilla cheesecake mixture from your large mixing bowl, and stir until the chocolate mixture is smooth and even.  Retrieve the chilled base from the fridge.
Dollop the two different cheesecake mixtures in large, alternating spoonfuls over the biscuit base.  Then use the broad side of an ordinary table knife (not its sharp edge) to swirl the two mixtures together in a couple of large figure-eight or zigzag movements.  Don't overdo it, or you'll lose the contrast between chocolate and vanilla.  To level the top of the cheesecake, rotate the pan briskly first in one direction, and then the other.
Bake for 30 minutes or until the cheesecake is firm around its outer half, and still a little soft in the centre half.  Remove in its pan to a rack to cool.  When it is almost room temperature, carefully run a sharp knife around the inside of the pan to release any bits of the cheesecake that may have stuck to the sides.  Refrigerate the cheesecake in the pan for several hours or overnight.
When ready to serve, release the sides of the springform pan and remove the outer ring by raising it above the cheesecake.  Have ready a serving plate.  Use a thin metal spatula to release the cheesecake from the metal bottom: carefully insert it underneath the cookie base and slide it all along the underside of the cheesecake.  With the spatula still in place, raise the cake from the metal base, supporting the cake with your hand, and lift it onto the waiting plate.  Serving the cheesecake works best with a sharp knife, wiped clean between each cut.  Keep the cheesecake chilled until serving and refrigerate leftovers promptly.
For the fruit topping: As shortly as practical before serving time, place two-thirds of the red currants, freed of their stems, in a medium saucepan with the sugar and 2 tablespoons of water.  Bring to a simmer, and after one minute, remove from the heat and strain out the seeds.  Return the seedless juices to the saucepan and add the arrowroot (or cornstarch), after first dissolving it in 1 tablespoon of cold water.  Bring the mixture briefly to the simmer until the juices are thickened and clear.  Cool completely, and carefully immerse the fruits so they are all coated with the red glaze.  Arrange the glazed fruits on top of the chilled cheesecake, and drizzle a bit of the glaze down the sides.  Now, dive in.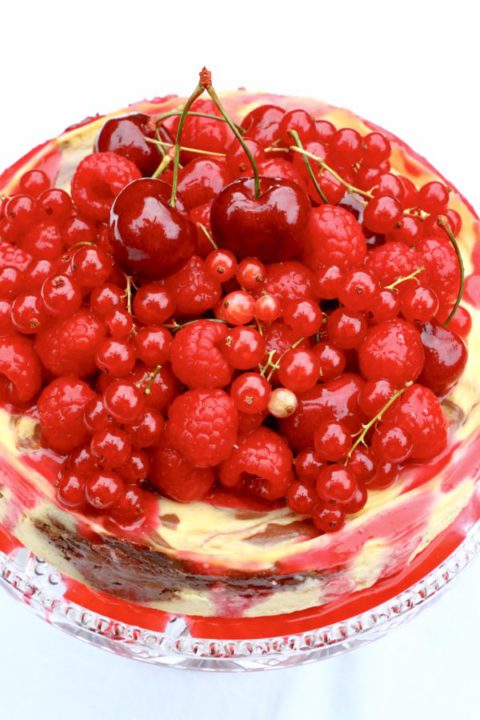 [This article was published in the August 2017 edition of
Cambridge Magazine.
]