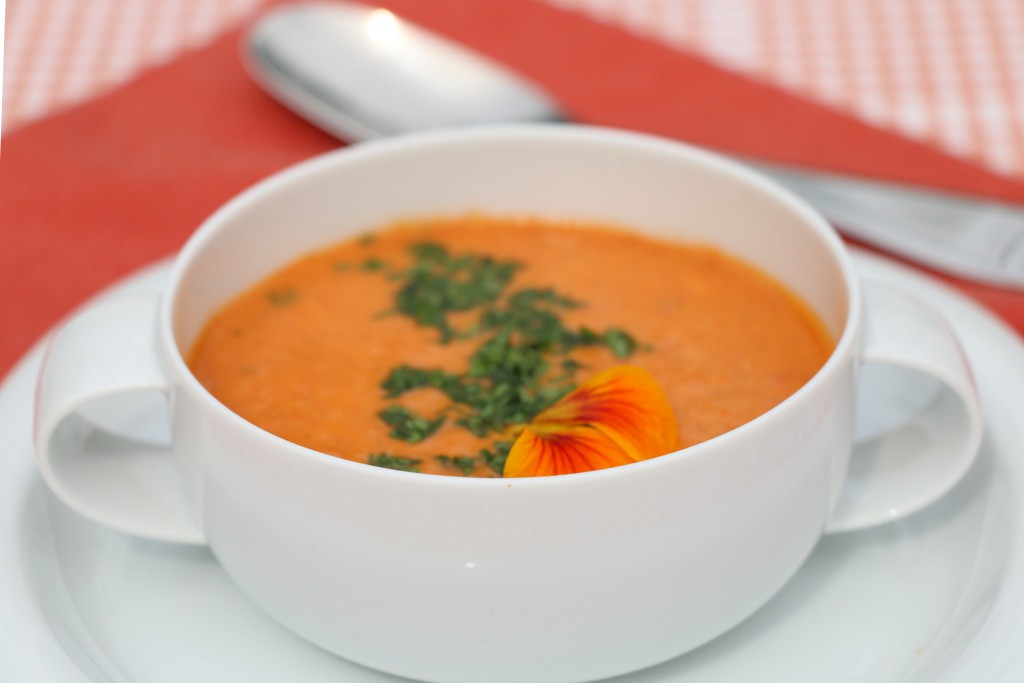 This soup is so good it deserves the limelight on its own.  It is incredibly healthy, and the most delicious spicy tomato soup I know.  Generous in ginger, and creamy with coconut milk (making it dairy-free), it provides all the satisfaction of a well-made curry while being all about the tomato.  It really is substantial enough to be a filling meal for summertime, with some good crusty bread and something green on the side. Make it in the morning for an evening meal on a hot day, re-heated or served cold or room temperature.  All are fabulous.
The recipe is adapted from one Sarah Raven developed for her upcoming book on healthy eating, which she shared with students on a cookery day at her Perch Hill school.  I have always loved fresh tomato soup made with summer tomatoes, and have made some sublime batches in my time, but this one is a revelation and won serious approval recently when I made it again for friends.
This soup is rich in the powerful antioxidant, lycopene, from cooked and sundried tomatoes. Cooking tomatoes triples the amount of lycopene they make available, so they are, surprisingly, even healthier than raw.  Dr Raven also shared a study with us that found eating broccoli and tomatoes at the same meal doubles their health-giving properties; so try a room-temperature salad of steamed flowerets on the side for an extra health boost.
Roasted tomato soup with coconut milk
Serves 6-8
Ingredients
1 kilo (2 1/4 lbs) fresh tomatoes, unpeeled and cut into large chunks
2 red onions, cut into large chunks
2 tablespoons oilseed rape oil (canola oil)
3-4 garlic cloves, crushed
180 g (3/4 cup or just over 6 oz) sundried tomato paste or the equivalent amount of sundried or sunblushed tomatoes in oil, cut into bite-sized pieces
80 g (1/3 cup or 2.75 oz) fresh ginger, peeled and grated (yes, this much!)
1 small red chili, or to taste
2 x 400 ml tins ( 2 x 13.5 oz cans) coconut milk*
250 ml (1 cup)  water or tomato juice
30g (1 large bunch) fresh coriander, reserving the stems, and coarsely chopping the leaves
3 tablespoons Thai fish sauce
1 tablespoon soy sauce
juice of 2-3 limes
*Low-fat coconut milk contains water, so if you want to reduce the fat content, buy one tin of full-fat and add another can water.
Directions
Heat oven to 200C/400F.
Use 1 tablespoon of the oil to lubricate the tomato and onion chunks on a baking tray, and season them with salt and pepper; roast them for about 30 minutes until slightly softened and roasted at the edges.
While the tomatoes and onions are roasting, cook the garlic, ginger and chili in the other tablespoon of oil in a large soup pot over medium heat.  Don't let the garlic take on colour.  After about a minute, add the coriander stems and the dill stems if using, and then the sundried tomato paste or pieces; cook for another minute.
Add the coconut milk and water (or tomato juice) and allow the flavours to meld for a few minutes until the roasted tomatoes and onions are ready.
Add the roasted vegetables to the pot, and then add the fish sauce and soy sauce.   Allow the soup to simmer for about 10 minutes.
Blitz the soup with a blender stick (or in a blender or food processor), until it is creamy but with some chunkiness left for texture.
Add about half of the chopped herbs, reserving the rest for the top.  Stir into the soup with the juice of two of the limes.  Taste and add more lime juice if needed.
Serve hot, cold or room temperature, garnished with the rest of the herbs.
The soup freezes well.
Sarah Raven roasts fresh fennel with the onions, and adds fresh dill, along with coriander. These additions are delicious too.