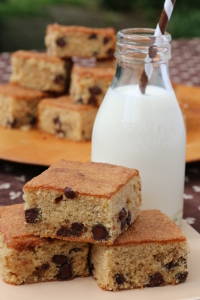 (Back to story, "I Used to Cook in a Piggery")
Mikey was a good friend in the Piggery kitchen and used to take more than the usual interest in what was in progress, especially the desserts.  She was a gifted mathematician with Pre-Raphaelite hair and a generous heart.  Her mother, Doris, was also a cook and taught Mikey to bake at home in rural Minnesota where nothing was wasted and bananas weren't taken for granted.
I've never seen a recipe for simple banana chocolate chip bars anywhere else, and thank my good fortune for Mikey's generosity and her mum's.  The only change I've made is to use butter instead of margarine, and to add a little salt.
These are  wonderful, moist treats, and a great way to use those overripe bananas with brown freckles.  I have friends who love these best of all goodies, and I've given them as gifts, sometimes wrapped individually, ready for the lunch box.
Don't be tempted to add more chocolate chips.  It doesn't need them.  And don't overbake. These are best when they are just golden on top and springy to the touch — cooked until the tester comes out clean — but no longer.
Bananas vary in size so much that I've included a precise weight for those who are particular.
Banana chocolate chip bars recipe
Ingredients:
170 g  (3/4 cup, or 1 1/2 sticks) softened unsalted butter
134 g (2/3 cup) caster sugar (US granulated)
150 g (2/3 cup) light brown or light Muscavado sugar
1 teaspoon real vanilla extract
1 large or extra large egg
2  to 2 1/2 large or 3 to 3 1/2 medium bananas, mashed (about 275-285 g or 10 oz, peeled weight)
260 g all-purpose flour (2 cups sifted before measuring)
2 teaspoons baking powder
1/4 teaspoon salt
175 g (6 ounce pack) semi-sweet chocolate chips
Directions:
 Heat the oven to 175 C / 350 F (gas mark 4).
 Butter and flour a 30x23x4 cm (9x13in) baking pan.
 Cream the butter and sugar together until very light and fluffy, about 5 minutes in a standing mixer or 7 minutes with a hand-held mixer.
 Beat in the egg and vanilla.
 Add the mashed banana, and mix it well so it becomes a homogenous mixture with no lumps of banana.
 Sift the dry ingredients together and add to the mixture, beating at slow, then medium speed, until just incorporated.  Scrape down the sides a couple of times to make sure everything is well mixed.
 Add the chocolate chips and stir by hand until evenly distributed.
 Level into the prepared pan and bake in the middle of the oven for about 25-30 minutes, or until golden on top and a tester comes out  clean.  Don't overbake.
 Let cool completely in the pan and then cut into 12 or 16 pieces. Store airtight.
These last about 4 days.  They also freeze very well:  wrap well and defrost still in the packaging.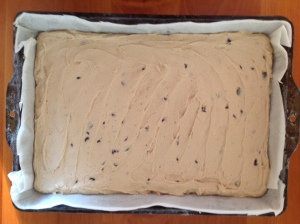 (Back to story, "I Used to Cook in a Piggery")