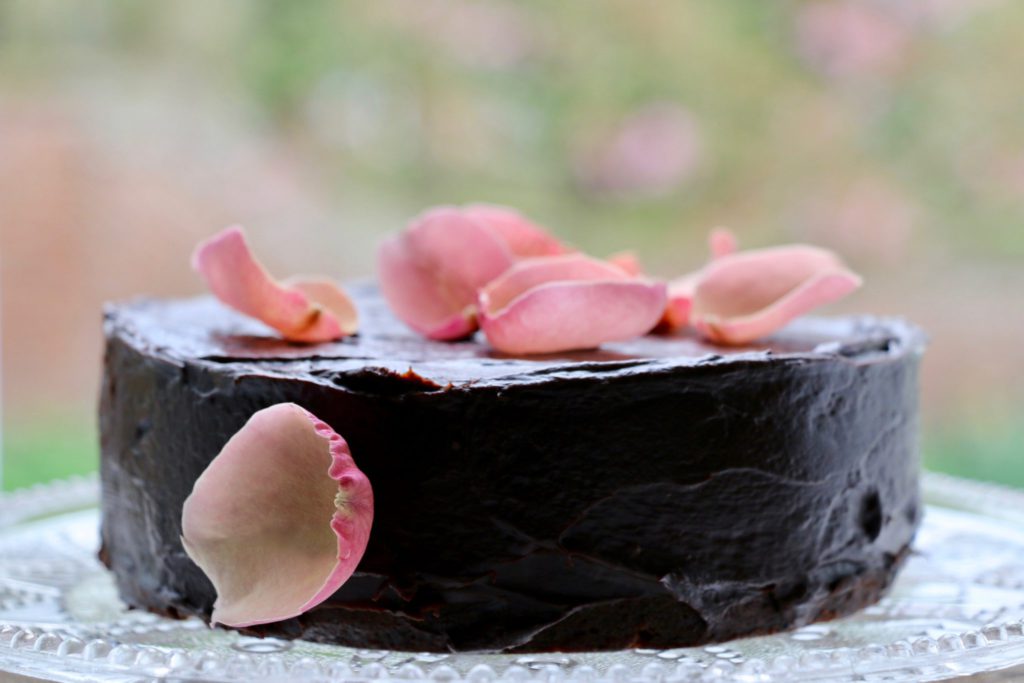 June is the month of longest days, of herbaceous borders, roses and elderflower, of picnics, garden teas, barbecues and al fresco  drinks – any excuse to eat and imbibe outside while we can.
Even on those inevitable rainy days (this is English summer, afterall) we can bring the garden indoors with edible flowers to pretty up our salads, cocktails and cakes, and any manner of offerings.
Some edible flowers have a delicious flavour: peppery nasturtium and rocket flowers, oniony chive flowers, cucumber-like borage, and the flowers of many herbs.  Some don't taste of much, but still add loveliness and charm to a plate.  From others – violet, clove-scented pinks, lavender and rose – fragrance adds much to the pleasure.  Smell and taste are physiologically linked, with our 12 million smell-receptors sending messages to the brain that add infinite nuance to the five basic flavours we detect through our tastebuds (sweet, salty, bitter, sour and umami).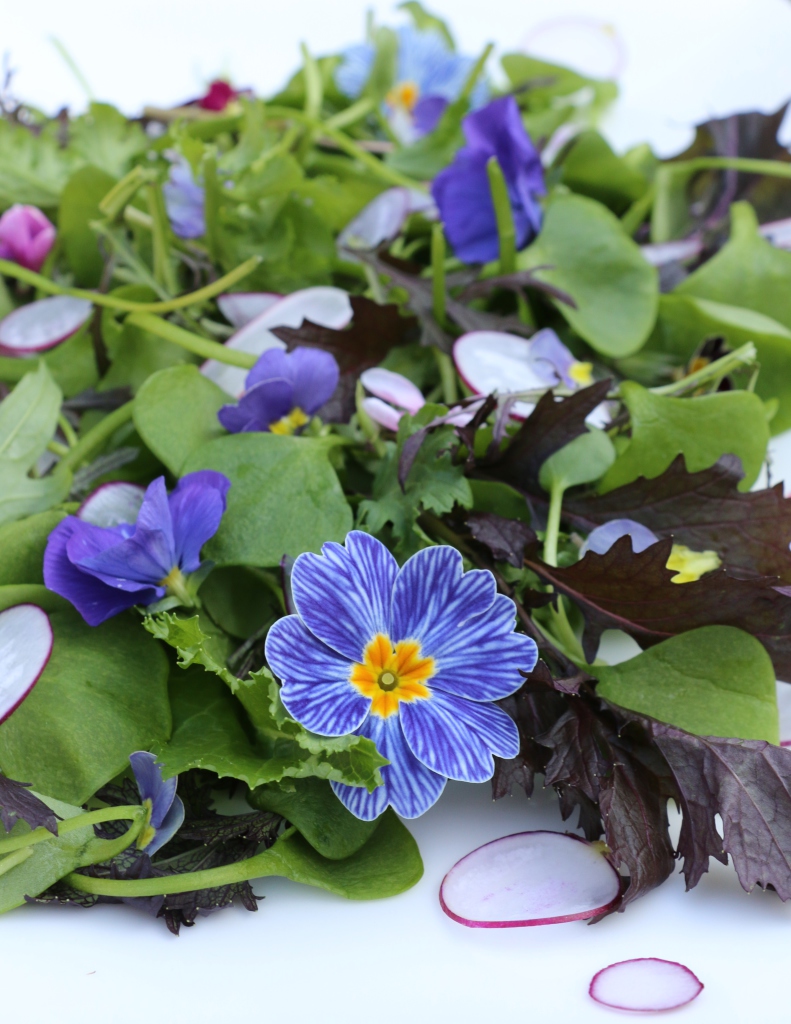 It doesn't take acres to add edible flowers to your cooking.  A few pots planted with your favourite herbs and a few edible flowers provide great value as they give for weeks or even years and require so much less care than a full-blown vegetable patch.  I also like to plant some cut-and-come-again mixed lettuce leaves.  They grow quickly and produce all season, the small investment of time required repaying me amply in bijou greens I can pick every few days for a fresh-as-it-gets salad – which amongst its many virtues also serves as the perfect canvas for a scattering of edible blooms.  A pretty salad can be an incentive to eat healthfully, and a great consolation to a dieter, I can tell you.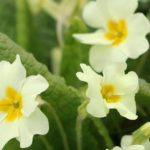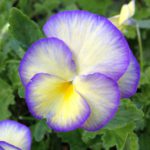 Edible flowers make natural decorations for cakes and puddings, and some (violets, violas, lilac, rose) can be preserved: paint them lightly with egg white, coat in caster sugar and leave to dry, then store airtight.  Lavender flowers can be used to scent a jar of sugar that's lovely on shortbread; and elderflowers, the exquisite lace of our hedgerows, perfumes that quintessential cordial that captures English summer.  Elderflower cordial is lovely in a lemon drizzle cake, and with anything made with gooseberry.  I especially love it in a midsummer cooler made with rose and strawberries.  This magical potion captures that exquisite bouquet of flavour combinations that our gardens and countryside give us right now, and at no other time.
The flavour of rose can transform that other treasure of the moment, the British strawberry, here at last.  The two have a natural affinity, the strawberry (genus Fragaria) being part of the large rose family (Rosaceae).  Strawberry rose jam is my favourite for early summertime, sublime when the perfect balance is achieved so the flavour and scent of both comes through.  The combination of chocolate and rose also makes a gorgeous alchemy, both flavours strong enough to give each other something.  One of the most exquisite cakes I know is this chocolate rose cake – a real celebration of June's unique beauties, elegant in its simplicity and sensuous with two of the most seductive scents and tastes given to us by the plant kingdom.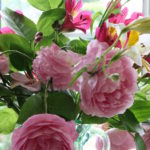 Roses have for centuries been important in North African, Middle Eastern and Indian cuisines, but they have also had a valued place in the British kitchen, which shouldn't surprise us given the British love affair with the rose.  Rosewater was a highly prized flavouring in Tudor and Victorian times for both savoury and sweet dishes.  Herbalist Maud Grieve gave recipes in 1931 for rose-petal butter and rose-petal sandwiches.  Constance Spry published recipes in 1956 for rose jelly, rose jam, and rose vinegar; and Fanny Craddock's 1970s Christmas cake uses rose water.
Rose is enjoying an enthusiastic revival as we embrace world cuisines and rekindle our love for home baking, and a handful of artisanal British producers are once again distilling rose water made with homegrown roses.  Rose water is painstakingly made by boiling fragrant rose petals (a kilo of petals to a litre of water), and letting the resultant distillate with its share of essential-rose-oil mature for six weeks to develop a full rose flavour and scent.  The quality and strength of rose water varies widely – some is manufactured using synthetic flavourings – so go for the real thing, add it gradually, and taste as you go.
These floral flavours are part of our culinary heritage and our folklore.  They perfume the air and stimulate associations with pastoral beauty, connecting us with imagined places we long to visit, and gentler thoughts.  I love that these traditions are enjoying a revival, so the knowledge of these plants will survive, and hopefully too will the hedgerows and gardens where they grow, giving pleasure to us, supporting wildlife, softening our fields, our suburban and urban landscapes, and the views from our own windows – making life and its sustenance that much lovelier.
[This article was published in the June edition of Cambridge magazine.]
Serves 6-8
The cake and glaze recipes are adapted from Maida Heatter's excellent Book of Great Chocolate Desserts  (Knopf, 1980).  I've added the rose element to her pure chocolate creations. 
This is an elegant and moist chocolate cake with a shiny glaze hiding an undercoat of jam, like the famous Austrian Sachertorte.  I've swapped the traditional apricot for a strawberry rose jam, and use rose water in the glaze and cake for a delicate floral note.  A bowl of strawberries and some lightly whipped cream make perfect accompaniments.
Add the rose water gradually and taste as you go; too much can create an overpowering m'lady's boudoir effect.  You can of course leave out the rose water and just decorate with petals.
For the cake
60g (2 oz) unsweetened chocolate (or one with at least 85% cocoa butter)
55g unsalted butter (2 oz, or half a stick)
200g (1 cup) caster sugar (granulated sugar)
65ml (¼ cup) sour cream
¾ teaspoon bicarbonate of soda
1/8 teaspoon cooking salt
1 large egg
1 teaspoon vanilla extract
½ teaspoon rose water
130g plain flour (1 cup, sifted before measuring)
125ml (½ cup) boiling water
For the jam undercoat
About 200g (7 oz, or nearly 1 cup) strawberry rose jam; or add ½ to 1 teaspoon rose water to strawberry jam
For the glaze and decoration
170g (6 oz) dark chocolate, broken into pieces
60ml (¼ cup) water
50g  (¼ cup) caster sugar
55g unsalted butter (2 oz, or half a stick)
¼ to ½ teaspoon rose water, or to taste
Very fresh rose petals free from sprays, or freeze-dried petals
Butter and flour an 18cm (7-inch) or 20cm (8-inch) cake pan.  Heat oven to 175C/gas mark 4/350F.
To make the cake, melt the chocolate and butter in a medium saucepan over low heat, stirring often.  Remove from the heat and stir in the sugar; set aside to cool.
In a small bowl, stir the bicarb into the sour cream and set aside for five minutes to activate (it will bubble up).
Add the egg to the cooled chocolate mixture and stir well.  Add the leavened sour cream, and then the vanilla and rose.
Sift in the flour and salt, and stir just until smooth.
Slowly add the boiling water and stir while scraping the sides and bottom of the bowl to ensure a uniform mix.
Pour the batter into the prepared pan and bake for 22-30 minutes, or until a skewer inserted in the centre comes out clean.  Cool on a rack for 10-15 minutes in the pan, and then invert onto another rack, the flat side of the cake uppermost, to cool completely.
Strain the jam into a small saucepan to smooth out lumps of fruit, and add the rose water if using, starting with the smaller amount and tasting until you're happy with the balance. Bring the jam briefly to a boil while stirring.  Let the jam cool, but don't let it set firm.  Pour the melted jam evenly over the cooled cake, spreading it down the sides as well. Let the undercoat set completely before glazing.
To make the glaze, dissolve the sugar in the water in a medium saucepan over moderate heat.  Lower the heat and add the chocolate pieces and butter.  Stir frequently until melted and smooth.  Remove from the heat and add rose water to taste, starting with a little less than ¼ teaspoon and adding more drop by drop until it has the strength you like.  Let the glaze cool for 5-10 minutes, stirring frequently, until it is thick enough to pour, but not run.
Pour the glaze onto the cake and spread to the edges and over the sides.  Use a blunt knife or metal spatula to even out any gaps, being careful not to disturb the jam undercoat.
Decorate with rose petals while the glaze is still tacky.  Transfer to a serving plate and allow to set completely before cutting.
◊◊◊◊◊◊◊◊◊◊◊◊◊◊◊◊◊◊◊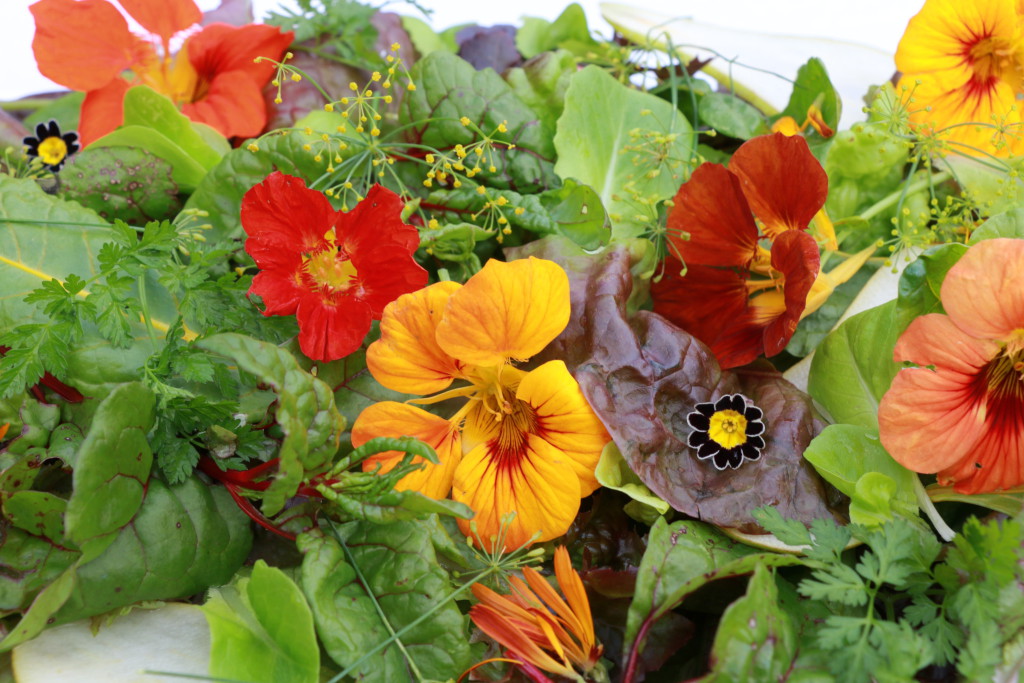 Which flowers are edible?
Some flowers are poisonous – foxglove, lily of the valley, delphinium,  monkshood, to name a few – so always do your research and never eat anything you're not sure about.  With known edible flowers, make sure they are uncontaminated by chemical sprays and roadside fumes, and check them for insects and bird damage.  Many benefit from having the pistils and stamens removed as these can be bitter.  Pick close to serving.
Anchusa azurea 
Bergamot (Monardia didyma)
Borage officinalis  flowers
Calendula officinalis  (English or pot marigold)
Chive and other herb flowers: basil, chervil, coriander, dill, fennel, rosemary, thyme
Clover (Trifolium pratense)
Cornflower (Centaurea cyanus)
Courgette and cucumber flowers
Alpine pinks (Dianthus)
Elderflowers
Lavender flowers
Lilac flowers
Mustard, rocket and other brassica flowers
Nasturtium
Garden pea and runner bean flowers
Polyanthus: primrose, cowslip
Rose petals
Scented pelargonium leaves and flowers (rose-geranium)
Sweet cicely (Myrrhis odorata)
Violas and violets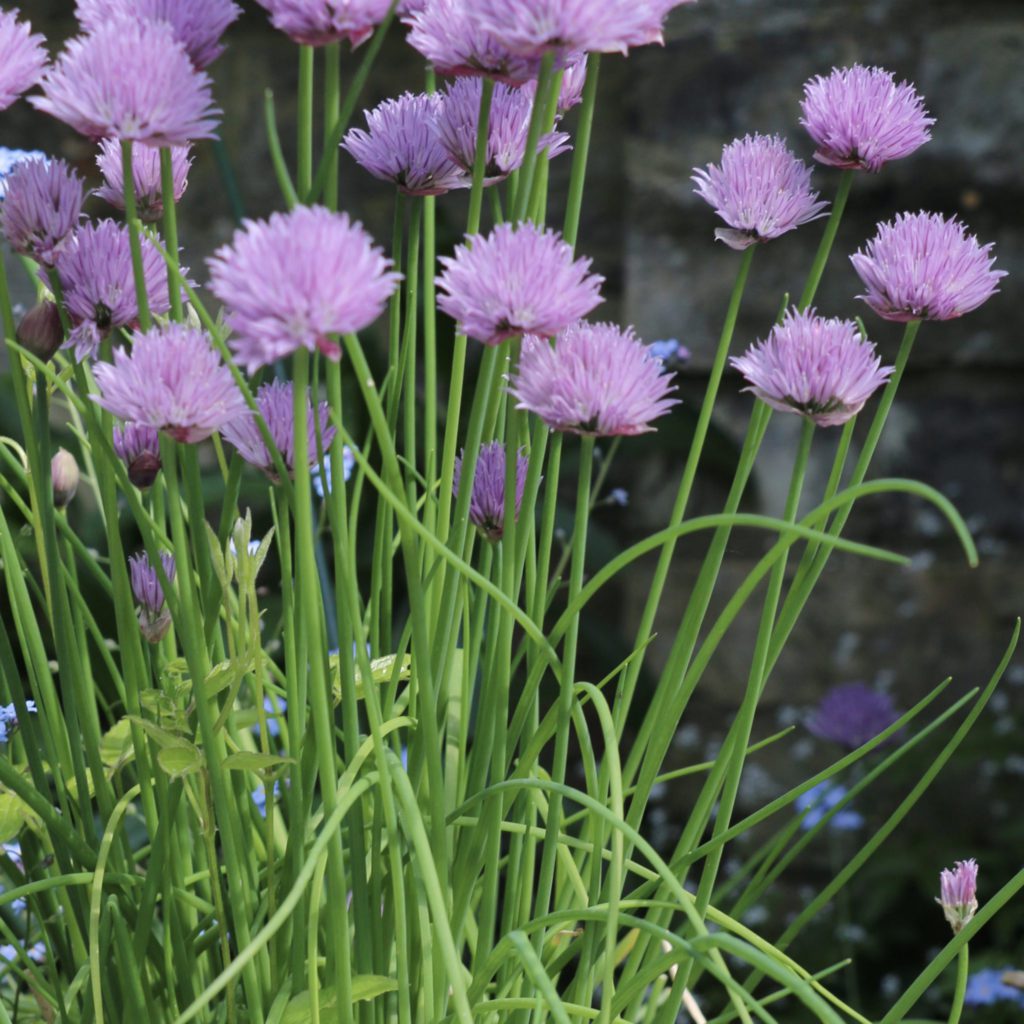 Tips for making a leafy summer salad with edible flowers
Use components of equal weight so nothing falls to the bottom (e.g., chunks of tomato and cucumber). Thinly slice heavier ingredients so they are as light as your greenery.  A mandolin is handy for this.
Assembling on a serving platter or plates can be easier than using deep bowls.
Dress the leaves and other ingredients separately with your favourite vinaigrette, so you can place them where you want them onto clean serving vessels.
Don't dress delicate herbs or edible flowers as they tend to matt together.
Dress leaves just before serving as they wilt quickly.
Use your hands to lightly work in the dressing by touch.  The leaves should just glisten and taste smooth in the mouth without being drenched.
To assemble:
Create a base-layer with about half of the dressed leaves, including the largest, using a light hand to keep some air in the arrangement.
Strew on about half of any thinly sliced ingredients in a pleasing pattern; add a few herbs and edible flowers so they can be discovered as people make their way into the salad.
Keep some of the smallest leaves and prettiest herbs and flowers for the top layer, and arrange these to create a little height and balance with an attractive focal point. For a natural look, scatter them on from a few inches high.
◊◊◊◊◊◊◊◊◊◊◊◊◊◊◊◊◊◊◊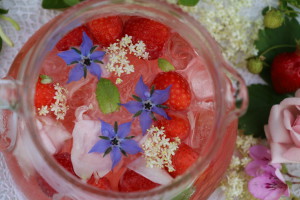 elderflower rose cooler
This article as published in Cambridge  magazine also includes a recipe for elderflower rose cooler, previously published on this blog in the posting, A Midsummer Night Eve's potion).
◊◊◊◊◊◊◊◊◊◊◊◊◊◊◊◊◊◊◊
Gallery of Crumbs on the Table recipes using edible flowers: