I remember sitting on the backsteps under a punitive August sun, basting a rock, pretending it was a roast. When I go deeper into this memory I discover a backdrop of listlissness and loneliness, but the foreground was satisfaction with the progress of my task, preoccupation with its importance, pride in my achievement.
I was three.  We were visiting my mother's family in south west Texas after a long drive through heat mirage and tumbleweed. It was a permanently hot, dusty, thirsty place. Drinking water had to be pumped by hand with an alarming screech into an enamel bucket, and I was afraid of the ladle, with its spot of rust.
I don't know for sure if I could see the apricot tree from those blistering steps, but that's how I remember it:  as the only green thing in view, whose fruits enchanted me.  I was astonished that the things familiar from another context as something to eat were joined to this other thing I knew as a tree.  It was an epiphany: the connection between the one and the other… How could this be?  It must be magic!
Fifty years later, apricots capture a primal joy for me that comes from that first wonder at the generosity of growing things.  It is the most ravishing fruit when it's honest, and the most disappointing when it's not, and it makes me actually angry to see those hard, pale rocks in our English shops, knowing what they could have be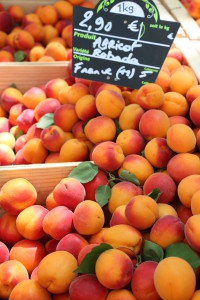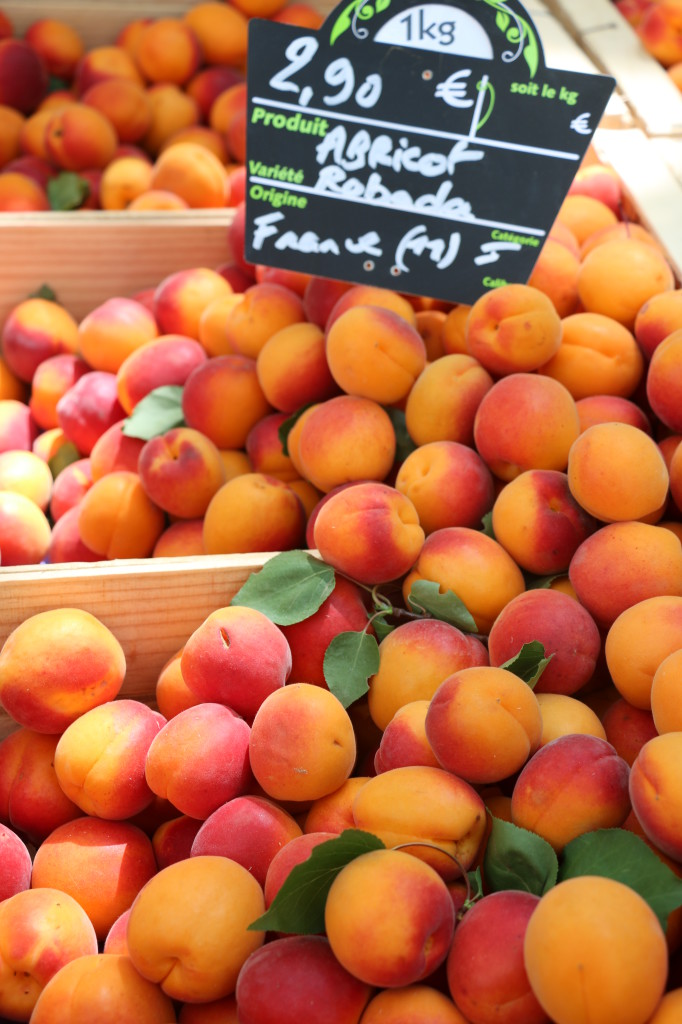 en.
I've been chasing that ideal apricot all my life: even in California I never found it. This month past I found my apricot dream at last on a rendez-vous with my sister in Montpellier, France, the south eastern corner of the country, hot enough for palm trees, which tells you something about what apricots need.
The season began during our stay and we glutted ourselves from the markets, where the growers were keen to sell before the fruits over-ripened in the heat.  There were many varieties on display from different parts of the country,  some smaller and redder than others (these seemed the most intense, if not the juiciest), some rounder and more moist.  We had a taste test and were undecided. They were all glorious, the textures just right, not mealy or mushy if you chose well, sweet but not too, and so fragrant in all that sun.
Close to the end of our stay, we visited Le Marché des Arches, which appears two days a week under the ancient aqueduct, and there we found a stall dedicated to apricots, mounds of them, sold by the people who grew them six miles outside Montpellier.  These were voluptuous larger fruits, very ripe, perfect at that moment. They were sold by the kilo in slatted wooden baskets by people with stained hands and worn tee-shirts who seemed anxious to sell: this was their livelihood and it would be a bad day if they had to load them back onto the truck to take home again.
Despite the timing, with departure next day, I had to have them. I wanted to hold onto the time we had had together in that beautiful city with so much of the country in it.  I bought a greedy basket not realising it weighed over two kilos until I'd negotiated payment with my halting French, which doesn't adapt well to the unexpected. I was struggling with my camera, some mulberry jam, two bijou boats of fragile raspberries, a bar of handmade soap that smelled of beehives, and a bottle of rosé from a small winemaker to drink with our last night's dinner, so Kitty took custody of the apricots.  We ended up walking for another few hours in the beating sun, having stumbled across a food festival in the park with white-hatted chefs displaying their wares under white tents to gentlemen in summer suits and ladies in pretty frocks.  By the time we had been waylaid by that genteel spectacle and a glacé stand, I think even Kitty felt the weight of apricots as this side of burdensome. So this jam was for her, and for those who weren't with us to enjoy the fruits in situ.
While she flew back to the States, I got my apricots home to England wrapped individually in tissue, protected with a fortress fashioned from cardboard scraps.  They made it better than hoped.  Those in best shape were eaten au naturel. The ones that arrived a little sore for their travels were turned into jam, according to plan.  That some arrived unscathed was a bonus.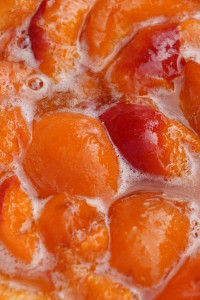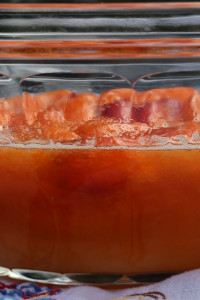 I followed the classic proportions for confiture extra:  60%  fruit to 40% cane sugar, and for the pound I had left, the juice of one whole lemon.  I stoned and halved the fruits and left them to sit overnight in the sugar (like Delia does, to help the fruit stay intact).  I set it over gentle heat the next day to dissolve the sugar crystals first, painting down the sides of the largest pan I have with a wet pastry brush to dissolve the stragglers.  Then I boiled it hard (while stirring) for about 8 minutes, that's all, until it started to stick a little more viscously to the spoon and wrinkle slightly on a cold plate.
The jam gods were with me.  It was a perfect batch.  It was of course sublime fruit, so I could have done almost anything and it would have been beautiful.  But I'm sure it was also to do with the memories that kept me company as I made it: the love of the fruits and the place where I bought them; the thought of those who had picked them and hauled them to market; the gratitude to Kitty for carrying them on her back all day; and also wondering from which tree, in which orchard they had come, and where on the tree each fruit had ripened (closest to the sun for the brightest in colour?;  shaded by leaves for those with a paler blush?).
Three precious jars came from this endeavour, and a little extra for tasting.  One arrived with Kitty in North Carolina a few days ago; the others I hope will make their destination soon with family assembled in California.  My local post office tells me there is some doubt, as air security has been heightened and my jars may be suspect.  There is some tension in the waiting.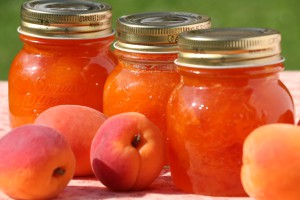 I still haven't found my tree.  I haven't seen apricots growing in all these years.  But I feel closer.  I will  go back to France in the season and find an orchard someday.  Will it bring me closer to the beginning, or further away?  The tree of my memory is its own feeling and shape,  a little wild and leggy, not pruned for a crop, so I suspect it will survive intact, a memory of joyous discovery in a hotter-than-hot place.
I've decided, through this most recent encounter, to reconcile with the sun.  What I find too much is what the tree needs. It helps to think that when one is sweltering.  At least it seems so now, at home again in the shade of my English garden, where in July it's cool enough to wear long sleeves.  Hmmm…. I could do with a touch of  heat right now — and a baguette to chew with my jam.  Ὰ bientôt, Montpellier…