The food that always does this for me is Mexican food.  The brightness of lime, fresh coriander and chilli always cheers people up.  The informality of it, too, liberates a joyful spark and puts everyone at ease. Invariably someone remarks, while filling their tortilla or reaching for the guacamole or the salsa, how refreshing  it is, how different from the 'samey' food they'd come to associate with the cuisine.  It's unfortunate that some people have that association.  The Mexican food I've known since my childhood in Texas and younger adulthood in California, prepared by Mexican cooks drawing on an enormously rich and varied cultural tradition, and using a mammoth variety of fresh vegetables, fruits, chillis and herbs, is anything but samey.  Walk through a Mexican market with its stalls piled plentifully with gorgeous fresh produce — dozens of different chillis and colours of maize, to coconuts and cactus fruits — and you'll never think that again.  This is a cuisine of ingenuity and generosity.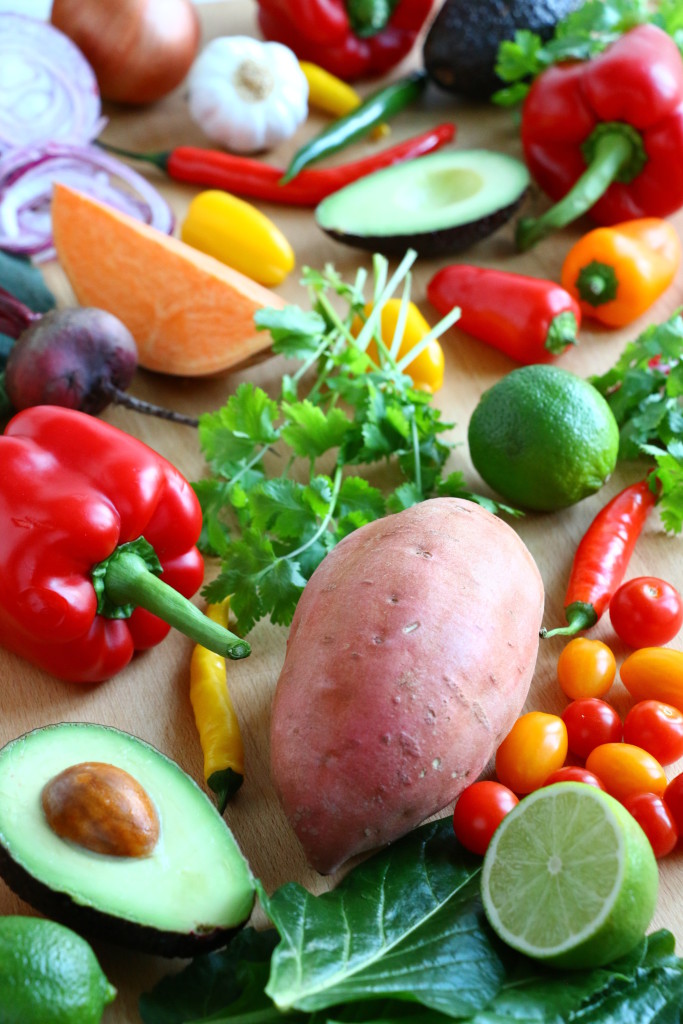 Some of the most interesting vegetarian cooking I know has a Mexican flair, and even when there is meat on the menu, it's the fresh 'fixings' that really make the meal a celebration.  For finding exciting ways to eat our five a day, this is a cuisine that has a huge amount to offer.  One meal can provide the complete package with a wider range of tastes and nutrients than we may get when we're in our usual culinary ruts – and we all have those.
This spread is an unobtrusively vegetarian feast that even committed carnivores love.  It brings into one meal some of the healthiest foods we can feed ourselves – sweet potato, beetroot, spinach, avocado, tomatoes, citrus, fresh herbs – all with delicious twists.  Every one of these dishes is unfussy and easy to throw together, and you can make as many of the fixings, or as few, as you have time for and inclination.  And then there's the fruit…
A single perfect fruit is a memorable treat, simplicity at its best.  An assortment of perfectly ripe fruits is a paradisal luxury that only the few would have been able to enjoy until fairly recently in human history.  At this time of year, when our home-grown fruits are taking a pause, the exotic wonders delivered by modern trade are very inviting.  I've succumbed with a coconut, pineapple and banana ice cream that happens to be vegan.  It's ravishing served with the best fresh fruits you can find: the citrus that shines right now, so good with mango, kiwi and passionfruit. With luck there's also star fruit and that bird-of-paradise of the fruit kingdom, the dragonfruit: a hot-climate marvel that originated in Mexico and journeyed with traders to South East Asia, where it was cultivated and taken into the bosom of those magnificent cuisines.  Our food has been traded and shared so much over time that the borders are almost invisible.
Forty per-cent of the food we consume in Britain comes from beyond our shores.  We can eat sweet potatoes, avocadoes and coconuts almost as readily as we can beetroot and spinach.  We want to eat in season, and we know it's important to consider airmiles and the environmental impact global food production has on poorer countries as well as the income it generates, but we also love these tastes of the globe and I for one wouldn't want to go the route of gastronationalism, where all we eat is what we can produce on one island, however resourceful and industrious.
It's a wonderful world, despite immense challenges, and global blessings are felt in every part of our lives here, just as our influence is felt in other places.  My hope for this new year is that reciprocity will mitigate uncertainty; that we'll find ways to sit together over some good food and celebrate what we have, what we all bring to the table that is our common planet, our common humanity.
RECIPES
Sweet potato quesadillas with spinach, guacamole, beetroot-lime pickle and tomato-coriander salsa
Fills 8-10 tortillas, serving around 4-5 people
This wholesome vegetarian spread has an incredible array of fresh, zingy flavours guaranteed to lift the spirits, and even avowed carnivores love it. The sweet potato filling and beetroot-lime pickle last for several days in the fridge, so you can keep them on hand for when you need something quick and delicious.
The selection of easy-to-make fixings make this an exciting group-particiation meal, with everyone tailoring their own quesadillas. It's also great if you have people eating at different times, as the quesdillas are quick to cook and best eaten straight away so they stay crisp on the outside.
For the quesadillas:
8-10 corn tortillas
About 300g white melting-cheese, e.g., cheddar, monterey jack, fresh manchego, raclette
For the sweet potato filling:
1 large or two smaller sweetpotatoes, about 450g (1 pound)
1 large onion, peeled of all tough skins, and halved lengthwise
1 red pepper, halved and seeds removed
2 tablespoons rapeseed oil
1-3 chilli peppers according to taste, seeds removed and minced
2 tablespoons cumin seed
2 teaspoons ground coriander
Leaves and stems of 1 small bunch fresh coriander (about 20g), chopped (keep leaves and stems separate)
4 cloves garlic, minced
A pinch of cayenne
About 1 tablespoon lime juice
Sea salt and freshly ground black pepper
For the beetroot-lime pickle:
1 large or two small raw beetroots, scrubbed (unpeeled if organic)
1 smallish red onion, or half a large one
Juice of 1 large lime
Sea salt and freshly ground black pepper
For the spinach salad leaves:
150-200g (5-7 ounces) fresh spinach leaves, washed and dried
For the guacamole:
4 ripe avocadoes (just tender when pressed)
The juice of 2-3 limes
1 small garlic clove, finely minced
Optional: 1- 2 tablespoons chopped fresh coriander (I don't always add coriander to the guacamole if I'm also serving fresh tomato and coriander salsa)
Sea salt and freshly ground black pepper
For the fresh tomato and coriander salsa:
About 270g (9-10 ounces) cherry tomatoes, halved or quartered
A small bunch (about 10g) fresh coriander, stems and leaves chopped together
The juice of 2-3 limes
1 garlic clove, finely minced
Sea salt and freshly ground black pepper
Other optional garnishes:
Sour cream or plain unsweetened yoghurt
Sliced black olives
Extra chopped chillies
Extra limes
For the sweet potato filling:  Peel and coarsely grate the sweet potato into a bowl or use a mandolin to cut it into very fine julienne; set aside.  Thinly slice the red pepper and the onion so they are roughly the same thickness as the sweet potato; keep separate from the sweet potato for now.
Heat a large sauté or frying pan over medium heat with the oil.  Add the cumin seeds and cook a few seconds just until they sizzle and become fragrant; don't let them burn.  Add the pepper and onion slices, and cook for 5 minutes, stirring occasionally.  Add the ground coriander, cayenne, minced fresh coriander stems, minced fresh chillies and garlic, and stir frequently for another 3-5 minutes until the onion is translucent and the pepper is slightly softened.
Stir in the sweet potato and let everything cook about 8-10 minutes, or until the sweet potato is softened but not collapsed.  It should taste done, but still have a slight bite.  Remove from the heat and season to taste with salt and pepper; stir through the tablespoon of lime juice and fresh coriander leaves.  Set aside until ready to use (you can keep it in the fridge for 3-4 days).
For the beetroot and onion pickle: Coarsely grate the beetroot into a medium bowl or use a mandolin to cut it into very fine julienne. Using a mandolin or sharp knife, slice the red onion as thinly as possible and add it to the beetroot.  Squeeze over the lime juice, add salt and pepper to taste, and mix everything together.  The lime juice and salt will make the raw onion palatable, and keep everything crunchy. (Store in the fridge for 3-4 days).
For the guacamole: Scoop the flesh of the avocadoes into a mixing bowl and sprinkle liberally with lime juice.  Mash it coarsely with a fork – you want to keep some texture.  Add the finely minced garlic, and some salt and pepper.  Taste and correct the seasonings.  This can take quite a lot of lime and salt, but go gradually and keep tasting.  Add the fresh coriander if using, and taste again.  Guacamole is best made close to serving. If making it a couple of hours ahead, cover with cling film touching the surface, as air causes discolouration.
For the fresh tomato and coriander salsa:  Combine all ingredients in a bowl and mix gently.  Taste and add more salt, pepper or lime juice as needed.  Ideally, make within an hour of serving and don't refrigerate, as this makes the tomatoes mushy.
To cook and serve the quesadillas:  In a large frying or sauté pan over medium heat, lay a tortilla and sprinkle lightly over the entire surface with cheese.  As the cheese starts to melt, within about 30 seconds, lay a good spoonful of the sweet potato mixture onto one half, and fold over the tortilla to create a half-moon sandwich (with a bit of juggling you can cook two at once).  Cook the quesadillas on both sides until the cheese is oozing and the tortilla is lightly toasted and crisp – about 5 minutes in total.  Cut in half and serve straight away (or keep briefly in a warm oven). Serve with all the accompaniments arranged so everyone can help themselves. I suggest to people that they open up their quesadillas to add whatever they like, and also help themselves to some fixings on the side.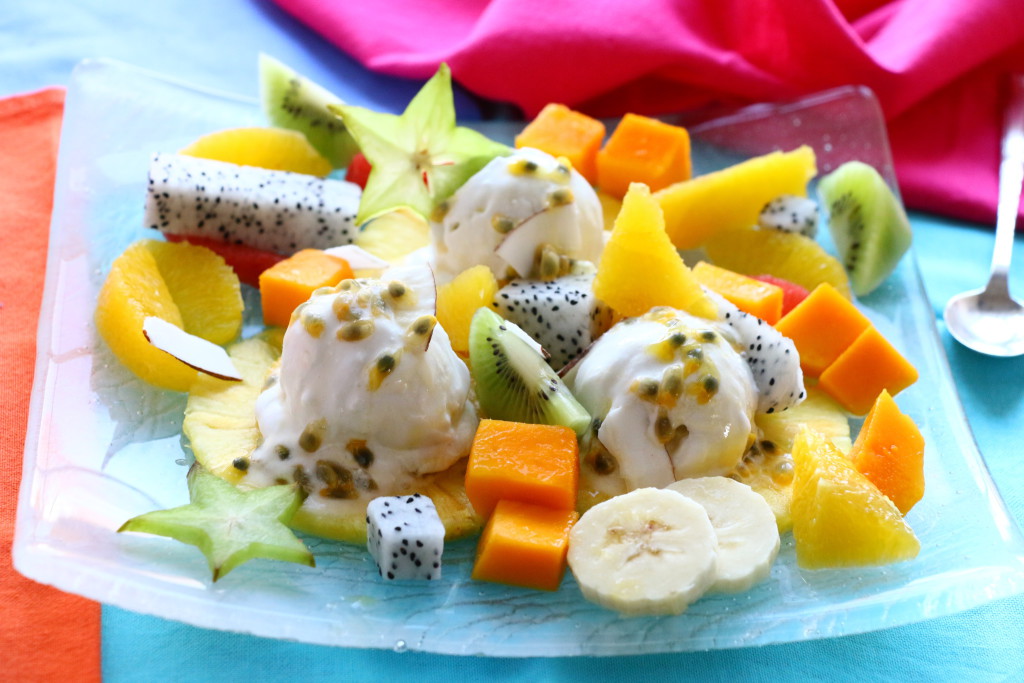 Dairy-free coconut, pineapple and banana ice-cream
 Serves 4-6
So easy, so delicious — and it just happens to be vegan. It tastes like a really fresh piña colada, even without the rum.  Add a measure if you like; the alcohol doesn't freeze, so will give the ice-cream a softer texture.
You need a blender or food processor for this recipe.  If you don't have one, leave out the banana and pineapple and increase the sugar to 100g for a delicious coconut-lime option.  An ice-cream maker is a bonus, but not essential.
Serve slightly softened, as this is when the consistency is creamiest.  If frozen solid, allow it to sit at room temperature for several minutes, and stir through before scooping.
400ml tin (14 fluid ounces) coconut milk (full-fat works best)
160ml tin (5.6 fluid ounces) unsweetened coconut cream
75g caster sugar (1/3 cup granulated sugar)
1 large banana (about 150g peeled)
150g (5-6 ounces) fresh pineapple, cut into chunks
2 tablespoons lime juice (from 1-2 limes)
Fruit-garnish suggestions: pineapple, banana, coconut flakes (toasted or fresh), passionfruit, oranges, mango, kiwi, star-fruit (the skin is edible), dragon-fruit (the pink skin is not  edible, so always peel dragon fruit)
Make the ice-cream base:  Whiz all ingredients together in a blender or food processor until completely smooth. (If using just coconut and lime, mix 100g (½ cup) of sugar with the lime juice, coconut milk and coconut cream in a medium bowl with a whisk or spoon; be patient, as the fat from the coconut is quite solid.)
Freeze the ice-cream:  If using an ice-cream maker, chill the mixture and then process according to the instructions for your machine; transfer the churned ice-cream to the freezer for an hour or two longer, and serve slightly soft.   If you don't have an ice-cream machine, you have two choices:  either a) transfer the ice-cream base to a shallow freezer-safe container and freeze for 5-6 hours, mixing with a fork or whisk every hour or so;  or b) let it freeze without stirring, and then break it into chunks and pulse in a food processor just before serving until smooth and scoopable (don't overprocess, or the flavour will be diluted with excess air).
Garnish and serve:  Serve naked or with whatever fruits you like, e.g.: thin slices of pineapple as a base for a scoop of ice-cream, with passionfruit seeds squeezed on top and various slices, cubes, wedges, or chunks of assorted fruits alongside.  You could finish with a pretty cross-section of star fruit, some peeled dragon fruit and/or shavings of fresh coconut.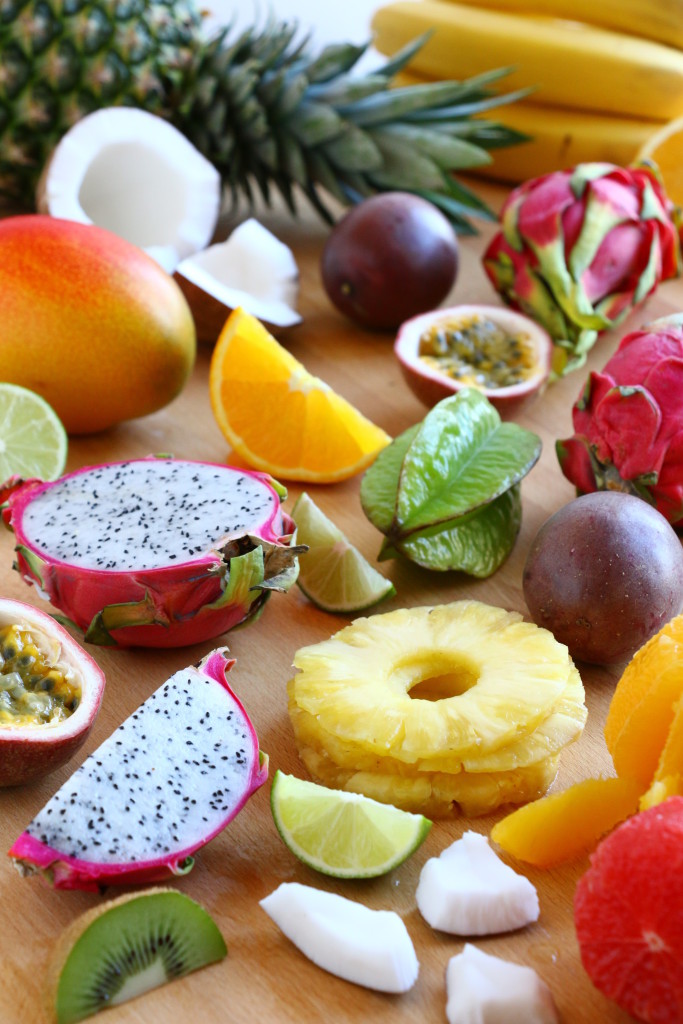 [This article was published as a Crumbs on the Table column in the January 2017 edition of  Cambridge Magazine,  edited by Alice Ryan.]
Other Crumbs on the Table recipes celebrating January's best ingredients: