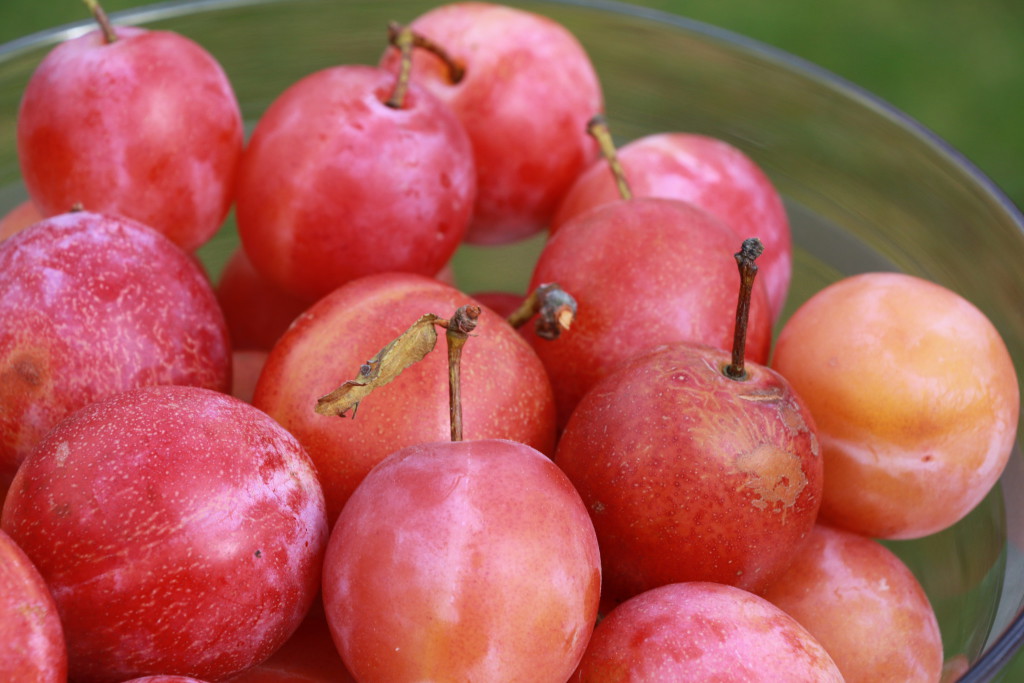 This summer has enlightened me on plums.  Never before have I seen or tasted such a diversity as I have this year, having made the discovery of the Manning family farm in Willingham, Cambridgeshire, where 35 varieties are grown.  They also, to my astonishment, grow apricots, and I was just in time to taste them, too, when I made my first visit to their Bushel Box Farm Shop in August.  This was the first apricot harvest in five years, the late frosts so common here having previously taken the blossom.  The Manning family are tenacious, and so are their orchards. This was also a bumper year for plums.
I've returned to the farm once a week through the two-month season and have come away every time with a different mix of plums — sometimes five or six varieties — and a deeper appreciation of the importance of crop diversity, of local varieties, even of the differences in taste that can exist in fruits from the same tree.  And the names, the colours… I've been surrounded these weeks by the most glorious variations of pinks, purples, greens, yellows and orange — and shades I don't have a name for, so subtle and complex are they, even on a single fruit.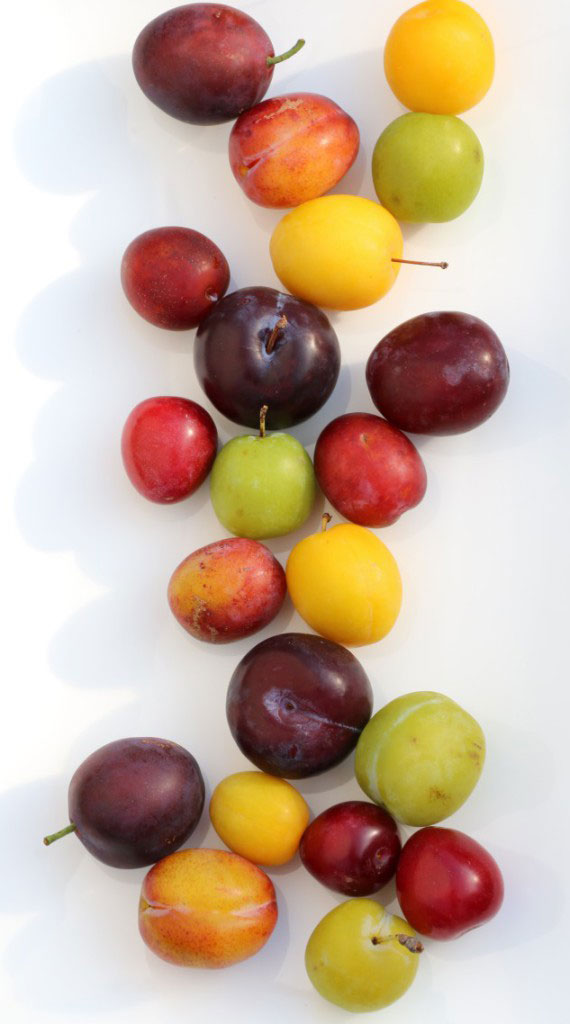 Monsieur Hatif was a winner on taste and the most fragrant of all – perfumed and complex to eat, not just sweet but interesting and perfectly textured with a desirable, matt skin as well. Czar made the most delicious, dark, jam; Lizzie, a small round cherry plum, was a good cooker with slightly bitter skins that added texture and sharpness to a fruit compote with red and black currants.  Swan, Heron, Excalibur, the meaty Sanctus Hubertus and fragile, pale-green-skinned Purple Gage were very good eaters, the Excalibur being instantly attractive by virtue of sweetness and appearance. Opal competed with Victoria and could have been her sister.
Later came the longed-for Purple Pershore — the Manning daughter, Wendy's, favourite, and for me the perkiest and most surprising of all: tart and sweet, crisp yet ripe. Then came Edwards, a very handsomely-shaped large plum and a close runner for taste to Monsieur Hatif and Purple Pershore. The small Golden Egg made a sweet-sour sauce for meats, and the large egg-shaped Akima and Burbank Prune were both impressive in plum tarts.  St Andrew's Gage was tender and good and made a jam the shade of strawberries. Now, the last of the delightful Burbank Tangerines, an almost opalescent apricot pink — soft and sweet — round off the plum season on a high.
I've learned a few things this summer about the subtleties of fruit and it makes me realise how vast is the knowledge I lack.  This is the knowledge of place, of time. We need those people who still have it in their bones, who know varieties and what each needs.
The inimitable Jane Grisgon writes the most beautifully of anyone about the plum.  Her Fruit Book is a learned love poem to fruit, and in part an account of a vanishing world.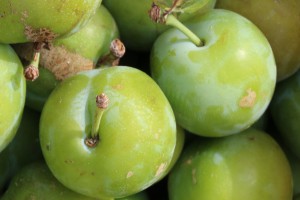 She writes of the European heritage of the Greengage, which I had always taken to be a Cambridgeshire-bred plum. It travelled in fact from Italy to the French court of Francois I and his queen, Claude, in the early 1500s. Queen Claude was such an enthusiast that the small, vivid-green plum has been known ever since in the Loire Valley near Blois as 'reine-claude', where it still thrives from descendants of the trees she had cultivated.  Jane Grisgon wrote in 1982, "Now, when the season comes round, the markets for many miles around Queen Claude's castle … are piled with greengages."  I am delighted to know that France is still in love with its reine-claude and makes a great fuss over her (her poor namesake died at 25, having had seven children).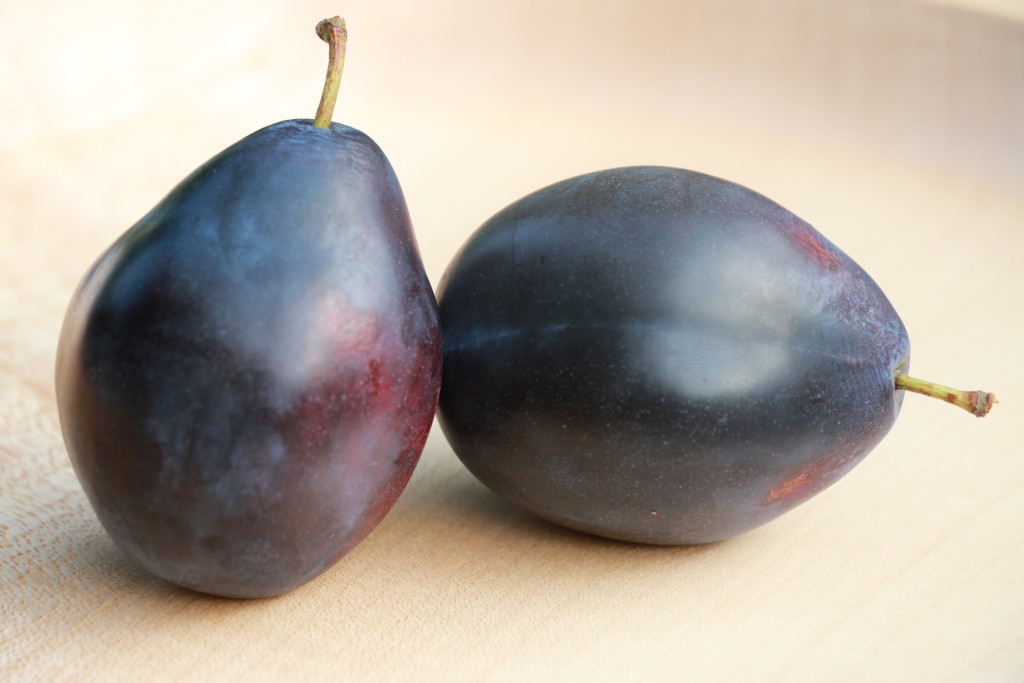 Jane Grigson goes on to explain the later East Anglian connection and why we know these small round plums as "gages" and not by their French name.  Sir William Gage of Bury St Edmunds brought back the reine-claude trees in 1724, but the labels were lost and they were known thereafter for the man who introduced them.
The Greengage, as it came to be known, was the parent of the famous hybrid, Coe's Golden Drop, cultivated in 1800 by Jervaise Coe, an East Anglian nurseryman. It is, says Jane Grigson, regarded by some as "the supreme plum of all", and she quotes the tantalising description Coe himself gives to his 'masterpiece': "The skin is rather tough, but in between this and the stone floats an ineffable nectar."  These words make me long to taste that rare plum and to grow it in my own garden (where it would thrive in my fantasy untroubled by wasps and peach leaf curl).
Thomas Rivers of Sawbridgeworth, not far from my own part of the world, was so impressed with a hybrid of reine claude on a visit to France that he brought back some trees and bred from them a new 'transparent' variety that did better in the British climate.  I am delighted to know that "Early Rivers" is a prized variety grown by the Manning family, so popular with regulars that many reserve a "flat" a year in advance. I may be lucky enough next year to sample some, late frosts and other fates willing.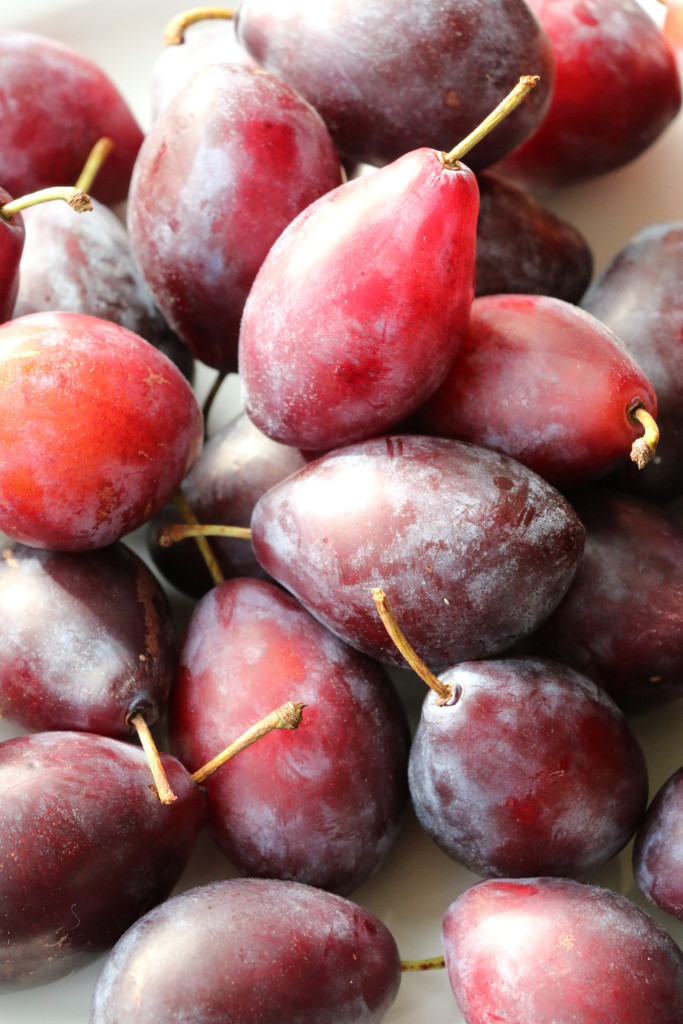 We need our orchards.  We should cherish those whose lives are spent husbanding those trees that are valuable for their genetic diversity and their taste, those who know the nuances of varieties.  We are so starved of such diversity we've nearly forgotten it exists.  Commercial growers go for Victorias, good, reliable, heavy-cropping Victorias.  I like them too.  I planted a tree because it was the best plum I knew.  But there are so many others, and we should seek them out.
I would only quibble with Jane Grigson on the question of damsons, those feral plums so evocative of the British countryside, free to be had for those who know where to find the trees that favour hedgerows and woodland margins.  She has little love for their strong taste, while I have discovered them to be things of wonder.  I have cooked them lightly this year with jam sugar into a thick compote to have with with cream, or to be made into a magenta and deep-purple fool.  Their olive-sized fruits need a lot of sweetening and picking out the small stones is no trivial task, but there is nothing better than that combination of tart, sweet, richness — except of course for the perfect plum eaten as it comes, its colour, fragrance and taste more enchanting than any cook could achieve.
But in winter, when plums off the tree are a memory, I will retrieve my damson compote from the freezer and relive a little of late-summer's glories.  I will also oven-poach in a little orange juice and honey some Victorias and a collection of others I've frozen whole and uncooked. They will be a reminder of colours, of names, of journeys taken through time and space.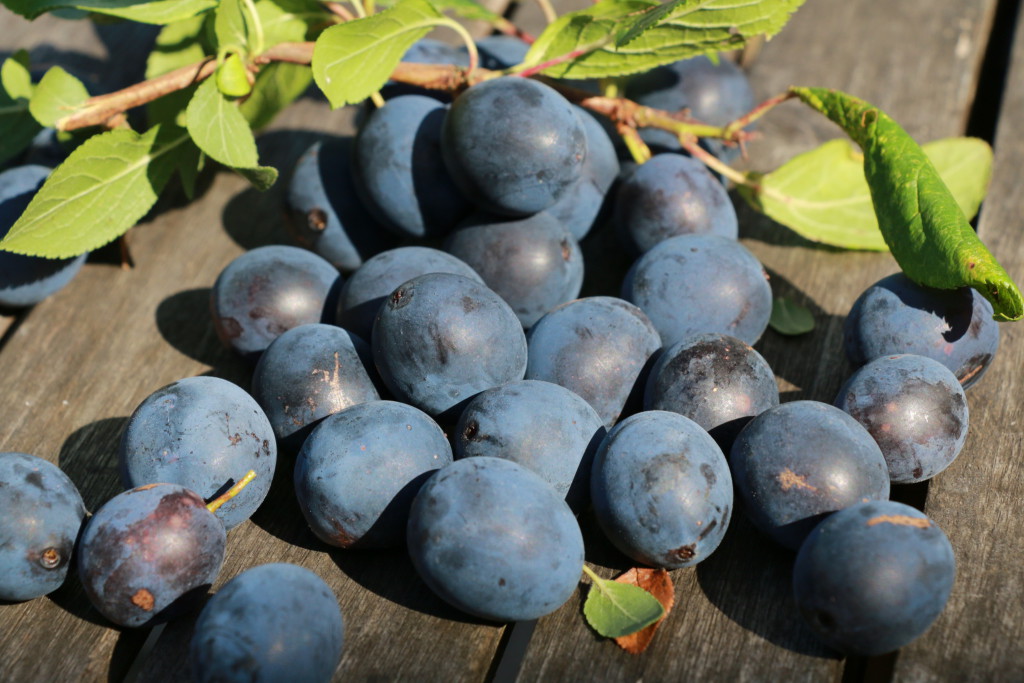 RECIPES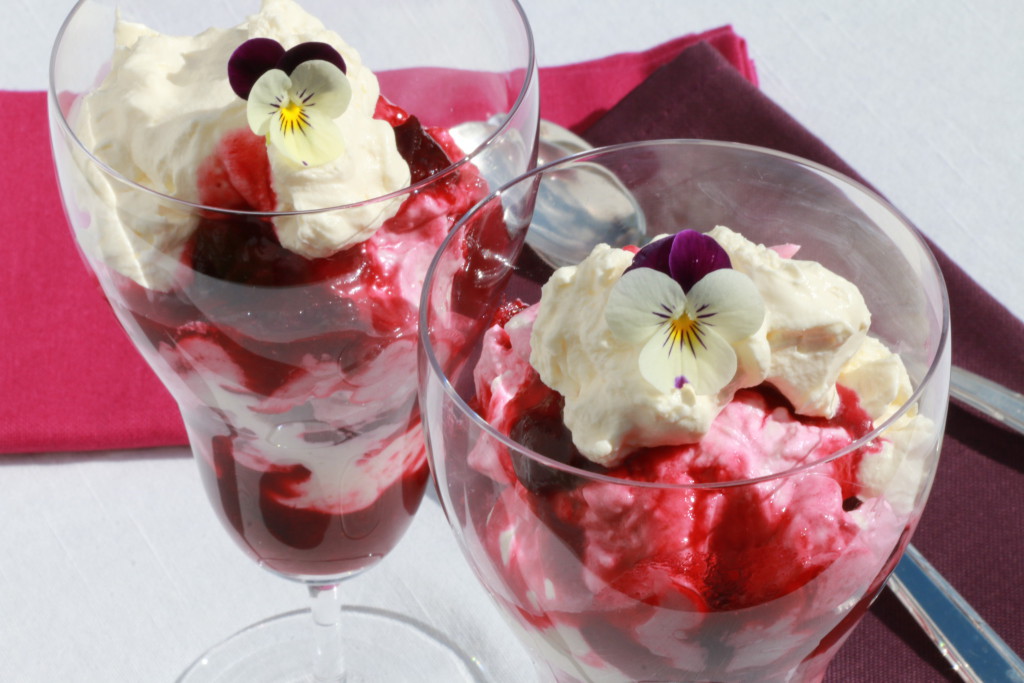 I. Damson compote (and/or jam)

(makes about 1 litre, just over 4 cups: enough to serve 8-10)

I make enough of this vibrant compote to freeze some for a winter treat that only needs de-frosting; or you could use this amount for a small batch of jam, plus a bowl of compote.  This proportion of sugar to fruit will make three to four small pots of jam, but it won't keep indefinitely as it has less sugar than standard. You can also freeze the raw plums themselves, washed and whole.
Ingredients
1 kilo (2 lbs 2 oz) damsons — or use any tart plum (such as Czar)
700 g jam sugar (1 ½ pounds jam sugar, or 3 cups plus 2 tablespoons)

NOTE: Jam sugar has added pectin — if you don't have it, add 8 grams (¼ oz) of powdered pectin to ordinary sugar

a little water
Directions
1.  Wash the damsons and stem them, but don't stone them unless you object to sticky fingers. If so, go ahead and stone them now and skip step 4. (If using larger plums, do stone them now and cut into halves or quarters if large.)
2.  Gently bring them to a simmer with just enough water to almost cover them (don't drown them) — but no sugar at this point.
3. After 5-10 minutes on the simmer, they should be softened to the point where they can easily be squished but are still mostly intact.  When this point is reached, take the pan off the heat and stir in the jam sugar (or the sugar and pectin). Let the plum/sugar mixture cool, stirring a few times to help the sugar dissolve completely. If it needs help to do so, put it back on the heat for a minute or two, but don't re-boil. For compote you don't need to cook them again once the jam sugar is added.  The pectin in it will thicken it enough for a compote without additional heat, and this minimal cooking preserves the fresh flavour.
4.  Now you will need some patience for stoning the plums. I find it easier to squeeze them out of the cooked fruits, though it's a messy operation.  (I don't sieve them to get rid of the stones because I want the skins intact, but straining is an easier option if you want a smooth purée).
5. If you are making compote, that's it.  You're ready to serve with some pouring cream.  If you want to turn the mixture into jam, read on:
6. If making jam, put the pan over high heat, stirring all the while, and boil hard for about 5-7 minutes until the bubbles become larger and slower, and the mixture goes from thin to a discernibly viscous syrup and begins to make droplets off a spoon instead of running.  But don't overcook.  It's fresher and a nicer texture on the slightly looser side. Test on a cold plate (put one in the freezer before you start).  If it stays put on the plate and wrinkles slightly when you run a finger through it, it's jam.  Ladle into sterilised jars and seal tightly. (I sterilise jars in a hot oven and cool them slightly before filling; don't re-tighten the lids once the jam has "popped" (that lovely sound when it creates the necessary vacuum) or you'll break the seal.
II. Damson fool
(serves 2 generously)
This is a cinch to make with any fruit and is luscious and vibrant with damsons. The only trick to this dessert is not to over-whip the cream, nor to over-mix the layers.  This is very pretty served in wine-glasses or clear bowls so you can see the variations of colour between white cream, dark-purple compote, and magenta fool.
It is best served closely after assembling for the dreamiest texture, but you can make it a few hours ahead and save any leftover for the next day (though the colours will bleed a bit and it will be firmer).
Ingredients
375 ml (about 1 1/2 cups) chilled damson compote (recipe above)
250 ml double cream (about 1 cup heavy cream)
1 teaspoon sugar
Directions
1.  Spoon about 2 tablespoons of chilled damson compote into the bottom of each serving glass or dish.
2.  Lightly whip the cream with the sugar, just to the "chantilly" stage, so it is gently mounding but not stiff. Set aside about one-third in a small bowl to use as it is.
3. To the rest of the cream, gently fold in about two-thirds of the remaining damson compote to make the fool, without over-whipping the cream. You want the fool to stay loose and creamy, and to have some variations in colour. Reserve enough compote to drizzle on top and down the sides.
4.  Build some layers by putting a little of the plain cream chantilly on top of the bottom layer of compote. Then spoon in some of the magenta-coloured damson fool. Add a bit more plain cream where it can be seen to contrast with the fool, and then another drizzle of compote.  Finish with the last of the fool, another small drizzle of compote, and a final splodge of cream on top.  this will give you variations that taste lovely and are pretty, too. Garnish with a slice of plum, an edible flower, or nothing more — as you please.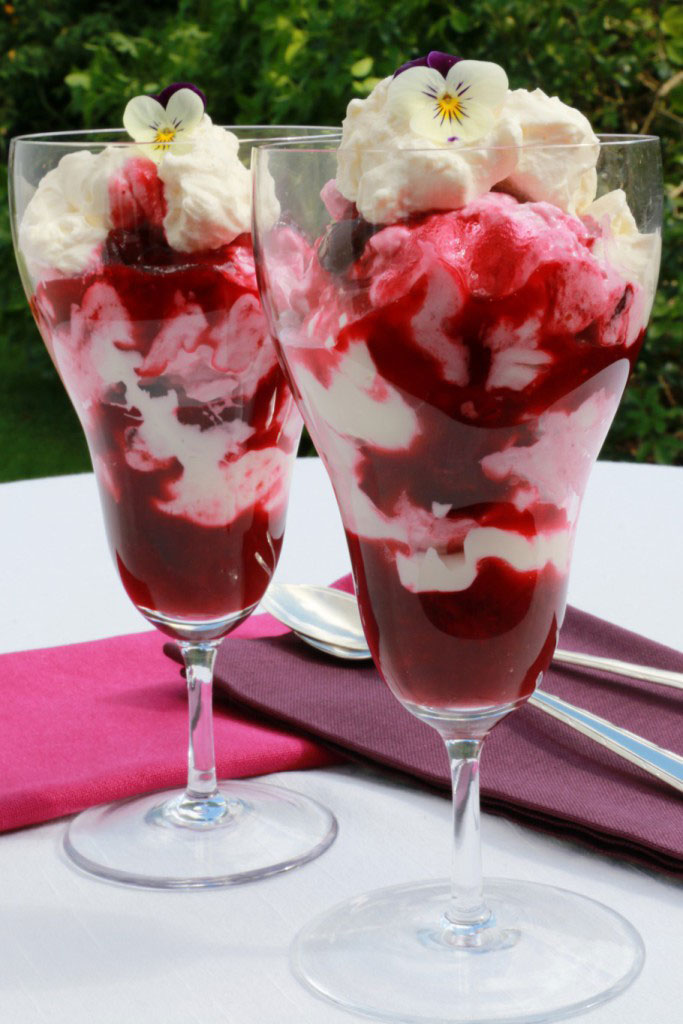 References:  Jane Grigson's  Fruit Book.  Penguin, 1982.
See also my article Late-summer recipes in Cambridge News, for more on the Manning Orchard and Bushel Box Farm Shop in Willingham, Cambridge, and for a recipe for Batter-style Plum Cobbler.