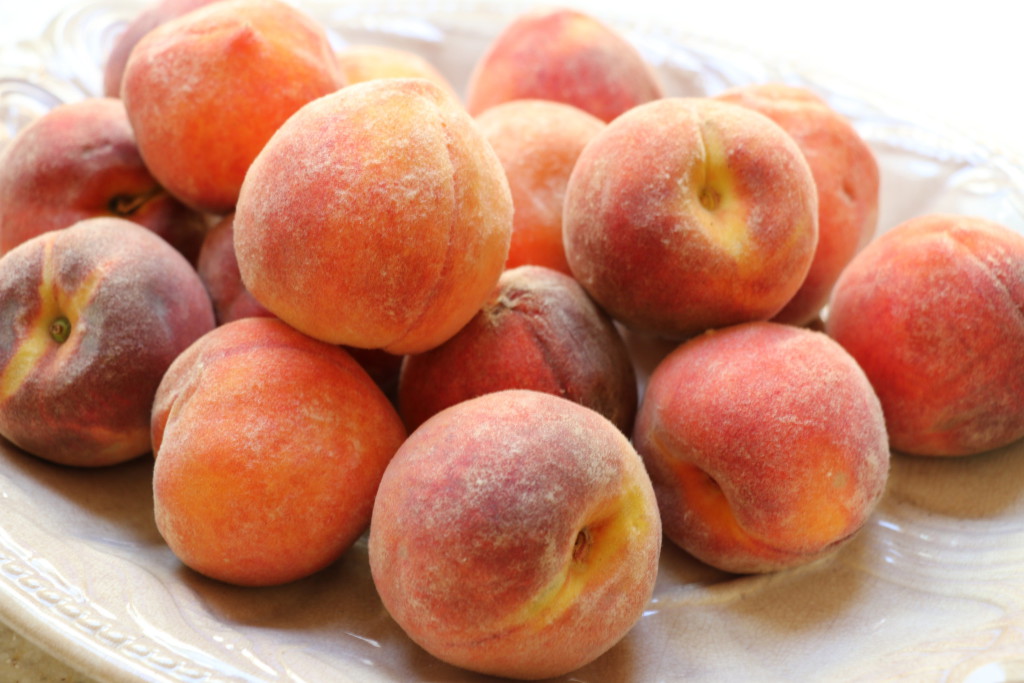 The worst summer job I had as a teenager was as a "roller girl" at a small peach-packing plant in rural south Jersey. It made a change from waitressing, but it was hellishly hot, hard labour, and we girls of the rollers were constantly covered in peach fuzz and mosquitoes. By the end of summer our fingerprints had been rubbed off and I had a mystery virus bad enough to make me two weeks late starting college.  It was a while before I could eat a peach again.
Those associations were overcome in time by my mother's peach cobbler — one of the finest things you can do with a ripe peach besides eating it au naturel, juices running down your chin in defiance of etiquette. Her cobbler is legendary in the family, full of sun-ripened fruit, just-thickened juices and crisp-soft topping. The peaches of southern New Jersey are world-class, and the cobbler was the ultimate celebration of them, at least once every summer.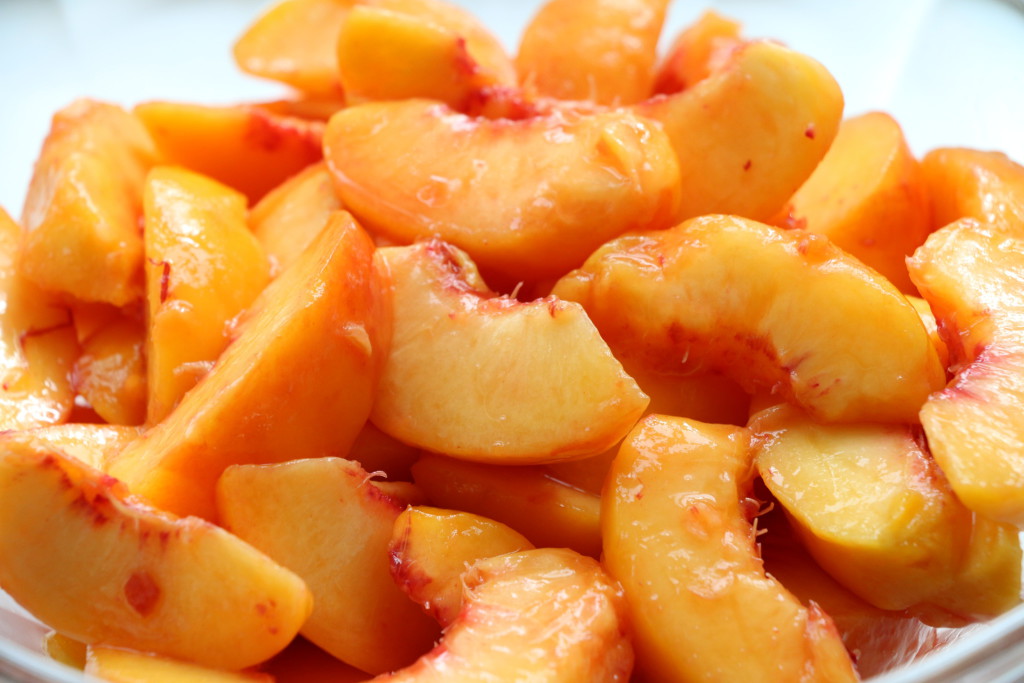 What a relief, then, that on a recent trip stateside to help my parents make the move to North Carolina, my father and I found some locally grown peaches at a farmer's market, sold by the growers, and still covered in fuzz (no roller girls' fingerprints sacrificed for these fruits). I bought two pounds intending to help christen the new kitchen by making Mom's cobbler, with her to guide me.
Alas, my mother's recipe was not to be found, apparently lost in the transition from New Jersey: one of hopefully few casualties of the move, but not a trivial one.  I have my own standby recipe for cobbler, but it is quite different from hers. In mine, the fruits are barely sweetened and covered with a not particularly sweet scone- or biscuit-like dough shaped into cobbles, as the name suggests, and baked until golden. This is to my mind the classic cobbler, and vanilla ice cream adds the sweetness that you don't get from the topping.
My mother's sweeter and gooier cobbler is something else, not really a cobbler, I would hazard to say, as she mixes a batter, pours it into her baking dish, and carefully puts the sliced peaches on top.  The batter rises in the oven to surround the peaches with a thin, almost caramelised, surface over a fluffier interior that blends lusciously with a fruit-understory — not at all like the more discreet fruit and scone layers of my version. With her cobbler, you need nothing else to add sweetness, though some tart crème fraîche doesn't go amiss.  Both are delicious in their own way, but my mother's version is the guiltier pleasure and the one we crave with those magnificent peaches.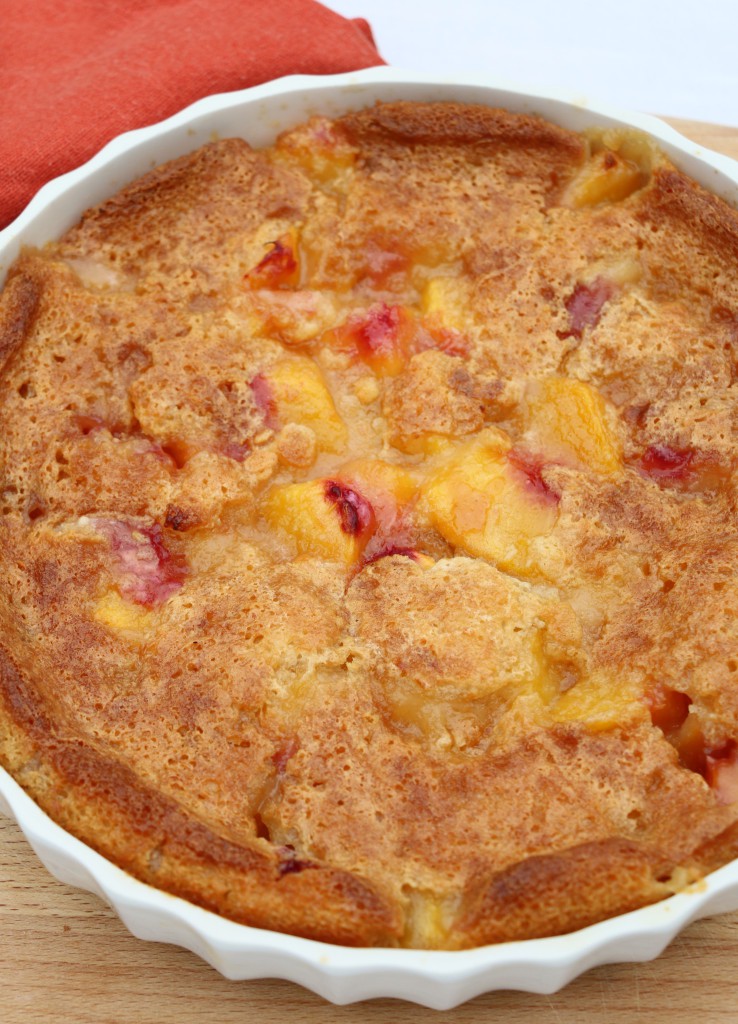 To recover the lost recipe, we studied several cookbooks and consulted online, with Mom's recall of method to guide us and my taste-memory added to hers. It was a Southern recipe, we knew, one she has made for years, her source being a Texas barbecue bible, the author's name lost in the move along with the book itself.
I researched my own extensive library and spent the last three weeks back home in England testing the likeliest candidates with our imported Spanish and Italian peaches, which are good at this time of year if you buy them ripe and ready to eat (no point buying the home-ripening sort, as they seldom do). Mom also whipped up a cobbler or two with her newly discovered North Carolina fruits, and I think we have a replacement recipe at last: not identical, perhaps, but delicious for sure, and sharing in all the characteristics of her original.
Her cobbler originated, we now believe, in a simple batter method that was popular in the southern states, probably written up by many cooks in newspapers and magazines and no doubt taught in school home economics classes, judging from how common it seems to have been. Something like it was published by Nathalie DuPree in her cookbook, New Southern Cooking, in 1986 (in later editions she called it "Lazy Girl Cobbler"). This is the recipe that Cook's Illustrated  adapted when they re-popularised the easy batter-style cobbler in 1996.
Variations of this batter recipe now come up first on an internet search for cobbler, usually without an explanation of its differences from the scone/biscuit-like cobbler, or the pie-like version that also has its champions and place in cobbler history. (The Oxford Companion to Food in fact defines the cobbler as a "deep-dish pie of cooked fruit… with a thick crust on top"; and Kentuckian Ronni Lundy's peach cobbler calls for strips of pie dough to be layered between the fruit in addition to taking its place on the top.) This cobbler nomenclature causes confusion and not entirely genteel disputes. I'm sure there are advocates of each method who would be spoons at dawn in defence of their own.
This recipe search was harder than most (there was so much at stake). I tested and tweaked several, at the low point making fresh peaches taste exactly like tinned. I came across the batter method early, but simply did not believe the instructions for a cobbler made from a batter, and a batter, moreover, with no eggs. And "baking power?" What in tarnation is this thing?
It appeared kin to the French clafoutis or the Yorkshire drop (the latter a sweet version of the British Sunday-lunch Yorkshire pudding) save for the fact that the batter-style cobbler has no eggs, a chief ingredient of those two distinguished dishes. I knew it wasn't a crisp, a crumble or a betty, so I read up on grunts, slumps, buckles and pandowdies. Well, it's not any of those rustic fruit desserts with comical names, either.
Whatever you call it, I'm happy now with this peach whatchamacallit. It's good. Sweet, easy, juicy without being soggy, and not a waste of a fresh peach, it's almost as I remember it from my mother's table. But I do wish it had its own name (Gobble? The Batter Cobbler Formerly Known as Cobbler?) It's all so linguistically messy. What if the whims of the internet obscure the rich variety of cobblers and we in time forget that people once came to culinary fisticuffs over what constitutes the real thing?
This re-creation exercise seems fitting for new beginnings after a house move – the result not quite as things were, but just as good or close as dammit, with the reassurance that some lost things can be recovered, that change need not be synonymous with loss. But the final test is still to come.
Okay, Mom, what do you think? Is this the one? Is this a peach cobbler worthy of the name? Give it to me straight.
RECIPES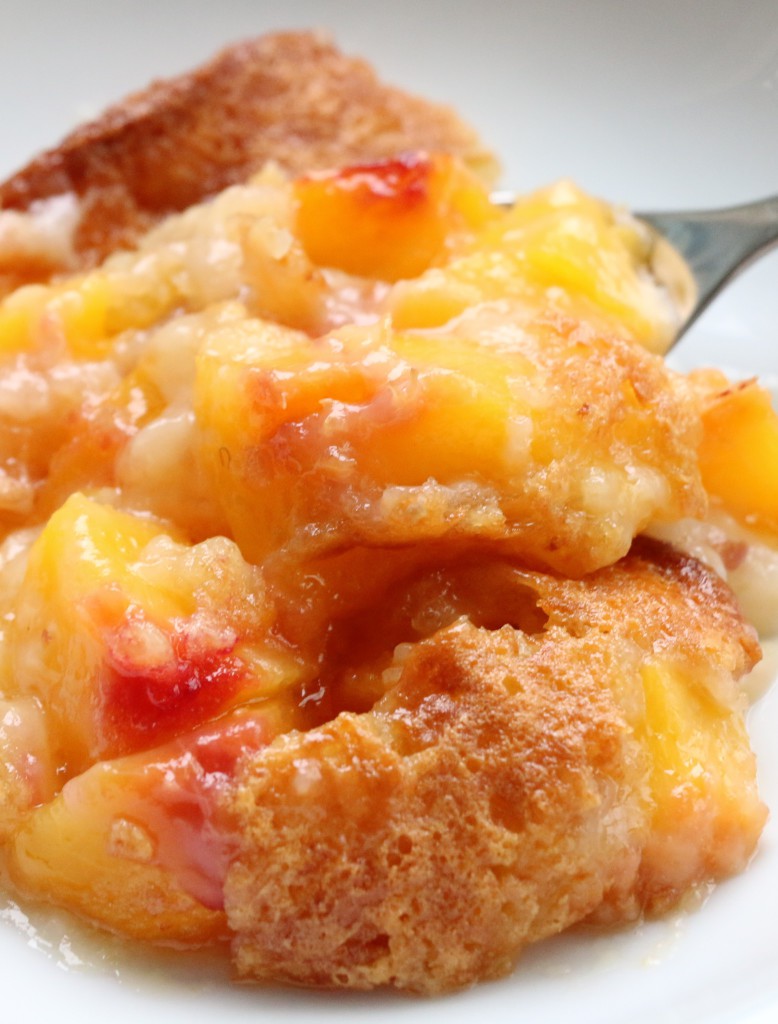 I. Batter-style peach cobbler
(serves 4-6)
This recipe is adapted from one in Cook's Illustrated that is currently all over the internet in some shape or form, the basic principle being an eggless batter – that's right: no eggs — that rises up around the fruit. The Cook's Illustrated version was in turn adapted from Nathalie DuPree's recipe for "Lazy Girl Cobbler". I've reduced the overall sugar and slightly adjusted the relative proportions. The vanilla adds a lot.
This recipe can be adapted to other fruits such as blueberries, blackberries and plums. Don't exceed the total weight of fruit here, as the extra juicy can make the cobbler sloppy. The lower oven temperature here is necessary due to the amount of sugar in the batter.
Ingredients
For the fruit:
450 g (1 lb) peaches (about 2 rounded cups prepared fruit)
Juice of half a lemon
1 tablespoon sugar
For the batter:
50 g (2 oz) unsalted butter
130 g (¾ cup minus 1 tablespoon) sugar
100 g (¾ cup sifted) flour
¼ teaspoon salt
1 ½ teaspoon baking powder
180 ml (¾ cup) milk
1 tsp vanilla extract
Directions
Heat the oven to 180C/350F.
Halve the peaches, take out the stones, and cut into chunky bite-sized pieces. Peel or not as you prefer*. Sprinkle with lemon juice as you go to prevent discolouration and add the tablespoon of sugar. Mix gently and set aside.
Put the butter in a 20-24cm (8- or 9-inch) ovenproof dish to melt in the oven while you mix the batter.
Whisk together the sugar, flour, salt and baking powder in a medium bowl. Add the milk and vanilla, and mix until smooth.
When the butter is melted, carefully pour the batter into the hot dish, right on top of the melted butter without mixing. Then distribute the peach chunks on top of the batter as evenly as you can without disturbing the batter underneath.
Bake for about 40-50 minutes until the top is a golden brown all over, the fruit juices are bubbling, and a skewer inserted into the centre shows no uncooked batter. Rotate the dish halfway through to bake evenly.
Let cool for a few minutes and serve warm. A little crème fraîche or pouring cream is nice, though it doesn't really need it. Refrigerate leftovers.
*Note: I personally prefer chunks of peach to slices, but please yourself, and you can either peel the fruit or not. If you do peel, pour boiling water over the peaches in a bowl in the sink, swish them around for 1 minute, and then run them under cold water to stop the cooking; the skins will slip off easily.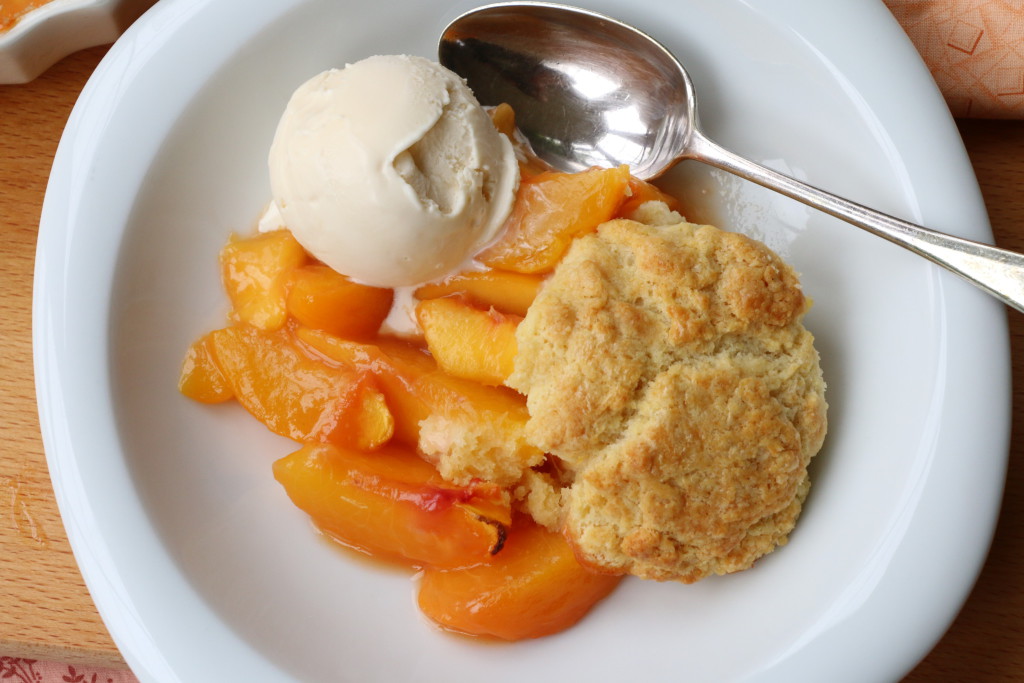 II. "Classic" peach cobbler
(serves 6)
This is my standby version — what I consider the "classic" American cobbler: peaches or other fruit covered with a not-too-sweet scone or biscuit-like topping that looks like cobbles once baked. This version is adapted from a combination of Alice Waters' recipes for cream biscuits and for scones in The Art of Simple Food.
I like to use a lighter "00" flour for a peach cobbler, and sometimes use one-half wholemeal, flour if I'm making a blueberry or blackberry cobbler. It makes a delicious dough with something like a digestive biscuit or graham cracker flavour.
Unlike the batter cobbler, above, this recipe can take a wider variation in the amount of fruit used. It needs a hotter oven to bake a light cobble topping.
Ingredients
For the fruit:
1 kilo to 1.5 kilos (2 lbs to 3 lbs) peaches
Juice of one lemon
2 tablespoons sugar
For the cobbler dough:
160 g flour (1 ¼ cup) flour
45 g (¼ cup) caster sugar, plus 1 tablespoon to sprinkle on top
½ teaspoon salt
2 teaspoons baking powder
70 g (2.5 oz or 2/3 stick) cold unsalted butter, cut into small pieces
160 ml (2/3 cup) whipping or heavy cream
1 teaspoon vanilla extract
Directions
Heat oven to 190C/375F. Butter a 20-24 cm (8- or 9-inch ovenproof dish).
Cut the peaches, peeled or not, into slices or bite-sized chunks as you prefer. Squeeze over the lemon juice to prevent them going brown, and add the 2 tablespoons of sugar. Put peaches into the buttered dish and set aside.
Whisk the dry ingredients together in a bowl. Add the cold butter pieces and rub them into the dry ingredients as quickly and lightly as you can with the tips of your fingers or a pastry cutter, just until the butter is incorporated, but with some pea-sized lumps remaining. You don't want a uniform sand texture; some lumps are good.
Mix the vanilla extract into the cream and add almost all the liquid in a steady stream to the butter/flour mixture, using a table knife to gently mix it just until no flour remains. Again, don't overwork the dough. You are looking for a sticky but manageable dough a little damper than for usual biscuits or scones, so add the rest of the cream if needed.
Use a large spoon with the help of your fingers to drop the dough into roughly equal-sized "cobbles" over the fruit, covering most of the peaches, but leaving some gaps where the fruit shows through.
Sprinkle with 1 final tablespoon of sugar and bake for 40-50 minutes, or until the cobbles are golden brown and cooked through, and the juices are bubbling. Rotate the dish halfway through baking for even cooking. If it browns too quickly, cover with foil or parchment.
Serve warm, room temperature or cold, with or without ice cream or cream.
Nathalie DuPree. New Southern Cooking (Knopf 1986).
Cook's Illustrated, editor Christopher Kimball: "Fruit Cobbler with Batter Topping", (July 1996).
Ronni Lundy. Butter Beans to Blackberries: Recipes from the Southern Garden (Farrar Straus & Giroux 2003).