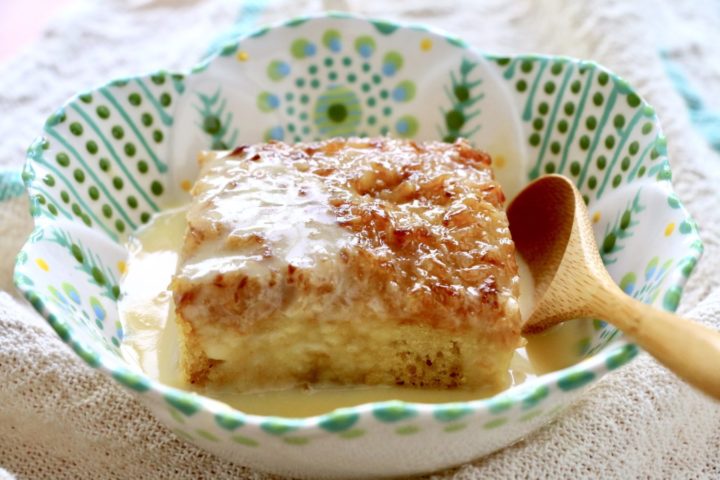 Malva pudding is a ubiquitous winter pudding in South Africa, filling the same kind of niche as sticky toffee pudding does here in England.  It was offered to us almost everywhere we ate when we visited last May, from Grahamstown to Cape Town, and was so deliciously more-ish that we invariably took up the offer, and thus had the chance to sample at least six variations in people's homes, casual eateries and a slightly fancier place or two.  What they all had in common was a down-home comfort-food quality, thanks to a richly gooey sauce that's poured over while the pudding is still warm, to soak into the spongy cake-like pudding, which is itself light, sweet, and always, always, we were told, made using a spoonful or two of apricot jam.
The version of malva pudding we enjoyed the most was made with the addition of coconut and a little rum, so I worked at re-creating it once we were home in England, despite the fact it was summer in our hemisphere.  I took it up in earnest again recently when the cold, wet weather rolled in, and I have to say, it helps….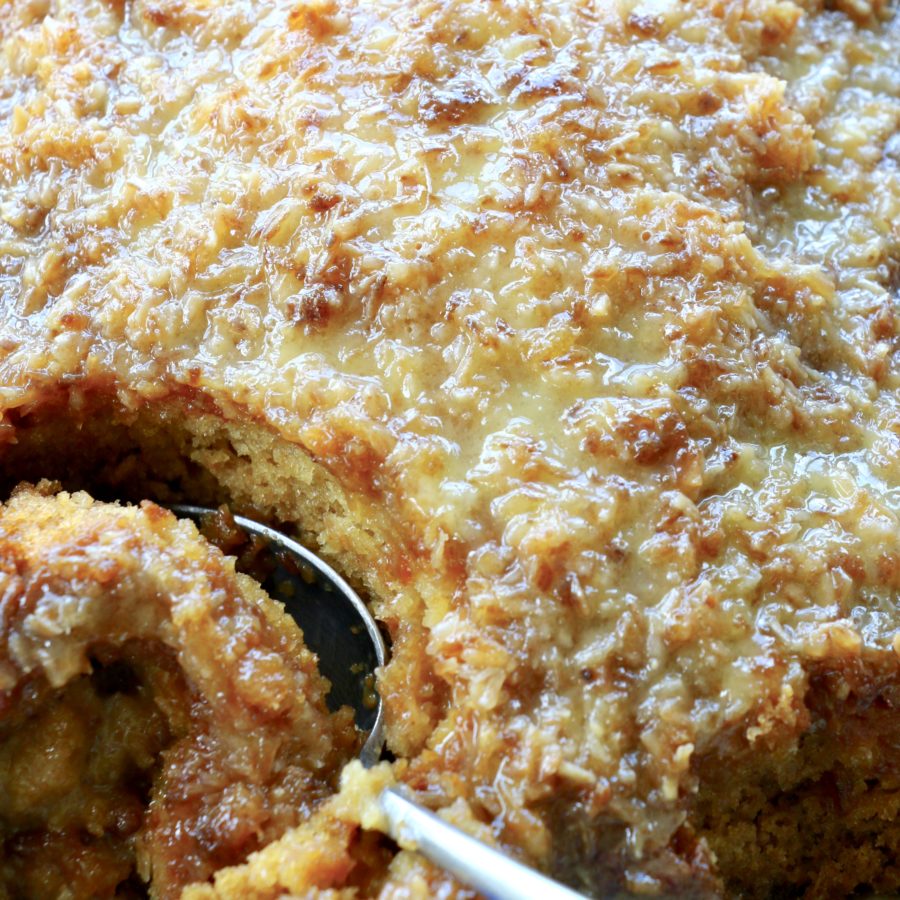 We learned that this pudding has long been a South African classic because it is easily made from store cupboard basics in a country where long distances in rural locales mean many people can't shop frequently for fresh ingredients.  While it's often made in city restaurants with fresh cream and milk, it was more often than not on our travels made using UHT dairy products, or powdered or evaporated milk.
Apricot jam is commonly found in South Africa, as is dried coconut, both being grown there; though the coconut version of malva pudding was not the norm, and you could certainly leave it out if you don't like coconut.  I sprinkle it on the top of the pudding only, to add another taste and texture — it smells beautiful while toasting, too.  I've added the rum and vanilla, as the cook whose coconut malva pudding we enjoyed so much used both, along with fresh milk and cream, and it was the best we had: definitely the star dish I took away from that trip as something to adopt into the family.
South African malva pudding with coconut and rum
Serves 8
(Adapted from various recipes credited below)
This pudding needs to be well-baked in order to soak up the sauce.  The sauce should be poured on top while both the pudding and the sauce are hot.
NOTE regarding pan size:  A baking dish measuring 28cm x 18cm x 7cm  (11 x 7 x 3 inches) is ideal for this recipe, as the sauce seems to soak into a shallower cake more easily and the pudding also bakes in less time.  I have also used deeper 20cm x 20cm square (8 x 8 inch) and 18cm x 23cm (7 x 9-inch) rectangular dishes, and they also work absolutely fine, but they do take about 15-20 minutes longer to cook, and you may find that the sauce doesn't penetrate to the centre as easily.  Ceramic or glass dishes will also take longer than dark metal ones.
Ingredients
For the pudding:
250g sugar (1¼ cups)
2 large eggs
75g (¼ cup) apricot jam, with any large lumps mashed into smaller pieces
2 tablespoons (1 ounce) unsalted butter, melted and cooled
260g plain flour or "00" or  cake flour (2 cups sifted before measuring)
1 teaspoon baking powder
1 teaspoon baking soda
½ teaspoon cooking salt, or ¾ teaspoon fine sea salt
1 teaspoon apple cider vinegar
250ml (1 cup) whole milk
1 teaspoon vanilla
50g (½ cup) dessicated coconut
For the sauce:
180 ml (¾ cup) double (heavy) cream
150g (¾ cup) caster or golden caster sugar (or granulated)
115g unsalted butter (1 stick, ½ cup, or 4 ounces)
60ml (¼ cup) water
Pinch of salt
1 teaspoon vanilla
Optional:  1 to 2 tablespoons dark rum
Directions
Heat the oven to 175C / 350F and lightly butter a baking dish with at least a 2½ quart capacity.  See note on sizes of pan in the headnotes, above.
Prepare the pudding batter: 
2.  Measure the flour, baking powder, baking soda and salt into a medium bowl. Whisk them together with a wire whisk to ensure they are evenly distributed (or sift them).  Set aside.
3.   Into a small measuring jug, combine the milk and vinegar. Set aside.
4.  In a large mixing bowl, beat the eggs and sugar until light and fluffy, about 3-5 minutes.  Add the apricot jam, vanilla, and cooled melted butter to the sugar and egg mixture, and beat through until well combined.
5.  Alternate adding dry and wet ingredients to the egg/sugar/jam mixture, starting and finishing with the flour, as follows: first add one-third of the flour and mix it in until no flour remains visible.  Then stir in half the milk.  Now mix in another third of the flour, and then the rest of the milk.  Finish with the last of the flour.  A silicone spatula is ideal for scraping the sides and bottom of the bowl to ensure everything stays smooth.
6.  Pour the batter into the buttered baking dish, and sprinkle the dessicated coconut evenly over the top.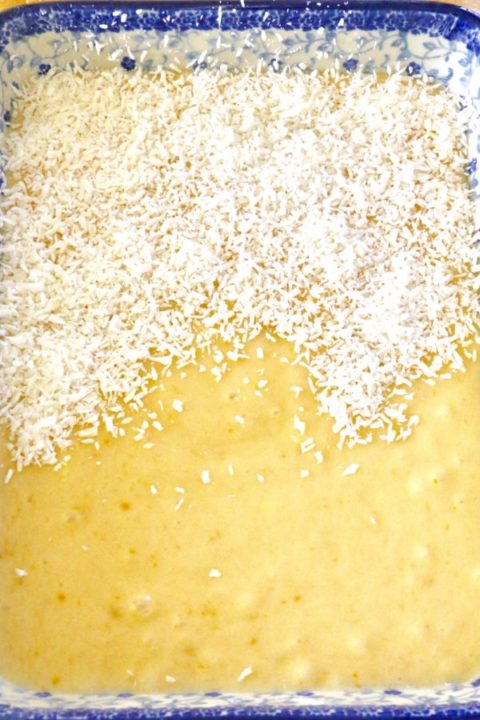 7.  Bake shallower puddings for about 40 minutes, and deeper puddings for about 60 minutes, turning for even baking as needed. The top should be a deep golden-brown, and a skewer inserted into the centre should come out completely clean.  If the coconut topping looks like it's browning too quickly, loosely cover the pudding with foil in the last 15-20 minutes or so of baking.
8.  While the pudding bakes, make the sauce: Into a medium saucepan, add all the sauce ingredients except the vanilla and rum.  Heat gently until the sugar is dissolved; don't let the sauce boil.  Keep the sauce quite warm until the pudding comes out of the oven, and stir in the rum and vanilla when you take it off the heat.  Stir well so the sauce is smooth, but don't worry if the butter does separate out a bit, as it won't matter once the sauce is poured over the pudding.
9.  Poke holes with a skewer at about 2.5cm (1-inch) intervals into the hot pudding to help the sauce penetrate. Spoon the hot sauce over the hot pudding in increments, allowing the liquid to disappear into the pudding before adding more.   Stop adding sauce when it begins to settle on top of the pudding without being absorbed.  Put any leftover sauce into a small jug for people to use at the table; just warm it and whisk it through before pouring.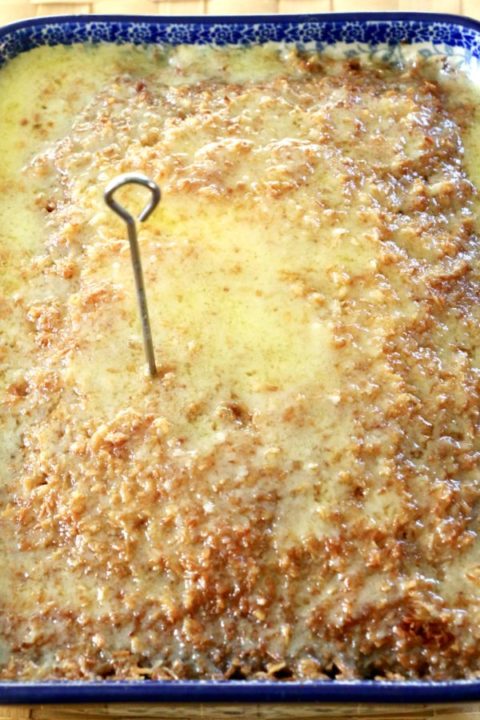 10.  Serve the pudding while still warm with a bit of custard, or pouring cream if you like.  Refrigerate any leftovers; you can reheat portions in the microwave for about 10-15 seconds each.
RECIPE CREDITS
I was given tips for making malva pudding when we were in South Africa, and I've since consulted several recipes, including ones from Ilse van der Merwe's blog, The Food Fox.  Ilse shares two classic recipes: one from the 1970s from Maggie Pepler, as published by Michael Olivier;  and one from a 1990 Afrikaans cookbook by Helmine Myburgh,  A Table at the Cape.   David Leibovitz also raves about a variation of malva pudding made at LA restaurant, Sqirl, presented as small cakes.
Mine is a combination of what I found to be the best in all of these, with the addition of coconut, rum and vanilla, to recreate the best malva pudding we tasted at a game reserve near Grahamstown in South Africa,  by a talented cook who wishes to remain nameless.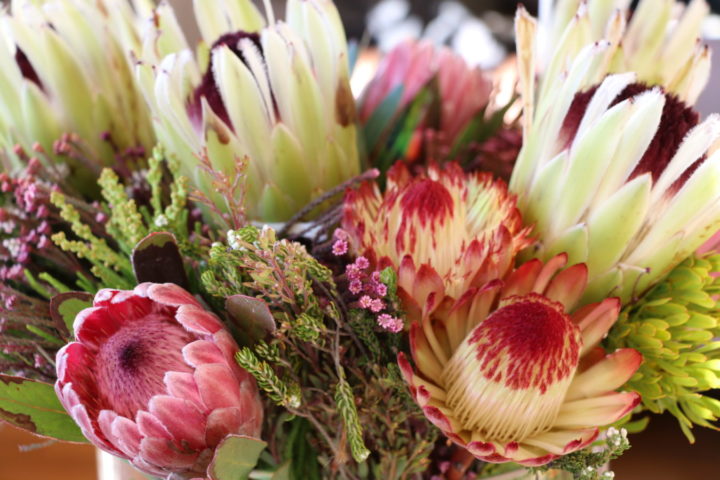 Other warming pudding recipes on Crumbs on the Table: