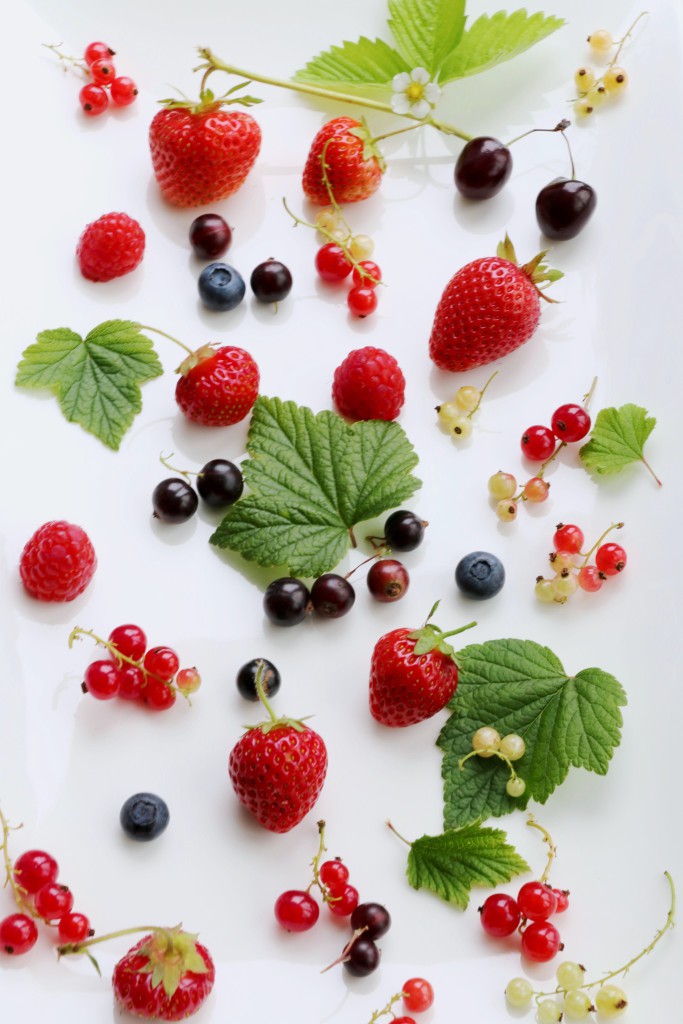 Rejoice in sun and rain:  it's summer!

The British summer has been living up to its rollercoaster reputation. Our barbecues are rusting more than rustling up dinner, and the plentiful rain has been troublesome for soft fruit growers.  But it's not all bad news.  Some crops love the wet stuff and are having a bumper year: peas, beans, cucumbers, courgettes, the salad crops… .  They're all happy as ducks.
More UK growers are using polytunnels, so we are still seeing British strawberries, raspberries and jewel-like currants in red, white and black, despite the weather — though some market sellers tell me they've had to supplement from Holland and Belgium more this summer than they have for years.
There are bargains to be had when produce is at its peak. Raspberries and currants freeze beautifully, so put some aside for compotes, crumbles, ice cream or jam-making.  Lay raspberries in a single layer on a tray and freeze until firm before bagging them up; this makes it easy to take out just what you need later, and if you de-frost them carefully they'll retain their shape.  Try freezing a few currants still on their stalks for a beautiful garnish that will cheer up any number of puddings all the way through winter.
Peaches, nectarines and other stone fruits from our sunnier European neighbours are competing for our attentions, too, and if you find specimens ready to eat in a day or two, they can be juicy, fragrant, sensuous.  I've had delicious white nectarines and flat peaches (the kind sometimes called 'donut'), and am thankful we have them along with the fruits we grow at home.  I wouldn't want to cook or eat in a world limited to my own backyard, as much as I celebrate local produce.  There are things that we can't grow as well for ourselves, and these beauties are among them.
Our markets are never more colourful and varied than they are right now, so it's a perfect time to try a little of this fruit, a little of that.  My favourite things to do with such abundance are to make a clean-tasting sorbet, or a simple fruit salad, with whatever fruits are best on the day.
Years ago in a family-run trattoria in Rome, I was served a plate of homemade sorbets so charming and astonishing as never to be repeated.  There was a blush-pink peach sorbet served in half a white peach.  It sat next to a smaller scoop of plum sorbet served in a hollowed shell of magenta plum, and an apricot sorbet in its apricot shell.  There was a cucumber sorbet in a cup fashioned from cucumber, and finally, a spoonful of strawberry sorbet served inside the shell of a strawberry.  The man who made them loved those fruits and his countryside.  There was a landscape on that plate, and I will never forget it, or the quiet pride with which it was served to me.
Such food is simple, yet takes time.  It relies on ingredients that taste true, grown with care and in their season.  When they are, even the humblest becomes remarkable.  Cucumbers are a striking example, as different now from the year-round commodity as a winter strawberry is to one in midsummer.  Cucumbers can be sublime at this time of year in a soup, and star in a salad that's a joy to eat (try chunks with some lemon juice, mint, basil, parsley, olives, feta, melon, peach and strawberry).  If you've never had cucumber as a cooked vegetable, I urge you to try sauteéing or grilling it.  It takes on an intensity of flavour and melting texture that is refreshing and light for a summer menu.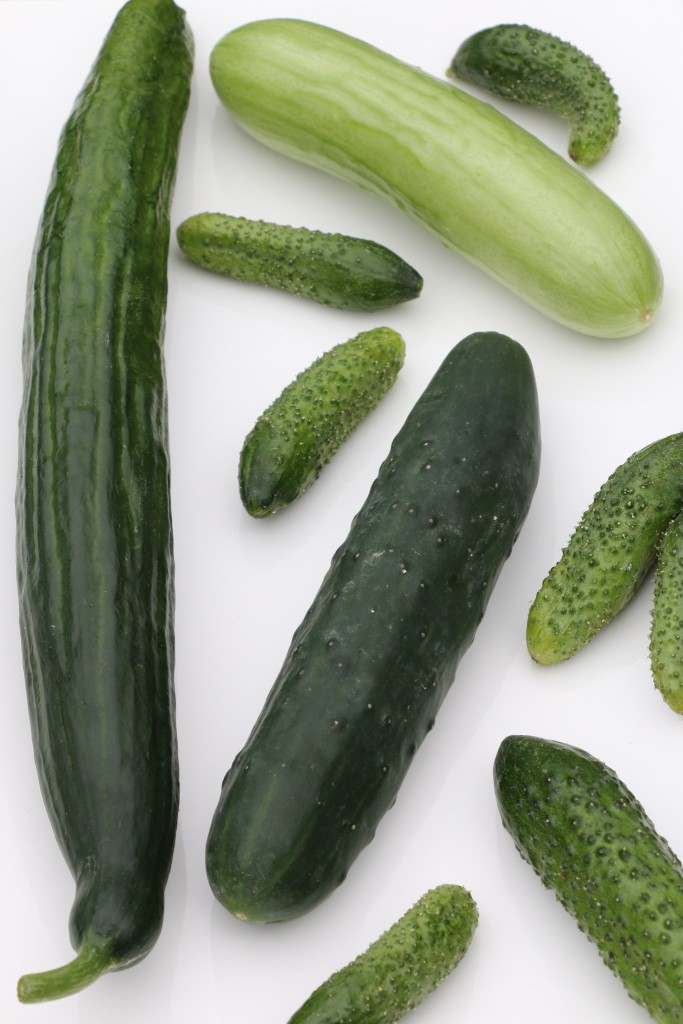 As well as the familiar English long cuke, there are others that grace the summer months: the thicker-skinned, medium-sized ridge cucumber; the pale, round lemon variety; and the small gherkin, beloved of Germans and Eastern Europeans.  One of my favourites is the variety called 'Partner', small as a finger and with a pimply skin: it's utterly delicious to crunch whole, skin and all, with a bit of sea salt and nothing more.
I found them at Chris Tirrell's Oakington Tomato Farm, which grows its wide variety of produce under glass using companion-planting methods, without the use of sprays.  The farm sells only through local farmers' markets and direct from its small shop, full of produce picked that day.  Farm manager, Valentina Granovschi, a gently spoken agronomist from Moldova, has for nine years helped introduce and nurture the 30 varieties of tomato grown on this family farm and its range of cucumbers, courgettes, aubergines, beans and the beautiful soft fruits that thrive in our fickle climate.  Her knowledge and enthusiasm, and the colourful displays, make for a cheering errand, even on a grey-sky day.
Fickle the weather may be, but it is summer, afterall, with plenty of the season left to fire up the barbecue and treat ourselves to a cooling ice.  Before we know it, we'll be complaining of the heat and feeling sorry for the ducks.
 Links:
Oakington Tomato Farm, Dry Drayton Road, Oakington, Cambridge CB4 5BD. Open Tuesday through Saturday 10-6; Sunday 10-4:30; closed Monday.
Twitter: @Chris_Strawb
Facebook: @oakingtontomatofarm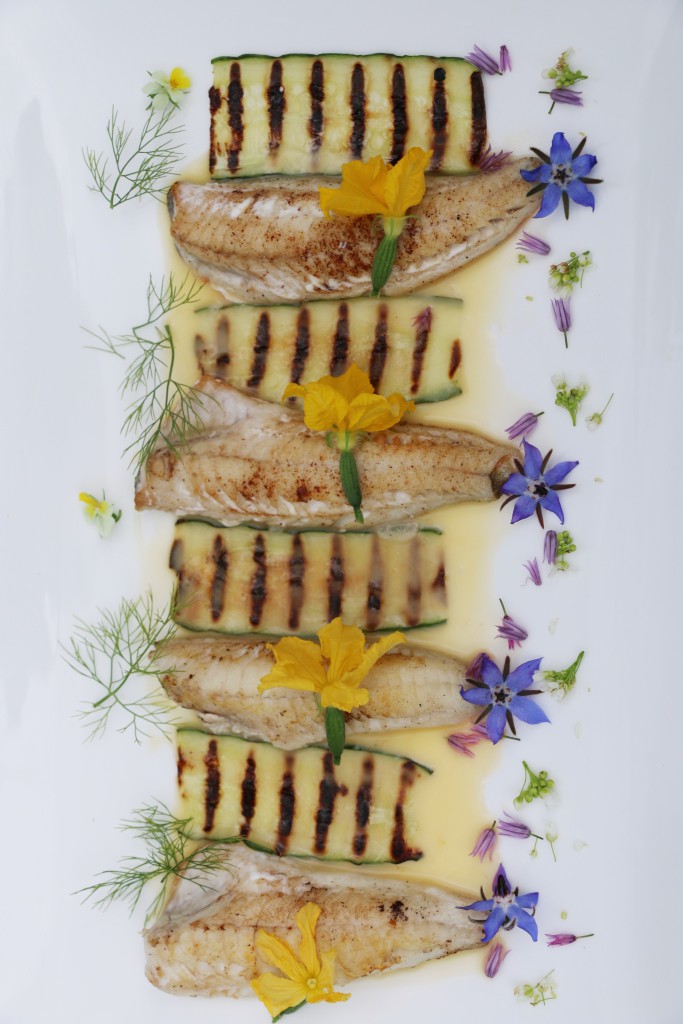 Fish fillets with grilled cucumber and beurre blanc
Serves 2 as a main course, 4 as a starter
Adapted from Tom Kerridge
Make this dish when cucumbers are at their finest.  If you can find the edible blue flowers of the borage plant, they have an affinity with cucumber and make a lovely garnish.
A ridged grill pan will give your dish pleasing char marks, but any frying pan will do.  Many kinds of fish fillets work for this: e.g., gurnard, red mullet, cod, bass, salmon….  (The beurre blanc adds richness, so oily fish like mackerel are less good here).
Beurre blanc is a warm butter sauce often served with fish.  A bit of care is needed in its preparation as it can split if it gets either too hot or too cold.  The reduction can be made well in advance, and the sauce finished just before serving.
4 fish fillets, checked for bones (and scales, if using skin-on fillets)

The zest of one lemon
Sea salt and freshly ground pepper
2 tablespoons rapeseed oil

Half a long cucumber, sliced lengthways about ¼-inch thick (.6cm) and trimmed into 4 neat slices about the size of the fish fillets

Sea salt and pepper
A pat of butter and squeeze of lemon juice

For the beurre blanc:

80ml (4 tablespoons) dry white wine
40ml (2 tablespoons) good white wine vinegar
1 finely chopped shallot
100g unsalted butter
Sea salt and white or black pepper
Optional: 1 tablespoon heavy cream if needed to balance the sauce
Optional: 2 tablespoons chopped herb stems, plus the leaves: e.g., chervil, fennel or dill

To garnish:

Herbs and/or edible flowers such as borage, dill, fennel, chervil, cucumber flowers, rocket flowers, chive flowers
Make the reduction for the sauce:  Place the shallot, herb stems (if using), wine and vinegar in a small saucepan over medium-high heat and reduce to half, watching that it doesn't over-reduce (if it does, add a splash of water).  When it's reduced by half, keep over very low heat (or remove from the heat if doing ahead).
Cook the cucumber slices:  Season them with salt and pepper, and then 'toast' on both sides in a hot, dry pan until seared and softened.  Set aside on a plate and lubricate lightly with a bit of butter and lemon juice.
Cook the fish:  Heat a pan with the oil over medium heat.  Pat the fillets dry and season with salt, pepper and lemon zest.  When the oil is very hot, but not quite smoking, add the fish.  If using fillets with skin, put them in skin-side-down and press lightly to ensure the skin comes into good contact with the heat.  Don't move the fillets until you can see that the side against the heat has taken on a good colour and the upper side is beginning to go opaque around the edges.  This should take about 3 minutes.
Carefully turn the fillets over to cook for about one minute on the other side, depending on the thickness of the fish.  You can tell it's done when it feels still springy, but not soft, to the touch, and looks opaque almost to the centre.  Don't let it get completely firm, as you want some moisture.
While the fish is cooking, finish the sauce:  Strain the reduction and re-heat it over medium heat.  Whisk in the butter a little at a time, keeping an eye on the temperature and whisking continuously until all the butter is incorporated.  Add the chopped fresh herbs (if using).  Taste the sauce and add salt and pepper.  If it seems too sharp, add a small amount of cream and taste again.  Correct the final seasoning and keep warm, but not boiling, and stir frequently.  Should it threaten to split, add a little lukewarm water and whisk until smooth again.  (You can keep the finished sauce for a while in a double boiler over warm, but not boiling, water.)
Assemble the dish: Plate with a grilled cucumber slice next to each fish fillet.  Dress with the sauce and garnish with fine sprigs of herbs and/or edible flowers.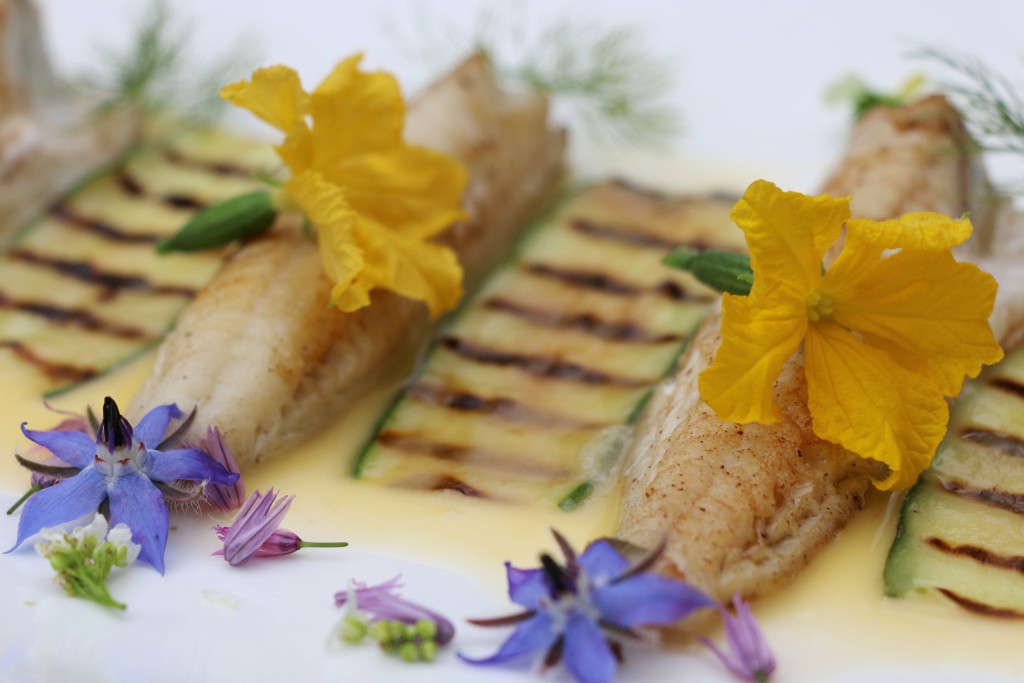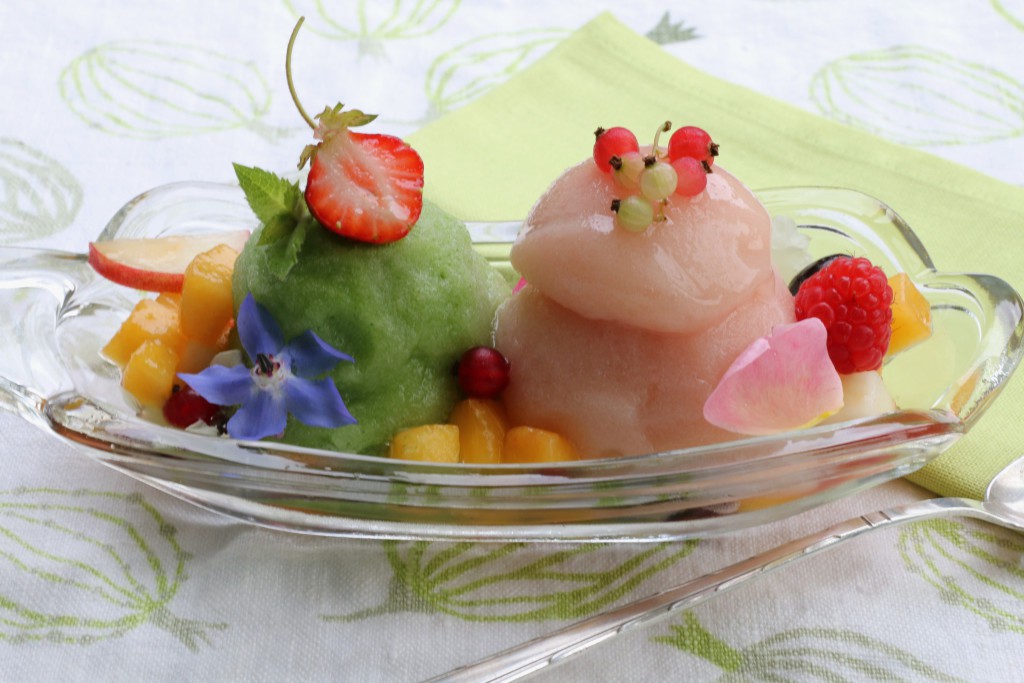 Cucumber and white peach sorbets with summer fruits
 Serves 4-6
Technically a fruit (in the curcurbit family with melon and squash), cucumber makes an exquisite sorbet.  For the partner sorbet, choose ripe and flavourful peaches or nectarines.
You will need a food processor, blender or juicer to purée the ingredients for the two different sorbets in turn.  You will then need either an ice-cream machine or a food processor to transform them to sorbets.  If you have neither machine, you can make a coarser-textured granita by freezing the two mixtures in separate containers and mixing each with a fork a few times as they freeze.
Sugar syrup:
500ml water (2 scant cups)
200g caster sugar (1 cup)
1 strip lemon peel, without bitter, white pith
Cucumber sorbet:
1 long English cucumber or 300-350g (10.5 to 12 ounces) smaller cucumbers
1 tablespoon lemon juice, or more to taste
White peach sorbet:
2-3 large white peaches (or nectarines); or 5-6 flat peaches: weight 350-375g (12 to 13 ounces)
1 tablespoon lemon juice, or more to taste
Fruit salad garnish: Allow a handful of ripe mixed fruits per person, e.g.:
Red currants, white currants, raspberries, strawberries, cherries, yellow peach, apricot, blackcurrants, blackberries or blueberries
Lemon juice as needed and/or a splash of fresh fruit juice
Optional: a few mint leaves and edible flowers
Make the sugar syrup:  Combine water, sugar and lemon peel, and heat over medium to dissolve the sugar.  Raise the heat and boil for 3 minutes; strain into a measuring jug and allow to cool.  You should have 480-500ml (about 2 cups) of syrup. Chill until ready to proceed (you can make the syrup a day ahead and refrigerate overnight).
For the cucumber sorbet:  Peel cucumbers if the skin is bitter and scoop out any coarse seeds; small seeds and tasty skins can be left.  Chop into coarse chunks and put them in a food processor, blender or juicer with 250ml (1 cup) of the cooled sugar syrup and the lemon juice.  Blend on high speed until completely smooth.  Strain the mixture through a medium-coarse sieve, without applying pressure, to extract the clear juice; you should end up with around 300ml (a little short of 2¼ cups).  Taste and add a bit more lemon juice if needed.  Proceed using one of the methods below:

Either freeze the mixture in an ice cream maker following manufacturer's instructions; OR
Freeze the mixture in a shallow dish for several hours until solid, or nearly so.  When ready to serve, set the dish in hot water for a few second to loosen the frozen mixture, and break it into pieces that will fit into a food processor.  Pulse until smooth.  Don't process it more than you have to, or the sorbet will contain excess air that dilutes the flavour.

For the white peach (or nectarine) sorbet:  Peel the fruits by plunging them in boiling water for a few seconds and then shocking them with cold water.  The skins should slip off easily. (Nectarine skins can be left on if you like; this will make for a pinker sorbet.)  Cut the fruit into chunks and immediately add the lemon juice to keep them from discolouring.  Purée with 250ml (1 cup) of the cooled sugar syrup in a blender or food processor until completely smooth.  Strain through a medium-coarse sieve to catch any large pieces of fruit or skin.  NB: you will have a thicker purée for this sorbet than for the cucumber, and should end up with about 500ml (2 cups) as there is less to strain out.  Taste and add a bit more lemon juice if needed.  Proceed as for the cucumber sorbet above, following step A or B.
To assemble:  Prepare your fresh fruit salad garnish in a bowl and mix gently. You may want to cut larger fruits into small chunks so your mix of fruits are of similar size and easier to serve.  Add a squeeze of lemon juice to fruits that might discolour, and/or a splash of fruit juice to lubricate the mix. Spoon a small amount of fruit salad into the bottoms of your serving dishes.  Scoop in the two sorbets when they are soft enough to eat, and dress with a bit more of the fruits; garnish further as you wish.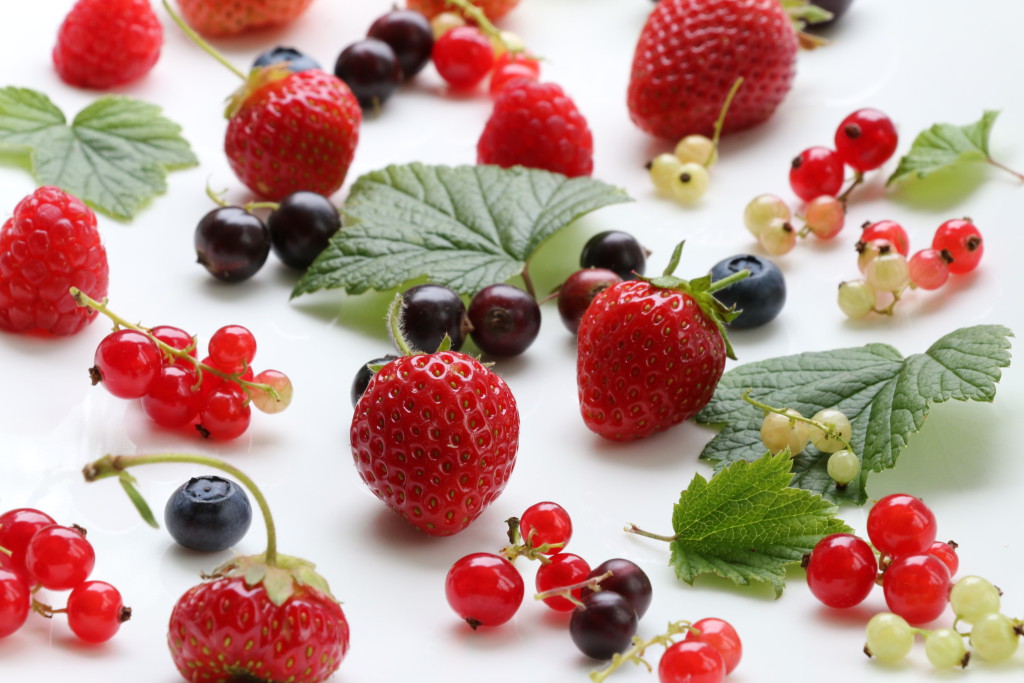 [This article was one of a series of
Crumbs on the Table
  monthly food columns published in
Weekend
  (editor, Alice Ryan), the Saturday supplement of the
Cambridge News
.]
Other summer fruit stories and recipes on Crumbs on the Table: