Crumbs on the Table
  monthly food columns published in
Weekend
  (editor, Alice Ryan), the Saturday supplement of the
Cambridge News
.]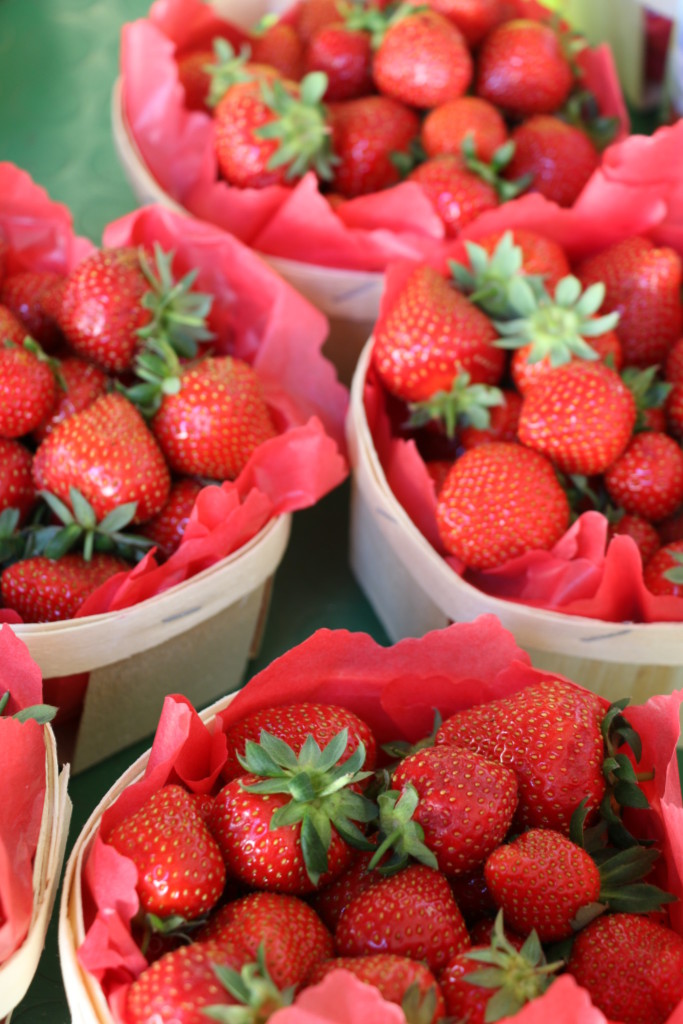 "Nothing says summer like messing about with strawberries"
Some of my happiest childhood memories are of pick-your-own excursions in the heat of the summer sun, everyone working towards a joint effort that had a sweet ending.  We made a strawberry pilgrimage at least once a summer for shortcakes, ice cream, jam, tarts, and purely for the fun of it.  Those messy, fragrant outings nourished a sense of wonder at the generosity of growing things and instilled in us the connection between things we eat and the way they grow.
Just 15 years ago, the native British strawberry season was only about five weeks long.  Commercial growers have been working hard to command more of the market, and can now produce from April into October, mostly due to polytunnel technology.  This has benefited the British fruit industry and means we can satisfy our taste for strawberries out of season while keeping food miles down, but this availability does come at some cost.
Supermarkets require shelf-life and transportability, above all, so berries are bred to be robust and picked before they are ripe.  Taste is not the priority, although effort has gone into making the four or five commercial varieties taste as good as possible.  At the height of the season, supermarket strawberries will be very good; but when their natural season has to be forced they can be disappointing.  Semi-mature plants are 'forced' under cover with heat, planted in what amounts to strawberry grow-bags fed with nutrients the plants can't get naturally.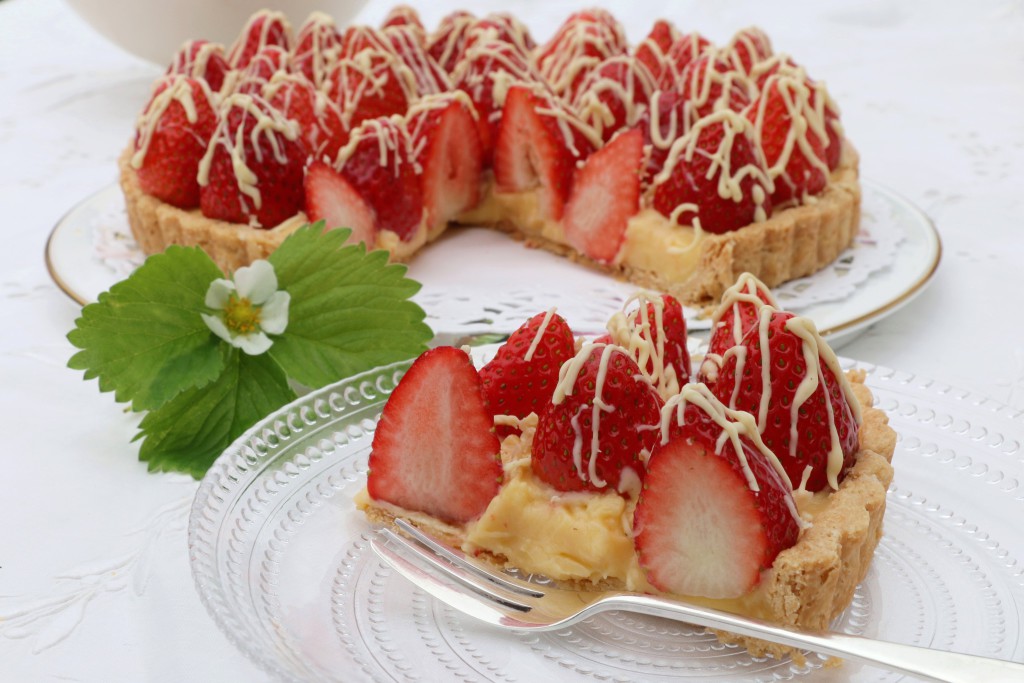 For smaller producers like Paddy Ivens of Hill Farm PYO near Peterborough, taste is paramount.  He grows eight to ten strawberry varieties chosen for flavour, from around mid-June, running into August. (His fields will open for picking in about a week's time, as cold weather has delayed this year's early crop.)  Some are heritage varieties and some are newer cultivars, but they are all grown in the ground, under the sun, and picked when ripe – with PYO customers doing their own 'quality control' in the field.
Twenty years ago there were four or five pick-your-own strawberry growers near Hill Farm, and now the Ivens family reckon they are the only ones for 40 miles or thereabouts.  Paddy delights in giving his customers this increasingly rare experience.  "Kids love it. Being on a farm is like a magical kingdom. Customers can wander from field to field picking the strawberries they want to, and we encourage them to taste a couple of each variety to see which they like best – they all taste different, a bit like wines. If you treat people with respect, the vast majority will respect your crop, your business."
It's encouraging to hear Paddy speak with such generosity, as pick-your-own businesses have diminished through the costs and concerns with 'security' as much as new growing methods.  Perhaps if we keep asking we may reverse this trend and give heart to some of those growers who would love nothing more than to know their crops are valued.
If your savoury inclinations are towards lamb this month, you may find this year's spring lambs available at your local butcher.  Those born this January through March are on sale from June and July, and have exceptional tenderness and delicacy of flavour.  Rosegate Farm in Swavesey raises and butchers its own animals and sells them direct to the public from their farm shop. Son David Baker knows his animals from birth – a degree of knowledge-behind-the-counter that is as much a rarity as his small-scale and personalised operation, where taste, welfare and sustainability are guiding principles.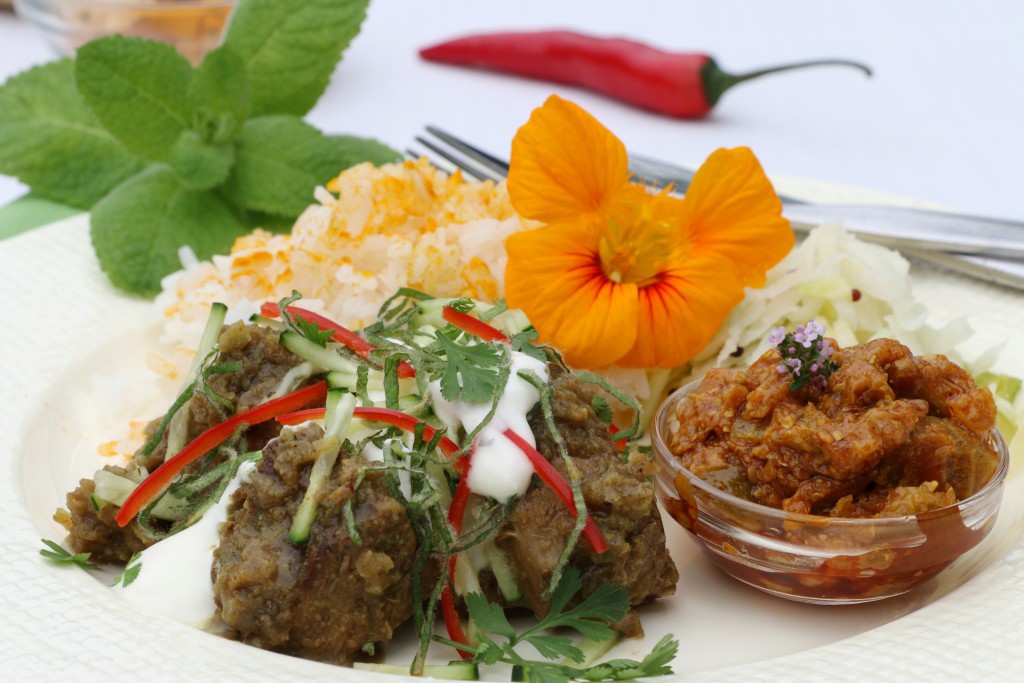 'Spring lamb' refers to animals born this season, butchered at three-to-four months.  Through August, the lambs (called simply 'lambs' at that point) will start to put on more muscle, fat and flavour, 'finishing' (as it's called in the trade) through the autumn.  After Christmas, David refers to his animals as 'hoggets', though you may find in other parts of the country that hogget refers to a lamb over one year old.  As the animals age, they develop a deeper flavour and colour, and as this more mature meat is denser, David hangs his hogget for two weeks to get the best of both flavour and tenderness.
The Ivens and Baker families are two of our county's inspirational small producers.  They show it is possible to cultivate real flavour and the connections between what we eat and how it is grown – a connection that can nourish us as much as the food itself, bringing deeper meaning to the rituals and necessities of daily life.
Links:
Hill Farm PYO, Oundle Road, Chesterton, Peterborough: hillfarmpyo.co.uk ; phone  01733 233270  for crop updates (closed Mondays).
Rosegate Farm Butchery, Rose and Crown Rd., Swavesey, Cambridge:  www.rosegatefarm.co.uk ; 01954 230344 (open Thurs eves, Friday and Saturday).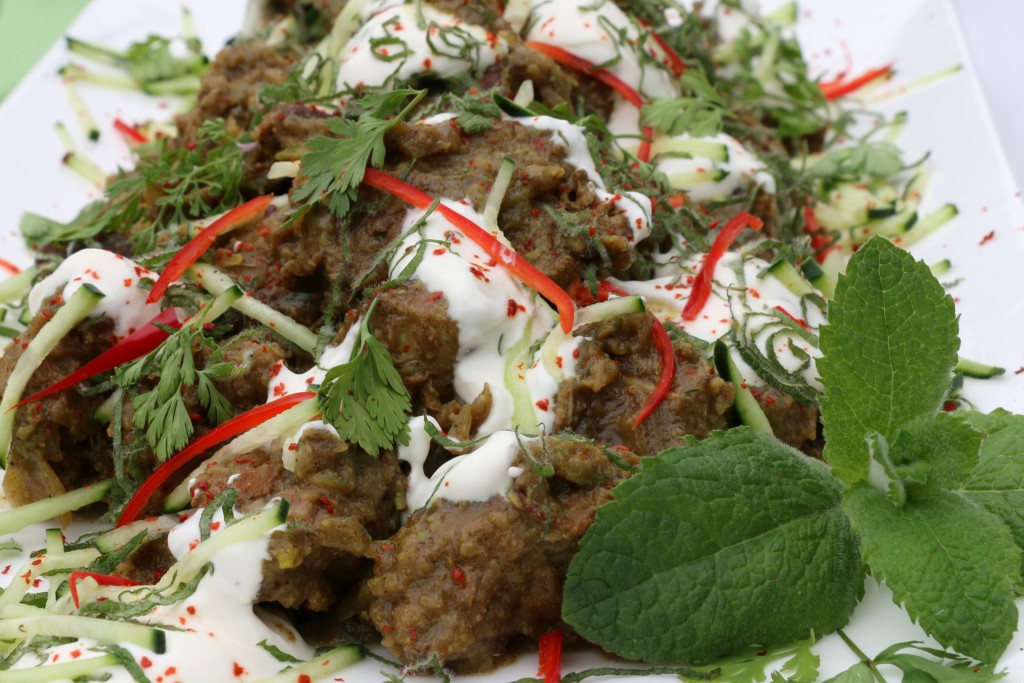 Lamb curry with mint
Serves 4-6, depending on side dishes
Adapted from Madhur Jaffrey's  Invitation to Indian Cooking
This refreshing lamb curry makes a perfect early summer dish when fresh mint is plentiful. Use the cheaper, flavourful shoulder or neck for this braising method.
A blender or food processor makes the spice-paste very easy, but if you don't have one, just grate the ginger and garlic. If you like it hotter, add another chili, or sprinkle on extra as garnish.
This is delicious with a rice pilaf or an Indian flat bread to dip in the sauce. For a vegetable, try pointy spring cabbage with a pinch of mustard seed; or green beans with mint and garlic. Serve with your favourite Indian chutney and a cucumber raita – or present the lamb with some yogurt and cucumber and herbs strewn over. Like most curries, this one can be made ahead or frozen, and the recipe is easily doubled.
Ingredients
1 kilo (a little over 2 pounds) boneless lamb neck or shoulder, cut into 3cm (1-inch) cubes
2-3 tablespoons vegetable oil
2 medium onions, finely chopped
4½ teaspoons ground cumin
1 teaspoon dry English mustard powder (or 1 tablespoon prepared mustard)
½ teaspoon each ground cinnamon, cloves and turmeric
1-2 red chilis, seeded and coarsely chopped
6 cloves garlic, coarsely chopped
1x4cm (generous 1-inch) knob of peeled fresh ginger, coarsely chopped
80ml (5 tablespoons) red wine vinegar
250-300ml (1 cup to 1¼ cups) light chicken stock or water, and extra as needed
1-2 teaspoons sea salt
15-18g fresh mint leaves, coarsely chopped (about ¼ cup tightly packed)
Optional garnishes: additional chopped fresh mint, fresh coriander or parsley leaves, plain yogurt, cucumber julienne, slivered red chilis
Directions
Heat the oven to 165C/325F. Pat dry the lamb cubes. In a large oven-proof saucepan over medium heat, brown the meat in batches until it takes on a good colour. Don't turn the cubes until they start to caramelise. This will take about 5-8 minutes per batch. When browned all over, set aside the lamb and its juices in a bowl.
In the same pan used to brown the lamb, sauté the onions, stirring occasionally, until they've also taken on some brown colour and are soft, about 10-15 minutes.
While the onions are cooking, mix the spice paste: add the ginger, garlic, chili and all the ground spices to a blender or food processor, pour in the vinegar and process until very smooth; add a splash of water if needed to help it blend.
Add the spice paste to the cooked onions in the pan, and let them simmer together for about 5 minutes, stirring frequently. Add a splash of stock or water if it starts to stick, and then add the rest of the liquid.
Add the browned lamb to the pan, and top up as needed with more stock or water so the meat is just barely covered. Add the salt and chopped mint, give it a good stir, and bring the liquid to a simmer on top of the stove. Then cover the pan with foil, put its lid on, and put it in the pre-heated oven for 1 hour.
Check for tenderness; the meat should be easily pierced with a skewer or fork. If it's still a little tough, replace the foil and lid and cook for another 20-30 minutes; check again. When the meat is tender, put the uncovered saucepan over medium-high heat on top of the stove to reduce the sauce until it reaches the flavour and texture you like, 5-10 minutes. Stir occasionally to keep it from scorching.
Spoon the lamb onto a serving plate and garnish with a few dollops of plain yogurt, more chopped mint, chopped fresh coriander or parsley, finely sliced chili and julienned cucumber.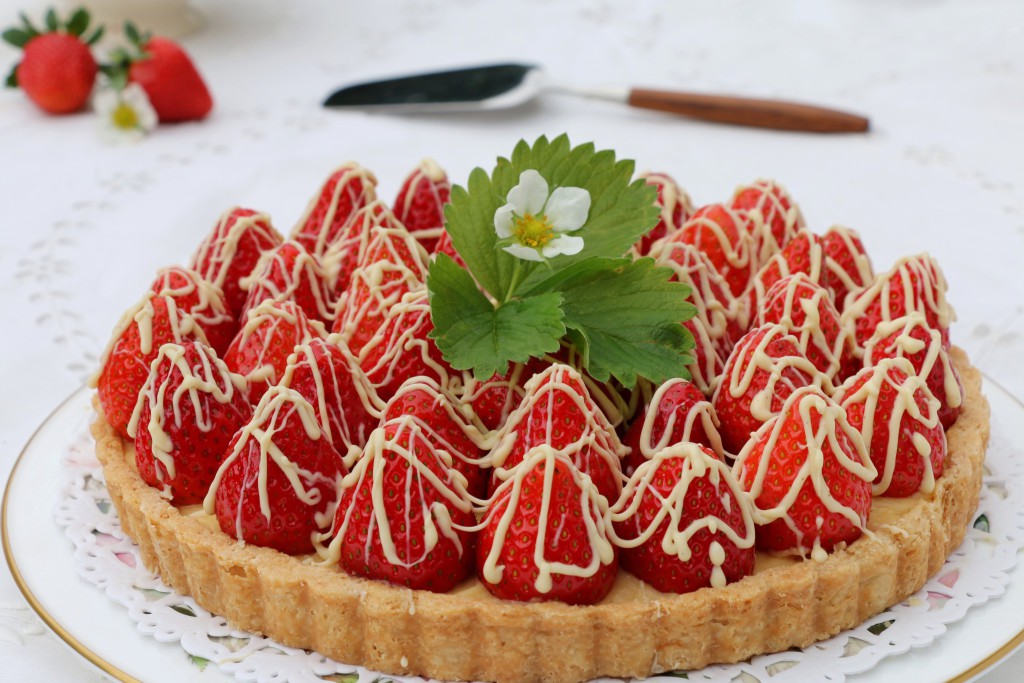 Strawberry tart with crème pâtissière and white chocolate
Makes one 23-cm (9-inch) tart, serving 8
The pastry shell for this delectable summer tart is 'blind-baked' first, then filled with chilled crème pâtissière and topped with whole strawberries. The final flourish is a drizzle of melted white chocolate, which has a wonderful affinity with strawberries.
(For a simpler dessert, simply serve melted white chocolate in small cups as an individual fondue with a few prime specimen berries.)
The pastry shell and the custard filling can both be made the day before serving, but assemble on the day you plan to serve. If you want to use half the amount of berries, slice and slightly overlap them, and glaze with strained strawberry jam thinned with Grand Marnier, orange juice or water, instead of using the white chocolate drizzle.
You will need a 23x3cm (9×1-inch) round tart ring with a removeable bottom; some baking parchment; and 'pie weights' to keep the pastry shell flat while it bakes (there are small ceramic balls sold for the purpose, or improvise with raw rice or dried beans, which you can store for future tarts).
Ingredients
Pastry:
165g (1¼ cups sifted) plain flour
140g unsalted butter, cut into small pieces (4 ounces, or 1 stick plus 2 tablespoons)
15g (1 tablespoon) caster sugar
½ teaspoon cooking salt
Finely grated zest of half a lemon
1 tablespoon cold water
½ teaspoon vanilla extract
Crème pâtissière:
480ml (2 cups) whole milk
100g (½ cup) caster sugar
30g (¼ cup) cornflour (cornstarch); or 40g (

¹/3

cup) if not using gelatine
4 egg yolks
pinch of sea salt
2 level teaspoons granulated gelatine
1½ teaspoons vanilla extract
1 teaspoon water
Strawberries and white chocolate:
2x 400g punnets (scant 2 pounds) strawberries, washed and dried (or 1x400g punnet (scant 1 pound) if slicing berries instead of using whole)
1 tablespoon strained strawberry jam
150g (5.3 ounces) white chocolate, broken into pieces
Directions
Make the tart shell:
In a medium bowl, lightly mix the flour, salt, sugar and zest. Flatten the butter into the flour mixture using the tips of your fingers and thumbs, with as light a touch as you can. Continue until you have a rough sandlike texture with some larger pea-sized pieces. Mix the vanilla and water together and stir them in just until the crumbs stick together when pinched. Gather the dough into a ball, flatten slightly, and wrap in cling film. Refrigerate for 30 minutes or overnight. If very cold, let it soften a bit before rolling.
Lightly butter the tart tin. Roll the pastry between sheets of cling film, moving outwards from the middle and keeping as even a thickness as you can until you have a circle about 30cm (12 inches) in diameter. Remove the top layer of cling film and invert the pastry onto the tin. Gently pat it in place and leave the excess hanging over the edge. With the other sheet of cling film intact, refrigerate the pastry for an hour, or overnight.
Heat the oven to 190C/375F. Remove the remaining cling film and prick the shell with a fork to create several steam vents. Line the pastry with lightly buttered baking parchment. Secure the parchment with pie weights and bake the tart shell for about 15 minutes until the pastry is set and beginning to colour on the edges. Remove the tart shell from the oven and lift out the parchment paper with the weights. Carefully trim off the overhanging pastry by running a knife over the edge of the tin. Return the naked shell to the oven to bake for around 10 minutes longer or until golden all over; watch carefully, as ovens vary. Cool the baked shell in the tin, set on a cooling rack.
Make the custard filling:
Combine the water and vanilla in a small bowl and sprinkle the gelatin granules over the liquids. Set aside. Heat the milk to just under boiling point.
In a medium saucepan, mix the sugar, cornflour, salt and egg yolks into a thick paste using a small whisk. Add the hot milk gradually, whisking to keep it smooth. Cook the custard over medium heat until thickened, stirring frequently and using a silicone spatula to scrape the bottom and sides of the pan. Let it just come to a gentle boil, with a few bubbles surfacing, and then remove from the heat. Add the softened gelatin and stir  off the heat  until it is completely melted. Strain the custard into a shallow dish to cool quickly to room temperature. Refrigerate for two to four hours until chilled and set.
Assemble the tart:
Melt the white chocolate in a saucepan set in hot but not boiling water; or microwave for 30 seconds, and then another 10-20 seconds, stirring until completely smooth. Don't overheat and don't allow water to come into contact with the chocolate.
Spoon one-third of the melted chocolate onto the cooled pastry shell and spread it evenly over the bottom. Spoon on the chilled custard and level it.
Cut the leaf-ends off the strawberries so they can sit level; then rub them with the strained jam to give them some shine. Arrange them on top of the custard: start outside with the smallest berries, then place the largest in the middle, and fill in with the rest. If you have trouble fitting them, cut off the 'hips' of any that are oversized.
Check that the white chocolate is still liquid enough to drizzle easily; if it has thickened, reheat gently and stir until completely smooth again. Using a spoon, drizzle the melted chocolate thinly over each berry. Serve within the hour, or refrigerate.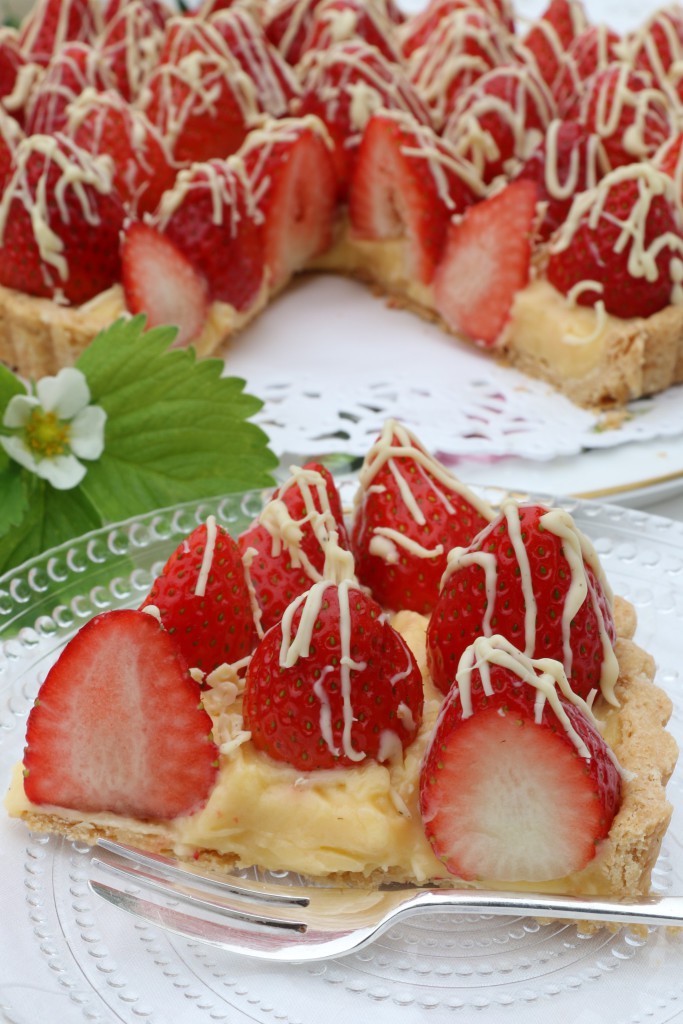 Other strawberry recipes and stories on Crumbs on the Table:
Fraisier cake (strawberries and custard)
Strawberry sorbet