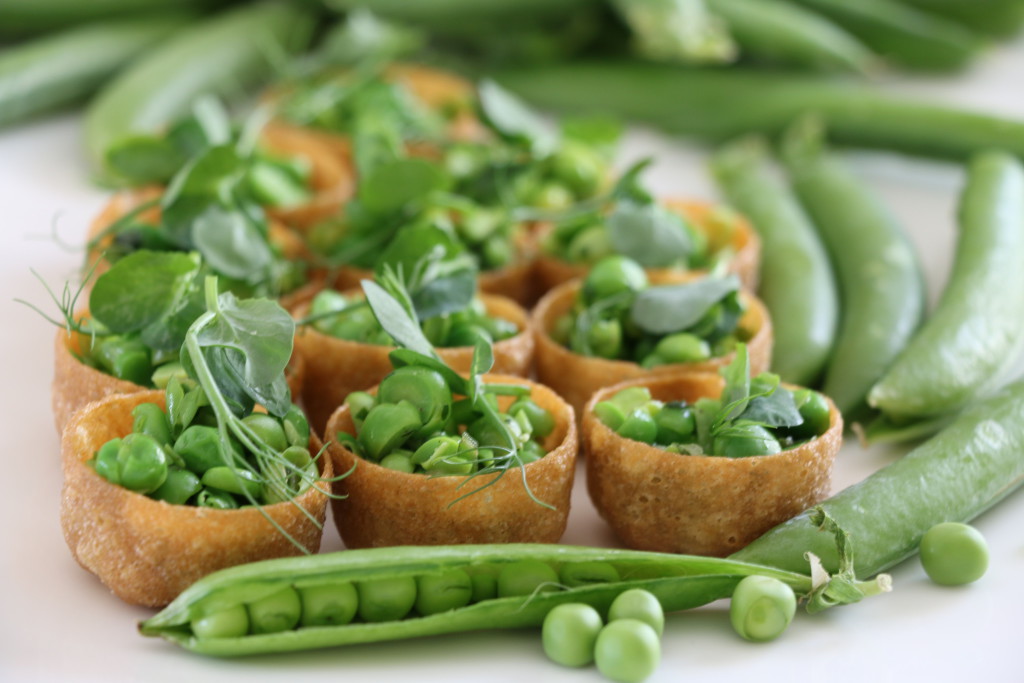 Garden peas, picked fresh at that perfect petit pois stage of juicy, crisp sweetness, are something to experience at least once in a lifetime – and how good it would be to count on them once a year. Most fresh peas we buy with hope in the season are sadly tired and starchy, too old to be fresh and left to grow too big. They are so disappointing in fact that I seldom buy, only indulging when my farmer's market has the local ones in looking very fresh, and plump, but not tight in the pod.
I try most years to grow my own for the sake of a few special dishes and some casual snitching in the garden, but with no aspirations of self-sufficiency. I rely for most of the year on frozen petits pois,  which have better nutritional value and flavour than the days-old "fresh" peas. But keep trying. If you are lucky enough to find a dedicated grower and grocer who can give you the real thing, treasure those people.  Here are two recipes that celebrate fresh peas at their best: a simple pea croustade canapé; and a pea, mint and basil ice cream.
My father-in-law grows flourishing rows of adorable pods with their curling tendrils (and what shade of green in the vegetable world is more pleasing than pea green?). They taste like heaven eaten with his blessing straight from the pod, or quickly wilted in butter with one of his handsome bibb lettuces. His constant attendance — protection from mice, slugs and wood pigeons, and generous watering — pays off. They really are sweet as sweets.
Boozer the dog loved those peas, too. Neal tells the story: Boozer was a resourceful wartime mutt, a cross between a savvy labrador and old English sheepdog. He came by his name through lapping up dregs at the local where Grandpa spent his evenings. Maybe fresh peas were Boozer's hangover cure, for at some point he learned to trot down to the vegetable plot and carefully pull off a pod with his teeth. He'd hunker down nearby with the loot between his front paws and gently prise it open to lap up the choice innards, jowls flapping with every appearance of dog bliss. A moment later he would bounce up again, a dog on a mission, and repeat the performance. He could get through quite a few pods before someone noticed and gave him the shove. So Boozer became pest number one in the pea patch and it became habit to grow a longer row to compensate.
RECIPES
Makes enough to fill 24 ready-made croustades (1 box of the Swedish make)
These are a brilliant way to make the most of a few precious fresh peas. As bijou canapés, they are elegant and irresistible. Everyone loves them, for they better the experience of shelling a just-picked pod and savouring the contents one by one. These little treasures are a pea-scrumper's dream, the spoonful of coarsely chopped and seasoned peas magnifying that reverential garden joy in one greedy mouthful.
The recipe is adapted from Sarah Raven's "Crostini with peas and fresh basil purée", from her Food for Friends and Family. They were served to us by her Perch Hill team at Sissinghurst in ready-made croustades to accompany sparkling wine. It was a beautiful summer's evening canapé that celebrated the most exquisite treat from the garden in a simple way that was very special, and practical for several people. I wasn't the only guest to rhapsodize.
You could use croustades (fill just before passing them around so they don't get soggy). Or you can serve the pea mixture on thin baguette crostini as Sarah Raven does.
Ingredients
You will need about 250 g (about half a pound) of peas still in their shell to yield one cup shelled.

110 g (1 cup) shelled fresh peas
1 teaspoon lemon juice
about 4 g (¼ cup loosely packed) basil leaves, weighed before washing
about 4 g (¼ cup loosely packed) mint leaves, weighed before washing
A pinch of sea salt*
A grinding of black pepper
A pinch of sugar if your peas aren't as sweet as they could be
1 very small garlic clove (a good place to use one of the fiddly runt cloves)
optional: 12-24 pea shoots to garnish
*Be careful with the sea salt, as it takes a while to dissolve and may taste saltier after sitting a few minutes.
Directions
For this modest quantity, I chop everything by hand, but you can use a food processor. I prefer a coarse texture that allows the peas to combine well with each other and the seasonings, but still look and taste almost like whole peas — but please yourself and go finer if you like. (You can make these same ingredients into a delicious pea purée to go with lamb — just heat it through.)
Blanch the peas for 1 minute in rapidly boiling water and immediately drain and shock them with running cold water until they are no longer warm. Drain again and dry well on kitchen towels.
Wash the herbs and pat dry. Chop them together fairly finely on a medium-large chopping board.
Mince the garlic and rub it through the herbs until equally distributed.
Chop the peas coarsely on the same board, add the lemon juice, and mix everything together well.
Fill your croustades just before serving and top with the tendril and leaf of a pea shoot if you wish.
Food processor method:
Start by pulsing the herbs and the garlic together until finely chopped.
Add the peas, lemon juice, and salt and pepper, and pulse two or three times, or until the peas are the texture you want. Taste and correct seasoning.
Fill your croustades just before serving and top with the tendril and leaf of a pea shoot if you wish.
To make crostini
I used to make crostini at Chez Panisse as garlic croutons for the wonderful Garden Lettuces with Baked Sonoma Chèvre that's been on their menu every day for decades.
Simply thinly slice a day-old baguette (1 cm or ¼ inch thick), brush lightly with olive oil and bake on a sheet in a 175C/350F oven for a few minutes until dry through and golden around the edges, turning them over once.
While still warm, rub each toast lightly with the bruised end of a small clove of garlic — go over the surface just once with minimal pressure — and cool on a rack.
You could give a larger slice of good Italian bread the same treatment and serve this amount of pea mixture as bruschetta for two people.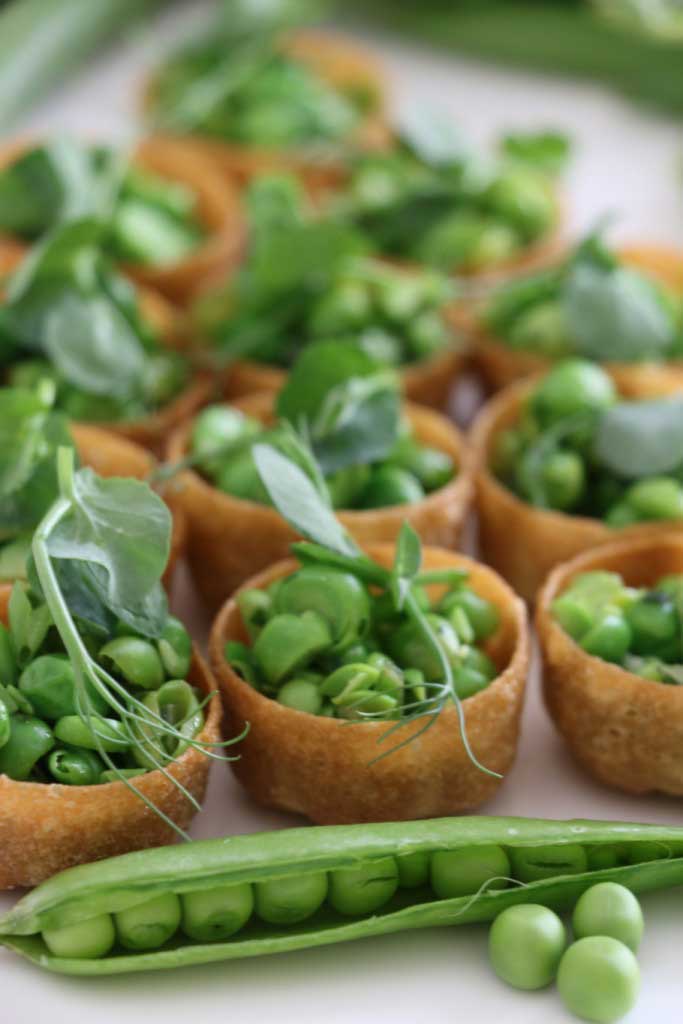 II. Pea, mint and basil ice cream
Serves 4
This is a delightful and unexpected flavour with the sweet taste of fresh peas and just a hint of mint and basil. It is easy for hot summer days as it requires no time at the stove top stirring a custard (just a minute to blanch the peas), and no ice-cream maker (though you can speed up the process by churning the mixture if you wish).
It's made with crème fraîche and no eggs, so is less rich, and less smooth, than a custard-based ice cream, but no less good for that. It makes a refreshing summer dessert on its own or with some halved peaches, nectarines or strawberries with black pepper. (I've recently learned from Nigel Slater, writing in the Guardian, that the hotter long pepper with strawberries, nectarines and cream wins out over conventional black pepper, so it's worth seeking out. I have some given to me by my Malaysian brother-in-law, Eng Seng, who uses it in his wonderful dishes, and can vouch for it.)
Ingredients
For this amount you will need half a kilo (just over 1 pound) of unshelled peas in the pod. Two cups of fresh peas, shelled, will produce about 1 cup of pea and herb purée.
220 g (2 cups) fresh peas, shelled
about 8 g (½ cup) packed mint leaves picked off the stem, but weighed before washing
about 8 g (½ cup) packed basil leaves picked off the stem, but weighed before washing (be careful not to bruise them as they will turn dark)
2 tablespoons lemon juice
200 ml (between ¾ and 1 full cup) full-fat crème fraîche
80 g (1/2 cup) sifted icing sugar (confectioners' sugar)
Directions
Wash the herbs and pat dry.
Blanch the peas for 1 minute in rapidly boiling water and immediately drain and shock them with running cold water until they are no longer warm. Drain again.
Purée the peas, herbs and lemon juice together with a blender stick or in a food processor or blender until very smooth.
Add most of the icing sugar and taste for sweetness, adding a little more or less, depending on your peas. Bear in mind that the finished product will taste less sweet, as cold blunts flavour.
Mix the purée with the crème fraîche until well incorporated, cover and freeze for two to three hours until frozen at the edges, and mix it with a fork or whisk. Return to the freezer for another hour or two until firm throughout.
Allow to thaw for 10-20 minutes before serving. It should be creamy, not hard. You could pulse it in a food processor from frozen, just until smooth, but don't overdo it or you will introduce too much air and the pea flavour will be diluted.
Eat within two or three days for best flavour and colour. Serve as is, or with nectarines, peaches or strawberries and a pinch of freshly ground black pepper (long pepper is especially good).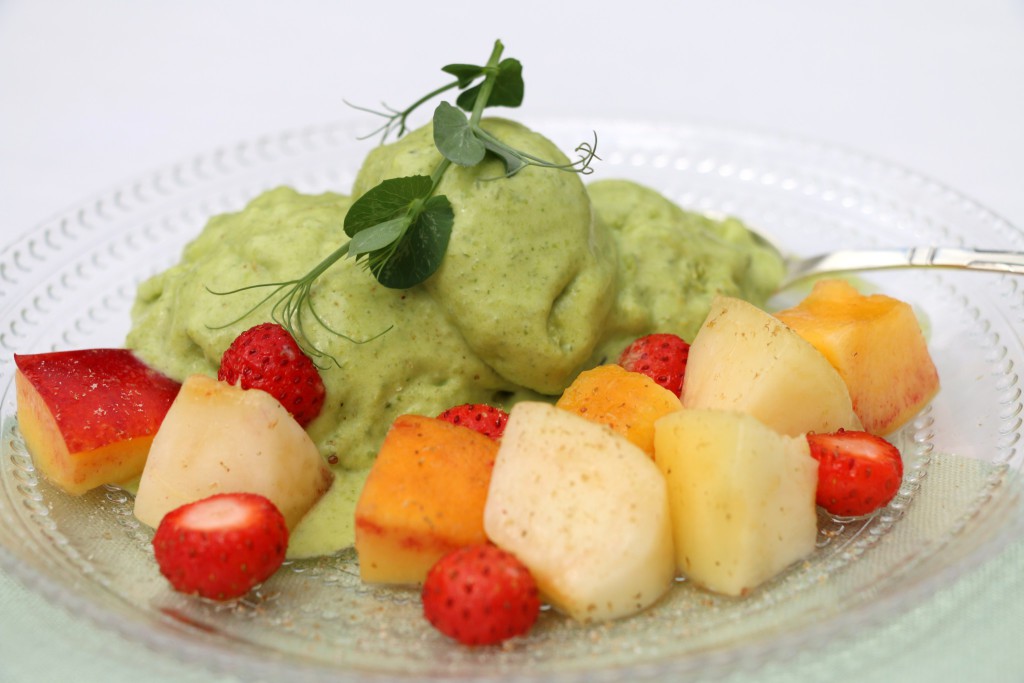 References:
Sarah Raven. Food for Friends and Family. Photography by Jonathan Buckley. Bloomsbury, 2010.
Nigel Slater's article on strawberries, which includes a description of, and recipe using, long pepper: http://www.theguardian.com/lifeandstyle/2012/jul/01/nigel-slater-strawberry-raspberry-recipes